Best Installment Loans of 2023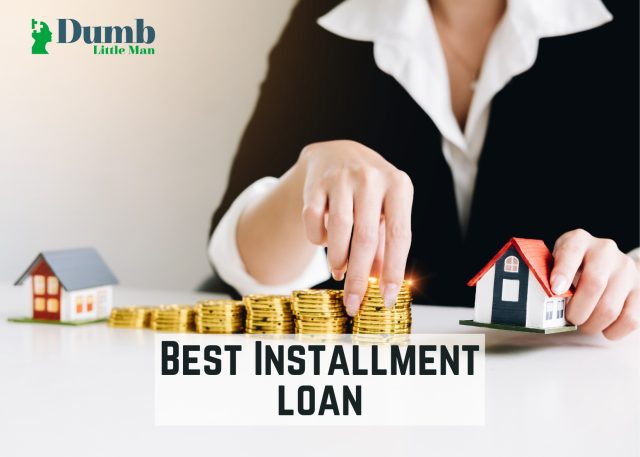 Installment loans are the best option and repay the sum over time with consistent, equal installments.
If you need to meet bills but cannot save the money in advance, personal installment loans may be beneficial.
Installment loans typically are a loan type that allows you to borrow money between $5,000 and $50,000 and repay it in equal monthly installments. Most terms are three to six years long, while a handful is as long as twelve years.
Installment loans include a variety of purposes, including home upgrades, automobile purchases, consolidating debt from several credit cards, and financing medical bills, to mention a few. Although, be wary of lenders who advertise online installment loans for bad credit or loans that don't require a credit check.
Overview: Best Installment Loan
Best Installment Loans: Detailed Insight
LendingClub: Best Installment Loan For Peer to Peer
A good option for credit card debt consolidation. LendingClub is a peer-to-peer lender, which means that rather than a conventional bank, you get your loan funds from private investors. LendingClub offers a lower minimum credit score than SoFi and a lower maximum origination charge than Upstart, despite the fact that other peer-to-peer lenders have cheaper rates or greater borrowing limits.
Borrowers may use a balance transfer loan from LendingClub to repay credit cards and consolidate debt. LendingClub will distribute the revenues of your borrowing to up to 12 creditors, paying off your debts and making the debt consolidation process much easier. The loan has the same rates, conditions, and requirements as the other lender's loans.
LendingClub also allows you to apply for a loan with someone else. The specified maximum debt-to-income ratio, or DTI, of the two customers must be less than 35 percent on a joint loan.
↳ Best Feature?
One of the best features of this online lender is that borrowers with a current account in top form can permanently or temporarily adjust their payment due date. Customers can make a permanent adjustment by logging into their LendingClub account and going to the Payment Due Date tab; the alteration could also be made over the phone. Changes in temporary payment dates should be notified before a minimum of three days of the current due date through email or phone.
Account administration over the internet is relatively easy. LendingClub's smartphone app is presently limited to banking products. Customers may follow their online application, loan information, and autopay details on LendingClub's website, built for mobile use.
↳ Who is it Best For?
Personal loans from LendingClub are a good fit for those with not very excellent credit, who want to consolidate debt or fund significant expenditures. Despite not being the cheapest loan available, LendingClub allows borrowers to make flexible payments and is open about its conditions and costs.
Borrowers with a FICO of 630 to 689 are best served by LendingClub. It is also good if you need assistance with credit building and budgeting. This helps you combine your debt and qualify for a cheaper interest rate.
Click Here to Know More About LendingClub Installment Loans.
Marcus by Goldman Sachs: Best Installment Loan For Excellent Credit Ratings
Comes with a wide range of repayment terms. Marcus is an online lender which is a subsidiary of Goldman Sachs. For customers with strong credit, it provides unsecured personal loans with no fees.
Marcus is distinguished by its unique features, which include nine repayment plans for you to pick, allowing you to get an installment loan that is best suited, as well as the opportunity to delay payment while incurring no interest.
It provides personal loans to clients with strong credit, concentrating on debt consolidation and home renovation loans; however, any loan purpose is acceptable. An origination fee, which is a tiny percentage of the loan amount, is charged by some lenders, whereas with Marcus, there are no origination fees, sign-up, prepayment, or late fees.
↳ Best Feature?
At Marcus, payment on time is rewarded. Borrowers who repay their loan on time every month for a year in a row are eligible to avoid monthly fees. Furthermore, there will be no interest charged, but the loan duration will be increased by one month.
The date of payment is flexible. Borrowers can also adjust their due date up to 3 times throughout their loan with Marcus. Borrowers who have previous over-due-payments records will not be able to utilize this function.
↳ Who is it Best For?
Marcus is a versatile alternative for consumers with a good credit report because of its fee-free format, extensive loan periods, and healthy accessible loan amounts. You should have a score of a minimum of 660 to improve your chances of getting approved.
Keeping that in mind, Marcus loans are accessible to a broader target audience at competitive rates. It does not, meanwhile, permit co-signers or co-borrowers.
Click Here to Know More About Marcus by Goldman Installment Loans.
LightStream: Best Installment Loan For High Amount
For fastest delivery of loan amount. LightStream is a personal lending company that provides unsecured loans for a variety of purposes. There are no origination fees, prepayment, or late payment costs, and customers who sign up for autopay get rate savings.
If you can establish that you were accepted by the rival for the same sort of fixed-rate loan for just the same amount, length, objective, and payment mode, LightStream will reduce the competitor's rate by 0.1%.
At LightStream, a variety of criteria influence whether or not a personal loan application is granted. Underwriting standards vary per lender, but they often involve details from an applicant's credit report from one of the credit bureaus and other elements that reflect the repayment capacity, like income.
↳ Best Feature?
While many personal loan providers give customers up to five years to pay back their loans, LightStream's products have periods as long as seven years. Home renovation loans, such as those for constructing a pool or solar panels, can be repaid for up to 12 years. However, obtaining a prolonged loan term with LightStream will need borrowing far more than the firm's $5,000 minimum loan criteria. For example, if you want to pay for a medical bill or a yacht over the course of more than six months, you'll have to draw out at least $25,000.
In addition to that, LightStream received an excellent grade for cost because of its low minimum APR with no fees. Customers may also take out loans and maintain their accounts entirely online, with customer service accessible six days a week.
↳ Who is it Best For?
LightStream provides installment loans up to $100,000 for various goals, including the purchase of property or a tiny house, which are loan kinds that regular lenders seldom provide. hence, it is an excellent alternative for potential borrowers who require a significant loan with some flexibility, thanks to its high loan amounts and short application and processing times.
In addition, LightStream's wide selection of loan sizes, periods, and APRs—along with a credit score requirement of just 660—make it a flexible alternative for many potential borrowers.
Click Here to Know More About LightStream Installment Loans.
SoFi: Best Installment Loans for Unemployment Security
Comes with online tracking of your loan. Apart from Mississippi, SoFi is an online lending company offering unsecured installment loans in every state. Loans vary from $5,000 to $100,000 available with periods lasting from two to seven years. While a credit score of 680 is required, high-qualified individuals might qualify for considerable loan amounts and cheap interest rates.
Additionally, the borrowers with SoFi have the option to adjust their payment due date once a year. If your workplace has a unique payment plan or you wish to cluster monthly bills around specified days, this might be useful.
Moreover, borrowers must show that they are getting unemployment benefits and actively seeking employment to qualify for this forbearance program. Borrowers must also agree to use SoFi's career-planning program. Borrowers who are approved can put their loan payments on hold for three months—up to a total of 12 months—but the interest continues to accumulate on the loan balance.
↳ Best Feature?
The best feature of SoFi is there are no applications or late fees, and you are charged no prepayment penalties. Moreover, for borrowers with strong credit and a solid income, a SoFi personal loan is a terrific alternative.
When you sign up for a SoFi loan, you get a range of special member advantages, such as accessibility to career coaches and financial counselors, as well as invites to unique virtual events and many other "member experiences," in conjunction with low rates and no fees.
↳ Who is it Best For?
SoFi is a great installment loan choice for those with decent to exceptional credit and typically have a good cash flow or extra money at the end of the month. It's also a good option if you require a large loan—up to $100,000 in size.
This lender does not offer installment loans for education-related expenses, which may dissuade specific clients.
Click Here to Know More About SoFi Installment Loans.
Upstart: Best Installment Loan for Fair Credit
For the best online experience with quick loan amount disbursement. Upstart is a loan platform powered by artificial intelligence or AI that links borrowers with financiers. The platform employs over 1,500 non-traditional characteristics to boost loan availability, such as college education, making it a good alternative for individuals with acceptable credit. Furthermore, AI enables Upstart to approve the majority of loans in a matter of seconds. The firm's underwriting approach makes it easier for young applicants with slightly bad credit histories to get a loan.
The underwriting methodology of Upstart sets it apart from other online lenders. The business employs artificial intelligence and unconventional data like college education, work experience, and location to qualify borrowers. Banks and other conventional lenders concentrate nearly entirely on borrowers' credit records, obligations, income, and assets.
Personal loans with maturities of three or five years are available for amounts ranging from $1,000 to $50,000.
↳ Best Feature?
Upstart boasts of repayment terms where borrowers experiencing financial hardship, such as job loss, can seek to have their loan payments temporarily suspended. However, keep in mind that interest will continue to accumulate throughout this time.
In addition to that, potential borrowers cannot apply for installment loans with a co-signer at Upstart. Co-applicants are also not authorized; loan candidates are judged solely on their own merits.
↳ Who is it Best For?
By going beyond credit history and examining various non-conventional credit indicators, Upstart gives applicants with acceptable credit—ones with a score of a minimum of 600—access to installment loans. As a result, the platform is best for bad credit candidates who want cash immediately but are unlikely to be accepted for a loan otherwise.
Therefore, customers who do not have a credit score that entitles them to more affordable loans might choose Upstart.
Click Here to Know More About Upstart Installment Loans.
PayOff: Best Installment Loan for Credit Card Payment
Payoff provides credit card consolidation loans varying from $5,000 to $40,000 at low-interest rates. With minimal annual percentage rates (APRs) of roughly 6%, these loans are intended to enable consumers to repay their credit card obligations fast. Through a comprehensive approval procedure and continuing credit support, the service may help borrowers improve their credit ratings.
Payoff offers consumers fixed-rate installment loans purely for the aim of consolidating credit card debt. Its debt consolidation loans combine several high-interest credit card payments into a single monthly plan with a reduced APR.
By notifying payments to the three major credit agencies and providing free monthly FICO score updates, Payoff assists borrowers in focusing on improving credit throughout the loan.
↳ Best Feature?
Borrowers can have their loan payments sent straight into their personal checking account, but the lender will also make payment for your credit cards and provide a rate reduction of 0.25 to 1 percentage point. This eliminates the need for you to transmit the payments personally, making the debt consolidation transition easier.
Borrowers can also check on Payoff's webpage without affecting their credit score, prospective rates, and terms before committing to a loan. However, if the loan agreement is signed, Payoff does a hard credit pull, resulting in a temporary decline in credit score.
↳ Who is it Best For?
Borrowers with fair to good credit who wish to pay off current credit card debt can use Payoff. Payoff loans are not a realistic alternative for consumers who need to finance significant purchases or otherwise cover unplanned costs because they are only accessible for credit card consolidation.
However, the site provides many credit score development options, making it a viable alternative if your credit score does not allow you for a more versatile loan and you're primarily interested in improving your credit profile. Consolidating several credit card debts also simplifies monthly payments while potentially lowering overall interest payments.
Click Here to Know More About PayOff Installment Loans.
Avant: Best Installment Loan For The Lesser Qualified
Recommended for bad credit score installment loans. Avant is one of the installment loan lenders that manages WebBank's installment loans and credit cards in 43 states and Washington, D.C. Avant provides personal loans to low-to-moderate-income consumers with good credit (as low as 580). Besides Massachusetts, all the state has a $2,000 minimum loan requirement, with periods ranging from 24 to 60 months.
If you pre-qualify for an Avant loan, you may view the possible loan amount and rate. Pre-qualifying has no impact on your credit score, and it can help you figure out how loan amount payments fit into your monthly budget. If you proceed with a loan application, the lender will perform a hard credit pull, resulting in a few points being deducted from your score.
Moreover, Avant accepts customers with credit ranging from as low as 550, which is much lower than many companies, making it best for bad credit installment loans.
↳ Best Feature?
Avant makes it simple to fund many projects, from home upgrades to small emergency costs. Its loans extend from $2,000 to $35,000, a reasonable range for a digital lender caters to acceptable credit borrowers.
Unlike many other lenders, Avant has a mobile app that lets you view your payment history and handle incoming payments. Both the Apple App Store and Google Play have given the app excellent ratings.
↳ Who is it Best For?
Avant personal loans are available to anyone with acceptable credit—scores as low as 580—unlike some prominent lenders who need credit ratings of at least 670. This makes it a suitable choice for persons with poor credit ratings and those looking to improve their credit history.
It's worth mentioning that if your score is on the lower end of the scale, you won't be eligible for Avant's minimal APRs, which are only available to highly qualified candidates.
Click Here to Know More About Avant Installment Loans.
What is an installment loan?
Installment loans are a type of loan that allows you to borrow a certain amount of money and repay it over time. Fixed interest rates and fixed monthly payments are the main features of these loans, including personal loans.
This way, you always know how much is due each month and when your last payment is made. Consider a $30,000 loan with a 10.99 percent APR and a 60-month repayment period. For five years, you'd pay $652.12 every month.
How does installment loan works?
When you get an installment loan, you get the money you borrowed or the item you bought right away. You pay it off in installments, which are prescheduled payments that include interest, for a specified period of weeks, months, or years. You usually owe the same amount on each installment.
When looking for an installment loan, make sure you do your research. Their fees, term lengths, and APRs can all vary significantly. Your interest rate might be as high as 30% or more if you have a bad credit score of 600s or upper 500s.
This account is automatically canceled after the debt is repaid in full.
Types of Installment Loan
Personal Loan
A personal loan is a one-time payment that must be returned within two to five years. It usually's unsecured, and the funds may be used for various things, including consolidating debt, funding home renovation projects, paying for a wedding, covering unexpected bills, and so on.
Auto Loan
Auto loans are secured loans that are used to purchase an automobile and are secured by the vehicle. The loan is repaid in monthly installments over two to seven years. To figure out your monthly payment, check the auto loan calculator.
Mortage
A mortgage is a secured loan for the use of a particular purpose: to purchase real estate, most commonly a home. A secured loan requires the borrower to furnish an asset as security. The property acts as security or collateral for the loan, which is paid every month over a lengthy period, generally 15 or 30 years.
Installment Loan vs. Payday Loans
Installment loans, which include auto loans, mortgages, and other personal loans, are often for a longer duration and involve credit checks. Payday loans are installment loans, but they have a considerably shorter period, no credit check, and higher interest rates.
Over 80% of payday loans are extended or carried over into subsequent payday loans within two weeks. this is according to a survey by the Consumer Financial Protection Bureau. Consequently, interest and fees compound, making it much more difficult to pay off these payday loans. Hence, one must be careful while taking payday loans.
Who is the installment loan best for?
An installment loan is best for you if you do not have enough cash at hand to make a necessary purchase and still have enough income to repay the loan in a short duration (usually three to five years).
Final Verdict
If you intend to take an installment loan, keep in mind that there are multiple lenders to choose from to obtain the best loan for you.
The comparison between the options simplifies the process by allowing you to evaluate numerous lenders before making a decision.
Also, it is safe to conclude that Upstart is the best choice for lenders on our list of top personal loans, especially for bad credit. You won't be charged any prepayment penalties with Upstart. In addition, the company uses a rate checker tool that allows you to enter your details to receive an estimate of the APR you'll pay on your loan.
FAQs
What is the most accessible loan to get?
Installment loans are the most accessible loans to get as they are adaptable and may be tailored to the borrower's unique needs in terms of loan amounts range and repayment period to fit best the borrower's ability to repay the loan. These loans allow borrowers to acquire funding at a far cheaper interest rate than is typically available with revolving credit, such as credit cards. Instead of making a substantial financial outlay, the borrower can have more cash on hand to employ for other objectives.
Do installment loans hurt your credit?
It might be challenging to foresee how an installment loan would negatively affect credit ratings. This is because several credit scoring models calculate it differently.
The impact of an installment loan on you is also dependent on your financial condition. Furthermore, not all installment loans are recorded to credit reporting agencies. However, whether or not your installment loan is disclosed might affect your credit history while you're obtaining a loan. That may result in a rigorous credit inquiry. Such queries may hurt your credit score.
What credit score do you need for an installment loan?
The minimum credit score required for the installment loan approval can vary depending on the lender. Some lenders may state their minimal needs right up front. For example, qualifying for a Payoff Personal Loan demands a FICO score of 640 or above. While lenders may accept loans to those with a wide variety of credit ratings, the conditions for those with higher scores are likely to be better.
Lenders will give you different conditions if you have a 760 credit score against a 580 credit score. A lender may still issue you a loan if your credit score is 580, but the conditions will be adjusted correspondingly because you'll be considered a riskier applicant. However, with a better credit score, you're more likely to get approved for loans with lower interest rates and more favorable terms.