7 Ways to Make Money From Your Smartphone or Tablet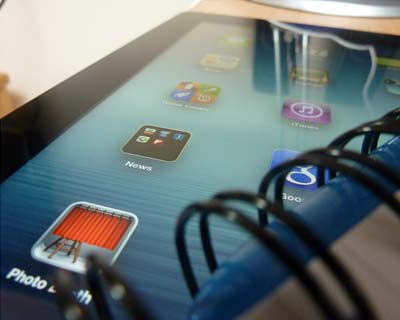 You may see your smartphone and data plan as just another monthly expense.
However, many cash-strapped smartphone users are turning their mobile devices into portable ATM machines.
Forget playing yet another round of Angry Birds during your daytime downtime: here are 7 legit strategies that you can tap into to actually earn money on the go.
Swagbucks App
The concept of getting paid to take surveys has been around since the early days of the world wide web.
But it's never gone mobile…until now.While Swagbucks isn't your typical paid survey panel, it does offer a number of ways to earn rewards (including searching and playing games). These rewards (known as Swagbucks) can be redeemed for hundreds of prizes, including Visa gift cards and video games.
Unlike many of the opportunities listed here you can still participate in Swagbucks even when you're at home using your PC or Mac.
Smartkick
If you're a shopaholic you're going to love Smartkick app. With this popular iPhone app you actually earn rewards just for visiting your favorite stores.
Of course you can earn even more rewards if you actually buy something while you're there, but it's not necessary. Just download the app and choose the stores that you visit on a regular basis. The app will detect that you've entered the store and automatically add rewards points to your account.
Although your rewards (known as "Kicks") can't be converted to cash, you can use them to receive special promotions and discounts when buying the things you need.
Make Your Own App
Have you ever been bored, playing around with your iPhone or Android, and come up with a great idea for an app? If so, you may want to consider launching your own app based on your brilliant insights. Although the app market is more crowded than ever there are plenty of "Appreneurs" turning their app ideas into 6-figure businesses.
Unless you already know how to program apps you'll need at least $4,000 to design, launch and promote a professional app.
And like any business, you'll probably want to read case studies of people that have done it. While getting your app out there is somewhat easy, monetizing it isn't. Have a monetization plan in place before you launch.
Gigwalk
Gigwalk is an app that helps people like you earn some extra money when you have some time to kill.
Here's how it works: you download the app and enter information about your work experience, age and where you live.
When someone needs a minor task to be done — such as checking the availability of an item at a store or gathering information from potential customers as part of a market research campaign — they hire you to do the work.
Depending on the time needed and expertise required you can rake in anywhere from $5 to $25 per gig. Currently available in over 6,000 cities in the US, so even if you live in a small town there's probably a Gigwalk gig somewhere nearby.
Easyshift
If you're in need of quick cash you'd be hard pressed to beat Easyshift. With this app business owners in your area put you to work for one or part of one shift at their business. For example, if a catering company needs a few extra hands, they'll post on Easyshift that they're looking for someone to help out for one night only.
When the job is done, you get paid on the spot via Paypal. They also offer mystery shopping opportunities, which tend to be higher-paying than many other commonly posted jobs.
Task Rabbit
Task Rabbit is similar to Easyshift except that the focus is on running errands. As a Task Rabbit you'll be doing anything from picking up laundry to assembling furniture for people that are low on time but have some spare money to spend.
This site is growing fast, but is only available in a select few metropolitan areas. Note that most of the activity at this site takes place in New York City and San Francisco.
Become a Virtual Assistant
Busy executives and small business owners are increasingly ditching their desk secretary in favor of a digital assistant (known technically as a Virtual Assistant, or VA).
Most of the tasks assigned to VAs are web research, emailing, posting content to blogs, updating social media accounts and customer service.
Although some of these tasks would be a challenge for those with smartphones, most VA gigs can be done with ease using a tablet, like an iPad.
Written on 11/26/2012 by Spencer Mitchell. Spencer founded SurveySpencer.com to help people earn a bit of extra money in their free time from legitimate paid survey panels. His site also occasionally touches on other ways of making money online, with a focus on freelance work.
Photo Credit:
Sean
Like this Article? Subscribe to Our Feed!