10 Things to Buy for Less at End-of-Winter Sales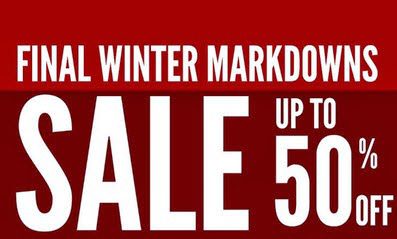 This weekend is President's Day, and that means the major department and discount stores will be having big sales. Since they're looking to clear out space for spring and summer items, this is a great time to score substantial savings on leftover stock from fall and winter. In addition to the markdowns on cold weather clothing and accessories, the chains are offering discounts on many other items.
Here are ten types of merchandise to check out when you hit the mall.
Winter clothing
With the way this winter is going, you may get your money's worth out of that clearance sale coat or jacket without waiting for next year! Most chains start marking down fall and winter outerwear after Thanksgiving, so they aren't likely to have a huge selection left, but what's still languishing on the sale racks is going to be drastically reduced. It's pretty safe for grownups to buy a heavily discounted coat or parka and stash it in the closet for next winter, since if you like that black leather jacket now, you'll probably still like it next fall. Buying for kids is trickier, since Johnny or Susie could get a major growth spurt over the summer. Still, if you find a great jacket one size too big that's on sale for 90% off, it may be worth it. End-of-the-season sales are good sources for other cold-weather staples like sweaters and active wear. Also, look for season-spanning pieces, like lightweight cardigan sweaters that can be worn on cool nights in the summer.
Accessories
Winter accessories are safer sale choices, since size isn't much of an issue. Hats, gloves and scarves go on sale for rock bottom prices after the holidays, so while the selection may be picked over, it's still worth checking out. If your kids are constantly losing their hats or gloves, why not pick up extras while they're super cheap? If they're prone to losing one glove out of every pair, buy several pairs in the same color.
Jewelry
Stores stock lots of fine and costume jewelry for Valentine's Day, so after it's over, you can find some good deals. Plus, any costume jewelry left over from the holidays will be marked down to practically nothing. Avoid faddish pieces that may go out of style next season, but if you find classic styles in gold, silver or pearls for a fraction of the original price, go for them.
Boots and shoes
This is a great time to get a pair of expensive boots at a bargain price. The sizes will be picked over, but there are likely to be high quality boots in your size. If you find a fun pair of boots in a bright color or trendy style, why not go for it if the price is right? For the guys, now is a great time to pick up a pair of fine name-brand leather shoes that can be worn with a suit or more casual clothes all year long.
Designer clothing for men
Department stores carry some designer lines for just a season or two, and when that season is up, those pricey items are going to be marked down drastically to clear them out. Some of the best deals can be found in the men's department, where stylish, high quality pieces can go for a fraction of the original price. If you're looking to add a fine suit or two to your office wardrobe, this is a great time to do it, especially since men's styles are usually more classic than those for women, so you can get more good years out of that designer suit. If you're putting together that important outfit for job interviews, you should be able to get the suit plus shirts, ties and shoes at a discount right now.
Denim
Jeans and other denim items are year-round staples, so when you find your favorite brands on sale, stock up. Some department stores are having sales on denim for the entire family, and heavier pieces are marked down drastically as stores need space for the lighter-weight summer styles.
Electronics
The Consumer Electronics Show hits Las Vegas every January, showing us all the cool new televisions, smartphones, tablets and other pricey toys that will be in stores this year. This means that lots of new items will be flooding electronics departments soon, and that the stock there now has officially become last year's models. If you had your eye on a big screen TV over the holidays, but couldn't fit one into your budget, you may be able to find one of the models you liked now selling for several hundred dollars less. While you may not find the exact model you had your eye on marked down, you are likely to find a nice selection of last year's TVs at a considerable saving. Now is also a good time to shop for kitchen electronics like blenders, mixers and coffee makers. Some chains are having sales on laptops, tablets and other tech items.
Mattresses
Chains like Sears and Macy's are having big sales on mattresses right now, with prices up to 70% off. If you've been putting off replacing that lumpy old mattress, or one of the kids has outgrown his or her bed, there are great deals out there. Retailers are looking to move older mattresses to make room for new ones, and since last year's mattress looks pretty much like this year's once you get the sheets on it, a discounted set is a good buy. Also check out the bath and bedding departments, where you're likely to find substantial discounts.
Large appliances
Retailers like Best Buy, Home Depot and Lowe's are discounting some appliances by 25%-50%, so this is a great time for that kitchen upgrade. Check this week's sale flier for coupons and other deals, like free delivery and payment plans.

Winter sporting goods
Again, stores need to make room for spring/summer gear, so the snowboards and ski equipment must go. Provided you have room to store these things until next year, buying these now can allow you to get top-of-the-line equipment at a bargain price.
Be sure to compare prices before buying big-ticket items and use all promo codes, coupons and other deals available. Check websites and weekly ad circulars for special deals.
Like this Article? Subscribe to Our Feed!