9 Stats About Small Business Digital Marketing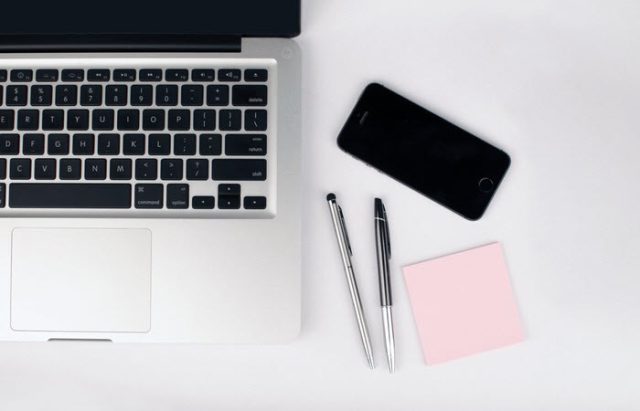 In order to help small business digital marketing agencies and SEO professionals effectively forecast this year's online marketing trends, white label SEO company HubShout conducted a survey which collected data on the digital marketing investments of small- to mid-size agencies.
This report details the online marketing data for 2017 and compares it to the data taken from HubShout's 2016, 2015, and 2014 surveys. Before exploring the findings, however, it is important to note the range in size and revenue of the agencies represented in the survey: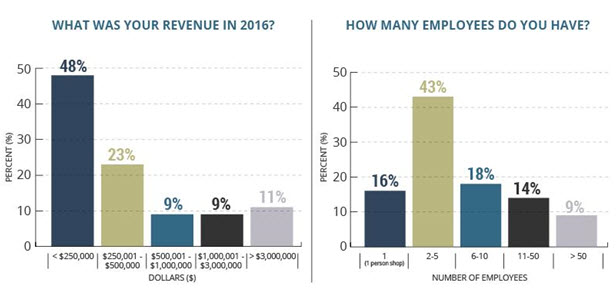 Size
Of the respondents, 43% had between two and five employees while 16% were entirely run by one person. Only 9% of the agencies that participated in the survey employed more than 50 people.
Revenue
These small- to mid-size agencies tend to have limited budgets, which becomes clear when reviewing their 2016 revenue. Nearly half (48%) reported a revenue of $250,000 or less last year and 23% of the surveyed businesses earned between $250,001 and $500,000.
Digital Marketing Expenditure
The survey posed the question, "What did your typical client spend per month on online marketing?"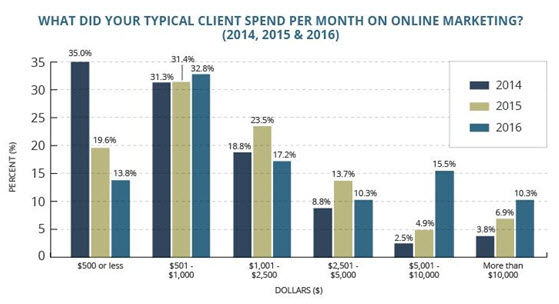 Comparing the responses to this question over the past three years, a pattern is clear: small- to mid-size businesses are boosting their digital marketing expenditures.
Back in 2014, more than one-third of these businesses invested $500 or less each month. However, that cohort dropped to 20% in 2015. Last year, only 14% invested such minimal funding.
When asked to predict how their clients' budgets will change, 63% of respondents replied that they expected online marketing expenditure to increase.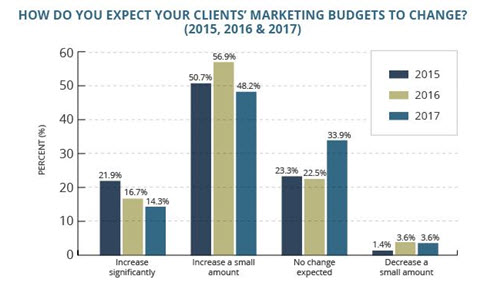 Digital Marketing Budget Allocation
Search engine optimization (SEO), website development, pay-per-click (PPC) advertising, social media, and email marketing are the five areas essential to an online marketing campaign. While small- to mid-size businesses tended to invest most extensively in web development in the past, 2016 turned out to be a big year for SEO.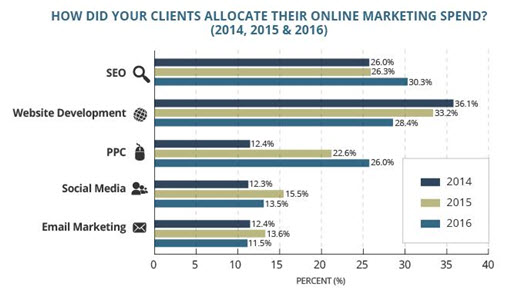 See Also: The 5 Internet Marketing Trends That Will Dominate This Year
For the first time ever, survey respondents reported that 30.3% of their online marketing budget went to SEO while 28.4% went to web development.
Of the agencies surveyed, 35.7% predicted that SEO will be the most sought after service once again, beating out web development and PPC for the second consecutive year.
Revenue Generation
HubShout asked survey participants which services generated the most revenue for them.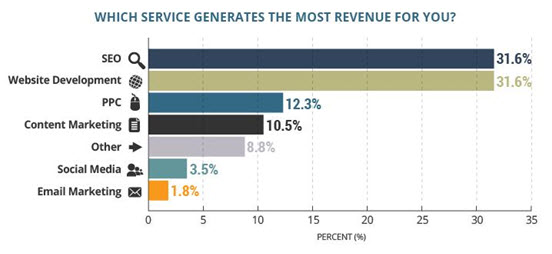 SEO and web development tied for the top spot, with 31.6%. The rest were reported as follows:
PPC — 12.3%
Content Marketing — 10.5%
Other — 8.8%
Social Media — 3.5%
Email Marketing — 1.8%
Outsourcing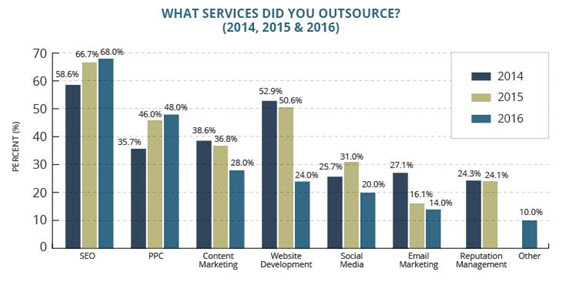 SEO is one of the most common services that's likely to be outsourced to a third party firm. In 2016, 68% of agencies outsourced SEO and this was 1% higher than the numbers from 2015.
Website development, on the other hand, is being outsourced by fewer and fewer marketing agencies. While over 50% outsourced web development in 2015, only 24% of agencies did that last year.
Yet, digital marketing budget allocation trends show that businesses are still investing in web development. With fewer agencies outsourcing this service, it's easy to conclude that more are choosing to set up in-house web development and design departments.
After all, compared to the dynamic nature of SEO, creating and selling a website is a much simpler task.
Mobile-Friendly Websites
Optimizing a website for mobile use is more important now than ever before, especially since Google has begun experimenting with mobile-first indexing. In order to gauge respondents' levels of understanding and implementation, HubShout asked the following question:
"What percentage of your clients have mobile-friendly websites with a phone number, location and business hours prominently displayed for mobile users?"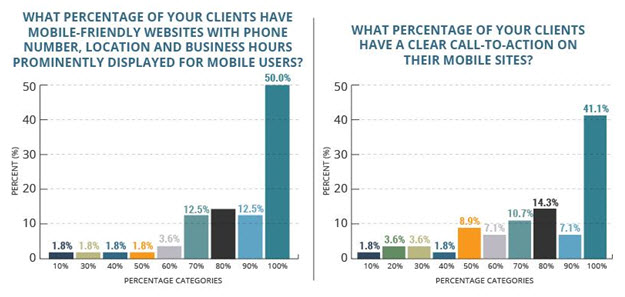 A full 50% of survey participants replied that 100% of their clients met the outlined criteria.
Almost all (98%) of the respondents said that they value the importance of having a mobile-friendly website. The 2%, on the other hand, which do not inform their clients of the said pieces of information do not provide SEO services at all.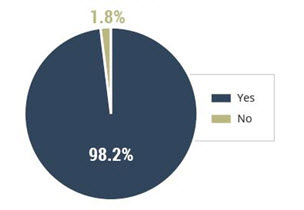 The Outlook
HubShout's findings paint a fairly positive picture for digital marketing professionals selling their services. SEO firms, in particular, will still be in demand as Google continues to alter and update its algorithm.
Marketing agencies that cater to small- and mid-size businesses may also see their revenues increase as more of these companies begin to allocate funds to online marketing initiatives.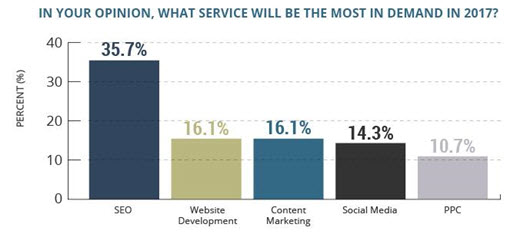 Like this Article? Subscribe to Our Feed!

Danielle earned her B.A. in English from Wheaton College in Massachusetts in 2011. She previously worked in Tel Aviv, Israel as a writing assistant for a women's rights organization. Today, she holds the position of Assistant Editor at HubShout, a white label seo firm based out of Rochester, NY.