10 Common Social Media Branding Mistakes Businesses Make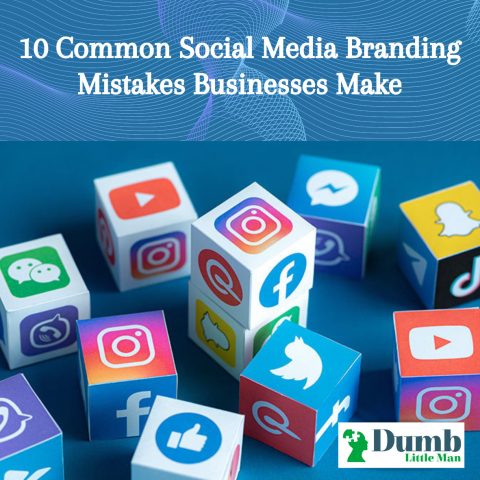 The world is evolving and business owners and marketers are shifting their business online to connect with their customers.
To get an exceptional outcome from your social media branding, you need first to enhance your social media marketing skills. No matter what tactics you try, you need high-performance social media marketing strategies to reach your desired target audience.
Social media marketing has become a necessity for brands and marketers because it has now become an essential way of presenting the brand to the largest segment of the audience. For almost all brands, digital marketing has now come to mean social media marketing.
These days, it seems that the main expectation that business owners have is for the product to stand out in the crowded world of social media. However, in order to achieve this, marketers need to make sure that they have some very creative ideas so that they can attract more users to their posts.
Mistakes in marketing campaigns are inevitable – things go wrong or at least do not turn out as expected. This could happen because the wrong audience was targeted, the research fell short, or the wrong set of tools was used for the execution of the campaign. A common reason for the low performance of social media marketing campaigns is choosing the wrong KPI to track the performance.
In this article, we will share some common social media branding mistakes every marketer or business owner makes. Make sure you pay close attention and notice which one of these common mistakes you are making.
Let's start!
① Working Without a Strategy
Working without a strategy is like diving without proper equipment because both scenarios have similar outcomes. Given this, it comes as a surprise that so many brands make this mistake, mainly due to a lack of vision or awareness about how social media marketing works.
Before you launch your campaign, you need to set the desired budget and outcomes, and then work steadily toward that goal. Unfortunately, marketers skip this part and start promoting their brands or products on social media straight away without any success.
It's essential to work with the right strategy in mind from the very start.
For this, list down all your goals and what you are expecting to achieve. Before you hit a 'share' button, the first stage should be goal definition. Next, set your budget, and finally, set the right deadlines and milestones. You should know the type of content you are posting and how you will showcase your product on social media.
The next step is the collection of the required resources. Start working with a proper strategy, follow your plan to the letter.
② Fail to Interest the Target Audience
The audience plays a central part in the audience. Many business owners and marketers only focus on promoting their brands or new products without knowing the actual interest of their audience. They don't focus on whether the product they have launched is on par with the expectation of the target audience. This issue lies at the heart of the mistake – not understanding the interest of the audience leads to the failure of the product.
The solution is easy: make your audience's interest your priority. Before you think about designing a product, you need to make sure that the product is good enough to attract the audience's attention. The key to success is very simple: Brands need to understand the needs and expectations of the audience so that they can grow their social media presence.
③ Not Tracking the Analytics
Tracking analytics isn't hard. However, it is a necessary chore that many marketers overlook in favor of other less tedious tasks. In addition, social media management tools such as Sprout Social alternatives simplify the tracking process.
Marketers do not pay enough attention to analytics and thus have no data to steer their efforts. When marketers don't follow the analytics, they are probably missing out on vital insights that might be hidden in the data.
Tracing analytics can help marketers in several ways. Firstly, it helps you in determining which social media network performs the best for you. Secondly, it helps understand how the content is performing in the context of social media marketing trends. As such, marketers who do not track the performance never see much success in their social media marketing campaign.
④ Not Linking to Your Websites
When promoting content on social media, many marketers often forget to don't link to the right landing pages. This seemingly minor oversight means that the visitors who view the social posts have no way of viewing the products. In effect, you are not letting your audience visit your landing page and buy the products.
Social media marketing is all about generating demand for your products. The end result of these campaigns is to drive traffic and increase brand awareness. However, this is where the campaign goals end.
If you have not included a link to the landing pages, you are essentially setting up your campaigns for failure.
⑤ Assuming All Social Media Networks are the Same
Perhaps the most significant mistake marketers make when it comes to social media marketing is considering that all social media networks are similar in how they work and the composition of the users.
When this mistake is made, the entire campaign goes in the wrong direction because the marketing assumes that the audience analysis for one social media network applies to all networks. Consider the example of Instagram and Snapchat. Both these platforms have massive audiences but there is a significant difference in the demographics of the users.
This small detail affects the way a product is marketed on both these networks. The content of the post, the right time to make the post live, and everything in between requiring careful consideration.
You may have noticed many emerging big brands always post the same content on all social media platforms ignoring the platform's format, character limits, features, and of course, different audiences.
When you post content on social media platforms, each post should be different and unique. The idea is to capture the attention by providing content that is popular with the audience on the platform. You can also use Pinterest Scheduler and schedule your pins for an entire week.
Using hashtags is an effective way to grow your reach. However, marketers like to go overboard and add a long list of irrelevant hashtags. Here's what you need to remember – don't add too many or irrelevant hashtags to your content. In general, two hashtags are enough.
⑦ Respond to Your Audience
The best thing to boost up your social media growth is by responding to your audience. If you keep yourself connected to your audience, it will be the best thing you can do. Have you ever noticed your audience won't appear on your page or like or comment on your post unless they aren't interested in it?
Once you get to know your audience and respond to their queries or comments, there are more chances that your social media reach will grow.
⑧ Unedited and Irrelevant Content
Before generating content for any still social media platforms, make sure the content you generate is a treat for the eyes.
Your content must not be like sour lemons. Although a few people like sour lemons baked with lemon and sugar glaze – that is not the case here.
Will you like the least amount of audience to read your content? With a minimum engagement on your content. We are sure your answer is a big NO! Who would appreciate creating content with zero interest in it?
Create content that's as smooth as silk, as delectable as honey – and your readers can understand it clearly.
To create content like that, you need to understand that your content must be promising and fulfilling. You should know the needs of your customers and the tricks to satisfy them. Your content must be efficient and convenient for your readers, with easy and audience-grabbing words.
Also, you can take help from Facebook to post ideas to create more engaging content.
⑨ Don't follow the Trend.
Generate content that revolves around the hot topics. Your content must be up to date. You need to find relevant and exciting content that is trending in your niche. It shows how you have been keeping your brand updated with trending topics.
The topics that are trending on Twitter or Facebook can help you create topical content for your brand.
⑩ Forgetting to Humanize your Brand
Your customers want a face to see, a voice to hear! Unfortunately, many marketers or business owners rely on automation tools and forget to communicate with their audiences.
If you're introducing your brand, you need to have a visual representation as well.
It is an essential part of communication, and your appearance can help your customers understand your brand more.
An effective social media marketing campaign can help you properly convey your message to your customers and work on their suggestions.
Wrapping Up!
Here we have compelled a few common mistakes the social media marketers usually commit when it comes to branding. Working with a good strategy can save you from many things. Before you kickstart, you need to create a short plan and then work accordingly. Your audience is an integral part of your marketing. Try to come up with the content your audience loves.
If you are not tracking the analytics, you are missing out on something big. Hashtags can be a significant part of your marketing strategy. Still, irrelevant hashtags can destroy your content, be on the top of trending topics and update your audience with the hot topics. Lastly, give your brand a human touch.
Like this Article? Subscribe to Our Feed!
At Dumb Little Man, we strive to provide quality content with accuracy for our readers. We bring you the most up-to-date news and our articles are fact-checked before publishing.