What to Wear On A Business Trip: 5 Outfit Ideas You Can Try With Flats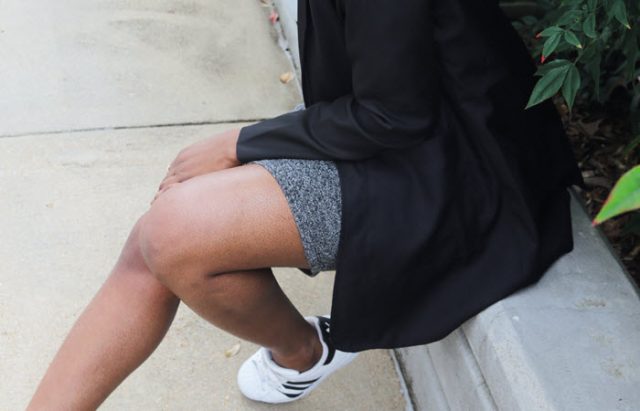 For that casual look, women's comfortable flats make a good choice of footwear. However, pulling off an outfit that will pair perfectly with this type of women's shoes is sometimes hard. If you're running out of inspiration on what to wear on a business trip, here are five great outfit ideas to wear with flats.
Sparkly flats for dresses and gowns
Whether you are going to a formal event or simply going out for a lunch date with your girlfriends, you don't always have to wear stilettos to look fancy and classy. Here are some interesting outfits to try:
An ankle-length gown paired with flats with pointed toes
A sparkly pair of flats for either fitted or flowy dress. It's as eye-catching as wearing a pair of high heels.
White dress with black knotted flats
Pair boots with feminine dresses. Boots look fantastic with overly girly dresses.
Suits + sneakers = chic and sharp
Who says you can only wear sneakers for weekend walks or errands? Sneakers are so versatile and comfortable to wear even on a business trip.
Here are some interesting ways to look chic with a pair of sneakers:
Pair it with cuffed jeans. There's nothing cooler than teaming cuffed denim jeans and white tee with a pair of white kicks.
A pair of sneakers with a mini dress makes a fab casual outfit for any occasion. Wear a statement bag to complete your look.
Look cool and stylish with leather pants, a coat, and a pair of sneakers.
For a casual chic look, you won't go wrong with sneakers, denim skirt, and a vintage tee.
Loafers for a sexy, polished look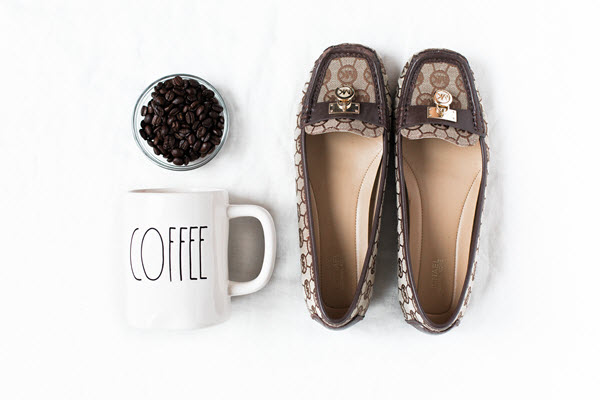 Loafers are very popular because aside from being easy to wear, they pair perfectly well with so many outfits. You can wear them for that smart or casual, chic or classy or sexy and polished look. Also, loafers don't have to be black or tan. There's a variety of styles and colors you can choose from.
Here are some ways to look gorgeous and feminine on loafers:
Metallic loafers go well with bright red trousers, striped shirt, and black blazer.
Loafers are wonderful with jeans, too. They make a super easy outfit to wear with a white shirt and denim pants.
Pointed loafers look great with textured trousers, plaid skirts, and printed skirts.
Multicolored loafers also add personality to your look.
Flats + blazer for a stylish getup
Flats may look more casual but with the right clothing pieces, you can strike the balance between a stylish and laid-back look. If you're wearing a tee and a skirt to work, wear a tweed coat or blazer.
Blazers come in all colors, styles, cuts, and fabrics. Your options are practically endless. Even if you're just wearing a plain tee or blouse underneath, you can look fab in your favorite flats.
Wear mules with an overcoat. Mules have a pointy-toe that makes them versatile and elegant like your favorite heels. They are far more comfortable and easier to wear.
Loafers pair well with jackets, bombers, and coats too.
A full women's suit and a pair of white sneakers are a match made in heaven.
Embroidered slip-ons to rock your style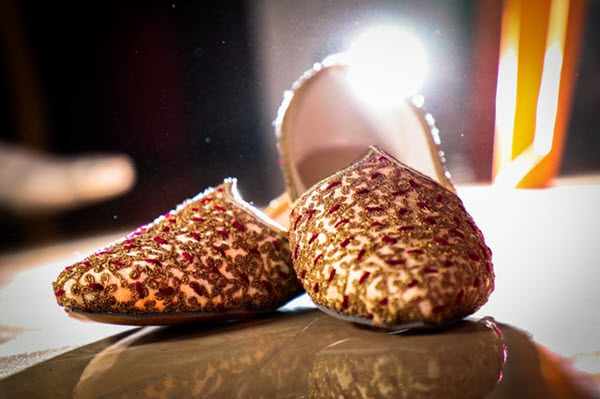 Still wondering what to wear on a business trip? Go with embroidered slip-ons.
You might think that this type of footwear is a little too grandmotherly, but top designers think otherwise. There are so many ways to rock your style with colorful flats:
Match it with an eccentric dress or coat.
Don't be afraid to choose bolder prints and patterns. Make your footwear the focal point of your outfit.
When in doubt, wear a classic all-white shoe but with a twist (such as a perf leather slip-on).
Florals totally rock!
How to Look Professional and Stylish in Flats – At All Times
Here are a few tips that will make you look fabulously stylish and professional wearing flats.
Get yourself a few pairs of classic and fashionable flats
Your closet should have ballet shoes or low heels that work for you in terms of comfort and style. It's good to have a few pairs of different colors, including neutral hues which match different colors and designs of outfits. You should also invest in one or two pairs of fashionable flats, such as metallic mules to wear for more formal occasions.
Think function
Shoes are great investments. But before you buy a pair, think of at least three outfits that you can wear with them. This will not only save you money, but a great deal of space in your closet, too.
Consider your body type
Some women's shoes fit more nicely with certain body types. For example, if you have a petite body, sticking to more pointed toes make you appear taller. If you have fuller shaped legs, look for flats that have lighter colors.
Own it!
Lastly, be confident with your look. A nice outfit and great footwear are just pieces of the puzzle. No matter how good they are, if you don't own your style, you won't look as fab as you want to be.
Conclusion
There's no doubt that wearing heels can make every woman look stylish and sophisticated. But flats can also make you achieve that fabulous look without sore muscles or bruises.
Flats are comfortable and easy to wear. They also come in so many designs, colors, and materials. From plush leather to chic fabrics, you'll find flats that can match any outfit.
Almost all outfits work well with flats. You can always experiment to create a look that reflects your mood and personality. These five outfit ideas are guaranteed to make you look professional and stylish while wearing the most comfortable footwear you can find.
See Also: 5 Basics of Matching Your Luxury Watch To Your Outfit