The 3 Simple Ingredients to a Successful Conference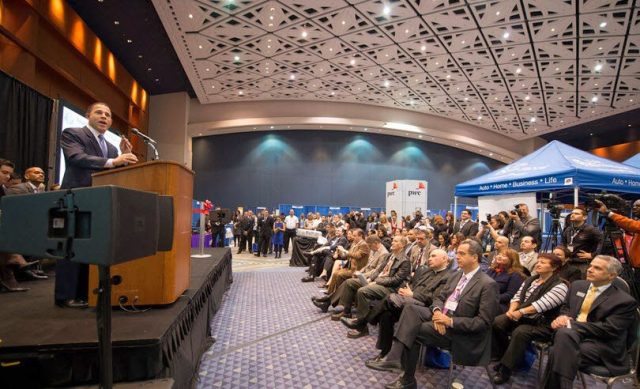 I have a confession to make. I love going to conferences.
I love learning from really smart, successful speakers who share their best "insider tips" on how to get ahead. I eat it up.
But here's the problem: it's incredibly hard to find really good conferences.
So many of them are truly bad. And when I say "bad," I mean dreadful.
You know what I'm talking about: boring speakers. Long speeches with no breaks. Unending powerpoint presentations.
I can still remember a completely lame presentation I sat through 13 years ago at a conference in Washington D.C. The speaker was bad enough, but the Powerpoint was even worse.
It seemed like the guy was trying to fit the phone book on each of his Powerpoint slides. It kept getting worse and worse until finally, there was one slide with at least 300 or 400 words on it.
It was so bad that the speaker was squinting at the screen and even he couldn't read it.
But here's the good news. Creating a successful conference isn't all that hard.

It's quite simple actually. There are just three crucial ingredients which any conference I attend absolutely MUST have.
Nail these three ingredients, and it's a success. Drop the ball, and I'll be wishing I never left the house.
Want to know what they are? Here you go:
How to Create a Killer Conference Attendees Will Love
1.) Top Notch Speakers Who Are Skilled at Teaching
With some conferences, the speakers are an afterthought. Or, the conference organizers gather together the most famous "names" they can nail down, but it turns out these speakers are really horrible at teaching and sharing ideas.
These famous names may sell tickets, but attendees walk away unhappy and vowing to not come back.
I would rather have speakers I've never heard of but who are going to give me ideas, strategies, techniques and new perspectives that will stretch and challenge me in the months ahead.
My wife is a teacher, and I know how exhausting it can be. It's also a skill that takes time to hone. Any speakers at a conference should know how to keep a roomful of adults engaged, paying attention, and actively learning.
2.) The Sessions Should Be Practical, With Opportunities to Take Action Right Away
Second, people learn best by doing, so any conference I go to must have opportunities to implement and take action right then and there.
While it's nice to be inspired, I hate conferences where you get inspired and fired up with ideas over a few days, then you immediately return home and have no opportunity to follow through and start implementing the concepts you just learned.
It's much better if you're able to implement your ideas in a practical and action-oriented way during the actual conference.
Everyone learns in different ways, so the conference organizers should also mix up the means of content delivery, such as audio, video, writing and small group work.
3.) The Conference Should Provide Numerous Opportunities for Developing Relationships
If you've read anything I've written for Dumb Little Man previously or checked out my blog, then it's no shocker that I think relationships are hugely important in business. So any conference I attend must have multiple opportunities to develop new relationships.
That means the conference must attract interesting attendees and speakers who can help my business grow, and the conference organizers must provide opportunities for networking beyond just making small talk while you grab coffee at the back of the room.
Ideally, the conference will offer parties or get-togethers in a variety of locations where attendees can mingle and get together in a more casual environment.
When I attended the New Media Expo in Las Vegas last year, I really liked how they got attendees out of the conference hotel and into new venues, like restaurants and nightclubs.
Even just mixing up the room can encourage greater mingling and interaction.
And that, in my book, is what makes a successful conference.
What do you find crucial for any conference you attend?  Let us know in the comments below. 
 
Photo Credit: Maryland Gov Pics
Like this Article? Subscribe to Our Feed!