Stop Living In Isolation! Get The Most Out Of Life With 10 Tips to Expand Your Social and Business Circles.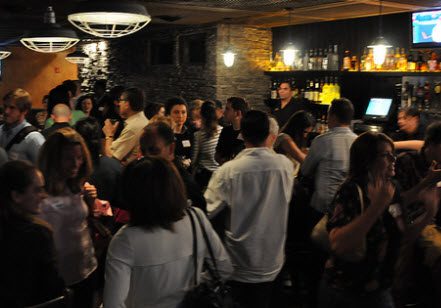 Is your social life lacking?
Do you spend most of your time alone with nothing to do and nobody to do it with?
Are you tired of wanting to go out and experience new things, but have virtually nobody to do it with?
What about work?  Are you looking to increase your boundaries and finally reach your potential?
Knowing others could really help.  Whether it's your social or business circle, that's lacking, this article will offer ten tips on how to expand them to help you get the most out of life and be that person you were truly meant to be.

How to expand your social circle
Unless you are happy being a hermit, having a solid social circle is a must.  Sure, some quiet time alone is always good to help you relax, focus, and regroup your thoughts, but being around others and having social interactions helps us to learn about ourselves as well.
Life shouldn't be all about work.  If you are truly dedicated to your career and cannot wait for each work day to begin, more power to you.  However, it's important to have a balance.  And that's exactly what a social life can provide.  It seems that we, as humans, tend to get caught up in routines.  You know, that everyday routine of waking up early, eating breakfast, going to work or school, and then coming home.  What do we do when we get home?  Eat, watch TV, get on the computer, or just sleep from sheer exhaustion.
As we get further and further accustomed to such a routine, we become robots or even worse, zombies.  All of our time and energy gets dedicated to the daily grind that we lose interest in actually connecting with other humans.  It's like we forget to enjoy our lives!  You need to enjoy life not only for your mental and emotional well-being, but your physical well-being too.  So, now it's time to do so by expanding your social circle, and here are six tips on how to do just that.
1. Talk to family members on a weekly basis
This gets put first on the list because you can usually count on family members more than anyone else.  Whether it's a brother, sister, mother, father, cousin, or some other extended family member, interacting with them is often a great social boost.  Remember, being social is not limited to people outside of your family, as you can enjoy activities with those who share your blood too!
A good standard to follow is to speak to at least two family members each week.  We tend to get so busy with our routines that we'll forget to make a phone call or ask how somebody is doing, so planting this rule in your mind of speaking with two family members per week should keep you from forgetting.
You can often meet new people through your family members as well.  They have their own social circles and probably would not mind helping you expand yours.  Best of all, they'll usually recommend quality people that are worth getting to know, whether it's a new friend or someone you might want to get romantically attached to.
Your family is an easy place to start expanding your social circle.  Keep reading to see some very easy ways to expand your social presence beyond your family members.
2. Maintain contact with your long-term friends, no matter what
The paths of peoples' lives often lead to different places.  This is especially true as we grow older and graduate school or take on new job opportunities.  It's easy to become disconnected from old friends as all of this happens, but don't let the distance separate you.  Make an effort to maintain contact by telephone or email, Facebook, chat, etc.  You should even try to have periodic get-togethers through activities like road trips or vacations.  If your friend lives close to you but has a hectic schedule like yourself, that's no excuse not to meet up for a quick lunch every once in a while.  Old friends can be just like family in some cases, and these are people that you should keep in your life.  Besides, you'll probably trust their judgment, and you could meet new friends of your own by having access to their social circles.
3. Get to know your neighbors
Have you ever met your neighbors?  That might seem like a strange question, but it really isn't in this day and age.  The hustle and bustle of life has apparently made it commonplace to not know who you are living next to.  Perhaps the internet and the boom of social media has made us more interested in staying glued to a computer or smartphone screen instead of trying to actually meet people in person.
Regardless, get to know your neighbors to widen your social circle.  They may have similar likes and interests.  Your neighbor could be your gym buddy or jogging partner.  Maybe the like the same movies and music.  Who knows, your next best friend might have been living next to you this whole time.  All it takes is a knock on the door.
4. Join a sports league
If you love to play sports, joining a sports league is one of the quickest ways out there to expand your social circle.  There are several benefits to joining a sports league.  You'll get in good shape, regardless of your age.  You'll rekindle that love you had for a sport that you maybe gave up years ago.  You'll meet people in your age group that have a similar love for being active.
Similar interests don't just stop at sports when you join a league.  As you get to know others better, you might find even more in common.  Pick up your local newspaper to check for sports leagues or do a search online.  You should have no trouble finding something that is right up your alley.
5. Enroll in classes
Just because you graduate from high school or college doesn't mean that your learning has to stop forever.  Your local community college can offer several ways to not only learn, but also to network with others and become social.
You may have all the degrees you need for your career, but why not take a class on something that interests you?  Art, literature, history, a foreign language, it doesn't matter.  Besides learning more about the topic, it's highly likely that you will find others in the class with common interests.  In other words, you get the best of both worlds by learning and being social at the same time.
So you've reached out to family, old friends, neighbors and maybe even got off the couch and joined a sports league.  Don't stop now!  Keep reading to see how you can increase your social interactions and also do some good deeds.  It's not all about making new friends.  You can also expand your business circle which can pay big dividends down the road.
6. Lend a helping hand with charity work
This might be the most rewarding route to expanding your social circle.  Working a charity event allows you to give back and meet great people at the same time.  You'll meet people that are caring and willing to spend their time to help others.  In the end, you will find that those at charity events are great choices to add to your social circle and could become very valuable friends down the line.
7. Use social media
Social media sites like Facebook and Twitter have allowed many to expand their social circles almost instantly.  Now, this method may not be as hands-on as the ones listed above, but it could really work to your advantage due to sheer convenience.
Take Facebook Groups, for example.  You can search for groups that interest you.  A group on rock music, or military history, baseball, or even something local.  Join the group and then interact with others.  You'll have the same interests and they might live in your area, giving you a new person to hang out with.
How to expand your business circle
Expanding your social circle is extremely vital to a well-rounded life, but what about your business circle.  What can you do to expand it to broaden your horizons and further your career?  Try these three tips.
8. Attend networking events
These have become very popular and more organized in recent years.  A networking "mixer" will often give professionals in the same field the chance to get to know one another to expand their business prospects.  These events are designed with networking in mind and can also be fun to attend.  You'll find food, cocktails, and entertainment to enjoy as you interact with others in your field.  In fact, you could say that networking mixers are as social as they are business-related.  Just remember to bring your business cards!
9. Use LinkedIn
While Facebook is seen as more of a platform for expanding your social circle, LinkedIn specializes in expanding your professional or business circle.  The site has grown in popularity over time and many see it as one of the best ways to get recruited for work or to expand their business' reach.  Whether you are a professional looking to take your career to the next level or a small business owner looking to make some important contacts, signing up on LinkedIn is a great way to accomplish either task.  You can get to know people in your industry and even participate in online discussions to become more informed.
10. Pound the pavement
Are you a go-getter that likes to take action?  If so, simply pound the pavement to expand your business circle.  Hit the streets and go to businesses in person that could help your business grow.  Ask to meet the people in charge and tell them about your business face to face.  This may be time-consuming, but it shows that you have initiative and you can make some really strong connections locally that will pay off in the long run.
These are just some ways to expand your social and business circles.  Hopefully they'll give you enough of a spark to get moving and expanding your reach, both in your personal and professional endeavors.
| | | | | | | | | |
| --- | --- | --- | --- | --- | --- | --- | --- | --- |
| | | | Written on 7/16/2013 by Enrique Stone. | | | | | |
Photo Credit: Freelancers Union
Like this Article? Subscribe to Our Feed!