Is the Pizzacraft Pizzeria Pronto Outdoor Pizza Oven Worth It?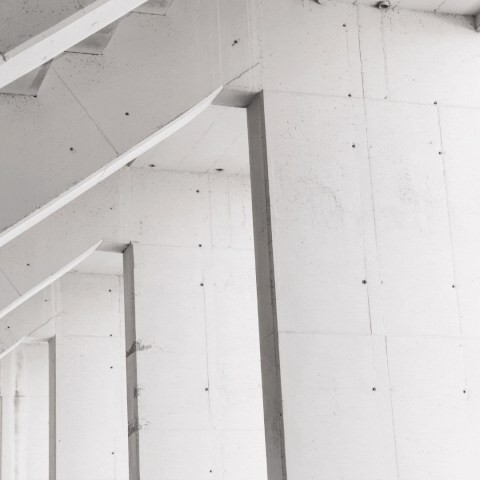 If you're a pizza lover, then I assume your personalized content and ads look a little bit doughy, if you know what I mean. These are influenced by things like your recently searched content, liked media, usual videos you watch, and other forms of digital history. Based on these things, you are likely to see the food content tailored to your interests, and you would certainly crave them even more! You are likely to start thinking about making your own, and we have just the right baking tool for you so you wouldn't have to continue to Youtube-Google your hunger.
Today, let's take a look at the Pizzacraft Pizzeria Pronto Outdoor Pizza Oven. As great as the name is, you'll certainly enjoy making pizza with it just as much.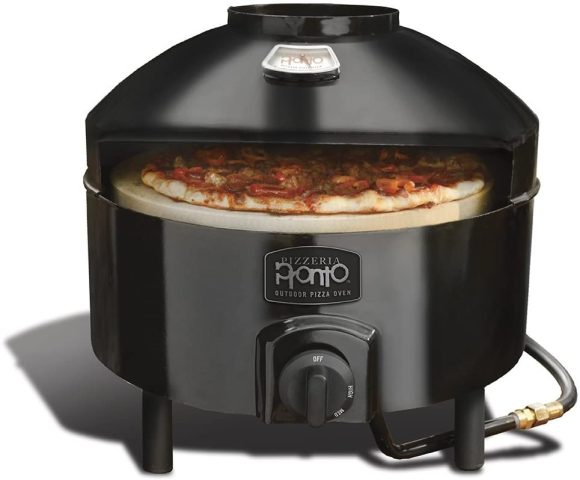 Pizzacraft's Pizzeria Pronto® is a deluxe pizza oven that will change how pizza night is enjoyed forever! You can use it on top of anything because it's portable, light in weight, and remarkably easy to use. It's so easy that you can get it all done in just three simple steps. All you have to do is connect it to a liquified petroleum gas tank, let it preheat for 10 minutes, and you're all set!
Ranging up to 700°F in temperature, your dish can be cooked in less than 5 minutes on this product. Whether you're going tailgating, camping, or just hanging out with your family, this tool is unquestionably a great choice. When your Pizzeria Pronto® oven makes delicious homemade pizza in a fast and easy way, you'll never order delivery again!
Designed with two 14″ ThermaBond® stones, it provides even heat distribution and heat retention, and it has guaranteed durability for constant cooking. A visor that holds heat and stainless steel reflection plate make the Pizzeria Pronto® 20% faster than the PizzaQue®. The Pizzeria Pronto® rain cap (included) can also hold a 1lb liquified petroleum gas tank when turned upside down.
👍 Pros
Affordable
You get to maintain services like tracking during ship-out
Ready to cook in 10-15 minutes
Assembles easily
Gas-driven, with high temperatures available
Safe to use on any surface
👎 Cons
🏷 Price
It is priced at £299.95. It is a pretty affordable price considering the amount of convenience this tool can give you. Known to be a multi-purpose appliance reflected in many Google searches and videos, you can also cook other dishes such as pita rolls, grilled vegetables, and a lot more on it. You are also able to cook your meals really fast depending on your settings.
For something so convenient and flexible, it truly is a fair price. It is also available on Amazon.
Click here to view Pizzacraft Pizzeria Pronto Oven
Who is This Pizza Oven For?
The size of this pizza oven makes it perfect for individuals or families with a few members who need to prepare a single pizza at a time. Pizzas get baked in this oven in 5 minutes, and they are great for smaller groups. With this product from Pizzeria Pronto®, even someone inexperienced can create outstanding pizzas since it is very user-friendly. Some experienced pizza enthusiasts won't be satisfied as it does not have many special features, but this oven can be used for bringing tasty pizzas to the table in a jiffy.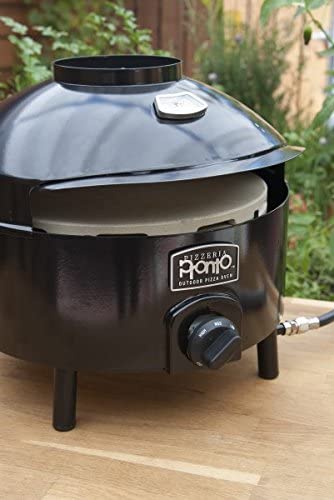 Features
When using gas like liquified petroleum gas, for instance, you are able to use the oven for as long as 24 hours anywhere you choose to go. This is perfect for outdoor gatherings. Camping or any other outdoor activity will never be the same again.
Patented dual stone technology
Thanks to the patented dual stone technology, your pizza crust will never burn. This pizza oven comes with pizza stones already, which means you are able to have better quality on the outcome since those are what pizza restaurants and huts majorly use to achieve such a fine crisp crust.
Product Specifications
Weight: This model is on the light side, as it weighs only 13 kg. This is what makes it very convenient to bring with you when you have fun outdoors.
Dimensions: The dimensions of this oven are 47.6 cm x 45.7 cm x 39.4 cm. Despite its size, it is still very effective. Pizzas that have a diameter of up to 35 cm can be made with ease. Due to it being curve-shaped and its hollow-cored pizza stone, it will cook the toppings and crust evenly at the same time, and you wouldn't have to worry about soggy pizza thanks to a duct found at the top of its dome, which allows moisture out.
Color Options: Due to its sleek black enamel steel coating, the product looks elegant. Aside from that, heat is also trapped and distributed effectively because of the color.
Gas: Using a 10 kg liquified petroleum gas tank, this oven can cook pizzas for about 25 hours or so and get hundreds of them ready. The temperature can reach 371 degrees Celsius during cooking.
The Pizzeria Pronto oven comes as a set, with its own thermometer, matchless starter, pizza stones, and hose that is used to connect to a gas tank. Instructions in the manual will guide you in assembling and using the product safely, as it is important to read these to get familiarized with how the oven works.
Where Can This Oven Be Used?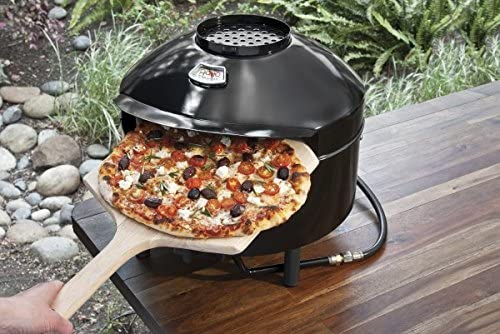 Despite its relatively small size, the Pizzacraft Pizzeria Pronto Outdoor Pizza Oven is perfect for use almost anywhere. This oven is designed to work on various surfaces. Portable in nature, it is perfect for bringing with you anywhere when you are tailgating, going camping, or doing any outdoor activity where you feel the desire to make and enjoy a slice of pizza or two (or even the whole of it). It's basically something you can bring with you almost everywhere.
What Is So Awesome About This Oven?
A few of the most appealing features of this kitchen appliance are its portability, ergonomics, affordability and petite structure. This Pronto Pizza oven lets you make different types of pizzas, even if you're not a seasoned chef. Though this oven for pizza-making isn't the fanciest, it still offers great value for any purchaser.
Why Do I Need To Purchase This Oven?
With this product from Pizzeria Pronto®, pizza-making will be simplified for you. Its lack of special features may disappoint more experienced pizza makers, but for those of us who simply want to make something delicious without the hassle, you are in the right place.
Overall Verdict
Pizzeria Pronto® offers a great oven that is comparable to those that cost ten times as much. To ensure that my pizzas do not slide too much, I got the Pronto and the leg kit with the backstop. To get a fully browned top while preventing the bottom from being burned, I added the non-stick screen. You only need about 90 seconds to completely cook the bottom with those classic char marks, followed by about 4 minutes on the screen to finish it. It works better than any other combo of stones, grills, or inside ovens, and I get many requests for pizzas from people since I bought this pizza-making oven. Get yours and you'll surely be in for a treat, it's a 5-star product! ★
Click here to get Pizzacraft Pizzeria Pronto Oven at a Discounted Price
Like this Article? Subscribe to Our Feed!
Vanessa is a mom of 3 lovely children and a software geek. Outside of her career as a health and wellness instructor. She enjoys writing and researching on topics such as finance, software, health and culinary.