5 Best Pizza Steels for 2021 : A Review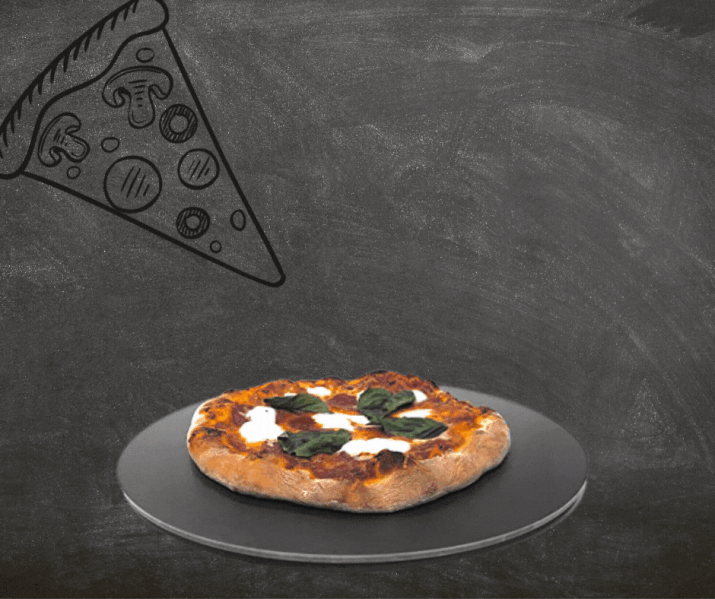 Do you remember how you love or hate a specific pizza chain because one tastes better than the other? The make or break of every pizza in the world is the way it is baked. Whether you want it smooth and chewy, crisp and flakey, or simply just the regular local pizza your palette has been used to. Pizza steels played a crucial role in making your pizza cooked evenly. The pizza oven has the respective maximum heat they can produce and one way of boosting the heat evenly on the pizza is by using high-quality pizza steel.
These are the Best Pizza Steels for 2021
In this article, we listed down the best pizza steel we can commercially purchase nowadays. They have different qualities based on the materials used, price, and product reliability. Why settle for anything less right? When we can always have the best.
Pizzacraft baking steel is great for its capacity to stabilize heat even on a low-temperature baking process. It absorbs constant heat and retains it even if the temperature around the baking steel decreases. The steel materials used have radiative properties that help it stabilize the temperature to about 450 degrees Fahrenheit.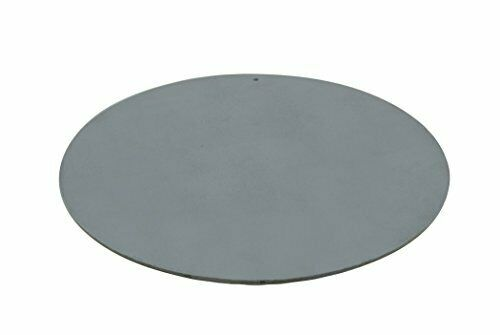 Specs
Round baking steel has a dimension of 14 x 14 x 0.14 which weighs approximately 6.2 lbs. Made out of quality steel with radiative properties.
Pros
Excellent Heat Retention – This product can transfer and spread heat way faster than using ceramic stone. It can hold the maximum attainable heat temperature despite the decreasing temperature around.
Faster Baking Time – Makes you enjoy your pizza faster without compromising the taste and quality of the output.
Best for Thin and Crispy Crust – Because it can retain and transfer the heat to the pizza faster, producing a high-quality thin crust pizza that is crispy is very attainable.
Cons
Limited Purpose – Unlike other pizza baking steel, this product cannot be used for cold items or purposes, unlike others that can be multi-purpose for both hot and cold items.
Price : Price range from $35.00 to $40.00
Click here to view Pizzacraft Baking Steel
If you want an investment that will last for long, this brand will be the one. Made out of special quality materials that are meant to spread the heat rapidly and retain it to ensure baking to its finest quality.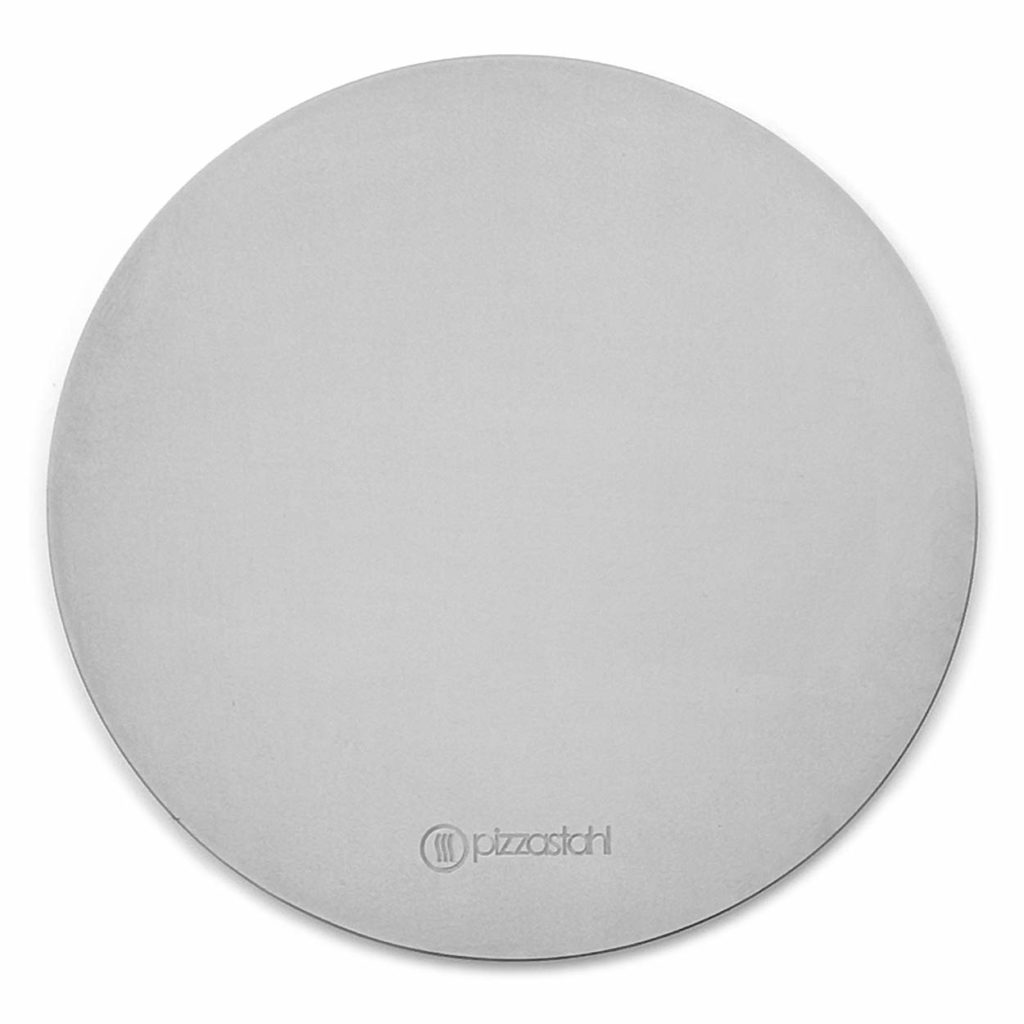 Specs
Gourmetrics Baking Steel is made Hochwarmeleitended special steel to achieve the highest heat retention capacity. This baking steel comes pre-seasoned which makes it ready to use, be it for the grill, oven, or even for the freezer compartment. It has a dimension of 32 x 0.8 x 32 cm.
Pros
Heat Conductivity – Because it is made out of quality steel material, heat retention or conductivity is one of its best assets. This plate makes the transfer of heat rapidly which helps the baking process faster than the others.
Multi-purpose – This product is not only designed for pizza, it can also be used in bread, ice creams, and others.
Domestic Design – The design is not only for commercial use, it is predesigned for domestic use, for your home oven. Not very complicated to use. Its design makes it easy to clean and maintain and does not need any special tools to clean it just the regular cleaning materials you have at your home.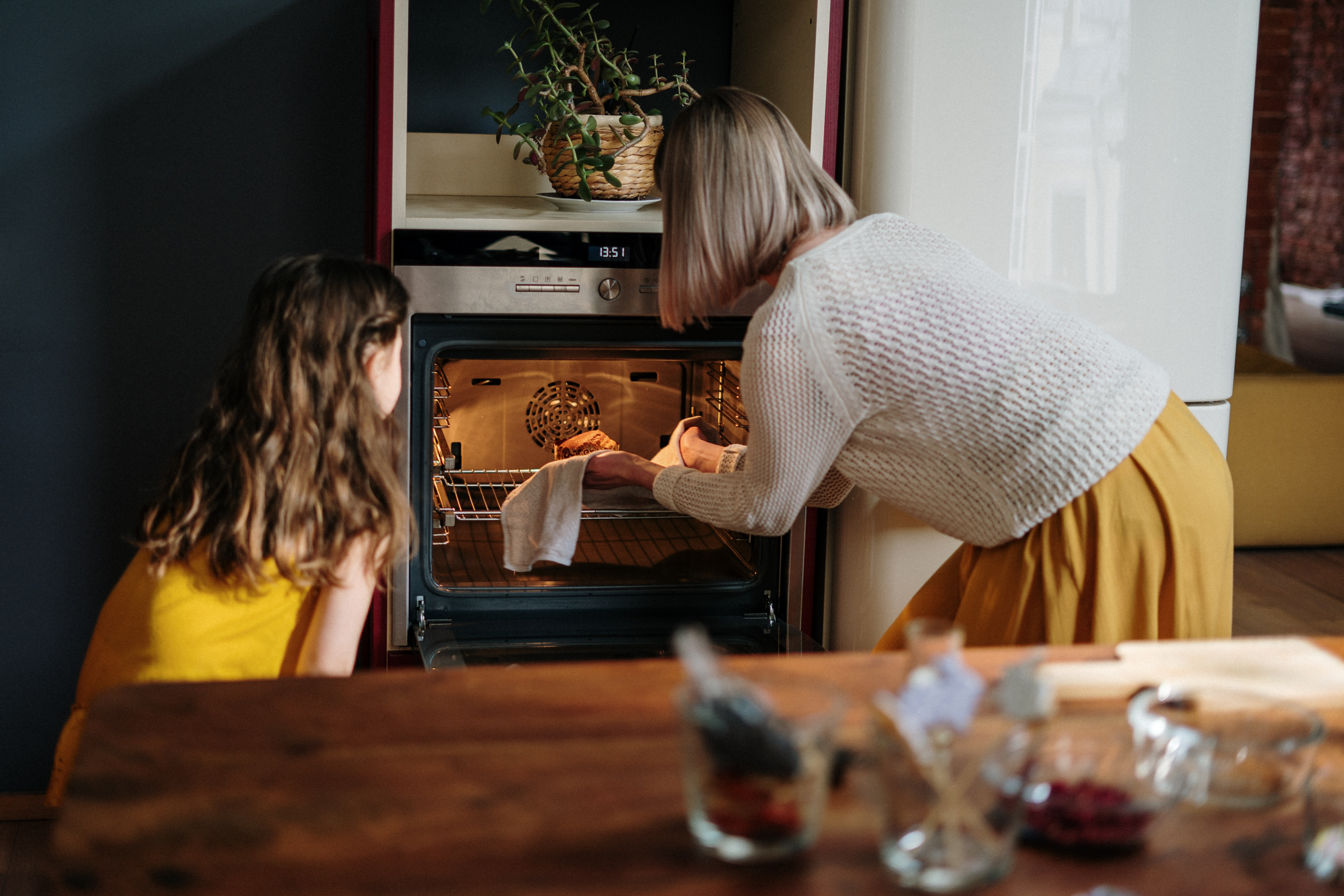 Cons
Weight – This pizza baking steel is weighing 5 kgs and it is the only cons I can think of about it. It is not very easy to carry around while baking.
Price : Range is from $23 to $30 each.
Click here to view Gourmetrics Baking Steel
This interesting product is known to be "The Ultimate Pizza Stone" by Lifehacker. One of the few who confidently claims a lifetime warranty of this product not to mention it is proudly made in the U.S.A.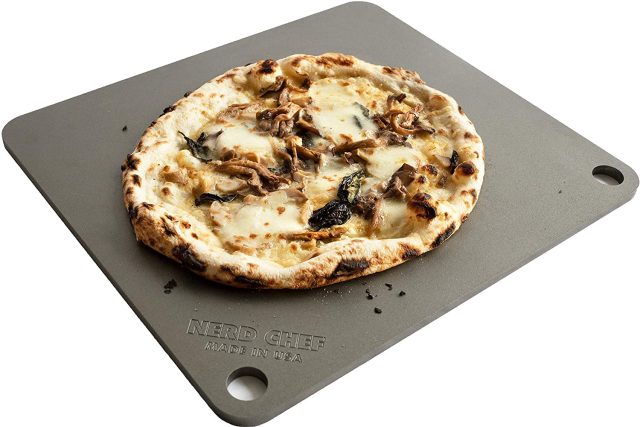 Specs
It has a dimension of 16 x 14.25 inches with a variety of weights which is 16, 23, or 32 lbs. It is heavy for pizza steel but you can always think back about the lifetime warranty it offers. There's no denying you can expect heavy-duty performance with the specs like this.
Pros
Higher Heat Conductivity Ability – This Nerdchef Pizza Steel has the capability to conduct heat 20 times higher than using the regular pizza stones. This will result to faster baking time for your pizza.
Durability – Who can contest a lifetime durability warranty? You can pass it over to the next generation without breaking a piece of it even if it lay under a wood-fired oven.
Low Friction Casting – The sand texture base on it seasoned with some flaxseed oil on the surface makes the pizza slide smoothly without so much pressure or friction on it.
Easy Grip – This pizza steel is undeniably heavy but its design makes it easy for the consumer to carry it around for cleaning and storing purposes. Some pizza stones can be very awkward to carry around but this one has a hole for easy carry and hanging.
Beautiful Crusts – Faster cooking means faster crust blistering for your edge. As you can choose the thickness of these pizza steels you can choose whether you would like steel that can brown your crusts easily or the opposite.
Cons
Literally Heavy – The weight is the only cons I can assess in this product. Given the durability of this pizza steel which can last a lifetime, the weight could be a good compromise already.
Price: The price for this is $109.99
Click here to view product Steel Stone by Nerd Chef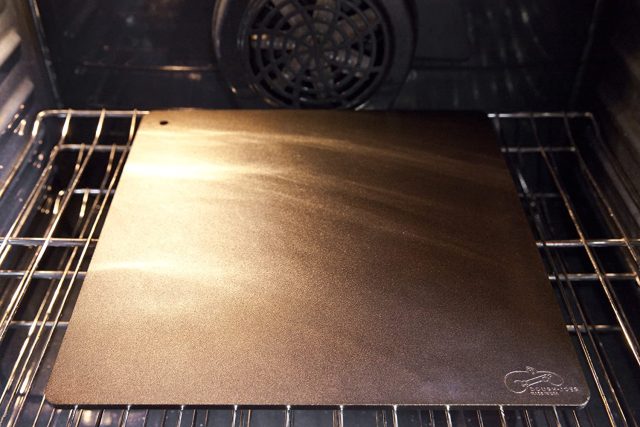 This baking sheet by Dough-Joe model Samurai is a square pan that can provide bigger round pizza for you. Outstanding durability that can last a lifetime and you never have to purchase another pizza stone in your lifetime ever again.
Specs
This pizza steel baking sheet has an area of a square of 15 x 15 x 1/4. This is relatively big for a square sheet that is used for pizza making so make sure it will fit your oven before you go and order one. The sheet retains heat double the ability of the regular pizza stone so make sure you allow some margin of surface inside your oven to prevent burnt from removing the pizzas out of the oven.
Pros
Durable – The high-quality steel used as a material in this baking sheet can last forever. Great investment for an individual who loves pizza making that you can use forever.
Wider Space – 15 x 15 area is a wide space that would allow you to bake much larger pizzas that can be enough for a medium-sized family without having to double your bake.
Ready to Use – The surface of this baking sheet is fully seasoned by the manufacturer so the consumer can have it ready to use upon purchase.
Cons
Heavy Weight – This product weighs a total of 16 pounds which some may find it inconveniently heavy.
Fitting – The size of the square might not fit some of the home ovens out there, make sure you measure before purchasing.
Price: The price for this is $68.23
Click here to view Dough Joe Pizza Steel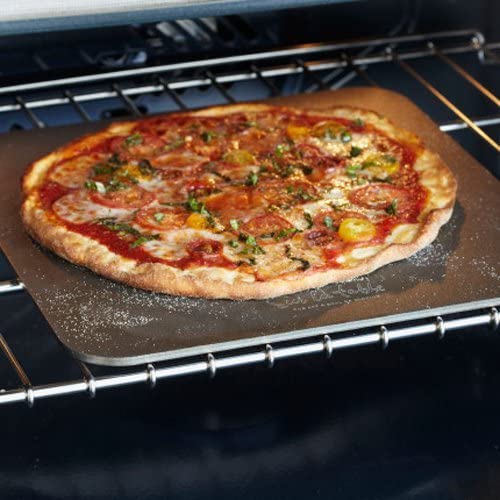 If you want professionally baked pizza at home, then this product is a must-have. Made out of versatile steel which makes it suitable for both oven baking or grilling. Sur La Table Baking Steel can also work great at a tabletop stove which contributes more on the convenience side.
Specs
Proudly made by Stoughton Steel Co., Inc. from the U.S.A. Its dimension is 14 x 14 x 1/4, weighing approximately 16 pounds.
Pros
Incredible Heat Conductivity – Its heat conductivity is eighteen times better than other ceramic stone. Due to this great conductivity, you are almost always assured of a quality crispy crust and faster cooking time.
Indestructible – The thickness of the baking steel which is a quarter of an inch has a lesser chance of breaking or cracking due to immense heat than other thinner baking steel.
Easy Cleaning – A standard cleaning soap and water is enough to clean this baking sheet.
Multi-purpose – Can be used in the oven, grill, tabletop stove, or even as a cold plate for some dessert or cold appetizers.
Cons
Fitting – Make sure the size fits your oven before purchasing
Price : The price for this quality product is $125.00
Click here to view Surla Pizza Steel
What is a Pizza Steel?
Pizza Steel is a tool in pizza making that helps produce great quality crust. This plate-liked steel where you place your pizza will conduct heat to fasten the cooking process. Pizza steel will conduct, stabilize and retain the heat from the oven to minimize the baking time.
What Are The Benefits of Using Pizza Steel?
Faster Baking Time – Using pizza steel makes the baking process faster by thirty percent than using the traditional pizza stone.
Gorgeous Crust – Better heating conduction means the faster baking time which is ideal to produce a gorgeous crispy crust that we all love.
Pizzeria Quality Pizza at Home – Admit it, sometimes, no matter how hard we tried we always end up having a soggy crust for our unevenly cooked pizza. Don't let frustration bring you down, the secret is using pizza steel.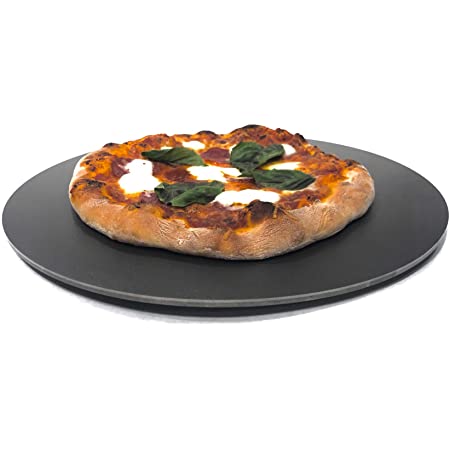 Better Baking Experience – Pizza steel is not specifically for pizza alone, it can be used in baking bread, meat, and other recipes that are being baked. Keeping pizza steel inside your oven helps elevate equal heat distribution.
How to Get the Right Pizza Steel?
Things you need to consider before getting pizza steel:
Oven Size – This is one of the most important factors before buying one. Make sure the pizza steel is not bigger than your oven plate. Leave enough space for handling in removing the pizza steel after. Remember that the surface is hot upon removing the pizza steel so make sure you have enough space in pulling out the steel without burning your hands.
Durability vs Price – Most of us would often look at the price tag first before checking the specification of the product we wanted to purchase. This is normal for most of us but we can always have the value for money without compromising durability. A hundred dollars more than the other might be worth it if it can give you a lifetime warranty that you never ever have to buy another pizza steel in your lifetime.
Conclusion
The product reviewed above are said to be the best that there is in the market. They have different edges and advantages, choosing what to get will basically depend on what kind of oven you have and the availability of these products around you. But if we were to choose one, it will be the Pizzacraft Baking Steel. It's sleek style and versatility makes it perfect for every home. Having this kind of tool handy at home can always give you a high-quality pizza that's just within reach in your kitchen.
Click here to get Pizzacraft Baking Steel at a Discounted Price
FAQ
Q: How to use a pizza steel?
A: Preheat the oven with the pizza steel to make sure it conducts heat and stabilize the temperature before you put in your pizza. Pizza steel is pre-seasoned by the manufacturer so no need to add extra oil to moisturize it. You can leave it inside the oven to maximize heat production inside.
Q: How do I clean my baking steel?
A: Make sure your baking steel has been cool down for quite a bit before you start cleaning it. Make it a habit to clean it every after use as much as possible to prevent deep dirt from accumulating. Handwash and use your regular cleaning soap and rinse with water then dry.
Q: Are baking steels heavy?
A: Yes, most of them are. They are built heavy to prevent cracking due to extreme exposure to fire and heat. They are made out of high-quality steel to withstand the heat and prevent cracking in the long run.