Ooni Koda 12/16 Pizza Oven Review- Which is better?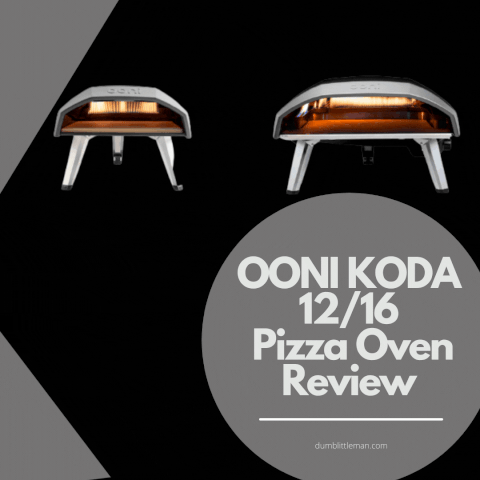 Many are falling in love with the idea of making their own homemade pizza. And this growing trend has many benefits. Some do it to save cost; others do it so they can try out their own custom recipes. And then some simply want the satisfaction of enjoying delicious pizza made with their own hands.
If this (pizza cooking) is something you would like to try, then you will need a pizza oven. Pizza ovens come in all shapes and sizes. Some are fueled by propane gas, while others use wood and charcoal. There are also those that are designed to use multiple fuel options (both wood and gas).
Here we will be looking at one of the popular pizza oven models available – the Ooni Koda. This is not just a pizza oven review, but a comprehensive look at the features and functions of one of the best pizza ovens available.
The Ooni Koda Gas Powered Pizza Oven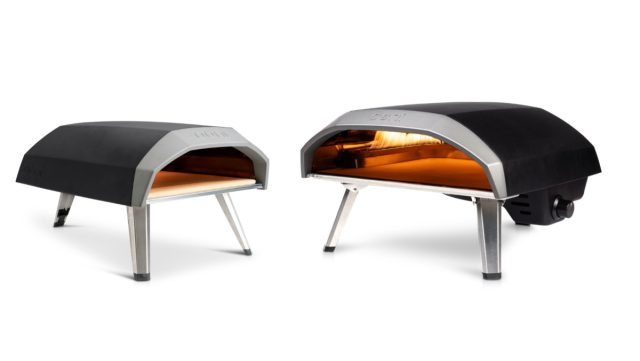 The Ooni Koda is a gas-powered pizza oven manufactured by Ooni Limited of Scotland. This product has a carbon steel shell with ceramic insulation that improves heat retention. The undercarriage is made of stainless steel and there is also a 10mm thick removable ceramic (cordierite) baking board that can withstand very high temperatures. This beautifully crafted product is designed for outdoor use and has a stylish but conventional look. It also has a matte black finish on its cover and does not have a chimney, which greatly improves its portability.
And speaking of portability, this product stands on three foldable legs that can be easily tucked away whenever you need to move the pizza oven. It's also compact and light enough to be carried and can be placed on tables.
Another remarkable feature of the Ooni Koda is the opening which is designed without a front cover. This allows you to observe your pizza as it cooks. This is unlike many other pizza ovens that are designed with covers.
Also, apart from the gas regulator/pipe, an aluminum pizza peel, and the baking stone, the rest of the oven is a single unit that doesn't need to be assembled. All you need to do is connect your Ooni Koda to your propane gas tank, and that would be the start of a memorable pizza cooking adventure!
Fuel
About the fuel, it is important to note that this portable pizza oven is designed to work with propane gas, not natural gas. As a matter of fact, the Ooni Koda can only be fueled by connecting it to a propane gas tank. This is unlike many other pizza ovens that can use wood and charcoal.
Safety Features
Additionally, this oven has a really good safety feature that shuts off the gas supply if the flame goes out. This is one very important feature that can prevent a terrible accident.
And still on the subject of safety, you must remember never to touch the top of the oven when it is in use. This is because the top of the oven can reach temperatures of up to 300oC. This can seriously injure anyone who accidentally comes in contact with it.
But thankfully, the back of the oven doesn't heat up while in use. So, even if the oven is lit up for hours, this part of the oven that houses the control knob will remain safe to touch.
Also, the oven does not radiate heat downward. So it wouldn't cause any damage if it is used while it rests on a table or any other delicate surface.
Finicky Gas Regulator Knob
Now, about the knob, there are a few things about it that may be considered a design flaw. First, there is a very small range of rotation for regulating the gas supply. This makes the gas supply level a little difficult to control with precision.
Also, the knob is designed to turn counter-clockwise for increasing the gas level. This is not intuitive, as most people are right-handed, and most devices (including other ovens) have knobs that turn clockwise instead.
Other Features
The gas burner of the Ooni Koda is yet another impressive feature of this product. There is an entire row of burners that spreads out the heat source over a wider area. This makes your pizza cook more evenly. This is better than other pizza ovens that have their burners in the middle.
It can also heat up quite quickly and can reach 500oC in temperature. When tested, this product reaches the temperature needed to properly cook pizza in about 20 minutes. It can also cook each individual pizza in less than 2 minutes.
The Ooni Koda has a knob at the back that serves as the ignition as well as the temperature control. And a match holder comes with the pack too which can be used in lighting the oven.
What's included in the box?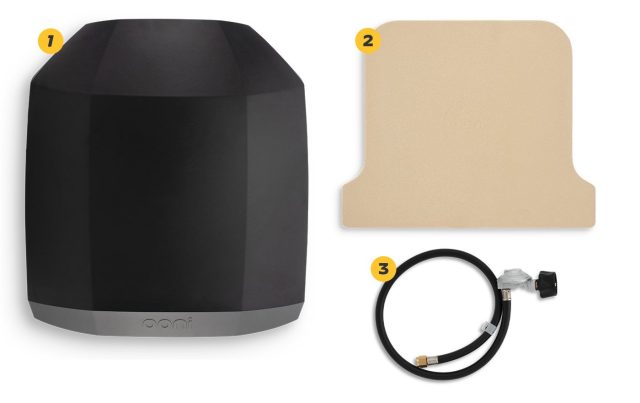 When you unpack your brand new Ooni Koda, here is what you should expect to find:
The oven
10mm Ceramic (cordierite) Baking Board (pizza stone)
Gas Regulator & Pipe
Aluminum Pizza Peel (without handles)
Manual
Recipe Book
What's missing?
Now, there are some things you may expect to find in a typical portable pizza oven that does not come with the Ooni Koda. These include an infra-red thermometer. If you need one, you would need to buy it separately.
Also, the pizza peel that comes with this product doesn't have a handle. You may need to buy a proper pizza peel with a handle, as the one included in the box is almost useless.
History
As we mentioned earlier, the Ooni Koda is manufactured by Ooni Limited. The company is registered in England and Wales and is headquartered in Broxburn, Scotland. Founded by Kristian Tapaninaho and his wife, Darina Garland in 2012, Ooni Limited manufactures and sells pizza ovens. And their products have become quite popular across the globe.
But all this started with a desire to create a portable and less expensive wood-fired pizza oven. This was at a time when most of the pizza ovens available were quite bulky and very expensive.
Today, the Koda 12 and Ooni Koda 16 Pizza Oven are just a few of the many Ooni Pizza Ovens and Accessories sold by Ooni Limited. And thanks to their innovativeness, the average homemade pizza lover can now afford their own pizza oven!
The company was previously registered as Uuni Limited ('uuni' is the Finnish word for 'oven'). But on the 17th of July, 2018, the company changed its official name.
Awards
By the way, did I forget to mention that the Ooni Koda model has received several awards?
Yes, Ooni Koda won the 2019 Retailer's Choice Award (National Hardware Show), as well as the 2019 Best Innovative Product VESTA Award from the Hearth, Patio & Barbeque Association.
What's good and what's not so good about this product?
Below are some of the upsides and downsides of the Ooni Koda:
Pros 👍
Very Portable and Lightweight.
Foldable Legs for easy storage.
Does not need to be assembled.
Very Affordable.
Comes with a 3-year warranty.
Cons 👎
A bit unstable due to its three-legged design and the lack of a locking mechanism.
Not weatherproof and can't be left outdoors permanently.
Thin (and perhaps fragile) ceramic baking stone.
The back of the oven interior can be considerably hotter and can quickly burn any part of your pizza that is too close to it.
Small opening and interior space make it hard to turn your pizza while it's still inside the oven.
Runs only on propane gas.
It might take a bit of practice, but eventually, you will figure out how to get the best out of this product. As has been stated earlier, getting partly burnt pizza is one of the most common mishaps users of this oven encounter. But as soon as you learn to turn the pizza frequently and avoid the back of the oven where the burners are located, your pizza should come out right!
Specifications
Now, there are two versions of the Ooni Koda – the Ooni Koda 12 and the Ooni Koda 16 Pizza Oven. Below are the specifications for the Ooni 12 16 Pizza Oven.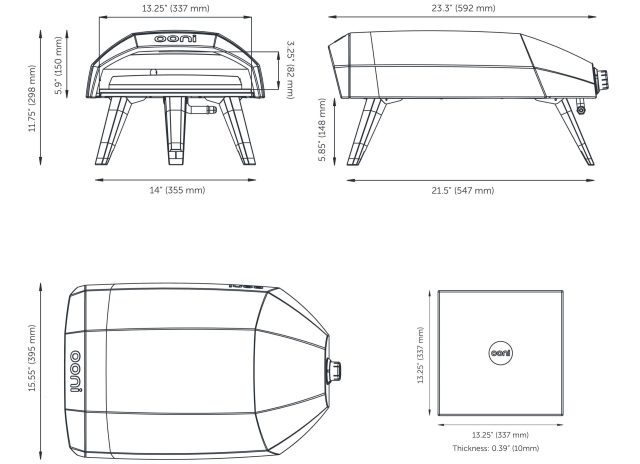 Size of Cooking Surface: 13.25 inches
Weight: 9.25kg
Indoor/Outdoor Use: for outdoor use only
Shell Material: powder-coated carbon steel
Fuel Type: propane gas
Preheating Duration: heats up to 500oC in 15 minutes
Click here to view Ooni Koda 12 accessories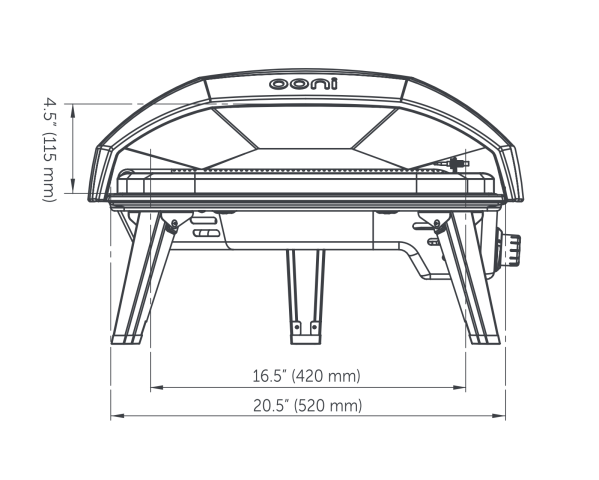 Size of Cooking Surface: 16 inches
Weight: 18.2kg
Indoor/Outdoor Use: for outdoor use only
Shell Material: powder-coated carbon steel
Fuel Type: propane gas
Preheating Duration: heats up to 500oC in 20 minutes
Click here to view Ooni Koda 16 accessories
Which Ooni Koda version is best for me?
Now that we've spelt out the specifications for both versions of the Ooni Koda, let us highlight the differences between them. The major difference between the Koda 12 and the Ooni Koda 16 Pizza Oven is in their size and weight. The Ooni Koda 12 has a 13.25-inch cooking surface, while that of the Ooni Koda 16 is 16 inches wide.
The Ooni Koda 16 Pizza Oven can cook 14 inch pizzas (or even a 16 inch pizza) on account of its wider cooking surface. On the other hand, the smaller Koda 12 is a lot more portable than the Ooni Koda 16.
Still on portability, the wider Ooni Koda 16 is almost twice as heavy as the Ooni Koda 12. While the former weighs 18.2kg, the latter weighs just 9.25kg.
Finally, there is the less significant difference in the amount of time it takes to preheat the oven up to a temperature that is good enough for cooking pizza. While the Ooni Koda 12 takes just 15 minutes to heat up to 500oC, the Ooni Koda 16 takes 5 minutes longer. This is due to the larger interior space in the Ooni Koda 16.
Click here to view Ooni Koda 12
Comparison between Ooni Koda 12 and Ooni Koda 16
To break it all down, here are the advantages of each of these versions:
The Ooni Koda 12 is a lot more portable and preheats faster. But the Ooni Koda 16 can produce larger pizzas. So, the version that is best for you depends on what is most important to you. Do you need a pizza oven that can travel and go places with you? Do you need something that can easily fit into any space? Then the Ooni Koda 12 is the perfect choice! But if you want an oven that can give you really large pizzas (like a 16 inch pizza), then the Ooni Koda 12 will not be suitable. Personally, I'll go for the larger Ooni Koda 16.
Click here to get Ooni Koda 16 at a Discounted Price.
Conclusion
The best thing about the Ooni Koda is its portability. Even the slightly larger Ooni Koda 16 is still relatively easy to carry about compared to other pizza ovens. Another thing that stands out is the beauty of this product! But it isn't just beautiful, it's also very functional.
So, if you need a portable yet functional outdoor pizza oven that can cook you a delicious pizza, you should go for the Ooni Koda. The only major drawback of this product is that it uses propane gas alone for fuel. So, you can't use other fueling options like wood and charcoal.
The bottom line is: if you love cooking pizzas, you should get yourself an Ooni Oven. And if you want something portable, you should get yourself an Ooni Koda!
Like this Article? Subscribe to Our Feed!
Vanessa is a mom of 3 lovely children and a software geek. Outside of her career as a health and wellness instructor. She enjoys writing and researching on topics such as finance, software, health and culinary.