Ooni 2s Oven Review : People's Choice?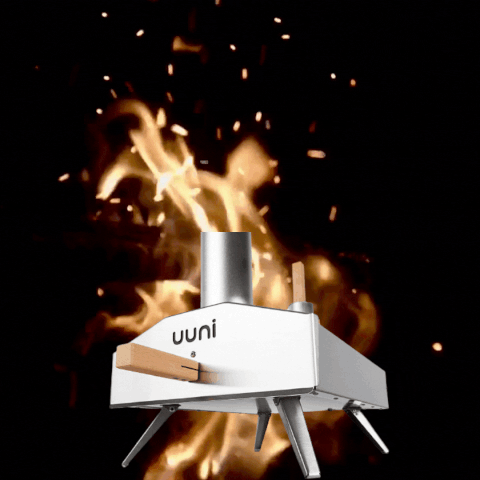 If you are searching for a budget-friendly pizza baking solution that you can carry outside of your kitchen, the Ooni 2s oven with stone baking board is perfect for you.
Pizza is a treat for the soul. With the sublimeness of melted cheese, twists of glazed tomatoes, garlic, herbs, and sauces, it's a carnival in your taste buds with just one bite. Pizza has emerged as an absolute staple in the menu of every outdoor event these days.
But the fun of having pizza together doubles when you cook one for your friends. Be it a summer get-together in the backyard, or a cozy camping site in the woods, serving your squad with a piping hot wood-fired pizza will cheer them up instantly.
A pizza oven is an essential tool to get your pizza-making task to a whole new level. It is portable pizza equipment that you can use for both indoor and outdoor purposes. With a quality pizza oven, your cooking gets faster and more seamless, that too without having to use a conventional oven.
Ooni 2s is one award-winning wood-fired pizza oven from the house of the Ooni. The simplistic yet stylish design helps you to carry it whenever and wherever you need it. Ooni, the Finnish term for 'oven'. It enables you to cook delicious pizzas without hassle. Let's look at the unique features of the new Ooni 2s or Uuni 2s wood-fired pizza oven.
◉ Ooni 2s

Pizza Oven Overview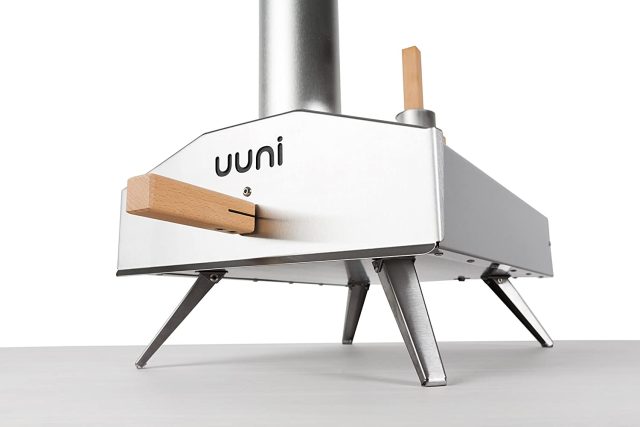 ⭐ RATING ⭐
Looks / Appearance: 4.0 /5.0
Functionality: 5.0 / 5.0
Ease of use: 5.0 /5.0
Pros
Fast baking.
Budget-friendly and portable.
Sleek design with highly efficient functionality.
Cons
Needs experimentation with temperatures to bake the perfect pizza.
Limited number of dishes possible.
Click here to view Ooni 2s Pizza Oven
◉ Who is the OONI 2s Oven for?
Uuni or Ooni introduced the world's first portable wood-fired pizza oven. And Uuni 2s is one of the most celebrated creations from the Scotland-based enterprise. With a simple and portable design, this new Ooni 2s oven also has a customer-friendly outlook. Anyone with almost zero knowledge about pizza ovens can easily make authentic and delicious pizza with the Ooni 2s product.
If you are a multi-tasker who wants to indulge in other outdoor activities simultaneously while grilling exotic pizzas for friends and family, then Uuni 2s is the right choice for you. It takes little to no time to make pizza recipes. You make the dough, cut the vegetables, prepare the toppings, put the flame on, insert the preparation and within 90 seconds you get the perfectly cooked wood-fired pizza. The whole process would hardly take 10 minutes. Hence, if you are a hustler who needs faster cooking arsenals to save time, this wood-fired oven is for you.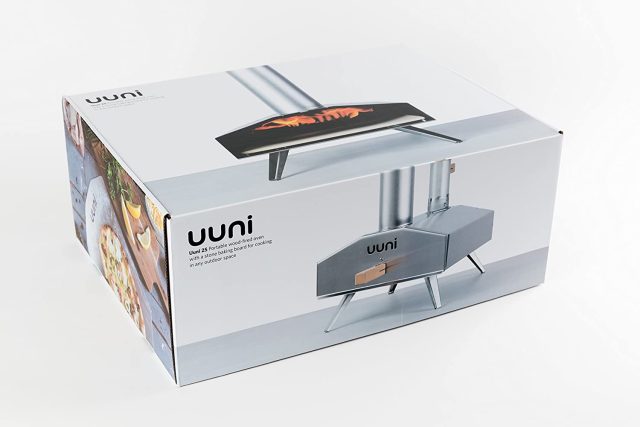 Specifications
The oven uses a stainless steel construction and the weight is 10 kgs only. Thus, it makes it extremely easy to carry for your outdoor and camping trips.
It runs on wood pellets, which are inexpensive and highly sustainable energy sources. Moreover, they are easily available in a grocery shop or supermarket.
Ooni 2s provides a stone baking board, that gives that authentic stone-baked flavor to your pizza. The stone baking board absorbs the heat from the flames and spreads it all over the food. Thus, you will get that crunchy taste of the pizza.
It is very easy to operate and the temperature reaches up to as high as 500 degrees Celsius in about 10 minutes. Thus, your pizza will be ready in less than 90 seconds.
The dimensions of the Ooni 2s oven are about 12 cm in height, 36 cm in width, and 48 cm in length. The height of the chimney is around 69 cm.
The oven is very easy to maintain. So, with just a little effort, you can maintain that brand new look for years.
This wood-fired pizza oven comes with a stainless steel pizza peel and an extra 10 kgs packet of wood pellets along with the stone baking board.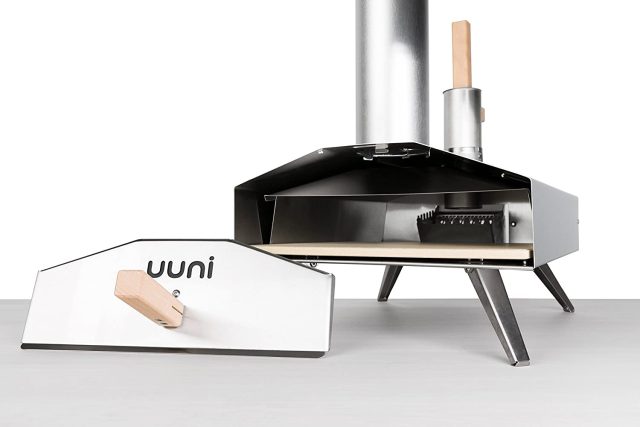 ◉ Where can this oven be used?
Ooni 2s wood-fired pizza oven comes with easy-to-use features and a portable design. You can use this wood-fired oven seamlessly in any outdoor space for fun cooking sessions. Here are some possible situations where you can use an Uuni 2s oven.
Summer Outdoor Get-together
Summer is the perfect time for outdoor evening get-togethers. You can plan with your squad for a minimalistic fun gathering on a breezy summer evening right in your backyard and get your Ooni 2s wood-fired pizza oven to make fantastic pizzas free of hazards.
Family Trip to Nearby Places
Often enough, when you go out with your family to a nearby trail, one of the pizza bugs would come up with a constant demand for pizza or other grill items. So, you can carry this handy Uuni 2s wood-fired pizza oven to the local family trips to cook a piping hot and crunchy pizza.
Beach Side Picnics
Beachside picnics call for some fun cooking sessions. This product from Uuni is, therefore, the perfect tool to carry to your beachside outings. Making pizzas with Uuni 2s needs no conventional oven or grill machine. Hence, you can seamlessly make delicious pizza within 15 minutes and spare some time to indulge in fun gossips.
◉ What is so awesome about the Ooni 2s?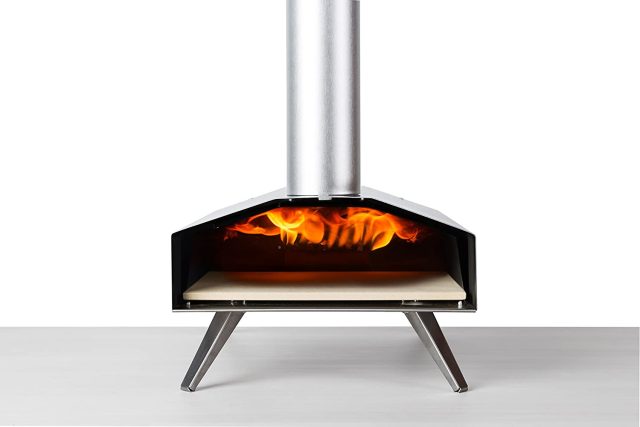 The new Ooni 2s wood-fired pizza oven is a premium quality oven with stone baking board. What makes this oven the customers' favorite, is its' easy and simplistic structure and convenience of use. You have to fill the grate with wood pellets, fire the grate with a flammable gas blowtorch, and load the pizza dough with all the vegetables and toppings. You can add extra pellets through the hopper on the top.
The Uuni 2s wood-fired oven cooks in extremely high heat and temperature without breaking a sweat. Ooni 2s oven has an inner flame keeper with a highly efficient heat revolving system that helps you make great pizzas in no time. The product is very easy to assemble and it comes with a set of accessories like a stone baking board, sustainable wood pellets, and a pizza peel to ensure hazard-free grilling. Thus, pizza lovers around the world purchase this new and great pizza oven from Ooni.
◉ Why should I purchase the Ooni 2s Oven?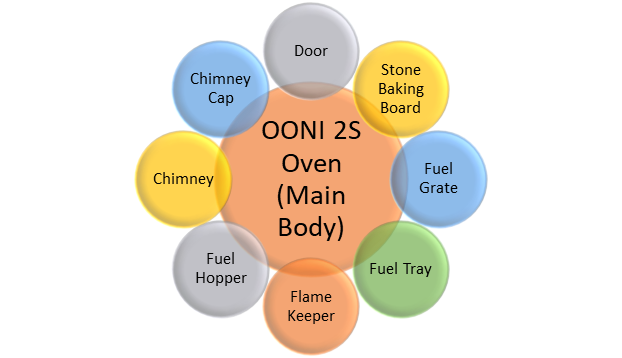 Ooni 2s is certainly one of the best pizza ovens available in the market. Moreover, you can carry it simply wherever you go, from garden campfires to cookouts. The oven can reach 500 degrees Celsius in around 10 minutes and can bake a pizza within 90 seconds.
Ooni 2s uses a stone baking board, which retains the earthy and stone-baked flavor intact in your pizza. It is extremely affordable and reduces fuel costs to a great extent. The oven uses highly sustainable biomass wood pellets as energy sources. In comparison with others available in the market, Ooni 2s leads ahead with a positive customer review. Therefore, you should purchase this Ooni 2s product for hassle-free pizza grilling outside the kitchen.
◉ How Can I Buy The Ooni 2S Pizza Oven?
With the new Ooni 2s wood-fired oven with stone baking board, your search for the best pizza grilling tool completes. You can purchase the product directly from the official Ooni website.
◉ Verdict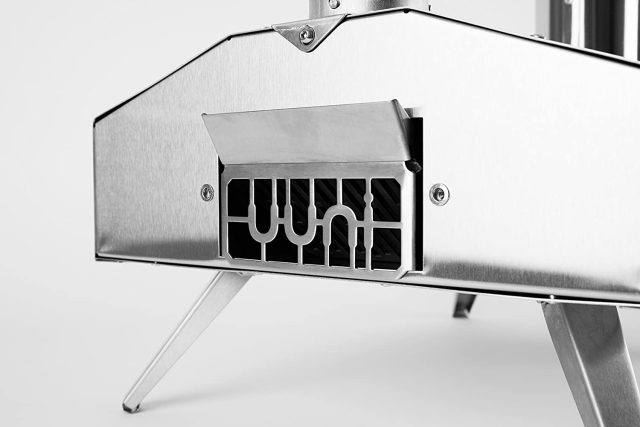 If you search for a budget-friendly pizza baking solution that you can carry outside of your kitchen, the Ooni 2s oven with stone baking board is perfect for you. You can use the oven for baking vegetables, fish, meats, and even desserts.
The oven is energy efficient as it uses inexpensive wooden pallets. Most importantly, it reaches very high temperatures in minutes, so your pizza gets ready in less than 10 minutes. So, Ooni 2s is certainly one of the best pizza-making tools in the market. The sleek look with smart stainless steel color makes the appearance appealing to the customers' eyes.
Pros
Easy to maintain and operate.
Easy to carry.
Reduces fuel cost.
Reaches high temperatures in a short time
Pizza bakes in 90 seconds.
Cons
It doesn't give that traditional baking oven vibe
Not easily available.
Click here to get Ooni 2s Pizza Oven at a Discounted Price.
Like this Article? Subscribe to Our Feed!
Vanessa is a mom of 3 lovely children and a software geek. Outside of her career as a health and wellness instructor. She enjoys writing and researching on topics such as finance, software, health and culinary.