Business Advantages of Getting Mobile Office Containers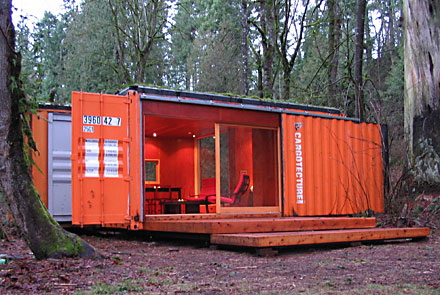 Calling small business owners and startups out there! Have you considered mobile office containers?
Shipping containers are creating a buzz in this modern generation because of the myriad possiblities they offer. Reinventing this simple box to various uses is one of its key advantages.
To cite one advantage of shipping containers, businesses can consider them as a customized solution for office space needs. There are many business owners who rely on mobile office containers not only as temporary storage for their office equipment and supplies but as an on-site workplace for their employees.
You may have heard of shipping containers being used as venue for trade exhibits and company related workshops or trainings. These containers can also be used as convenient mobile office containers.
Here are more business benefits that you can take advantage of if you choose mobile office containers.
Affordable Cost
One of the most obvious benefits of getting office containers is the money that you can save. You'll be able to save up on the necessary construction materials and the labor cost that you would otherwise need to shoulder if you build a traditional office onsite.
Office containers help you save more especially if you only need a temporary office on the job site compared to building a concrete office.
Other factors that contribute to the reduced cost of getting office containers are:
rental on expensive office spaces in a commercial building
travel expense, especially if you put the mobile office containers in your own property
Convenient Workplace
Having a completely enclosed and private office container makes it a more conducive workplace for employees. Office containers are considered as a quiet and comfortable workplace. This is made possible by their customized design.
As a business owner, you can improve the container's interior design and even its overall structure based on what your business needs to make it a more ideal workspace that will suit your daily operations.
Customized Design
This is the greatest advantage of getting office containers. If you are looking for an office space that you can fully customize, a shipping container is a good choice for you. Not only you can change its interior design but you can also fully equipped them with necessary lighting, built-in desk space, shelves and restroom facilities for a more convenient and professional workspace for everyone.
There are endless ideas on how you can customize office containers to make them more comfortable for your workforce and even walk-in clients as you can also set up a small conference room using interior partitions.
See Also: 5 Steps to Creating an Inspiring Workplace
When it comes to interior design and layout, you can also try finished interior walls and ceilings to give a complete look of an office space that is unique yet highly functional.
Sustainability
If you are looking for a more environmentally friendly option for your workplace, office containers could provide you with sustainable materials that support low carbon emission and energy waste.
Office containers can be built with vents, sliding or walk-in door to let natural air and light enter thus, reducing the energy consumption. If you are also looking for air conditioned containers but at the same way want to have alternative vents, again, this is possible through customization.
See Also: Solving Workplace Problems with a Culture of Creativity – 10 Strategies
Durability
Because of the materials used and construction, shipping containers can last for long years with proper care and maintenance.
Flexible Sizes
If you want to start from a 10 feet ready-to-go job site office container or want a bigger office area that you can divide for your storage room and working area, this is also possible with a range of container sizes to choose from.
Whatever creative way you have in mind to improve the design and structure of your mobile office containers, feel free to share them with a reliable provider and enjoy the convenience and modern style for your new office.
Like this Article? Subscribe to Our Feed!
Daryl Clark has been assisting with online Marketing for 6 years. He has been managing online businesses for 17 years and is the owner of D. Clark Associates