How Small Businesses Can Level Up With Business Texting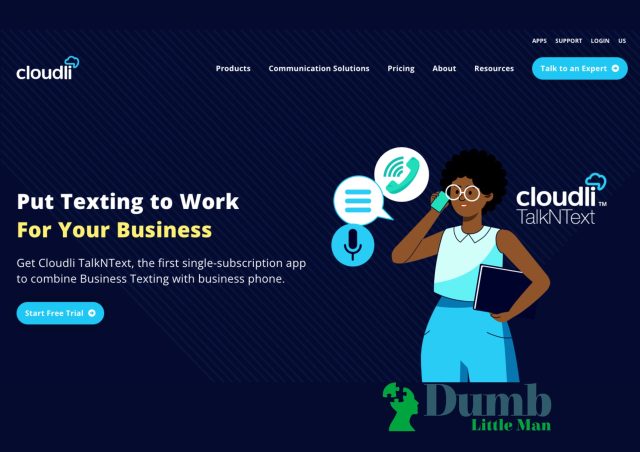 Your time is precious as a small business owner — you're often pulled in numerous directions managing multiple aspects of your business. Maybe you struggle to manage customer calls and requests or keep getting sidetracked with spam calls to your company's landline. If you currently only use a landline, you could be missing out on messages from your customers who are texting you asking for information.
A recent survey indicates that 93% of customers want the option to text with small businesses. That's a significant amount of business you could be missing out on if you aren't yet engaging with your customers via this fundamental channel.
Cloudli TalkNText eliminates the headaches many small business owners experience when trying to effectively communicate with their customers. By integrating your current business phone number with both a mobile and desktop app, you can text with your customers and clients, separate your personal and business numbers, screen unnecessary calls to save time and money, and so much more. Keeping all of your communications neatly organized has never been easier with Cloudli.
Features That Make Cloudli Unique
Work From Anywhere Capabilities
The Cloudli app can be downloaded and synced across multiple devices, allowing you and your team to never miss a beat. Wherever you are, you can access real-time texting conversations and receive customer calls.
Automated Messaging with Keywords
Powerful technology allows you to distinguish customer requests and text messages using keyword detection. Cloudli allows you to set up automated messages triggered by certain keywords to streamline communications. By not taking the time to respond to each individual message, it gives you the freedom to focus on other tasks.
Call Screening and Forwarding
Avoid disruptions to your day from spam calls and increase your productivity with the AI-powered Call Screening feature that works as a virtual assistant. You can quickly decide if a call is worth taking by viewing the caller's name and reason for the call on-screen in text message form, in real-time. If a member of your team is unavailable, the call will automatically ring the next-in-line user's device if you've configured Shared Phone Numbers with Smart Call Routing.
Separate Professional and Personal
With Cloudli, you don't have to worry about your team members communicating with your customers from a personal phone number or mixing personal and work communications. Cloudli TalkNText allows you to view all work communications in a user-friendly web portal, where everything is kept in one place. When everyone is on the same page, your customers receive an enhanced customer experience and trust that their requests will be handled accurately and efficiently. And you don't have to worry about team members leaving your company with precious contacts since user access can be enabled or deactivated through the admin's web portal.
Easy to Use and Install
Say goodbye to costly business phone solutions with complicated setup and operations. The Cloudli TalkNText app is easy to install via downloadable apps for iPhone, Android, Mac and PC, and seamlessly integrates with your existing phone number, allowing you to continue doing business as usual (but now better!)
Cloudli is an innovative and affordable solution to all of your professional communication needs. If you are a small business owner, it's time to level up your customer service and grow your business with the leading communications app.