A Review of the 3 Top-selling Gozney Pizza Ovens for 2023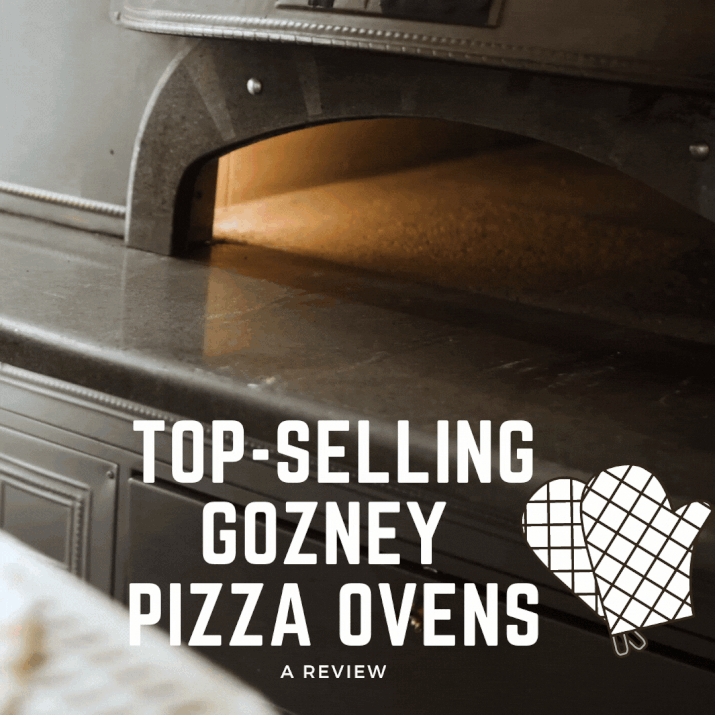 Pizza is an excellent choice for many teenagers, preschoolers, and discerning foodies. However, can you use your kitchen oven to make pizza in the comfort of your home?
Unfortunately, a kitchen oven cannot reach the high temperatures required to make a perfect pizza. That is the work of a pizza oven. Additionally, a pizza oven has unique features ideal for making delicious Italian pizzas and dishes.
Gozney oven promises both effortless and exhilarating experiences. So it's easy to get back to cooking. It makes extraordinary food very easy – so easy to cook.
The company offers professional-grade pizza ovens that will let you recreate a crunchy and crispy Italian pizza at home. We will review three of the best Gozney pizza ovens and make it easier to decide on one that works for you.
Here are the 3 Top-selling Gozney Pizza Ovens for 2022;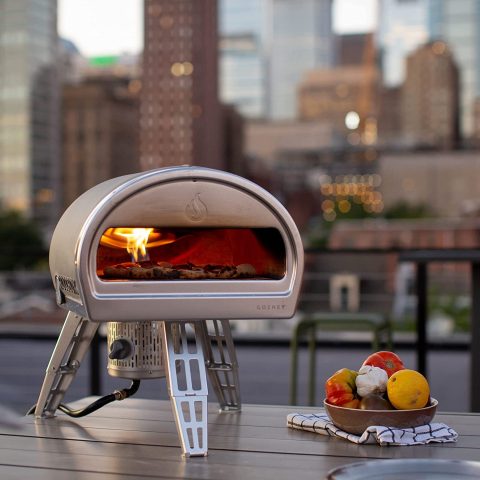 The Gozney Roccbox is a premium and portable pizza oven. The Roccbox is simply compact and classy. The Roccbox comes with a carry strap, retractable legs, detachable fuel burners, and an in-built thermometer.
You can fire your Roccbox with either gas or wood. It comes with a gas burner as standard. However, you can buy a wood burner and use firewood instead of gas.
The Roccbox heats to over 900 degrees Fahrenheit. It also retains heat very well and can make a pizza in less than a minute.
The best thing about the Roccbox is that you can use it for commercial purposes. It can make over 30 pies in less than an hour hence good for any business. Every chef will like it.
Gozney uses smooth steel, stone, and silicone to make the Roccbox. It is built to last and does not break easily. In addition, the silicone makes it safe to touch, reducing the danger of skin burns.
Read Full Review of the Gozney Roccbox Pizza Oven HERE.
Specifications
Dimensions in inches: 16.3 X 20.9 X 18.6
Weight: 44.1 Pounds
Fuel Type: Gas or Wood
Placement: Outdoor Only
Color Options: Green or Gray
👍 Pros
Easy and quick to mount
Fast cooking time
Portable
👎 Cons
It isn't easy to carry
It is small and can only cook one pizza at a time
🏷 Price
You can get your Roccobox for £399.00
Click here to view Gozney Roccbox Pizza Oven
2. Gozney Black Edition Pizza Oven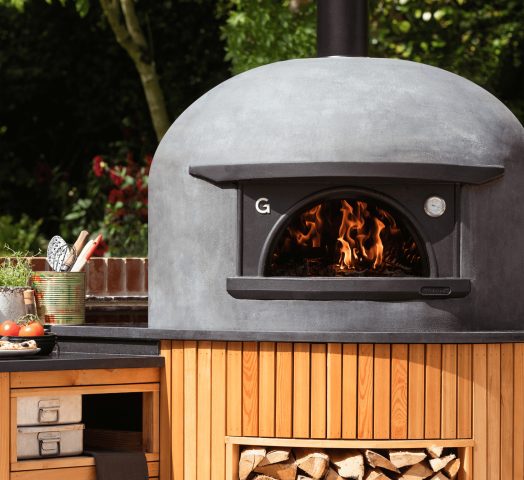 The Black Edition pizza oven from Gozney is classy, stylish, and fits into any outdoor space.
This oven is available in a number of sizes. If you like hosting parties with a number of people, then this is the oven for you. You may opt for any capacity ranging from a three to a six pizza oven.
The Back Edition has a stone structure that makes it sturdy. It will also deliver consistent performance at low and high temperatures.
The versatility of this pizza oven will allow you to cook savory and restaurant-quality dishes. You may also use it in a different way with a variety of dishes. This makes the oven perfect for business.
The cast iron mouth of the Black Edition is large enough to fit several oven dishes. You can use wood or gas to fire the oven.
Specifications
Dimensions in inches: 29.5 Inches X 29.5 – for 3-12″ pizzas
Weight: The weight ranges from 882 to 2,205 pounds
Fuel Type: Gas or Wood
Placement: Outdoor only
Color Options: Black
👍 Pros
It is versatile
Available in four sizes
Offers consistent cooking temperatures
It is large and can cook up to six-12″ pizzas at a go
👎 Cons
It is not portable
It comes in only one color
🏷 Price
The Gozney Black Edition price is available on inquiry/application.
3. Gozney Elite Napoli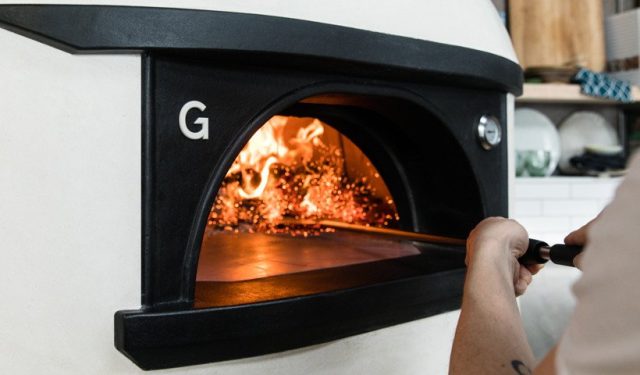 The Elite Napoli Gozney is a commercial oven and is best for restaurants. It is designed for high temperature-pizza cooking.
Its design is suitable for demanding conditions. The Elite Napoli has a high thermal mass that will allow the deck to recovery quickly. Faster deck recovery ensures that restaurants can deliver incredible pizza despite the demand.
Each part of the Elite Napoli is precisely made to fit through a standard doorway. You can quickly set up the oven without the need for a specialist.
The oven floor is thick with dense insulation to allow heat control. It is also efficient and will deliver consistent performance. You can either fire your Elite Napoli with gas or wood.
Specifications
The size of the Elite Napoli is designed to fit any restaurant space.
👍 Pros
Ideal for restaurants
Efficient and reliable
Versatile
👎 Cons
🏷 Price
The price of the Elite Napoli is available on inquiry/application
Who is Gozney?
Gozney has been around for a decade, it is a pioneer in engineering outdoor pizza ovens. It was founded in 2010 to manufacture outdoor ovens. Professional chefs and restaurants like Gozney ovens, making them recognized as leaders in the industry.
The company has brought cooking to a new level and set a high standard with memorable experiences. These ovens were made to enjoy restaurant-quality pizza even at home.
It also offers wood-fired pizza ovens, giving unique experience that everyone wants to experience. In 2010, efforts were made to change how cooking outdoors happens, and made it as easy as possible.
Unrivalled taste combinations and endless options. All Gozney ovens are professional ovens. They have been specially created to perform, to offer maximum taste and made to last.
Why Choose a Gozney Pizza Oven?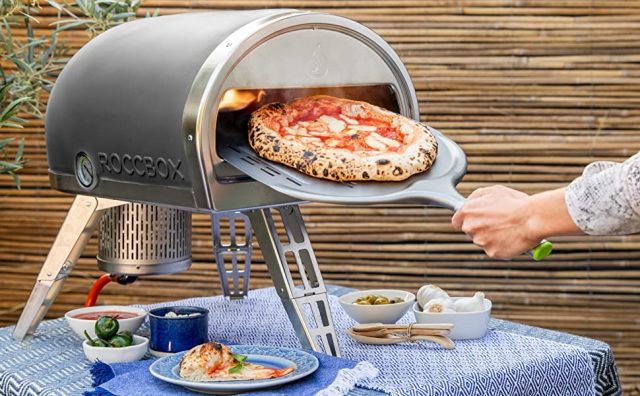 Gozney makes high-quality ovens that make restaurant-grade pizzas. Their ovens can reach temperatures of over 900 degrees Fahrenheit.
Their appliances are durable. All ovens from this company are made to last, a sign that they will serve you right. Also, some Gozney ovens are portable. They are designed for us to bring it anywhere, cook everywhere and enjoy it everywhere.
Gozney offers a variety of products to suit different users. All these products have different features, functionalities, and prizes. It all boils down to the quality of the Gozney line of ovens, it is simply well-manufactured.
One can master all the various cooking styles with Gozney. Cook, roast, steam or smoke, then let your taste speak for itself. Do a job preparing recipes super quick or low and slow.
Things to Consider Before Buying a Gozney Pizza Oven
There are a few factors that you need to put in mind before purchasing a pizza oven. The following guide will help you identify what works best for you.
Portability – Will you need to transport your pizza oven, maybe to a relative or on a picnic? If so, then you need to go for one that is easy to carry.
Versatility – The way you intend to use your oven is a factor you should consider. Will you use it for pizza only, or other dishes too?
Size – What size do you need? Are you comfortable with a one-pizza oven, or probably more because you love to have people at your home?
Accessories – Different appliances come with different accessories. You will need to see what accessories you need.
Final Thoughts
Considering all the rich information we have about the three awesome Gozney pizza ovens, we pick the Gozney Roccbox UK as the best one. It's versatility, ease of use and functionality exceeds the other editions.
Aesthetics wise? even better! It fits perfectly outdoor and in the garden and if we decide to go camping or go for a good outdoor cooking with family and friends, the Gozney Roccbox is simply the way to go.