Complete Guide on How to Renew your Business License in Maryland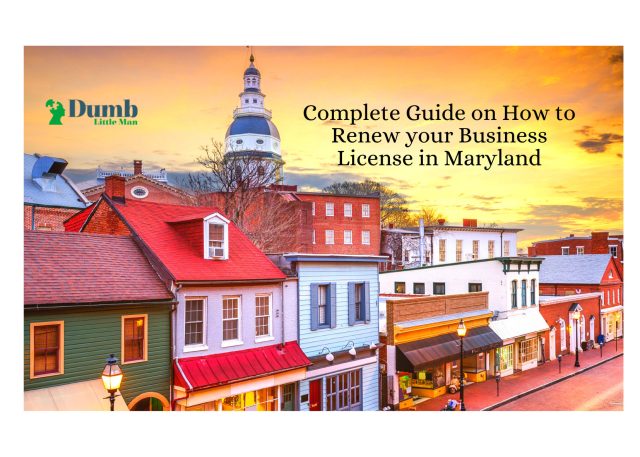 In Maryland, all businesses should get a Maryland Business License to operate legally. The Maryland Business License is valid for a year. Every business needs to send an annual report including the business' mailing address, tax documents, renewal application, and fees.
Maryland Business License Renewal
After you get a business license in Maryland, you need to renew it every year by May 1st. The renewal process begins annually on April 30 of each year.
The fee for a Maryland business license depends on the inventory amount of the main business application. However, as you get your business license at different times of a year, the license renewal fee differs and is prorated.
The License Division mails the renewal application every year after March 15. However, you cannot renew your Maryland business license online. Please, note that in case you change your email address or don't have access to it, you must contact the Clerk's Office before the renewal date. If you don't meet the renewal deadlines you may need to pay additional fees. The late renewal fees are accrued till June 1.
If you send your application later than June 1 you need to additionally contact the License Division to make sure you add late renewal penalties.
By the way, LLCs need to send annual reports that include the companies location and taxes and $300 annual fees to legally operate then.
Mailing addresses to renew your Maryland Business License
To renew your Maryland Business License you need to contact the Business License Division. You can either mail the renewal application or apply in person at the Clerk's Office.
The mailing address is the following;
14735 Main Street
Upper Marlboro
Maryland 20772
Maryland also accepts renewal applications dropped in the box at the Judicial Admirative Services Building. Please, place the renewal fee with the application.
The Judicial Admirative Services Building is at the following address;
14701 Governor Oden Bowie Dr.
Upper Marlboro
MD 20772.
What do you need to renew your Maryland business license?
In order to renew your business license in Maryland you must provide the following documents:
First, you need to get the renewal mail and proceed with the application form
After filling in the application form you need to mail it to the Clerk's Office or take it there in person.
Before you submit your application, pay attention to the documents and financial requirements.
Make sure you have filled in the right information without any spelling mistakes.
Have the application form signed by the business owner/owners.
Make sure you make the payment to the right bank account. Attach the payment invoice to your renewal application.
Getting a business license in Maryland: requirements and fees
In fact, Maryland doesn't have general state licensure requirements for businesses, however, different cities may have their own requirements. But before we go into the requirements and fees, let's check out what the business license is.
A business license is a document that enables you to legally operate your industry. Generally, they are given by local governments. Whenever you start the licensing process, it's better to have legal counsel.
In Maryland, the Circuit Court for Howard County's license department is responsible for business licenses.
If you need to apply for a business license, your first step is to get your permission from the Comptroller's Office and get your online application link. Secondly, you need to apply for the Clerk's Office in person.
So, the main document requirements whenever applying for a Maryland business license are:
First of all, you need to provide your SDAT number (FYI, it must have a letter in the beginning)
All of the business partners should provide proof of identity
Then, the applicants should provide the registered trade number if they have any
If you are a sole proprietor you need to provide your SSN number
If you have an entitled, you must provide the company's Tax ID Number
Whenever you apply to the Comptroller's Office you will get an account number for Sales & Use. Have that number with you. This account number is only given to the businesses that sell something.
On the application day, you should provide your business location. If your mailing address is different, please, note that, too.
A telephone number for your business
If your company has any employees you will also need to provide the Insurance/Compensation number.
The applicants can also use an online licensing platform. The website of the Judiciary of Maryland enables applicants to search for existing licenses and fill in the online application form. But the online application is possible only after having the Comptroller's Office registration issued by the Central Registration Division.
Whenever you fill in the application, remember you need to provide a valid email address as the Clerk's Office contacts you by email in case of approving or declining the application.
Fees for the business license in Maryland
The fees for a business license in Maryland vary based on the amount of the inventory. In the chart below you can find some helpful information about fees and inventory amount.
The amount of inventory
Business License Fee (+ $2 for the issue)
up to $1,000 = $15
from $1001 up to $1500 = $18
from $1,501 up to 2,500 = $20
from $2501 up to $4,000 = $25
from $4,001 up to $6,000 = $30
from $6,001 up to 8,000 = $40
from $8,001 up to 10,000 = $50
from $10,001 up to 15,000 = $65
from $15,001 up to 20,000 = $80
from $20,001 up to 30,000 = $100
from $30,001 up to 40,000 = $125
from $40,001 up to 50,000 =$150
from $50,001 up to 75,000 = $200
from $75,001 up to 100,000 = $250
from $100,001 up to 150,000 = $300
from $150,001 up to 200,000 = $350
from $200,001 up to 300,000 = $400
from $300,001 up to 400,000 = $500
from $400,001 up to 500,000 = $600
from $500,001 up to 750,000 = $750
Over 750,001 = $800
Some tips for your online application
Whenever you have got your business license permission from the Comptroller of Maryland, you start your detailed application online. So it's better to remember some essential tips:
• Check your internet connection and use the updated and the fastest browser
• Write down the login and password of your portal as you'll need them later to renew your license
• Make sure you have all the needed documents with you.