Clifford James Pizza Oven Review – Cook Without Limits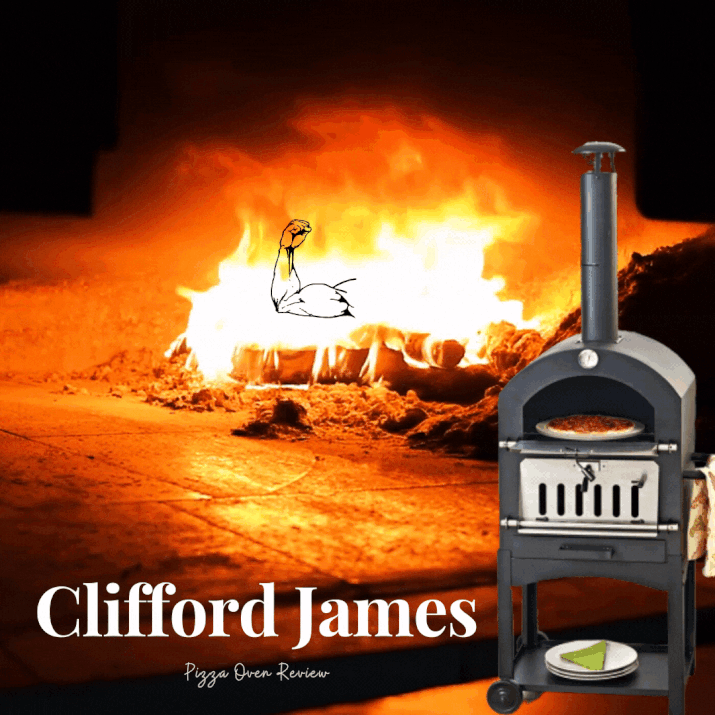 Outdoor pizza ovens are one of the greatest inventions ever made. With your pizza oven throwing pizza parties or any prevailing parties will be much affordable.
What is more fun than spending a weekend lying around with your family in the backyard enjoying yourselves with the best kind of pizzas? Food enjoyed with family and friends is better than eating on your own.
An outdoor pizza oven allows you to cook pizza out in the open. The portability allows one to move with it to any location, like in the wild.
The joy of having crispy, fresh, compelling, and piping hot pizzas should be enjoyed by everyone. Outdoor pizza ovens are modified to withstand and cook in very high temperatures.
There are a variety of pizza ovens in different sizes. The traditional outdoor oven was made of bricks and cooked using wood paced in the oven.
The traditional oven was a classic and energy saver, but it has hectic procedures from preparation, using, and managing the heat. Most people prefer ovens that use electricity, charcoal, or gas outdoors. The modern variety can be smaller and cook pizza in just a few minutes.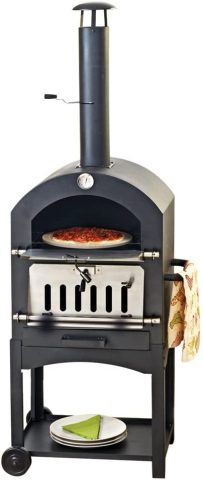 ● Specifications
Dimensions: 156cm H x 64cm x 43cm
Internal cooking dimensions: 34.5 cm x 48cm
Material: Steel
Who is This Pizza Oven For?
The oven is perfect for people who enjoy cooking outside, like in gardens or the backyard. It has other compartments where one can grill and cook other foods at the same time.
People in love with pizzas, grilled meat, and seafood would find this pizza oven efficient. The oven is efficient for commercial purposes, e.g., catering for an event with a small number of people.
However, it should not be handled by persons vulnerable to heat or left with children unsupervised.
Click here to view Clifford James Pizza Oven
Where Can This Oven Be Used?
This oven is specifically made for outdoor use due to the types of fuel it uses. It is fueled by charcoal which produces carbon monoxide.
Hence it is best when used outdoors/ in gardens. The chimney fitted on the top is important to direct smoke away from the users.
It can be placed in your backyard or garden since it fits seamlessly into such settings.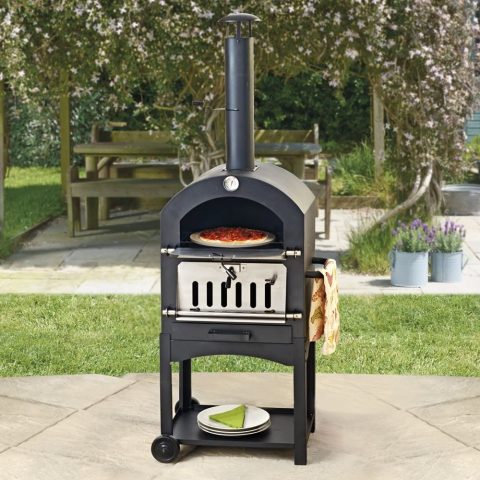 What Makes This Oven Different?
Clifford James' pizza oven is quite different from most pizza ovens in the market. One important feature is that it is an upgrade to the traditional pizza oven.
It has a pizza stone used to cook pizza which is responsible for cooking it to perfection. Pizza made from a pizza stone is tastier than the one made without.
It has a chimney and an inbuilt temperature gauge which facilitate the free flow of oxygen through modern technology. The chimney directs smoke away, making the cooking experience even better.
There are inbuilt shelves where the chef can store condiments and extra plates. The legs are fitted with wheels, and the trunk has two carry handles that ease the mobility of the oven.
Being a modern take of the traditional pizza oven, this stylish multifunctional oven can create mouthwatering rustic style pizza.
● Multifunctional
It is a multifunctional oven that cooks pizza, barbeque, fish, pork, and grill anything you need to be grilled. Apart from that, it can store heat for up to 24 hours owing to its make.
Temperature is easily controlled by sliding vents on both sides of the oven and allowing enough oxygen to keep the fire going. Charcoal fueled oven is efficient in areas with no gas or electricity, especially in gardens or remote areas.
● Why Does This Oven Need A Chimney?
The chimney is a crucial part of the oven to direct out any ash, smoke, and overheated air from the inside since this oven is charcoal fueled In the absence of it, smoke would be blown frequently in front of the oven, which would have ruined the quality of the pizza.
The presence of a vent means that a vacuum is created, pulling cool air from the front, which is important for convection. Ovens without chimneys function well because they are fueled by gas which does not give the unique flavor you want in your food.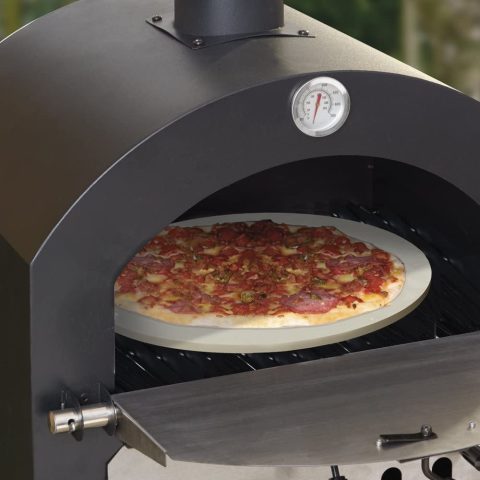 Do you love finger liking pizzas you can prepare in the backyard on a chill Saturday afternoon? Then Clifford James Pizza oven and bbq smoker is for you. As much it is an oven, it also serves a bbq grill and smoker for your meat.
This oven can make bread since it has conditions set for it. When you are not making pizza, you can grill and also smoke meat. Smoked meat lovers know that even artificial added smoke cannot beat the natural one.
You can bond with your family and friends over great food in your backyard or anywhere you wish. Clifford James founded this oven, thus its name.
Verdict
Clifford James Pizza oven is one of the best ovens in the market. Most of the features tick the checklist of a great outdoor pizza oven.
Pizza is a favorite meal for most Americans, but ordering all the time can be quite expensive. When you prepare your pizza, you can do so healthily because you can control what goes into the pizza.
The same thing applies to all other foods prepared in the oven. Overall, Clifford James's pizza oven is great in value and functionality compared to other pizza ovens in the market. The appearance is a selling point; matte black gives the oven a modern, classy look.
● Functionality
I think the idea of an outdoor pizza oven that can cook other things is genius. This oven can grill meat, fish, pork, and other foods.
Therefore, if you are not a big fan of pizza, you can always create other meals using the same oven. The exterior of the oven is made to withstand all elements of weather in all seasons.
The last thing you want is to buy an oven and then buy it the next season because it did not last. With this oven, you are sure to get value for your money.
It has compartments for storing condiments and plates, very efficient, right? It can be extremely useful you have extra guests but cannot get more plates from home.
Pizza made from this oven is quite delicious and has a little touch of traditional pizza, which is very important. You get a restaurant feel at the comfort of your home.
The carry handles and wheels make this oven mobile, an aspect that most outdoor ovens lack. It can be moved from the garden to the backyard without applying workforce.
● Ease of use
Clifford James pizza oven is easy to put together and use. It comes with a user's manual, which directs the user on how to put it up. How hard can it be to follow instructions more so with drawings?
However, some people may find it difficult to put up, especially when it comes to the screws. A simple mistake in putting it up affects the oven completely.
If you feel overwhelmed with putting the oven together, it is best to find a knowledgeable person. Using and preparing food in the oven is not technical.
There are few tips you should consider when using the oven. You may want to start the oven early enough, like 1-2 hours before making the pizza.
Please do not move your pizza while cooking because it can cause the base to burn. The base of the oven is usually quite hot, so moving the pizza aimlessly exposes the base to extreme heat.
If your pizza is not well cooked, you may want to move quickly over various spots for a few seconds. I do not think this oven is hard to use, but putting it up may bring about some challenges.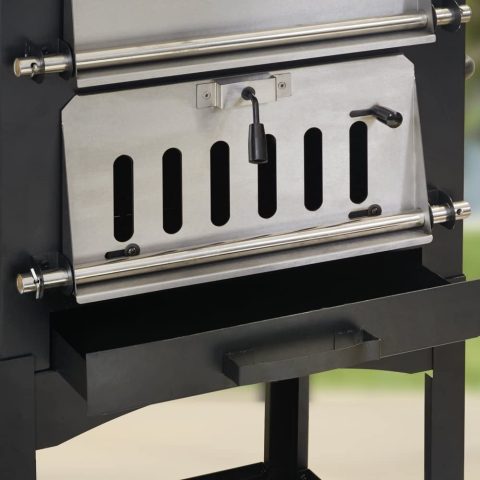 ● Looks/Appearance
The oven cot has a powdery black matte finish giving it a modern finish. The modern look was paired with stainless steel doors that prevent loss of heat.
The door has several vents that allow air oxygen into the oven. The body is fitted on two sets of wheels and two legs for support.
The wheels and handles assist in the portability of the oven. The appearance is aesthetically pleasing.
The color black and stainless steel give the oven a unique and beautiful outlook. The colors are perfect for gardens as they can stand all dust and elements of weather.
Stainless steel is a perfect material to use as it does not stain and is rust-resistant. The lower compartment is okay, but it can be improved.
Doors on it would work better to store charcoal. The chimney is perfect, not too short neither too long.
A thermal regulator is important to ensure that food does not burn. The oven is a bit on the smaller side due to its shape.
A huge pizza cannot be prepared, which beats the idea of eating together. Smaller pizzas mean longer cooking time which is challenging with children or hungry people.
● Pros 👍
Multifunctional
The appearance is appealing to modern minimalists.
No more smoke worries with a chimney.
The oven comes with other important utensils such as a pizza cutter, pizza peel, and pizza stone.
Ensure environmental safety through the use of eco-friendly fuel/charcoal.
Easy to disassemble, allowing for easy cleaning after cooking
Delivery time of the oven is quick.
● Cons 👎
Assembling the oven is a sport.
Fuel-used charcoal is not eco-friendly.
Made of thin metal sheet that separates the coal from the pizza.
● Price 🔖
Overall, the price of the oven is affordable. In my opinion, the oven gives you value for your money. With all the benefits you get, they overturn the cons.
Click here to get Clifford James Pizza Oven at a Discounted Price