The Pilates Wheel Reviews: Does it Really Work?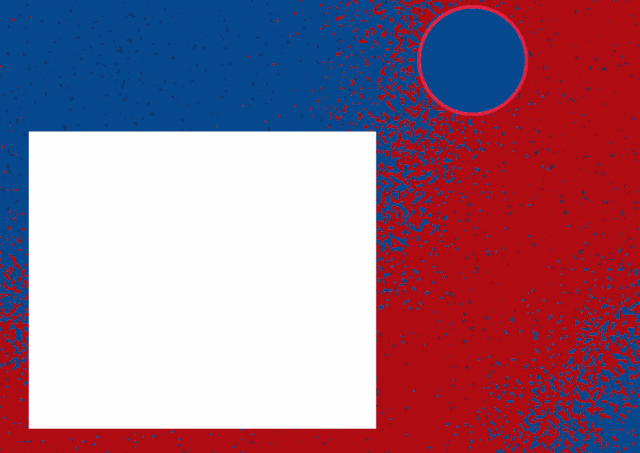 The Pilates Wheel is a portable device you can use for your Pilates workout anywhere and anytime you choose.
If you think it's not possible to make Pilates exercises more fun than they already are, the Pilates wheel is going to make you reconsider.
The ingenuity applied by its creator, Kristin Anderson, and her cofounder, Brain Abercrombie in producing a portable device capable of supporting all the movements of machine Pilates is amazing.
If, like me, you don't have access to a fitness gym or the room and money to purchase and store a machine Pilates equipment, the Pilates wheel is a perfect choice for weight loss exercises.
Pros
Cons

✅

It is a completely portable and adjustable device you can store in a gym bag after each workout.

❌

You need to build the discipline necessary to follow all the online classes and other instructional materials available.

✅

You will love the quality instruction videos that accompany the device. The instructor and online community will help you throughout your journey, from fundamentals to mastery.
❌ The free videos address all levels simultaneously, so you have to identify what applies to you and filter out the rest.

✅

The Pilates wheels are held together by a detachable foot bar with a light modern design. The inclusion of other accessories such as resistance bands and anchor bars makes it possible for users to enjoy a range of movements that engage the whole body.
❌ The Pilates machine is cheaper than the Pilates machine, but it is still not free.

✅

The wheel turns around a hub that allows the foot bar to be raised or lowered as featured in a reformer.

❌

In all, the instructions and support make the entire equipment very easy to couple and use. It, however, takes some time to master all the routines available.

✅

The team regularly adds new workout routines and fitness classes you can always access for free.

✅

The Pilates Wheel is a convenient and quieter machine that is affordable to purchase and maintain.

✅

The Pilates wheel's portable design and ease of assembly and use eliminate the need for expensive studio subscriptions. The instruction materials that ship with the product eliminate the need to hire a physical Pilates instructor.

✅

You can start your journey by taking advantage of a 30-day trial.
Amazing reviews from Customers in 2021- Find out what they said!
Tini- "I wanted to take a moment and say THANK YOU for creating a great piece of equipment! I could not wait to roll out (pun intended) the Wheel! It has received positive reviews in the short time I have had it. I am INCREDIBLY picky about the equipment I invest in."
Michael K.- "It took me a bit to get the hang of it. I'm used to the reformer, but once I did, it was great! Super close to a reformer with seemingly more muscles involved in some ways because of the control of the wheel. Super fun."
Kelly.- "I've had mine for a week and love it. I took reformer classes for over a year but just couldn't afford them anymore. This is perfect for an in-home reformer experience. The videos are well done also".
Sheila.- "I love mine! I decided to take my "bigger" machine out last night since it has something similar to a jump board and it was a pain to put together. I like the convenience of the Pilates wheel. I can take it anywhere, it does not use a lot of space".
Kay Talk.- "For years my Pilates Trainer has been urging me to get a Reformer at home. We truly have no place for one, except the living room. We cannot store one under a bed because our beds are: one platform and two with built-in storage drawers. Enter The Pilates Wheel. I found it easy to put together and easy to put out of the way, even into my car when guests come, because it is lightweight. The instruction videos start very basic and progress onward. I'll have to hide it when young children are visiting, it is an attractive nuisance to kids, and I do not want them hurt or my Wheel abused. It won't do the routines for me but following the videos persistently will benefit me and keep me toned, balanced, and strong when my trainer is away".
Click Here to Know More Pilates Wheel Customer Reviews.
What is The Pilates Wheel DLX?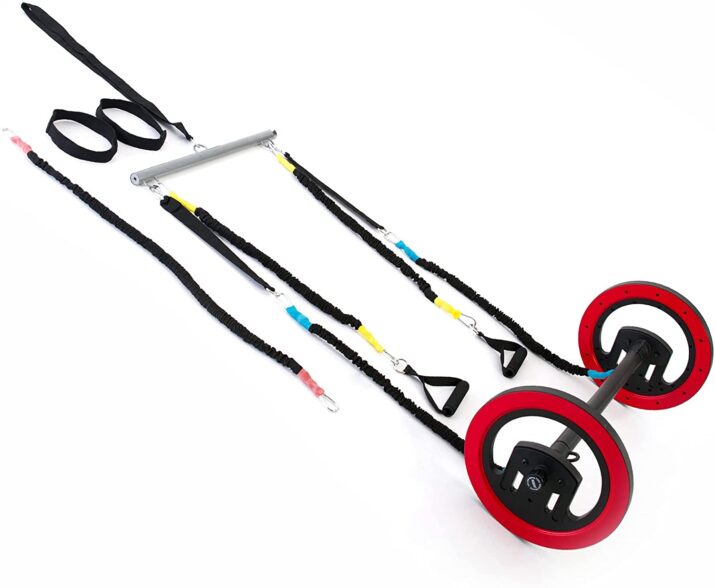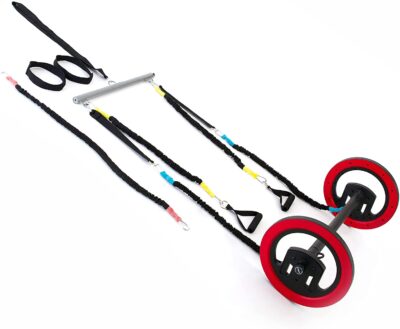 There are two versions of Pilates wheels available for purchase. The Pilates wheel COR (Centre Of the Room) and the Pilates wheel DLX (Deluxe). The COR version supports all the basic Pilates exercises you need to go through your fundamentals.
After mastering the basic Pilates workouts, you will need to support your device with an anchor. This is where the Pilates wheel DLX comes in. The Pilates wheel DLX adds an anchor system you can attach under a door (that closes towards you) or any heavy object to give a complete reformer feel.
The Pilates wheel DLX breaks down the Reformer and Cadillac to their fundamental components. Along with very a handy collection of resistance bands and hub rotating with smoother bearings, this potable device also packs;
2-foot loops.
2 handles.
Access to online instruction comprising of 15 thoroughly featured routines. With the options to live and on-demand classes.
A balance anchor
A nutrition guide
2 anchor extenders
How does The Pilates Wheel work?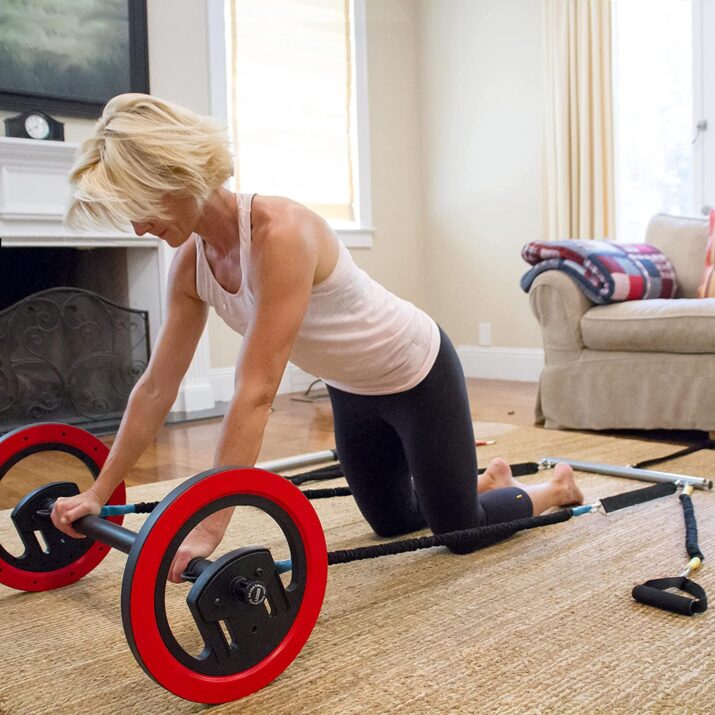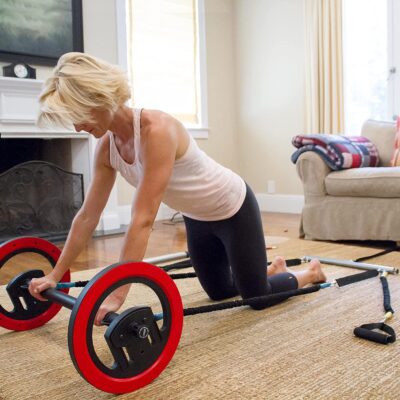 The wheel is shipped together with helpful instructions that guide you through the simple steps to assemble it. The whole process takes a few minutes to complete. You also gain access to over 200 streaming classes.
The classes are hosted on the manufacturer's website and YouTube, eliminating the need to search endlessly for instruction materials.
The Pilates wheel takes aspects of the reformer and Cadillac and simplifies them into a piece of equipment that is only 24" wide. The wheels have a 14" and are connected by a light foot bar when in use.
Both wheels rotate around a hub and allow you to raise or lower the foot bar just as you can on a traditional machine Pilates.
The addition of straps, foot loops, handles, and an anchor system increase the variety of body movement possible. The Pilates wheel is great for people who want to lose weight, keep a fit body, or work on their posture.
Why is The Pilates Wheel Effective?
The Pilates wheel captures all the capabilities of machine Pilates in a way that makes it possible for anyone to use it.
Its designers took aspects of the Reformer and Cadillac, boiled them down to their basic components, and created a portable piece of equipment.
There are fun ways to do everything. You can easily access instruction videos for any exercise on the Pilates wheel and work out anywhere you like. The Pilates wheel is completely adjustable and portable.
Click Here to Know More About Pilates Wheel.
What are the accessories in The Pilates Wheel?
The Pilates wheel makes it possible for you to work on your strength and movement. Purchasing a Pilates wheel gives you access to a complete system at a fraction of the cost and effort.
The equipment ships with functional accessories that support your Pilates workout needs, including:
Resistance bands.
Bar.
Handles.
Foot loops
Anchor straps.
Anchor extenders.
Balance staff.
Access to online instruction.
Nutrition guide.
Click Here to Get Pilates Wheel at a Discounted Price.
What is AeroPilates Reformer?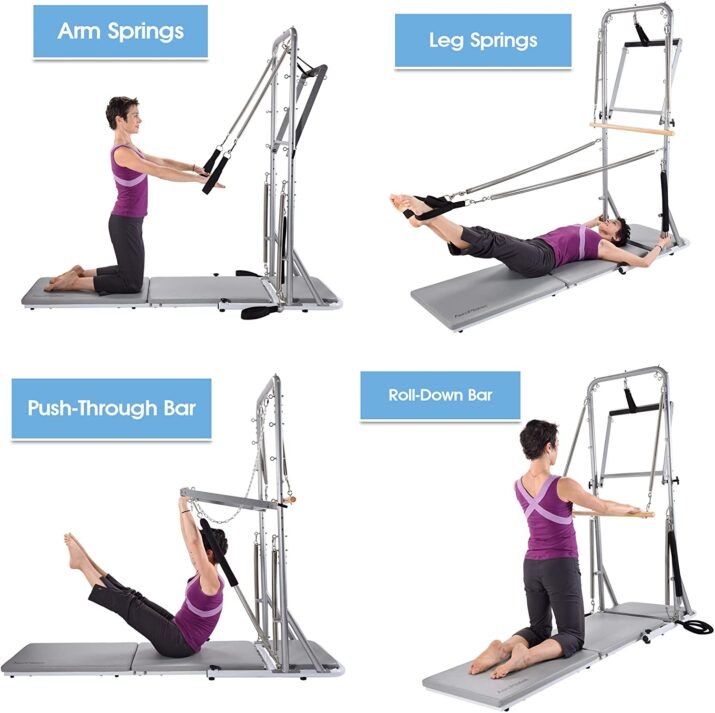 The AeroPilates reformer is a version of the machine Pilates Reformer apparatus available for purchase. Reformers are among the seven classes of apparatus introduced by Joseph Pilates, developer of the Contrology system of exercises (an initial name for the Pilates workouts) designed to accelerate the effect of the mat method of increasing core strength. Apart from the Reformer, Joseph Pilates also introduced the Spine Corrector, Wunda Chair, High "Electric" Chair, Ladder Barrel, Cadillac, and Pedi-Pole. Each of these machines was designed to engage specific muscles while exercising the body.
The AeroPilates was designed to perform the movements of a Reformer.
Pilates Wheel VS AeroPilates Reformer?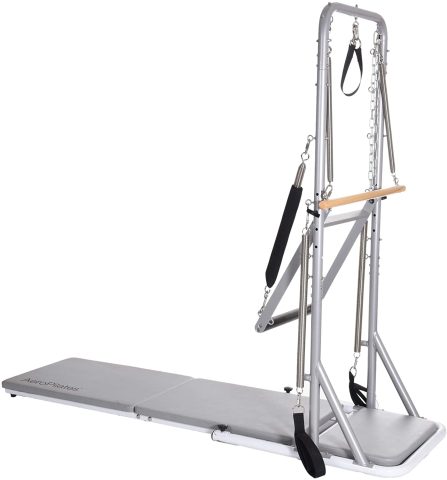 Some important considerations to make before choosing to go for either of the two are cost, portability, and ease of use.
Cost
If you are working with a tight budget, this is an easy choice to make. By comparison, the Aero Pilates Reformer is almost 3 times the price of the Pilates wheel.
Portability
The Pilates Wheel and AeroPilates Reformer are both arguably portable. However, the share size and bulk of the AeroPilates Reformer make it cumbersome to carry around or even store.
On the other hand, the Pilates wheel was designed for portability. You don't always get the opportunity to tuck Pilates equipment under the sofa. You can start with a Pilates wheel. The wheels, bars, and resistance cords will fit neatly into your gym bag.
Ease of Use
This is another important consideration. Both devices are shipped with guides and several video classes to learn from. They also equally provide vibrant online communities and the support you need throughout your Pilates journey.
What is the cost of The Pilates Wheel and Aero Pilates Reformer?
The Pilates Wheel and AeroPilates reformer have different price tags. While the Aero Pilates Reformer can be described as bulky and expensive equipment, The Pilates Wheel is portable and affordable.
AeroPilates Reformer starts at $699.99.
Pilates Wheel costs $204.96 for the COR package and $264.96 for the DLX package.
Click Here to Get Pilates Wheel & Aero-Pilates Reformer at a Discounted Price.
Conclusion: Is The Pilates Wheel right for you?
Uninhibited access to all the things that help you improve your wellbeing and happiness is a vital component of modern life. The ordinary machine Pilates is bulky, complex, and expensive equipment that requires great effort to maintain.
Thankfully, the Pilates wheel's creators' modern and user-friendly approach has helped to address these concerns. The light and quieter modern design is an amazing feature, whether starting from the fundamentals of a Pilates workout routine or keeping your fitness as a seasoned athlete.
Related Topic: Bowflex Max Trainer M7 Review: Features, Program, Pros, and Cons
The Pilates Wheel ​​Reviews FAQ
Q: Is The Pilates Wheel safe to use?
The Pilates wheel is capable of functioning well on any surface. You can safely practice your Pilates exercises in any room without having to be within a studio or gym environment.
Q: What is the use of the resistance bands in the Pilates Wheel?
The resistance bands are important components of the Pilates Wheel. They make it possible to incorporate certain movements necessary for a variety of Pilates exercises.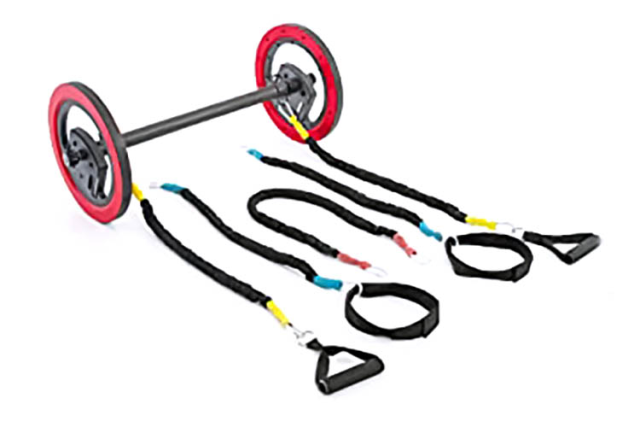 Q: Can I buy The Pilates Wheel and AeroPilates Reformer on Amazon or Walmart?
Yes, the Pilates Wheel and AeroPilates reformers are both available on Amazon and Walmart.
Q: Is The Pilates Wheel a scam?
The Pilates wheel was launched in 2018 after a successful Kickstarter campaign. Today, it boasts of a vibrant community of users with very favorable reviews.
Q: How much does it cost?
The Pilates Wheel is an affordable fitness device. The exact cost of purchasing one is, however, dependent on the version you opt for.
Pilates Wheel COR sells for $204.96 on Amazon and other retail stores.
Pilates Wheel DLX sells for $264.96 on Amazon and other retail stores.
The Pilates wheel team gives you the option to make 4 convenient payments of $49.99 for the COR package or $64.99 for the DLX package when you buy from their company website. You also get to enjoy their free shipping and 30-day trial policy.
Q: How long does it take to ship?
The Pilates Wheel is shipped like any other product available on Amazon or Walmart. Its portable and light design also minimizes any damage that may be caused in transit.
Click Here to Get Pilates Wheel & Aero-Pilates Reformer at a Discounted Price.
Like this Article? Subscribe to Our Feed!
John is an avid researcher and is deeply passionate about health and finance. When he's not working, he writes research and review articles by doing a thorough analysis on the products based on personal experience, user reviews and feedbacks from forums, quora, reddit, trustpilot amongst others.