How to Get Rid of Stretch Marks: Complete Guide 2023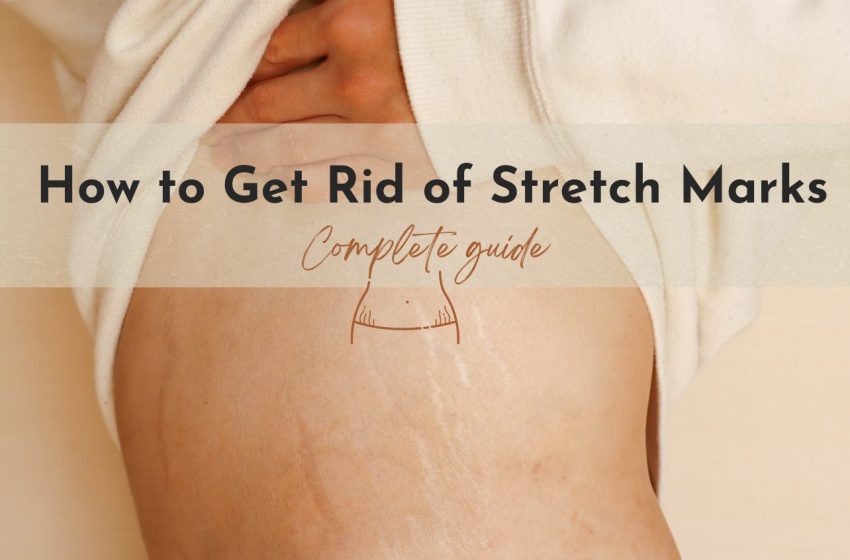 Stretch marks can cause worry for people who love to flaunt their arms, legs, and midriff. However, they do not indicate anything amiss with your health.
They are a common phenomenon in most people. They occur when the skin expands or contracts due to weight gain or sudden weight loss.
Here's all you need to know about how to get rid of stretch marks.
How To Get Rid of Stretch Marks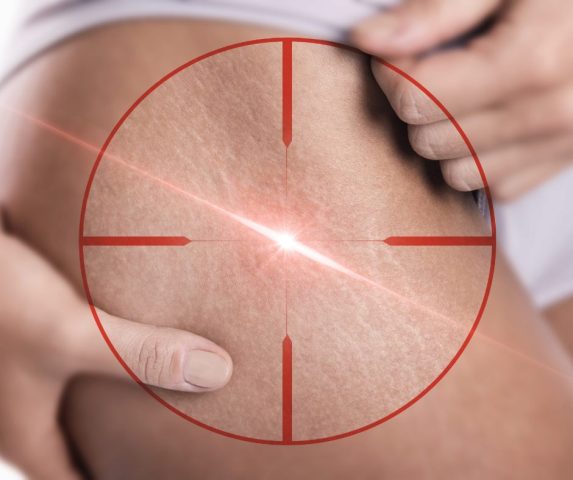 Stretch marks are a type of scar that appears on the skin when it shrinks due to weight loss or stretches when you gain weight. They appear as discolored, pale pink, scar-like lines similar to blood vessels.
You develop stretch marks when you suddenly lose weight through training, bodybuilding exercises, or during pregnancy.
Causes of Stretch Marks
Anyone can develop stretch marks at any point of time in life.
The skin's sudden and rapid stretching or sinking causes the collagen and elastic to break down. Elastin and collagen are responsible for the flexibility of the skin.
The normal level of the formation of both helps your face avoid wrinkles. Elastin helps the skin stretch, while collagen offers structure and shape.
When both these compounds break down, stretch marks form. As the skin heals, and elastin andcollagen production improve, the stretch marks fade away.
The major causes for the appearance of stretch marks are:
Pregnancy
Nearly 90% of women develop stretch marks during pregnancy when the belly expands with the baby. The weight gain and the expansion of the belly cause stretch marks.
Some women may find stretch marks after childbirth when the belly sinks suddenly after the child is born. The skin may shrink and result in stretch marks.
However, the good news for pregnant ladies is that these stretch marks disappear within 6 to 12 months after childbirth. A lot of retinol products and stretch mark creams help stretch marks fade faster.
>>Related Article: 11 Best Stretch Mark Creams for Pregnancy
Weight gain
There are many other reasons you may gain weight apart from pregnancy. PCOS, thyroid problems, obesity, and an unhealthy lifestyle may cause sudden weight gain.
When the skin near the arms, thighs, hips, and belly stretches due to the added weight, it can be a reason for developing stretch marks.
Weight loss
Like the logic behind gaining weight, weight loss is also a reason for developing stretch marks. The skin shrinks and develops scar-like lines when you go through intense weight loss programs or lose weight due to underlying medical conditions.
Bodybuilding
People who are involved in weight training and bodybuilding can often find the appearance of stretch marks due to the skin changing shape according to the newly built muscles and figure.
Adolescence
Stretch marks are common during adolescence due to the sudden growth spurts causing a change in figure and shape.
Signs of Stretch Marks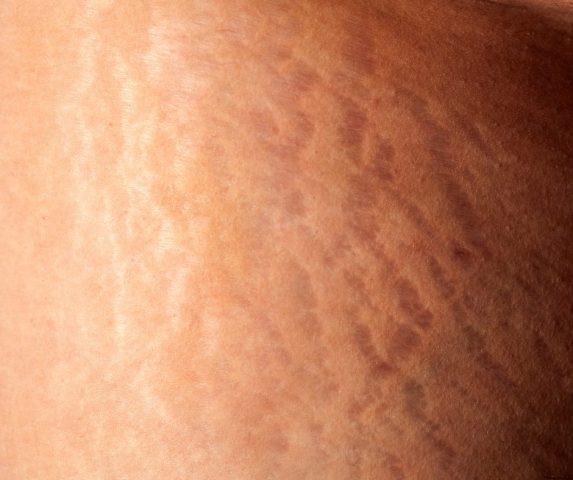 Sunken lines on the hips, thighs, arms, belly, and breasts.
Discolored pinkish or brownish lines that feel slightly raised.
Itchiness.
>>Related Article: How to Get Rid of Pregnancy Stretch Marks: Complete Guide 2022
Treatment for Stretch Marks
Stretch mark removal is possible with medications and natural remedies. Stretch marks can fade over time and become less noticeable on the skin.
According to research, there is no overnight cure for stretch marks. It takes time to help fade stretch marks.
Natural remedies
Nature has tons of remedies to treat and reduce the appearance of stretch marks. Here are a few home remedies that help in treating stretch marks.
Vitamin A
Vitamin A has a compound called retinoid that helps the skin remain smooth and youthful. Several skin care creams contain retinoids to help you look younger.
Research shows that tretinoin, a form of retinol, helps improve stretch marks. They have appeared less prominent with topical use.
Therefore, over-the-counter Retin-A products with Vitamin A and retinol can help treat stretch marks. It is easier to fade new stretch marks.
However, it is best to consult a doctor before using retinoid-based products in pregnancy or during lactation to rule out risk factors.
Hyaluronic acid
Hyaluronic acid can be called the holy grail of skincare products. Using hyaluronic acid keeps the skin moisturized, promotes healing, and gives you firmer skin.
Dry skin is more prone to stretch marks as it has less collagen. Hyaluronic acids stimulate collagen production to help the skin become more flexible and improve skin texture.
It is a popular and very potential ingredient in serums, lotions, and moisturizers. Using creams and lotions with hyaluronic acid on early stretch marks is considered one of the best home remedies to remove stretch marks.
When dry skin stretches, the lack of collagen and elastin leads to deeper stretch marks. Hyaluronic acid increases the skin's elasticity and helps fade and prevent stretch marks.
Aloe Vera
There isn't any skin problem that aloe vera cannot cure. Fresh aloe vera gel moisturizes and keeps skin soft.
The skin-repairing properties of fresh aloe vera gel help to rebuild collagen and fades stretch marks. It is also effective in the prevention of stretch marks.
Almond oil
While olive oil is not considered effective in stretch mark removal or prevention, a study conducted in 2012 suggested that bitter almond oil massage can be effective in stretch mark prevention.
It can also improve early stretch marks.
Shea butter
Even though cocoa butter may be effective, shea butter is the best of the lot. It is rich in Vitamin A, which is important for improving skin elasticity.
Massaging it during pregnancy can help in preventing stretch marks. It boosts skin hydration. Also, it helps to increase collagen production so the skin can endure the stretching.
Shea butter heals damaged skin tissue and is effective on newer stretch marks too.
Coconut oil
There isn't much data to prove the efficacy of coconut oil in treating stretch marks. But, gentle massage with virgin coconut oil may help prevent stretch marks because of its immense skin benefits.
Sugar scrub
Sugar is a powerful exfoliator and can scrub away the dead skin cells to bring out your natural glow. This is one of the effective home remedies for stretch marks, helping them fade.
Combine half a cup of sugar with almond, coconut, or olive oil and mix it until it attains beach sand's texture. Rub the mixture gently on the stretch marks area and rinse off with lukewarm water.
Repeating this procedure twice or thrice a week can fade and remove stretch marks.
Maintain a healthy weight
The best way to get rid of stretch marks is to prevent them. Try to maintain a healthy weight to prevent stretch marks.
Eating a nutrient-rich diet, including Vitamin C and zinc, is also important. Stay hydrated every day to avoid dryness and stretch marks. Also, avoid too much sun exposure.
Medications
People often seek treatment to treat severe scars and stretch marks. Various therapeutic measures like chemical peels and laser treatments are delivered by board-certified dermatologists and cosmetic surgeons.
A tummy tuck may initially seem to help in treating the marks, but they will worsen them later. Therefore, this is one procedure that you should avoid.
A thorough medical checkup and analyzing the medical history are required before any surgical procedure.
The safe medical treatment options are:
Laser therapy
Laser therapy helps to fade the stretch marks by blending the marks into the surrounding skin.
In laser treatment, concentrating beams of light enter the skin to remove scars and stimulate collagen growth. Therefore, laser treatments are considered medically effective in stretch mark removal.
Microdermabrasion
Microdermabrasion treatment involves deep skin exfoliation that we cannot have at home. A cosmetic surgeon or a board-certified dermatologist applies some abrasive products on the skin to remove the dead skin.
Medical exfoliation through microdermabrasion may reduce severe stretch marks.
Microneedling
Microneedling is one of the medical treatment options for stretch marks. A surgeon pricks the skin with micro needles to boost the production of collagen and elastin to tighten the skin.
These needles penetrate deeper layers of the skin to promote healing safely. It helps heal both new and old stretch marks and skin tone.
Radiofrequency treatment
Radiofrequency treatment is one of the medical treatments that offer firmer-looking skin by improving collagen production.
A board-certified dermatologist explains how energy waves enter deeper layers of the skin to stimulate collagen formation. Studies suggest that radiofrequency treatments help to reduce stretch marks.
Chemical peel
Chemical peels reduce the appearance of stretch marks by deeply exfoliating the skin. They work more effectively than natural remedies and deeply exfoliate the skin to make the scars look small.
Skincare Products
Supplements are not mandatory for treating or reducing stretch marks. Try to include Vitamin C, E, and zinc in your diet in recommended amounts. Go for Vitamin C, E, and zinc supplements if you cannot intake enough through diet.
Let us now look at a few recommended products that help in improving stretch marks.
9 Best Products for Stretch Marks
| Product | Key Feature |
| --- | --- |
| | Top Consumer's Choice |
| | Organic Stretch Mark Cream |
| | For Sensitive Skin |
| | Best Body Oil |
| | Fragrance-Free Stretch Mark Cream |
| | Best to Treat Persistent Stretch Marks |
| | Enhance Skin Smoothness |
| | Stretch Mark Vanishing Cream |
| | Collagen-Rich Cream |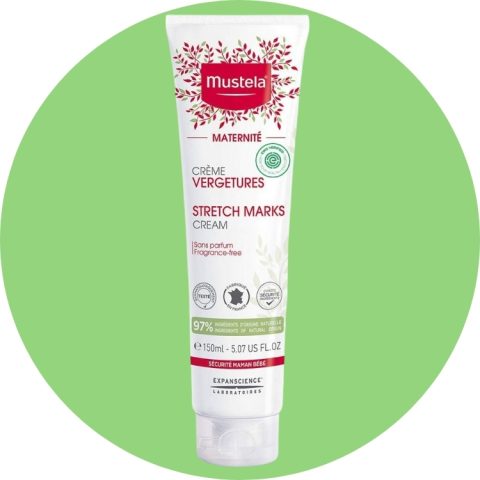 Mustela Stretch Marks Cream contains avocado peptides, maracuja oil, and avocado oil. It highly improves skin elasticity and prevents stretch marks.
Women can use it from the first month of conception to avoid stretch mark formation. Avocado oil's fatty acids strengthen the skin and fortify the hydrolipidic barrier to renew the skin.
It works like magic.
Shop at Mustela Stretch Mark Cream Amazon Official Store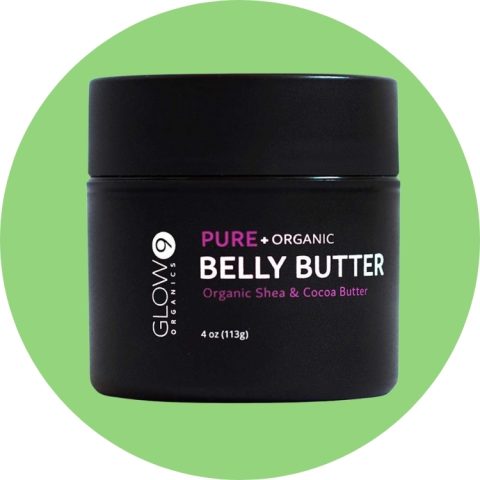 Glow Organics Belly Butter is a cream that minimizes stretch marks during pregnancy. It contains natural butter, sweet almond oil, and macadamia nut.
The body butter works from the first day and keeps your body moisturized deeply and supple to deal stretch marks.
Shop at Glow Organic Belly Butter Official Amazon Store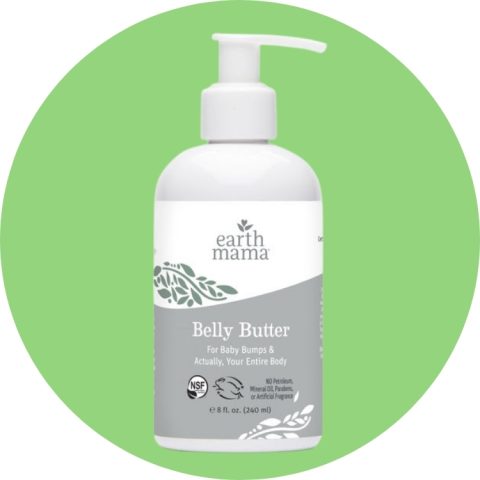 Earth Mama Belly Butter contains the goodness of aloe vera, Xanthan gum, and vanilla extract that treats itchiness and irritation.
This cream has proven itself effective by boosting hydration through natural oils.
Shop at Earth Mama Belly Butter Official Amazon Store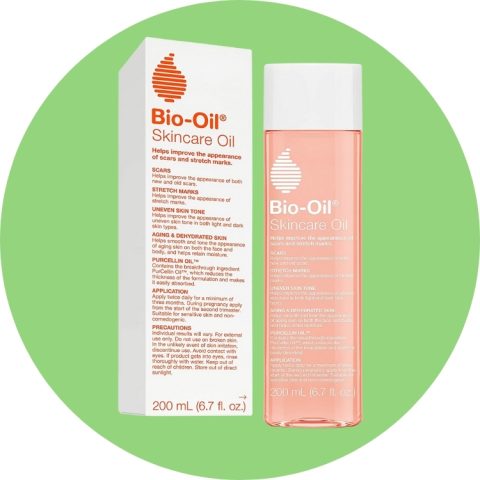 Bio-Oil is one of the best ways of topical management of stretch marks. It is very effective in preventing stretch marks especially during pregnancy.
It is packed with Vitamin A and E, Rosemary oil, Lavender Oil, and Calendula Oil to heal skin damage and improve elasticity.
Women can regularly use it during pregnancy and after delivery for stretch marks prevention.
Shop at Bio-oil Skincare Official Amazon Store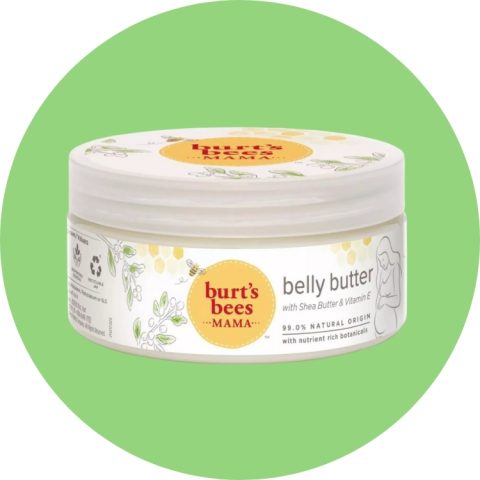 Burt's Bees Mama Bee is a topical application cream to massage before and after pregnancy. It provides adequate moisturization and reduces the appearance of marks and scars by sloughing dead skin and rejuvenating it.
Shop at Burt's Bees Official Amazon Store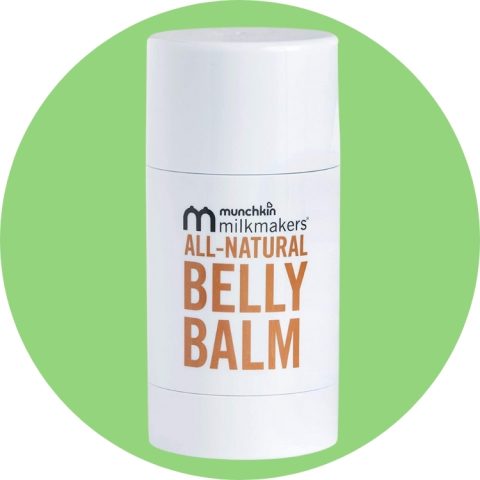 Munchkin Milkmakers' All-Natural Belly Balm is the most effective for stretch mark treatments. The natural essential oils present in it can treat persistent stretch marks.
Women can use it safely throughout pregnancy to prevent scars and marks on the belly.
Shop at Munchkin Milkmaker's Official Amazon Store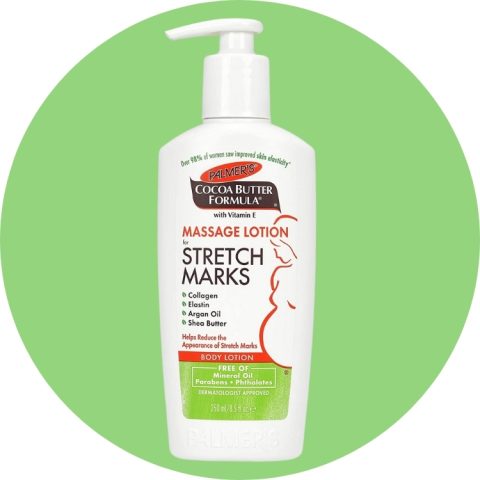 Palmer's Massage Lotion improves early stretch marks through the goodness of collagen-boosting ingredients like cocoa butter and argan oil. It deeply hydrates the skin and improves elasticity to help it stretch without forming lines and marks.
Shop at Palmer's Cocoa Butter Formula Official Amazon Store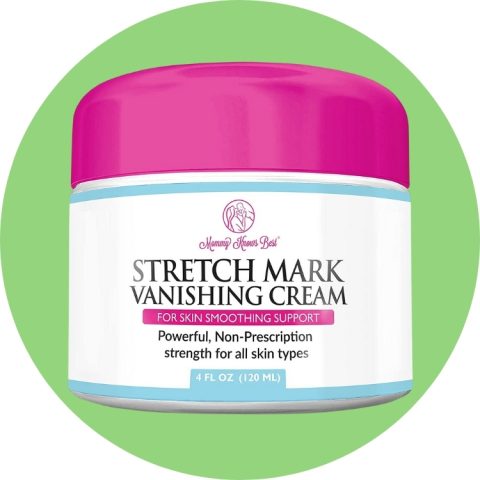 Mommy Knows Best's Cream is a clinically proven body massage cream for future mothers. It contains Vitamin E and jojoba butter, rich in fatty acids to improve skin quality and promote healing.
The cream is suitable for all skin types. It can promote an even tone and tighten the skin to avoid forming stretch marks.
Shop at Mommy Knows Best Official Amazon Store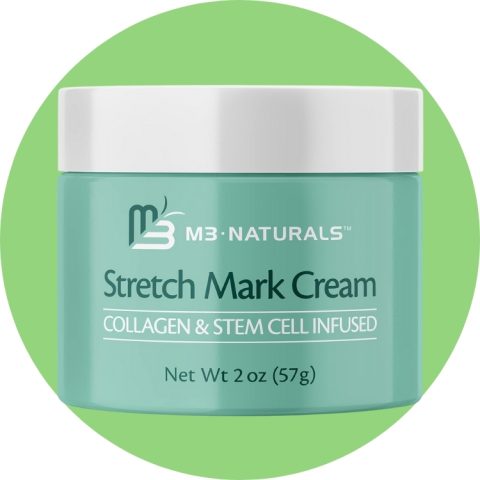 M3 Naturals has a unique healing cream containing stem cells, plant protein, and green tea extract to promote early healing upon regular application.
It can facilitate the disappearance of scars, marks, and other signs of damage by boosting collagen in the body. It also helps to fight cellulite and reverse any damage from it.
Shop at M3 Naturals Official Amazon Store
>>Related Article: 9 Best Scar Cream • Top Scar Cream Products Review of 2022
Conclusion
Stretch marks are common, and even though you may feel embarrassed, there's nothing to worry about. Stretch marks are reversible.
You can prevent them by managing your weight, eating a healthy diet, and adequate fluid intake. Try natural remedies to reduce these scars at home.
However, you must remember that there are no overnight results and no fixed time within which you may find them gone. Do not expect anything to change in a week.
Trust the procedure and give it some time to let your skin heal naturally. Every individual has a different skin type, and the healing process varies from person to person.
Among all the potentially best creams, we recommend you to go for the inimitable Mustela Stretch Mark Cream. The results are truly unbelievable, and loyal customers swear by it.
This anti-stretch marks cream is incredibly good for the topical management of scars and stretch marks.
It is vegan and gluten-free. The cream contains natural ingredients like shea and cocoa butters, organic sweet almond oil, organic macadamia nut, and grapeseed oil.
That's all the goodness of nature packed into one belly butter to eliminate the ugly marks. Apply it every day after showering throughout pregnancy to have zero stretch marks. Mustela Cream makes motherhood scar-free.
The butter makes your skin softer and more elastic. This helps you avoid the nasty marks from the skin stretching and also cuts out the itching associated with it.
Just flaunt yourself again by shedding off inhibitions.
Click here to get Mustela Stretch Mark Cream at a Discounted Price
Stretch Marks FAQs
What should I eat to help with stretch marks?
Eating zinc-rich foods like nuts and fish can help with stretch marks. Also include foods rich in Vitamin A and C, such as milk, carrots, and citrus fruits.
Is exercise important to remove stretch marks?
Exercise improves blood circulation and collagen formation. Taking care of physical health also makes the skin stretchy and strong. Daily exercise helps to reduce and prevent stretch marks.
Can caffeine affect stretch marks?
Caffeine-rich beverages may increase dryness and adversely affect stretch marks. Drink plenty of water or reduce caffeine intake to help reduce stretch marks.
Like this Article? Subscribe to Our Feed!
Vanessa is a mom of 3 lovely children and a software geek. Outside of her career as a health and wellness instructor. She enjoys writing and researching on topics such as finance, software, health and culinary.