How to Get Rid of Pregnancy Stretch Marks: Complete Guide 2023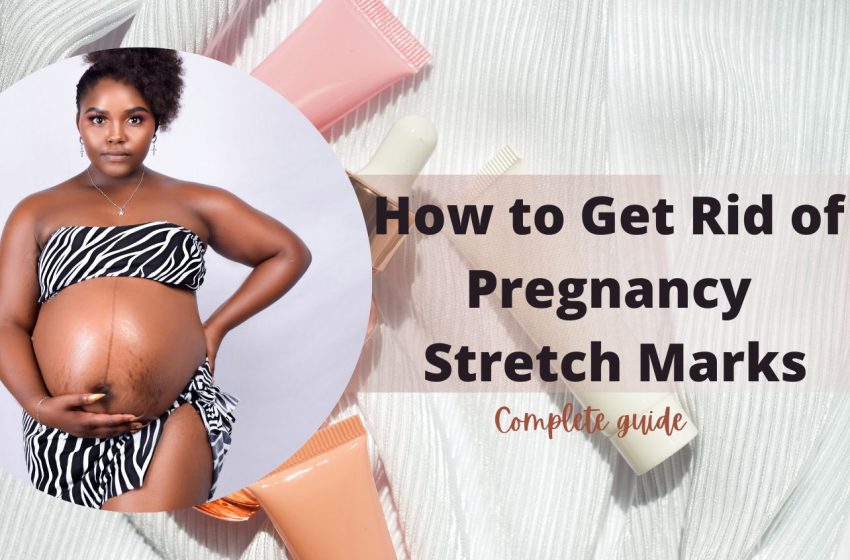 Being pregnant and waiting to have a wonderful baby is undoubtedly one of the best experiences in the life of any woman. However, this experience is a difficult one, beyond the shadow of a doubt.
It wouldn't be fair to call them side effects, but pregnancy affects sleep, rest, weight, and even the five senses. One of the things that pregnant moms experience during and after their pregnancy is the appearance of stretch marks.
Pregnant moms develop stretch marks as the baby inside their womb grows in size. This is because as the baby grows, the outer skin of the abdomen stretches, resulting in stretch marks.
This problem during pregnancy is a normal thing but it's something you want to get rid of.
In this article, we'll show you how to get rid of those stretch marks without harming your sensitive skin.
What are Pregnancy Stretch Marks?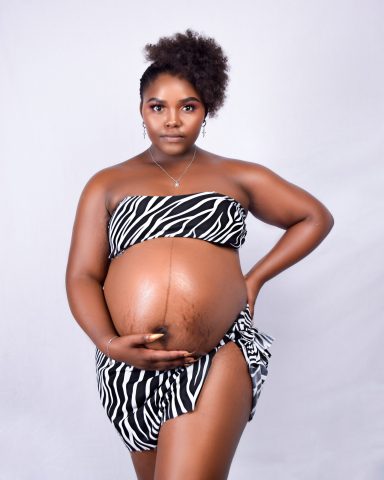 The human skin is a protective cover that keeps us safe from the outside world, but it's not very elastic by any means.
If you stretch your skin too far, it ruptures. There is a certain elastic limit to our skins.
In pregnant moms, this elastic limit gets crossed when the babies inside their wombs grow in size. This makes their skin itchy and sometimes even painful.
If it is too much, you should immediately consult a healthcare provider.
As the skin of pregnant moms expand, small lines appear on their abdomen and even the rest of their bodies. It is normal for our skins to stretch, but when it stretches too fast, that creates problems.
The elastic fibers in the skin cannot take the overstretching, and they start to break.
As a result, less elastic collagens start to form in the affected spots, this is how stretch marks appear.
Stretch marks frequently appear on the bellies, hips, things, buttocks, and breasts of pregnant women.
They usually fade away on their own after pregnancy; however, some women struggle with them.
What Causes Stretch Marks During Pregnancy?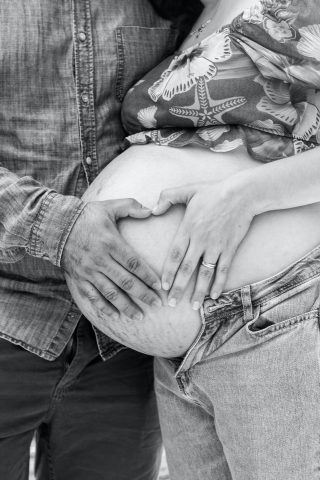 Causes may differ from person to person. However, here we will focus only on why they appear on the skins of pregnant women. Here are the major reasons why pregnant moms develop pinkish stretch marks.
Overstretching of the Skin
The rate at which the baby grows inside their wombs outruns the rate at which the human skin can stretch. This results in itching and pain because their skins aren't usually used to so much stretching.
The elastic fibers in moms' skins, as well as their skin tissues, start to rupture. This can stimulate collagen production in the affected areas, which may lead to stretch marks.
Hormonal Changes
The body of a pregnant woman goes through many many hormonal imbalances. These changes lead to over-hydration of their skins, which makes them more vulnerable to more stretch marks.
Research suggests that watery skin has weaker bonds between collagen fibers. The weak bonds make it very easy for the skin to rupture, which results in stretch marks.
Signs of Pregnancy Stretch Marks
Stretch marks caused by pregnancy are usually very noticeable, but you still need to know what your body may feel and look like when you have them.
Here are some of the main signs of pregnancy-related stretch marks:
The appearance of pink, brown, or red random lines on your belly.
Itching of the skin, especially the belly and breasts.
Pain in the skin.
Irritation of the skin.
Purplish streaks on the body.
Treating and Preventing Pregnancy Stretch Marks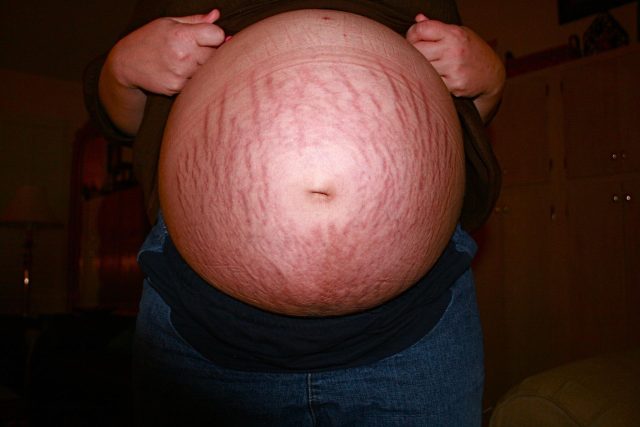 It is not your fault if your skin stretches during pregnancy. But there are plenty of treatment options that can help treat these stretch marks during pregnancy and even after it.
Here are scientifically proven natural remedies and stretch mark creams for those stubborn stretch marks.
Home Remedies
Control Your Weight
Pregnancy, as we all know, results in rapid weight gain. Rapid weight gain is not only itself a problem, but it also leads to more severe marks. It is among the major risk factors. It's because the increase in weight itself stretches the skin.
When you gain weight, combined with the stretching caused by pregnancy, more permanent stretches start to appear on the body.
That's why trying to reduce your pregnancy weight is considered one of the best ways to keep the permanent ones at bay as well as for the baby's development.
Exercise can really help.
Eat Nutritious Food
Do not overeat, but always eat a healthy diet during pregnancy and when the mother is engaged in nursing the infant. This is good both for you and your baby.
Vitamin C, D, E, Zinc, and proteins ensure healthy skin.
The stronger your skin is, the less likely it is that your belly and the surrounding skin will stretch.
8 Best Pregnancy Stretch Mark Products
Stretch marks on the skin usually occur when the skin gets stretched beyond its elastic limits, mostly around the sixth or seventh month (second trimester) of pregnancy but can also appear during the first trimester.
Here are some of the best creams available in the market for removing pregnancy-related stretch marks:
| Product | Key Feature |
| --- | --- |
| | Top Consumer's Choice |
| | For Sensitive Skin |
| | Best Body Oil |
| | Fragrance-Free Stretch Mark Cream |
| | Best to Treat Persistent Stretch Marks |
| | Enhance Skin Smoothness |
| | Stretch Mark Vanishing Cream |
| | Collagen-Rich Cream |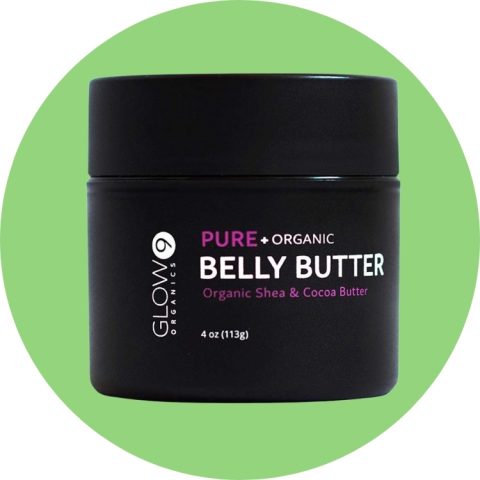 Glow Organic Belly Butter, backed by peer-reviewed studies, is the best product available in the market for moms-to-be who want to get rid of every single stretch mark on their bellies.
It is made from excellent organic ingredients such as macadamia nut, almond oil, grapeseed oil, cocoa butter, and shea butter. It is a non-greasy moisturizer that can help you get rid of them within no time.
Glow Organic Belly Butter is also an excellent treatment for your dry skin. It will make your skin way softer than before. Heat it with your hands before you apply it to your skin, and it will spread incredibly comfortably on your belly. This is a cream but also a soother!
Shop at Glow Organic Belly Butter Official Amazon Store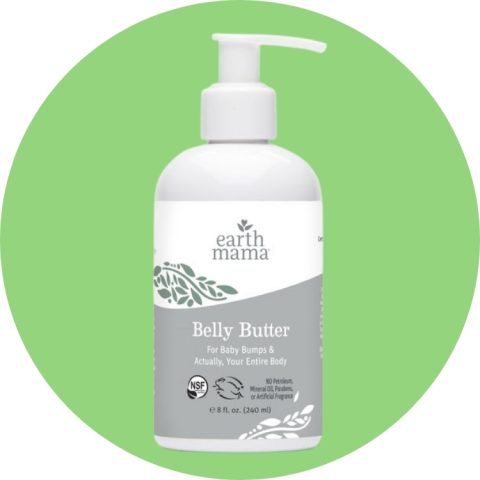 Your skin breaks its elastic levels when you are pregnant. If you notice stretch marks and want to regain your skin's elasticity when you are not pregnant, Earth Mama Belly Butter is just the right product for you.
Free from parabens and petroleum products, this is perfect for your skin health. It has an NSF/ANSI 305 Standard Certification as well!
Shop at Earth Mama Belly Butter Official Amazon Store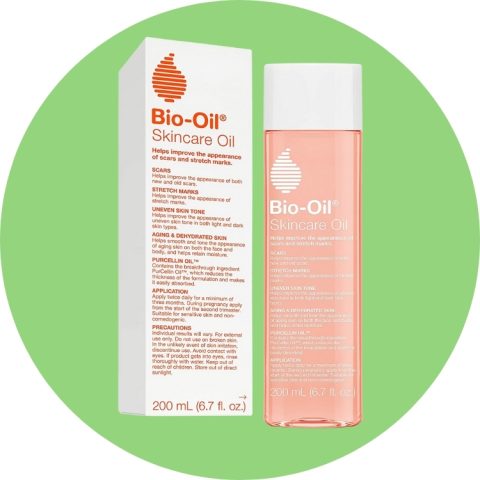 A few drops of Bio-Oil can also help you get rid of acne scars along with reducing stretch marks! It is an excellent oil for repairing damaged and stretched skin cells.
Bio-Oil contains natural charcoal, vitamin A, vitamin E, chamomile oil, calendula oil, lavender oil, and sunflower oil. All these amazing ingredients speed up collagen growth, which is essential for skin renewal.
Shop at Bio-oil Skincare Official Amazon Store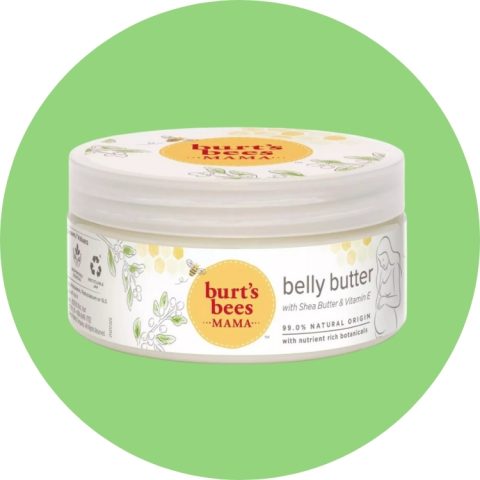 If you are in search of a lotion that can serve you both before and after pregnancy, Burt's Bees Mama Bee Belly Butter will soften and smoothen your body within no time.
This product not only removes but can prevent the appearance of stretch marks greatly if you use this product before and during pregnancy.
This also removes dryness from your skin and give it its natural glow!
Shop at Burt's Bees Official Amazon Store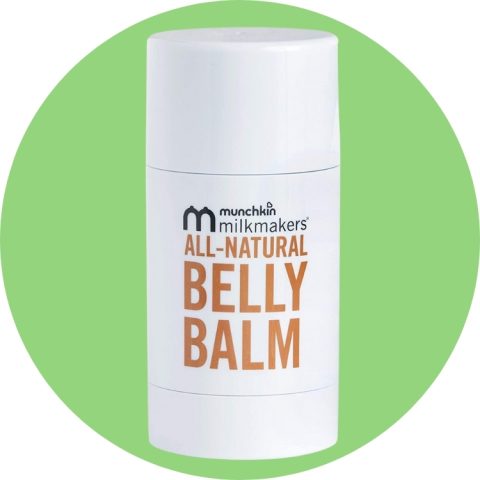 Great for skin health, Munchkin Milkmakers All-Natural Belly Balm is made from Epsom salt, coconut oil, rosehip oil, shea butter, and hyaluronic acid.
It is absolutely free from all kinds of irritants and allergens. This balm is incredibly easy to apply on all sorts of skins.
The ingredients in this cream can moisturize your skin and keep it safe from dryness. It can also help prevent stretch marks due to other reasons.
It works best not only for the belly but also for the thighs and hips too.
Shop at Munchkin Milkmaker's Official Amazon Store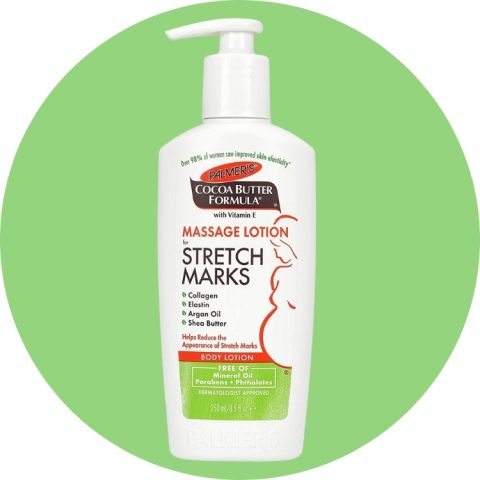 This amazing lotion is one of the finest belly lotions available. It is an excellent and easy cure against pregnancy-related and other scars. It doesn't contain any substances that can harm soft skin.
Palmer's Cocoa Butter is primarily made from shea butter, olive oil, cocoa, vitamin E, and vitamin C, all of which are scientifically proven helpful in making sure you don't get stretch marks.
What makes this product amazing is that it absorbs through skin cells super easily.
Shop at Palmer's Cocoa Butter Formula Official Amazon Store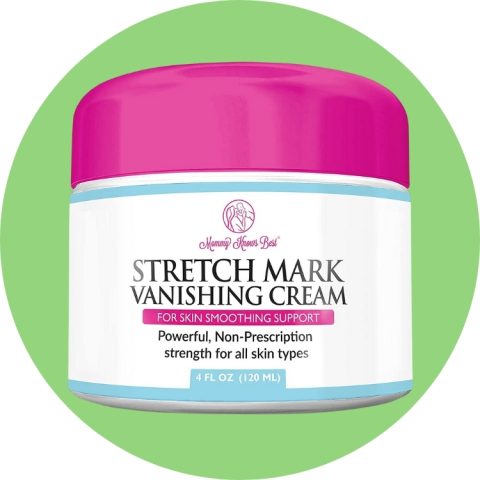 This stretch mark vanishing cream is the best if you don't want to get stretch marks. Mommy Knows Best has also been clinically proven effective for removing blotches, acne, acne scars, and pimple scars.
Unlike other lotions and creams, this cream doesn't contain any retinol. That's why it won't cause you any irritation even if you use it frequently.
It contains jojoba oils, mango butter, cocoa, and vitamin E.
Shop at Mommy Knows Best Official Amazon Store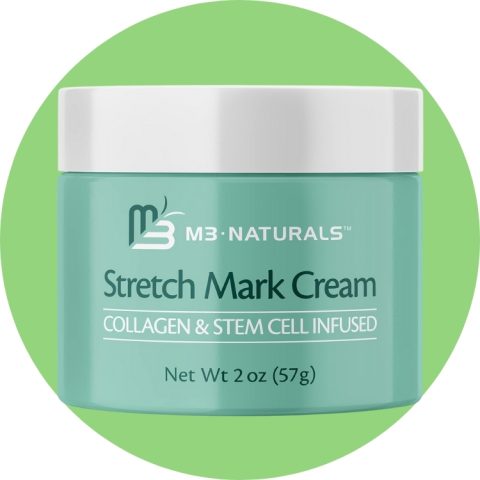 This is one of the unique creams used to prevent stretch marks and is also good for your skin health. The M3 Naturals Stretch Mark Cream is made from the infusion of collagen and stem cells.
That's why it's excellent not just for such scars but also for repairing broken skins and removing surgery, injury, and acne scars.
It contains collagen, Vitamin E, stem cells, green tea extract, raspberry ketones, and citrus extract. It works especially best in removing or preventing stretch marks after birth.
Shop at M3 Naturals Official Amazon Store
>>Related Article: 11 Best Stretch Mark Creams for Pregnancy
Conclusion
Developing stretch marks during pregnancy is normal, but if you use the right creams and lotions during and after pregnancy, you can easily get rid of the stretch marks.
One of the absolute best creams for removing pregnancy-related stretch marks is the Glow Organic Belly Butter cream.
Why Glow Organic Belly Butter?
Here is why we believe this cream is the absolute best for removing stretch marks:
Made from 100% organic ingredients.
Totally vegan-free product.
Gluten-free.
Fragrance-free.
Manufactured through cruelty-free methods.
Doesn't irritate the sensitive skin of pregnant moms.
Free from parabens and other substances to which most women may be allergic.
Click Here to Get Glow Organics Belly Butter Cream at a Discounted Price
>>Related Article: 9 Best Scar Cream • Top Scar Cream Products Review of 2022
Pregnancy Stretch Marks FAQs
Are pregnancy-related stretch marks permanent?
No, they usually are not. However, they can become permanent if you don't follow precautionary measures or you have certain genetic disorders.
What are some easy ways in which you can prevent stretch marks?
Eating healthy, exercising, and using the right creams (as we recommended) are the best ways to cope with pregnancy-related and other stretch marks.
Why is preventing stretch marks so hard?
That's because the rate at which the skin normally grows cannot outrun the rate at which the skin stretches during pregnancy.
Like this Article? Subscribe to Our Feed!
Vanessa is a mom of 3 lovely children and a software geek. Outside of her career as a health and wellness instructor. She enjoys writing and researching on topics such as finance, software, health and culinary.