Secrets of Success Review 2023 By Dumb Little Man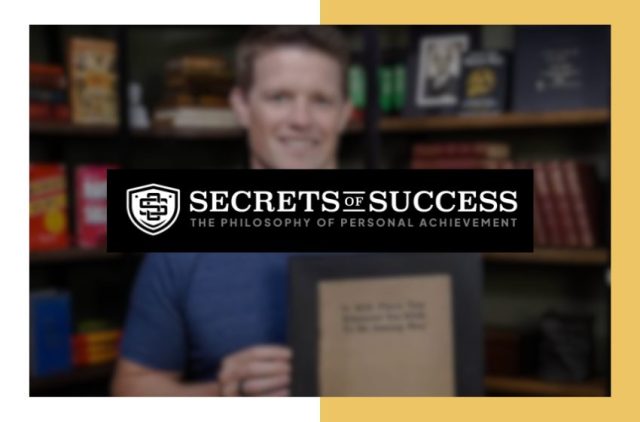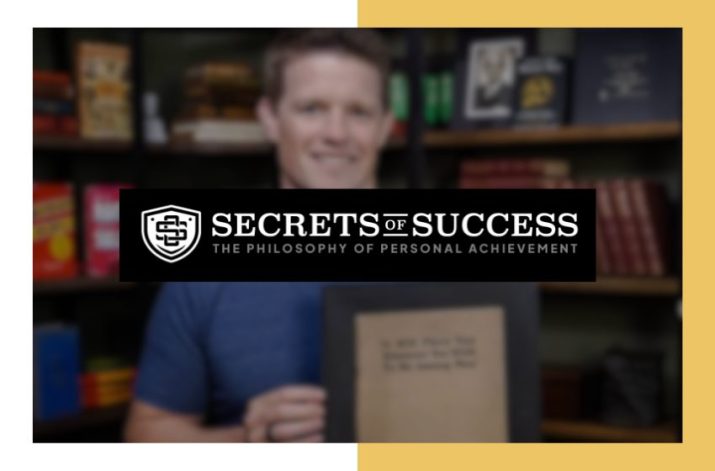 Get ready to level up your business game and rewrite your own story of triumph with Russell Brunson's Secrets of Success. Developed by the genius behind ClickFunnels, Brunson provides a detailed roadmap to digital dominance. 
This program claims to let you unlock the secret to the power of an abundance mindset as you learn firsthand from a legend who overcame adversity. The Secrets of Success dives into the core elements of Brunson's philosophy, unveiling how you can also skyrocket your status and help you succeed in the digital world.
But how accurate are these claims? This Secrets of Success review will carefully analyze if Brunson's so-called "movement" truly offers exclusive entrepreneurial elevation. Read on as we explore how Brunson will provide you with a detailed roadmap to digital dominance with Secrets of Success.
What is Secrets of Success?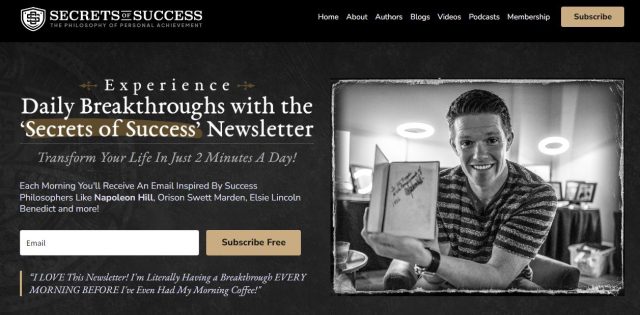 Russell Brunson, the trailblazer behind ClickFunnels, has crafted another masterpiece: Secrets of Success. This guide of ideas is more than mere advice; it offers revolutionary strategies tailored for success in the digital age.
The program focuses on strategic thinking, efficient practices, independent decision-making, and result-oriented actions. Its goal goes beyond knowledge transfer. It aims to cultivate an abundance mindset, unlocking doors to exponential growth.
'Secrets of Success' is a teaching tool and a call to inspiration and action. It provides the framework to take control of your destiny. Described as The Movement Revolution in entrepreneurial circles, it promises a new era in achieving business success.
Who is Russell Brunson?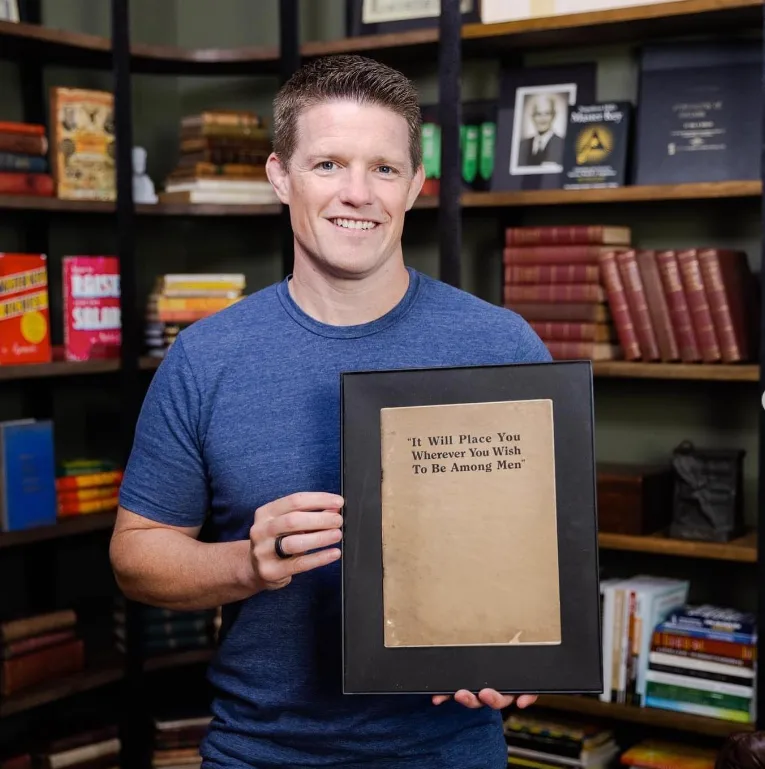 Meet Russell Brunson, the American entrepreneur and internet marketing guru who has redefined online sales. He's best known for co-founding ClickFunnels, a software that simplifies creating high-performing sales funnels. Brunson isn't just a businessman; he's a mentor committed to helping others reach their goals.
In 2014, Brunson and his partner Todd Dickerson launched ClickFunnels. What sets this platform apart is its user-friendly interface and robust features. These elements made it an instant hit among marketers and entrepreneurs. Today, it's a staple tool used globally for online sales.
Beyond software, Brunson is a prolific writer and speaker. His bestselling books like "DotCom Secrets" and "Expert Secrets" are more than reads; they're action plans. These books written by Brunson equip readers with practical knowledge to build a successful online business.
At the core of Brunson's success lies a philosophy of personal development. He advocates for continuous learning and growth. His teachings and lessons encourage an abundance mindset and emphasize the power of delivering value to others. This combination of expertise and enthusiasm makes Russell Brunson a transformative mentor for entrepreneurs worldwide.
From ClickFunnels to Secrets of Success: The Genius of Russell Brunson
Before diving into Secrets of Success, it's worth noting the genius behind it: Russell Brunson, the person who developed ClickFunnels. This platform has been nothing short of revolutionary, drastically altering the way businesses function online.
ClickFunnels is a testament to Brunson's innovative genius and deep understanding of modern marketing. It answers the need for a straightforward, effective way to build high-converting sales funnels. This platform stands out for its efficacy and ease of use.
ClickFunnels has left an indelible mark on digital marketing. It has upended traditional sales strategies, generating remarkable results for businesses globally. The platform's legacy confirms Brunson's foresight and strategic insight.
Remember the man who reshaped the internet landscape as you pursue digital excellence: Russell Brunson. His trailblazing efforts through ClickFunnels set the stage for what's next—Secrets of Success.
>>Also Read: What is ClickFunnels? Is This Sales Funnel Creator Worth It?
Russel Brunson Customer Reviews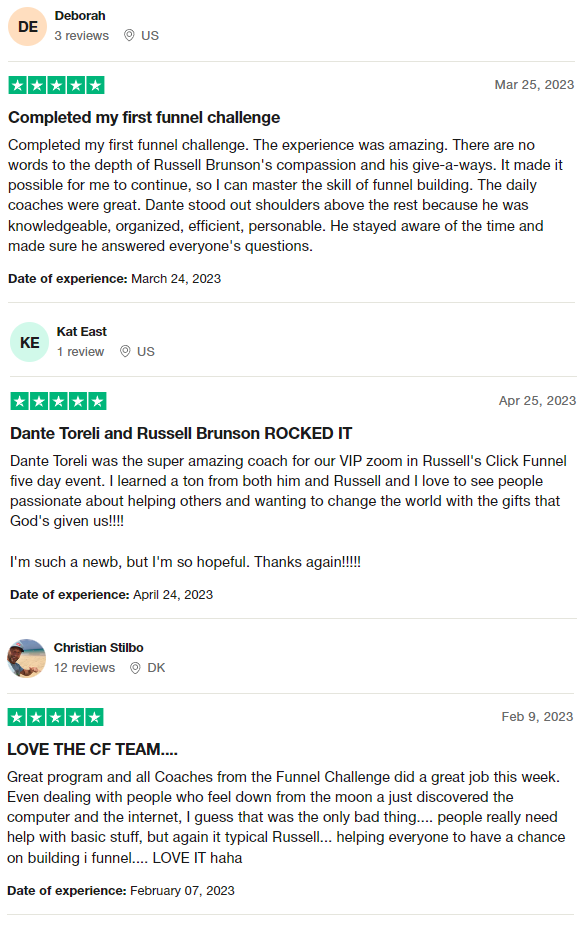 Users who have experienced the efficacy of ClickFunnels can expect another high-impact program with Russell Brunson's Secrets of Success. ClickFunnels earned their customers' trust with a 4.5 rating in Trustpilot. Like ClickFunnels, this new offering provides actionable strategies, essential resources, and top-notch coaching, setting users on a path to entrepreneurial achievement.
The overwhelmingly positive customer reviews for ClickFunnels' Funnel Challenge indicate the quality and commitment that Brunson brings to his programs. This makes Secrets of Success a highly anticipated venture, promising another significant milestone for anyone looking to gain a competitive edge in the business world.
Secrets of Success is Not Your Typical Program
As Brunson claimed, Secrets of Success is not just a program but a "revolutionary movement" in entrepreneurship. This membership site offers unique content featuring unpublished manuscripts and teachings from Napoleon Hill and Earl Nightingale. Plus, it has an attractive affiliate program offering lifetime recurring commissions.
Secrets of Success is a comprehensive resource built on a subscription-based model. This platform offers a range of products, including books, podcasts, and coaching, all aimed at individuals looking to elevate their lives. Founded by the well-established entrepreneur Russell Brunson, this program benefits from his vast experience building multi-million dollar businesses.
What sets Brunson apart is his disruptive approach to business. He doesn't just teach; he brings groundbreaking products to the market. As a master in sales and marketing, his teachings resonate well with a broad audience. Not only has he penned influential books, but he has also released educational audio series that cater to those new to marketing and entrepreneurship.
Why You Should Be Part of Secrets of Success Affiliate Program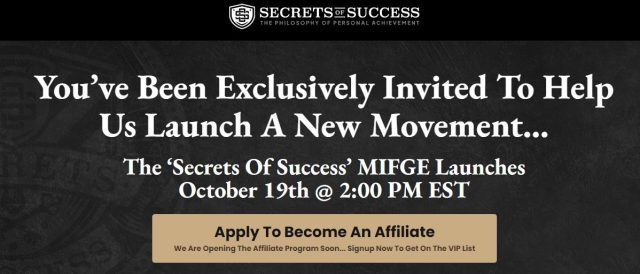 In a groundbreaking move, the Secrets of Success Affiliate Program offers a unique financial opportunity to those who join its ranks. Departing from traditional, short-term affiliate models, Secrets of Success promises a long-term partnership featuring 40% LIFETIME residual commissions for each referred member.
The man behind the initiative is no stranger to successful startups. His last venture, ClickFunnels, is widely recognized for disbursing over $100 MILLION in commissions within its first ten years. Secrets of Success aims to replicate this success, providing potential earnings to reach the millions for dedicated affiliates.
What sets this program apart is its Two-Tier Earnings system. In addition to direct commissions, affiliates stand to gain 10% LIFETIME residual commissions from sales made by their referrals. The structure incentivizes individual participation and fosters an autonomous community of earners.
The program aims to build a community of "Round Pegs in Square Holes," emphasizing the value of Longevity and Community in its financial model. Unlike one-off promotions, Secrets of Success offers a continuous income stream, making it a mutually beneficial endeavor for the company and its affiliates.
Given the financial prospects and sustainable growth model, the Secrets of Success Affiliate Program is shaping into a lucrative opportunity for those seeking long-term financial security. With its innovative approach to affiliate marketing, it's not just a business; it's an economic revolution waiting to happen.
Secrets of Success Pricing and Plan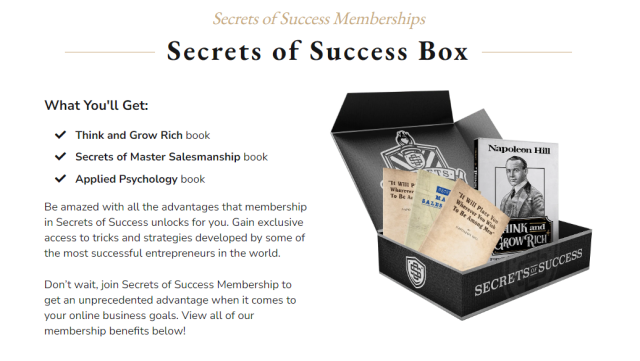 Secrets of Success is launching its MIFGE (Most Incredible Free Gift Ever) on October 19, 2023, at 2:00 PM EST. For a monthly fee of $97, subscribers gain exclusive access to invaluable resources designed to propel them to success.
Joining the Secrets of Success waitlist now comes with compelling incentives. You get a 30-day FREE trial to the membership site, a free copy of Think and Grow Rich, and two UNPUBLISHED books from Napoleon Hill.
If you join now, you will get a copy of the legendary Think and Grow Rich book, a go-to manual for achieving wealth and prosperity. Next in line is the Secrets of Master Salesmanship book, a treasure trove of expert sales techniques. The final jewel is the Applied Psychology book, which aims to give you a deep understanding of human behavior, a crucial edge in any business venture.
Secrets of Success stands out for its value-packed offerings in the crowded space of self-help and personal development. Now is the perfect time to get ahead and secure your spot on the waitlist. Don't miss this limited-time opportunity to kickstart your journey to success.
With a Secrets of Success Membership, you unlock a vault of insider tricks and strategies. These aren't just random tips but methods developed by some of the industry's most successful entrepreneurs. Imagine having exclusive access to game-changing insights that most people can only dream of.
If you're still on the fence, consider this: joining the Secrets of Success Membership gives you an unprecedented advantage in achieving your online business goals. Don't miss out on this opportunity to elevate your path to success. You won't regret it.
Who is Secrets of Success Best For?
Secrets of Success is a must-have for anyone with ambitious goals in both business and life. It's a one-stop-shop for actionable insights and proven strategies specifically targeted at business owners, solo entrepreneurs, business leaders, employees, and marketers.
For entrepreneurs looking to refresh their knowledge, Secrets of Success offers invaluable resources and ideas to reignite their business passion. Those who aim to establish or expand their online business will find the program particularly beneficial, setting them on a path to digital success.
If community matters to you, Secrets of Success offers a unique opportunity. You'll join a community of successful people, learning from their stories and experiences. This provides knowledge and creates a support network that can be pivotal in achieving your goals.
Lastly, if significant financial success is what you're after, this program promises to deliver the tools and strategies you need. With the backing of over a hundred successful entrepreneurs, committing to Secrets of Success is committing to a future of endless possibilities.
Conclusion
In conclusion, Russell Brunson's Secrets of Success is a comprehensive program offering more than just business strategies. With its well-curated resources like books and a community of successful entrepreneurs, it sets the stage for achieving business and life success.
The program has a broad target audience, making it highly versatile and helpful for everyone, from business owners to employees aiming for financial freedom. If you've experienced the transformative power of Brunson's ClickFunnels, then Secrets of Success promises to be another game-changing milestone.
The positive customer reviews for Brunson's previous ventures testify to the quality and effectiveness you can expect from Secrets of Success. Given the proven track record, committing to this program is the key to unlocking your full potential.
In short, joining Secrets of Success is an investment you're unlikely to regret. It's a program designed to give you the lesson, tools, community, and mindset to scale new heights in your professional and personal life.
>>Also Read: Affiliate Marketing Strategies: Guide for Beginners
FAQs: Secrets of Success
What is Secrets of Success, and who is it for?
Secrets of Success is an online membership program designed by Russell Brunson. It targets business owners, solo entrepreneurs, business leaders, employees, and marketers. The program offers resources, strategies, and a community focused on achieving business and financial success.
What resources are included in the Secrets of Success membership?
Membership includes access to essential books such as Think and Grow Rich, Secrets of Master Salesmanship, and Applied Psychology. You also gain exclusive access to strategies from some of the world's most successful entrepreneurs.
How does Secrets of Success compare to ClickFunnels?
While ClickFunnels is focused on creating effective sales funnels, Secrets of Success offers a broader range of business and life success tools. Both programs share the same commitment to providing actionable insights and top-notch coaching, making Secrets of Success a tremendous next step for those who have benefited from ClickFunnels.