7 Best Pizza Peels for Your Perfect Pizza in 2023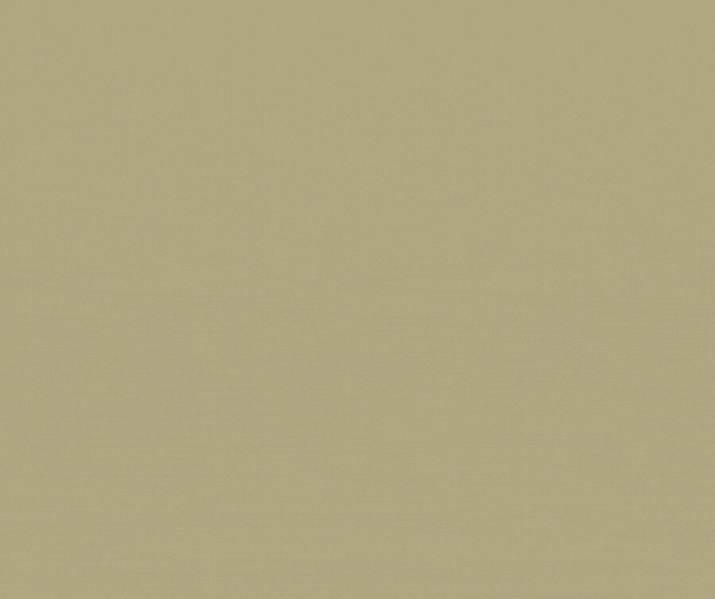 7 Best Pizza Peels for Your Perfect Pizza in 2022
If you're reading this, either you love to eat Pizza or you love to eat PIZZA! Have you ever thought about where that extra softness of the crust comes from? A sensation of flavor that just hits deep down through your taste buds forcing you to say the word, "Excelente!"
That's the magic of a very handy accessory called "Pizza peel". The main purpose of a pizza peel is to prevent the pizza dough from sticking to a surface through the baking period. When you add the pizza to the normal stove or a specialized pizza oven, a pizza peel helps to make the surroundings like an "oven spring" which makes the heat rise rapidly from the bottom thus results in cooking the perfect pizza with the juiciest and feels your tummy with hot and yummy pizza!
Pizza peels can be a variety of types, such as aluminum blades, wooden peels made of wood with attractive wooden handles, stainless steel, and so on!
In this article, we did a search through a number of pizza peels and combed through pages of customer reviews and ratings about them, and brought to you the best-serving pizza peels for your amazing pizza recipes!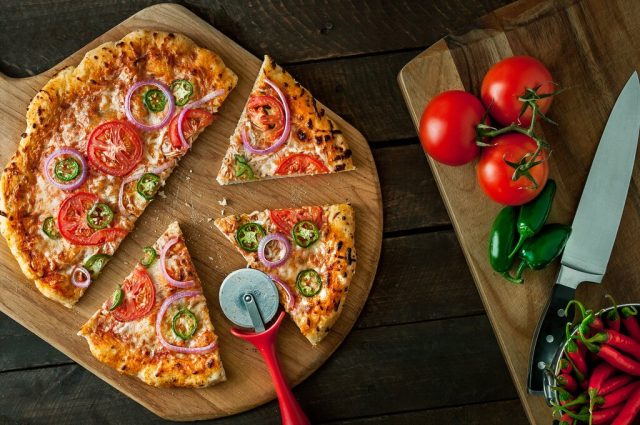 Here are the Best Pizza Peels this 2022
Ooni Perforated Pizza Peel is only one of many pizza peel products that Ooni has. It comes in two different sizes, by 12 and 14 inches. These products are the best seller for this Ooni collection of a pizza peel. Made out of aluminum perforated materials with an edge that's tapered for smooth under sliding of your pizza. The perforation is designed to remove excess flour dough to achieve a perfectly cooked base for your pizza. The sizes are great for the standard sizes of pizzas we usually have.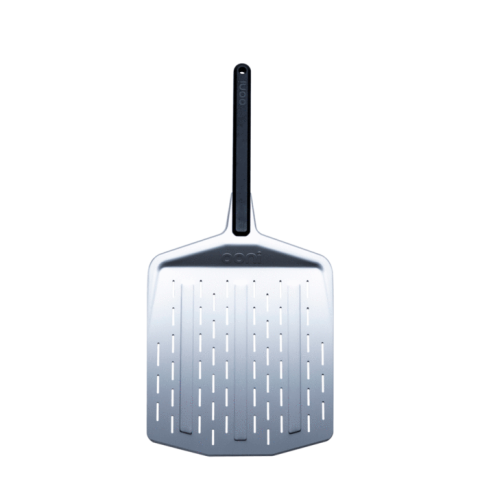 Ratings
12″ Ooni Perforated Pizza Peel receives 4.8 stars 877 reviews from Ooni's official website.
14″ Ooni Perforated Pizza Peel receives 4.8 stars 370 reviews from Ooni's official website.
Pros
Lightweight – the actual weight is designed for easy handling and sliding of the pizza.
Special Coating – The anodized aluminum coating reduced corrosion and gives an ultra-smooth finish to achieve flawless retrieval and launching of pizza in the oven.
Ideal Size – The size of this peel can fit most of the ovens that are available whether a home oven or an industrial oven for businesses. The length can spaciously fit in without a hassle.
Cons
Hand Wash Only – This product is not recommended to be cleaned using a dishwasher. It is required that it is cleaned by hand washing it with your regular cleaning agent and water.
Heat Exposure – Not recommended to have prolonged exposure to direct heat for a long time.
Price
12″ size is for only $59.99
14″ size is for only $69.99
2. Roccbox Pizza Peel
Professional-grade peel with ensured product quality, Aluminum for better durability
Roccbox has always been a good name when it comes to the Pizza Oven. And they also produce Pizza peel because why not?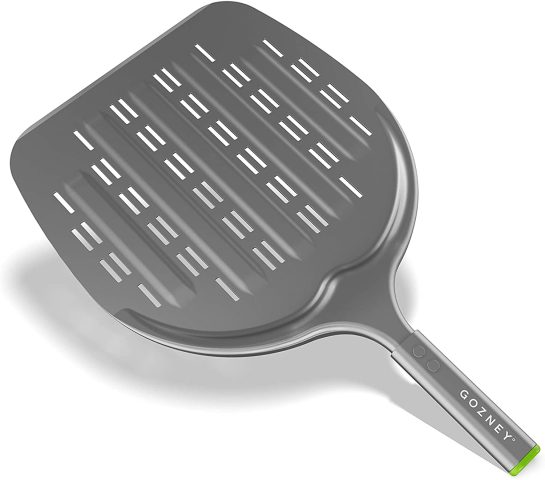 The tapered edge peel makes it easier to place into and pick up the dough from the baking oven. The size/length of its handle is relatively small which allows more convenient movement in a smaller kitchen. But if it's your full-time job to cook delicious pizzas and you work with larger ovens then this might be a little risky. But the design of course helps to clear any extra flour or ingredients off the pizza.
Let's review the pros and cons;
Pros
Lightweight – Gives comfort for easy handling and steady grip.
Durable – This product is made out of quality professional-grade materials. Durability from aluminum material and hard anodized finish.
Convenience – The tapered edge makes the transferring smooth and slides out the pizza seamlessly.
Cons
Short Handle – the length of the handle is short which is often unsuitable for larger ovens in a commercial kitchen.
Ratings:
This product reviews 5 stars on the Amazon website.
Price: $76.40
If you want something pro that comes with an incredibly low price then this product is worth checking out. The blade is made out of aluminum material that's ideal to produce seamless sliding of pizza. It has a total length of 61cm from the handle to the blade with 31 cm width on it.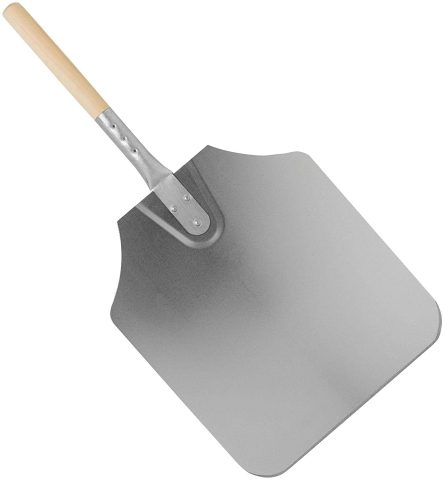 Rating
It receives 4.7 stars out of 1,819 reviews from Amazon
Pros
Price – For its aluminum material, the market price of this product is very affordable. Given its pro-caliber design and functionality, this is definitely value for money.
Wooden Handle – As we all know wood is naturally heat resistant so it would be easy to use this for continuous pizza baking for restaurants.
Durability – This product is manufactured to last long. The aluminum paddle is made sturdy for heavy-duty use. The wooden handle is attached to the paddle intricately to make sure it won't detach from the paddle while being used.
Cons
Storage – The total length from the wooden handle to the tip of the paddle is 61 cm which makes it difficult to find storage for a tool like this.
Price
Price ranges from $17 to $22.
This wooden pizza peel from GA Homefavor comes in a set of 2 if you order it from GA Homefavor's official website. This lightweight board is made out of birch plywood that is customized to attain grains that are tighter than normal. It has a professional quality for a pizza peel with a dimension of 12×12 inches and a short handle measuring only 5 inches to allow easy grip for bakers.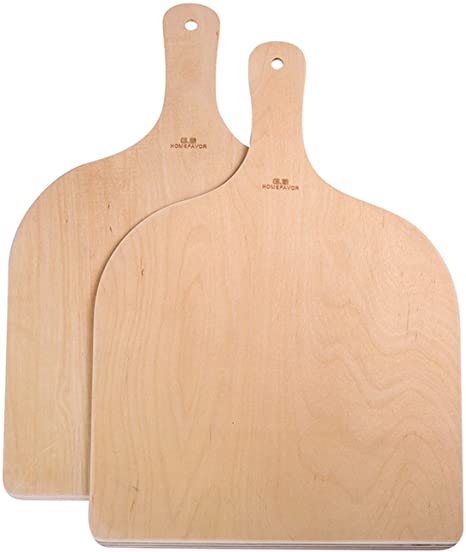 Rating
This product receives 5-star ratings out of 8 reviews from G.A. Homefavor website
Pros
Easy Grip – Compare to a longer handle pizza peel, this wooden peel only has 5 inches handle which not only can provide easy grip but allows the handler to maneuver the paddle around especially in small kitchens where movements are limited.
Rustic Look – This is a classic Italian look of a pizza peel, not only does it serves its purpose of sliding the pizza in and out of the oven, you can also use this as a decorative element in your kitchen that can add up to your rustic themed kitchen (if that's the theme you're aiming for).
Multi-purpose – Not only can you use it for baking pizzas you can also use it in transporting cakes, pies, and even bread in and out of the oven.
Cons
Thorough Cleaning – As we know how any wood materials can be a mess when left without drying. Make sure to dry well this wooden pizza peel before putting it in storage.
Price
This product is for only $29.99 for a set of two.
This product comes in three sizes, 30×30 cm, 23×50 cm, and 14.75×19.70 inches. It allows you to choose depending on how big your oven is or how big you intend to make your pizza is. Made out of natural birchwood quality material and proudly Italian-made product.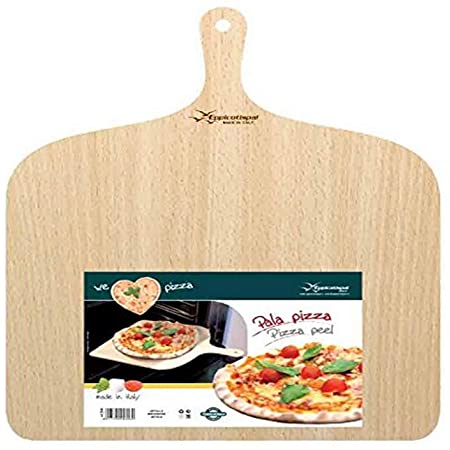 Rating
This product receives 4.3 stars out of 684 reviews from Amazon website.
Pros
Italian Artisan Item – If you're looking for something authentic Italian then this is the item for you. Proudly Italian-made, slick, chic ultimately rustic-looking item.
Comfortable Handle – Its handle is designed to be comfortable in such a way that it doesn't press pressure on the handle but on the paddle.
Variation in Size – Being produced in 3 different sizes gives consumers an option to choose depending on how big their oven is.
Cons
Handwash Only – This product is not recommended to be cleaned by using the dishwasher. It is recommended to handwash this pizza peel and dry it completely before storing this to maintain its excellent appearance.
Price
30×30 cm is for only $10.64
23×50 cm is for only $12.43
14.75′"x19.70″ is for only $21.95
This item is one of the most visually appealing pizza peels I have ever seen. This could be a perfect centerpiece for a fine dine or casual pizza party. It can also work as a serving paddle that completes your rustic-themed dinner. Purely made out of acacia wood you can expect nothing but excellent quality here.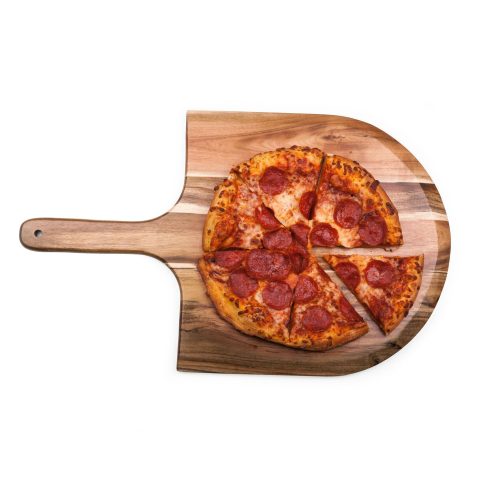 Rating
This product receives 4.6 stars out of 428 reviews.
Pros
Tapered Handle – the tapered handle of this serving paddle provides steady grip and comfortable handling.
Solid Wood – durability guaranteed as this is made out of pure acacia wood. This product is built to last a lifetime.
Flat Paddle – the paddle design is made to assure ease in transferring pizza to and from the oven. The flat surface allows the material on top of it to slide through with no humper.
Cons
Limited Cleaning Instruction – You can clean this product by only damping the cloth on it only. It is not recommended for you to submerge this paddle in the water to prevent wood cracking. It is also not a dishwashing-friendly item. The dishwasher may cause the wood to dry out and cracking.
Price
This product is for only $40.95
This pizza peel is quite different, it is nonstick that allows smooth transferring of pizza. It has a composite peel attached to the wood paddle which provides reduced friction in sliding the pizza or bread.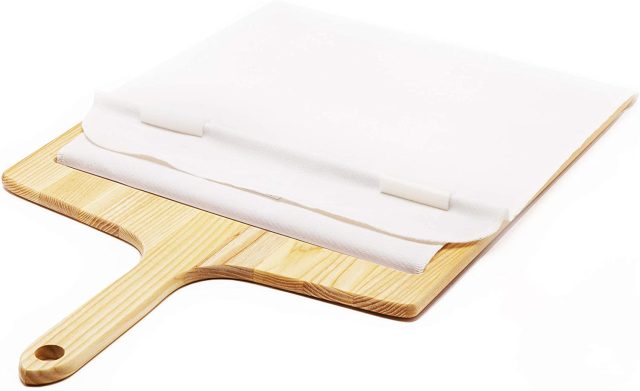 Rating
This product receives 4.7 stars out of 245 reviews from the Amazon website.
Pros
Goof-proof Transfer – The composite peel provides the "goof-proof" transfer from and to the oven whether for bread, pizza, and others.
Dishwasher Friendly – It is one of the few whose dishwasher friendly. This item won't split in two or crack while being cleaned inside the dishwasher.
Low Friction – Because of its design that allows smooth sliding surface. There is a sliding conveyor attached in the wood to give smooth transferring.
Cons
Wear and Tear – There is a bigger chance of wear and tear in this item especially with the conveyor that is attached to slide down the pizza.
Price
This product is for only $66.95
Conclusion
Finding the right pizza peel can make your pizza-making experience a breeze. Important to find the appropriate tool that will match what you need. A heavy-duty pizza peel is recommended for commercial use to achieve the baking demands that they need to achieve. While wooden pizza peels can be appropriate for private or home use which are usually smaller than heavy-duty ones. But overall we recommend getting the Ooni Perforated Pizza Peel because of its size and smooth edge. Perfect for everyone!
Click here to get the Ooni Pizza Peel at a Discounted Price.
FAQ
Q: What is a pizza peel?
A: Pizza peel is the paddle that carries the pizza and transfers it from and to the oven. This tool is specifically used to safely slide down the pizza inside the oven over your pizza steel or stone.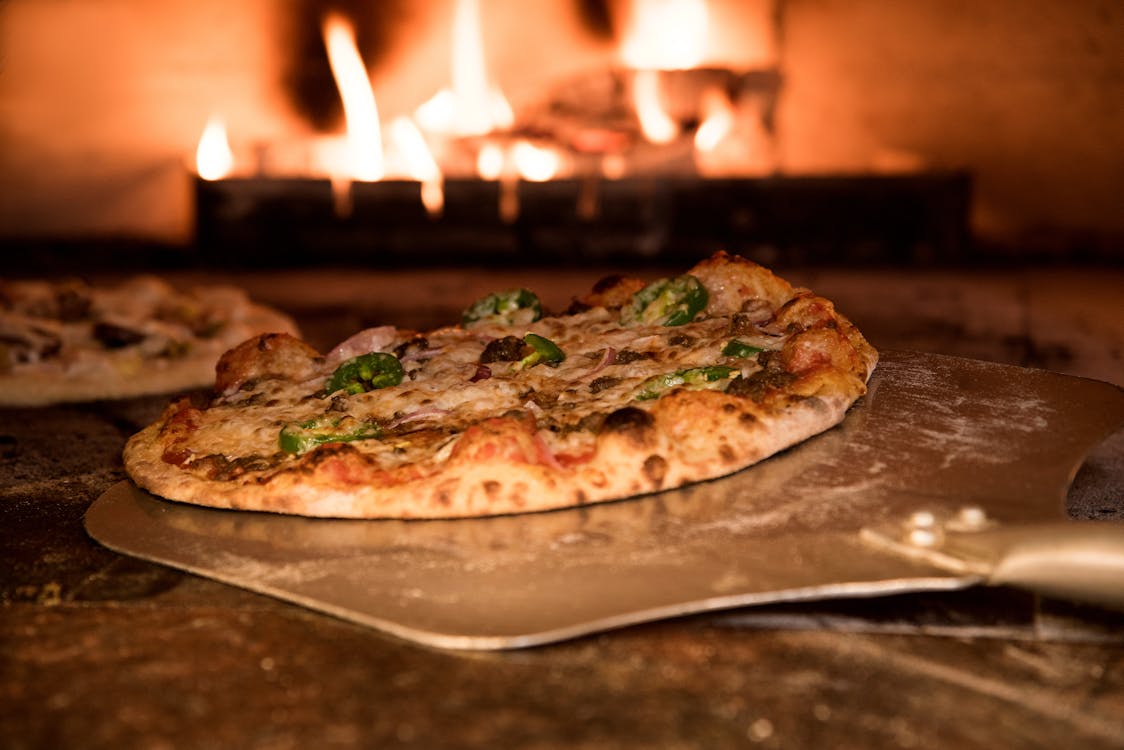 Q: How to use a pizza peel?
A: Get a strong grip on your pizza peel handle and get the pizza from your workspace and transfer it inside the oven. Release the pizza by gently sliding it down the oven. The moment the pizza is done baking, you can slide down the pizza peel under the dough of your cooked pizza to transfer it out from the oven and to the serving platter.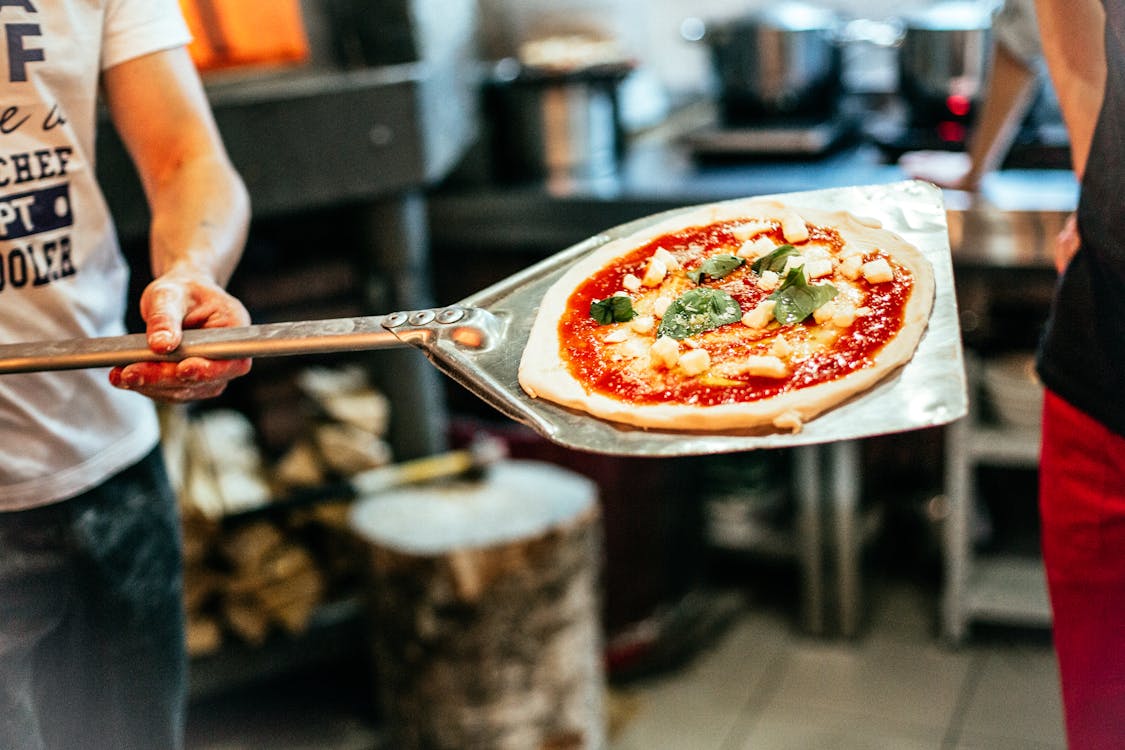 Q: How to make a pizza peel at home?
A: Most of the pizza peels are readily available at any baking supply store around but if you want to make your own pizza peel you can use any wooden materials available. Make sure the surface is smooth to reduce surface friction from the board to the pizza. Don't forget the handle!