5 of the Best Ooni Pizza Ovens for 2023: A Complete Review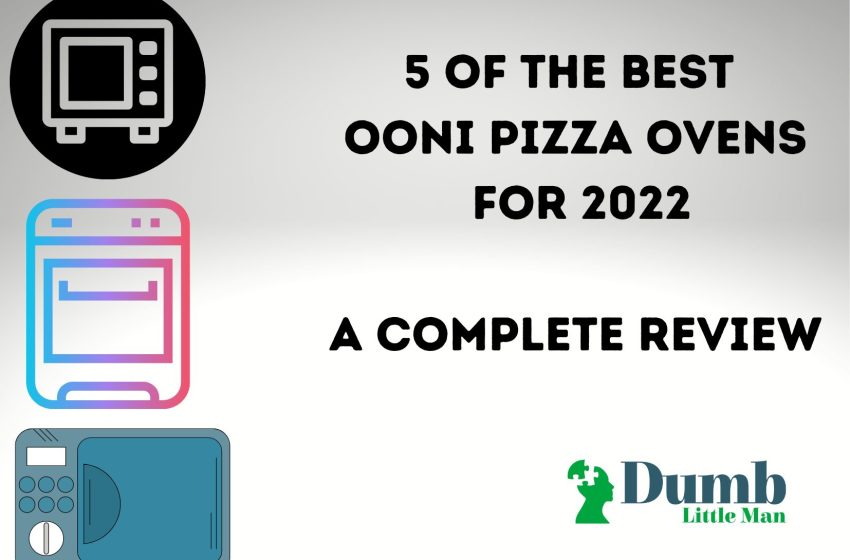 Back in the year 2012, the Ooni company created the world's very first portable pizza oven. Development and innovation have never stopped since then. It is clear that being a pioneer in this industry, Ooni is one of the most sought-after brands when it comes to a portable pizza oven.
Ooni offers free 3 years warranty to all of their pizza ovens when you order it online from their official website. Ooni even offers a buyback as a guarantee that their oven can give you great pizza every time. You can also enjoy free shipping costs within The United States.
⊙ These Are The Best Ooni Ovens To Look Out For In 2022:
Ooni Koda 12 and 16 are basically the same, these two only differ in the width of the cooking surface. Another important difference is that Ooni Koda 12 is not natural gas compatible while the Ooni Koda 16 is already compatible but has to purchase a conversion kit.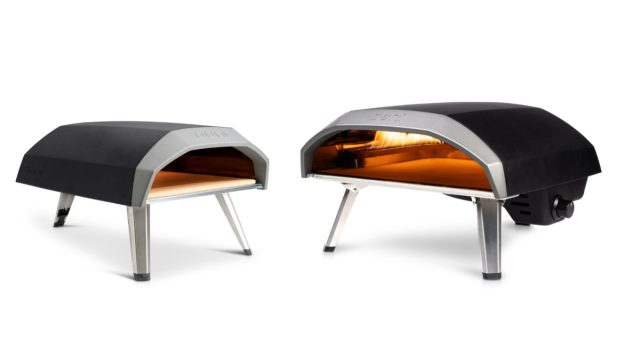 Read Full Review of Ooni Koda 12/16
Looks / Appearance
Ooni Koda edition is the only model portable pizza Ooni has manufactured that doesn't have a chimney on it which is interesting. Made out of carbon steel that is high quality and commercial grade. The outer finish is covered with powder-coated carbon.
Ease of use
The Koda edition is very much easier to operate as it uses propane gas as its fuel. The heat consistency inside is well controlled and can retain the heat that produces an evenly cooked pizza.
Functionality
This ultimately compact Ooni oven is ready to use anytime. Just have it connected to a gas tank and you'll have a pizzeria quality pizza in a flash.
Pros
No-Fuss – Ooni Koda edition portable pizza ovens can start cooking with no mess at all. No assembly and setting up needed, just plug it in a gas tank and start cooking.
Instant Gas Ignition – The same ay you open your gas burner, simply click the igniter and you already have the fire burning inside. Preheat for 15 minutes and you are ready to slide in your pizza.
Portability – These ovens have foldable legs, simply fold it in every after use and store it somewhere safe. Easy to carry anywhere your family has a special day.
Cons
Cooking Surface – Ooni Koda 12 has a limited cooking surface than the Ooni Koda 16. Limited cooking surface limits your ability to cook bigger pizza.
Natural Gas – Ooni Koda 12 is not compatible with using natural gas unlike the Ooni Koda 16 which is compatible as long as you purchase a conversion kit with it.
Click here to view Ooni Koda 12
Ooni Karu 12 and 16 are from the same edition but has completely different specification and function. Here are 2 separate reviews about Ooni Karu 12 and 16.
◾️ Ooni Karu 12
Looks / Appearance
This Ooni Karu 12 has a sleek outside design as it is made out of "glass-reinforced" nylon and a top-grade quality stainless material. It has 3 foldable legs that carry and support the weight of the oven. The actual surface for cooking is about 13.2 inches wide. This Ooni pizza oven comes with its own baking stone when you purchase it.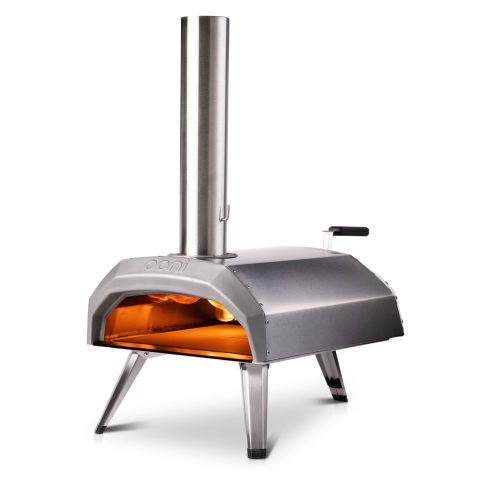 Ease of use
One of the most appealing features this oven has is the flexibility to choose which material to use as a burning agent to your fire. The option you have are wood, charcoal or you can also get it connected to your gas burner by ordering a gas burner attachment separately. Attaching it to the gas burner gives you a more stable heat temperature and stable control of the heat.
Functionality
This outdoor pizza oven can reach a maximum of 950 Fahrenheit in heat which can cook your pizza for only about 60 seconds timeframe. The rear door allows you to safely pour in the woods or the charcoal to start the oven burning. Comes with a free pizza stone for stable retention of heat.
Pros
Multi-fuelled – Choose between hardwood, charcoal, or attaching it to a gas burner. All of these can fuel your portable pizza oven.
Affordability – It is available in the market for only $349.00. Super affordable with great value for money quality.
Lightweight – The oven only weighs a total of 12.5 kgs which makes it easier to pack and carry around.
Cons
The Door – Ooni Karu 12 has a detachable door, every time you slide in and out your pizza you have to move quickly to attach and detach it.
Read Full Review of Ooni Karu 12/16 Pizza Oven
◾️ Ooni Karu 16
Ooni Karu 16 is the very first to be recommended for domestic use. One of the most advanced of all Ooni pizza ovens. The exterior is flawless, very sleek, and edgy.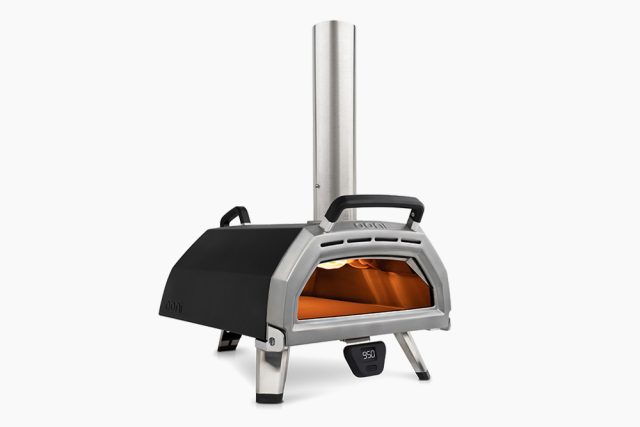 Looks / Appearance
Ooni Karu 16 has a wider cooking surface, wider mouth opening, and a transparent glass door so you can have a nice view of how your pizza is being cooked. This Ooni pizza oven has a temperature display and monitors for precise cooking control. The carbon-coated finish has made it stand any harsh weather conditions.
Functionality
Its enhanced insulation technology sustains the ideal temperature inside. It has an optimized airflow system that can hold the temperature better inside.
Pros
View Flame Technology – The door of this oven is made out of glass which can allow you to watch what was going on inside.
Thermal Monitor – You can find a built-in thermal monitor at the bottom part of the front door. It shows the temperature inside.
Wider Cooking Surface – This model has 16 inches cooking surface that can allow you to have bigger pizza for the entire family.
Cons
Availability – Due to its high demand on the market, you can only pre-order this on their official website and wait for stock confirmation. This usually takes longer than the usual ordering process.
Price
Ooni Karu 12: $349.00
Ooni Karu 16: $799.00
Click here to view Ooni Karu 12
3. Ooni 3 Pizza Oven
Ooni 3 Pizza Oven is the world's first portable pizza oven manufactured by Uuni which eventually underwent company rebranding and change its name from Uuni to Ooni. Ooni 3 being the first of its kind has a number of flaws to improve on but nevertheless still an amazing breakthrough of this product.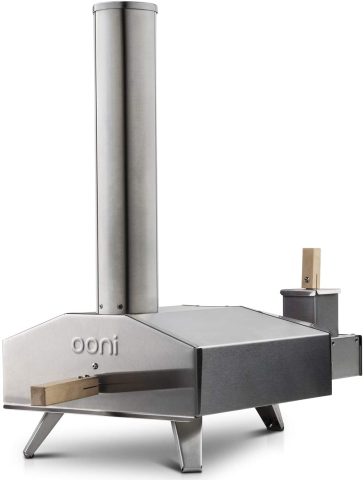 Read Full Review of Ooni 3 Pizza Oven
Looks / Appearance
The Ooni 3 model has a stainless steel finish with a wooden door handle that resists heat and a rear opening for the wood pellets. The overall look is edgy but sleek and modern.
Ease of use
Ooni 3's legs are foldable for easy storage. You do not need gas to fire this up at extremely high heat. This oven can operate with just a wood pellet on it. Simply pour in the pellet at the rear opening and click on the combustion chamber to start up the fire and start the pre-heating process.
Functionality
This portable pizza oven can reach the maximum temperature of 500 degrees Celcius only within 10 minutes and can give you crispy awesome pizza for just about 60 seconds.
Pros
Wood Pellet – Wood pellets are widely available everywhere so you shouldn't have to have a hard time sourcing this material every time you want to cook using this portable pizza oven.
Fast Cooking Time – Have a bite of your favorite pizza in just a minute. Its consistent high temperature inside guarantees you a perfectly cooked pizza all the time.
Cons
Availability – Ooni 3 has been phased out by early 2019 and replaced by the Ooni Fyra model. You might still be able to find a distributor who still has stock in them but you may find it hard to find one.
Click here to view Ooni 3 Pizza Oven
This awesome portable pizza oven does not limit its capacity to only baking pizza. Its large body frame having 16 inches surface lets you cook great pizza and more! Perfect for steak, fresh bread, fish, and other meal you can think of.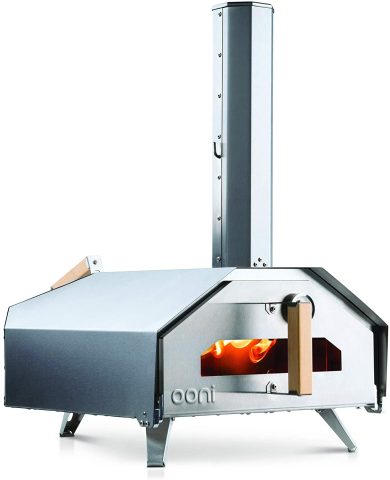 Read Full Review of Ooni Pro Pizza Oven
Looks / Appearance
This pizza oven is has a stainless steel finish and looks. It has a pizza entry door and another that has a viewing panel on it and a thermometer. Ventilation comes from the chimney and from its oven ceiling ventilation.
Ease of use
The working surface of this Ooni pizza oven is 16 inches wide which can allow the customer to bake bigger pizza for the whole family. Not only that it can bake bigger pizza, but there are also so many possibilities of exciting meals you can create using this oven.
Functionality
This is a multi-fuelled oven where you can choose whether you want to use charcoal, wood or attach it to a gas burner for a low maintenance process of cooking. Heat can reach 95 degrees Fahrenheit and could only take 60 seconds to cook your pizza.
Pros
Dual Door – Post-box styled door is where you slide your pizza in and out. The full door allows faster heat retention and acceleration process.
Easy Fuel conversion – This oven can be easily connected to a gas burner or simply shift from wood to charcoal in cooking.
Free Gloves – Who doesn't like freebies right? This portable pizza oven gives you free Ooni Gloves upon purchasing the unit.
Cons
High Demand – Expect a longer delivery time when ordering this product as the manufacturer announces a delay in their logistic services to cope up with the demand.
Price
Ooni Pro: $599.00
Click here to view Ooni Pro Pizza Oven
Ooni Fyra model is designed for convenience in use and delivers the essence of portability. Ooni Fyra is the successor of the very first portable pizza oven in the world, the Ooni 3.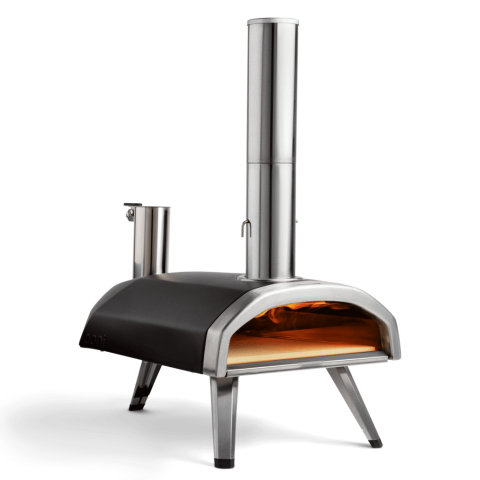 Read Full Review of Ooni Fyra Pizza Oven
Looks / Appearance
The body of Ooni Fyra is carbon-coated steel which also works as an insulation for the entire system of the oven. It has folding legs made for convenient transportation and storage of this product. The cooking surface is 13.2 inches which is perfect for making a 12 inch round pizza.
Ease of use
This model has an innovative automatic feeding pellet that feeds the hopper when needed. It gives such convenience for consumers who need not frequently check wood pellets.
Functionality
The Ooni Fyra model uses a hardwood pellet, it is one of the perfect materials to use if you want a coherent high temperature at a consistent phase.
Pros
Consistently High Temperature – Hardwood pellet can produce extremely high heat at a consistent phase. Using this as your fuel can add your pizza a smokey aromatic flavor as well.
Lightweight – It only weighs 10 kgs which is by far one of the lightest when it comes to a portable pizza oven. This enables you to carry this thing around without a sweat.
Affordability – This model only costs $299.00 which is so affordable with the caliber it brings to the market. Truly value for money.
Cons
Limited Cooking Surface – This oven only has a 13.2 cooking surface that limits the movement of your pizza peel inside.
Price
Ooni Fyra: $299.00
Click here to view Ooni Fyra Pizza Oven
⊙ Why Choose Uuni/Ooni?
Ooni developed the very first portable oven pizza, they never stopped innovating and developing the product since. I would choose the one I know who knows what they're doing, and with no doubt in mind Ooni holds the top spot when it comes to portable pizza ovens.
They continue to provide high-quality portable pizza ovens at a very affordable price that many consumers can afford.
⊙ Final Words
The best Ooni oven is the Ooni Koda 12. All things considered, it's quality, convenience of using it and the portability that it offers are just awesome and perfect for me and my family. It ticks all the boxes of what I need in a portable pizza oven. I hope you find the right pizza oven for you too based on this review.
Click here to get Ooni Koda 12 Pizza Oven at a Discounted Price
Like this Article? Subscribe to Our Feed!
Vanessa is a mom of 3 lovely children and a software geek. Outside of her career as a health and wellness instructor. She enjoys writing and researching on topics such as finance, software, health and culinary.