Easy Keto Recipes for Dinner Tonight: Complete Guide 2023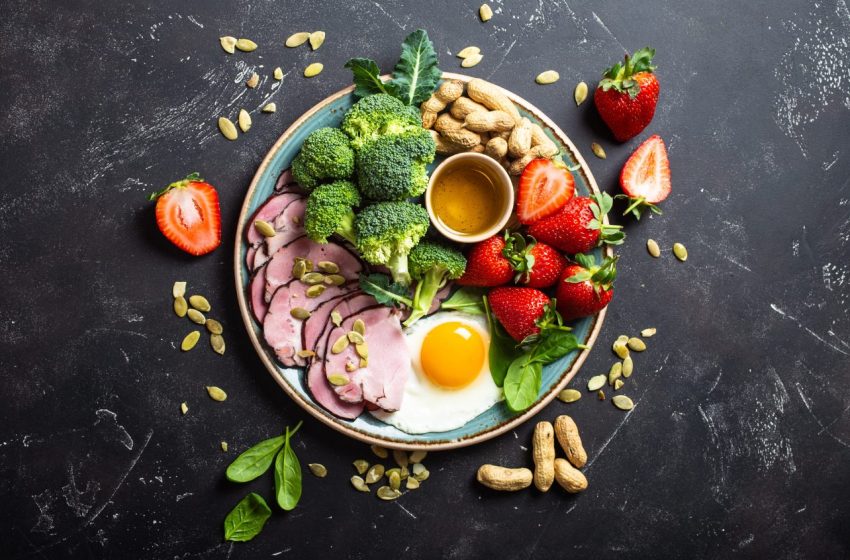 Over the years, the world has experienced a rise in many diet types that our parents may not have heard of. Such types encompass "keto diet", "gluten-free", "vegan", and "pescatarian".
People follow these diet types owing to many causes.
Some may follow these as a means to try new food. On the other hand, people also follow emerging diets to address specific health needs.
Here, we are unraveling what it means to have a keto diet. We'll also share easy keto recipes. Whatever your reason for following is, you'll find the answer here!
Easy Keto Recipes: The Basics of Keto Diet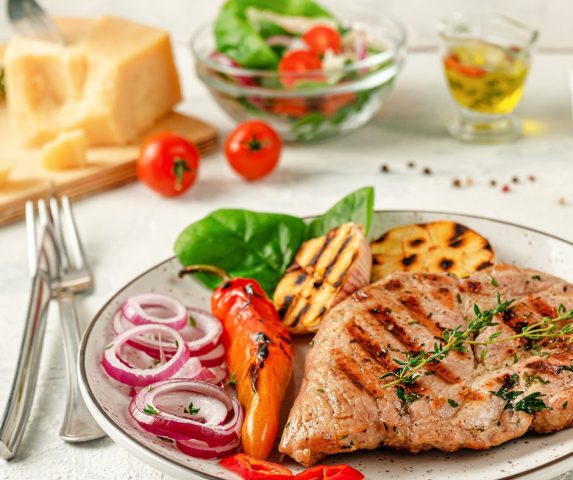 This represents a high fat and low carb diet. Being low carb means excluding drinks and snacks high on processed sugar. Specifically, keto instructs intake of 10 to 30% protein, 60 to 80% fat, and 5 to 10% carbs daily.
Most often, people mistake the "keto diet" as protein-rich. But it includes a moderate level of protein.
The prime objective of eating keto meals involves keeping carbs low and replacing them with fats. The use of this low-carb diet encourages the body to use fat for energy production. During this situation, the body generates a high level of ketone bodies leading to ketosis.
Lowering the net carbs in the diet promotes the lowering of blood sugars and hence insulin levels. You may think keeping the carbs controlled in keto only aids in managing blood sugar.
But, excess protein intake can transform the protein into carbohydrates. These reactions lower the ketosis rate and make the keto diet ineffective.
Benefits of Going Keto
The biggest benefit of going keto is shedding excess weight without being too calorie restrictive. Also, many studies established the effectiveness of the keto diet for long-term weight loss. Most importantly, this diet gives options for many delicious and super easy healthy recipes.
Also, lowering net carbs intake brings increased ketones that improve insulin sensitivity and blood sugar. Other good impacts include managing polycystic ovary syndrome and cholesterol levels.
Precautions for Keto Diet
Keto recipes can be difficult to follow, given it includes major restriction on carb intake. Failing to maintain the prescribed carb (and protein) can cause the opposite of your desired results.
Moreover, people harbor a larger dependency on common carb sources like flour in major recipes. This habit can be hard to give up.
Furthermore, the maximum unhealthy tasty snack options include high carbs. Taking a keto diet implies cutting down on these foods. If you give in to the snack craving while continuing the keto diet, having ketogenic food becomes a moot point.
You can have ready-made keto snacks available on the market. But, these can have processed carbs. So before munching on such snacks, check the ingredients and nutritional information.
Ingredients to Stock up on for Keto Dishes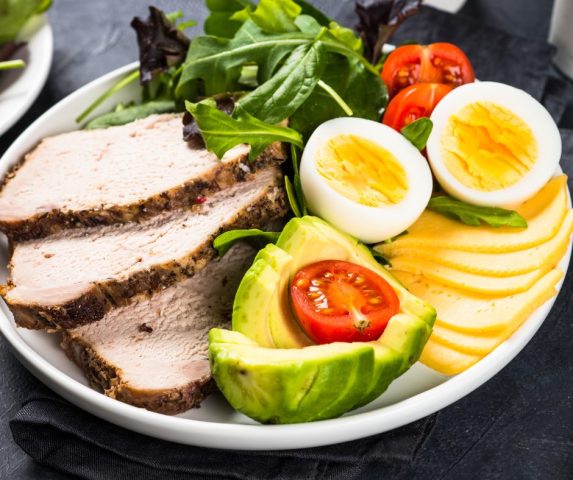 Cooking keto recipes necessitate the use of high fat. But, it never means you can have every fat-rich food like greasy burgers.
As fat and protein sources, you can have fatty fish like Tuna, Salmon, and Mackerel. Also, avocados are a source of good fat and quite apt for easy keto dinner recipes.
For oils, you can use avocado oil and extra virgin olive oil. Unprocessed cheese is ideal for keto-friendly diet items.
An important factor for keto recipes includes maintaining vegetable consumption. But, many veggies carry starch or high carbs, and you may have a hard time selecting veggies for the keto diet. You can opt for tomatoes, peppers, and asparagus as low-carb options.
23 Easy Keto Recipes
You will get a bunch of low-carb keto recipe ideas online. Among these, we have sorted out our favorite keto meals and are sharing these here.
1. Beef Lettuce Wrap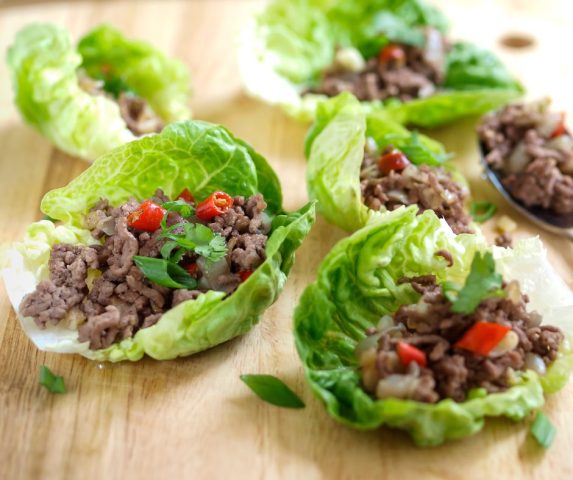 This is one of the grain-free keto dinner recipes apt for busy weeknights. All you need to do is fry up the beef mince with spices and serve it on lettuce.
You can have the fried meat wrapped with leaves. In place of beef, you can also use ground chicken.
This dish is tasty, filling, and healthy and requires less prep time.
2. Shrimp Scampi
If you are looking for easy keto dinners, this dish should be your favorite weeknight meal.
This recipe requires cooking shrimp in butter with spices. Shrimp scampi is perfect for having alone or sharing with the whole family.
3. Cauliflower Rice
Continuing with keto can be hard because it excludes your ultimate comfort food, rice, from your diet. But what if you can eat a keto version of rice?
Cauliflower, a low-carb vegetable, is a suitable component for any keto meal plan. All you need to do is dice up and cook finely chopped cauliflower.
It lacks the exact flavor of rice but makes for a great easy substitute. You can add flavors by including garlic and fresh herbs.
4. Egg salad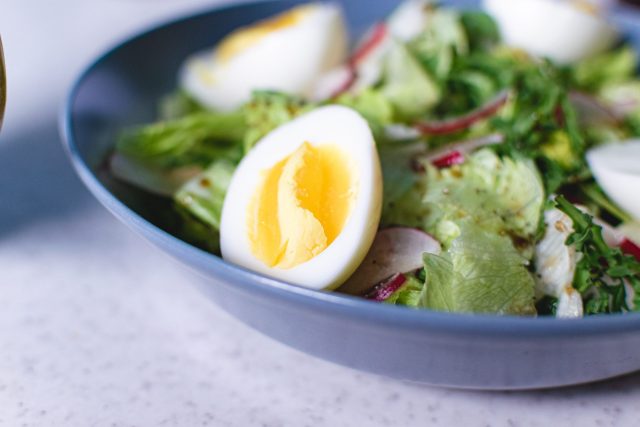 This is a classic keto dinner item that fits the preference of everyone, excluding vegans. The superstar of this dish is hard-boiled eggs.
You need to add egg pieces and mashed avocados. As a dressing, you can opt for lemon juice and mayonnaise. For extra flavor, you can include pieces of nicely fried bacon.
5. Cheesy Keto Green Beans
This is a delicious recipe and is cooked with a lot of garlic cloves, green beans, and parmesan cheese. It takes very less prep and cooking time. You can even make this recipe on a slow cooker.
6. Keto-friendly sauce
Store-bought sauces contain sugars and preservatives that can lower the effectiveness of having keto meals. But, if you make sauces at home, you can cut down the unwanted carbs.
Puree the tomatoes and flavor them up in an easy way. This can be your favorite marinara sauce for pairing with pizzas and meat dishes.
7. Bacon Wrap with Cream Cheese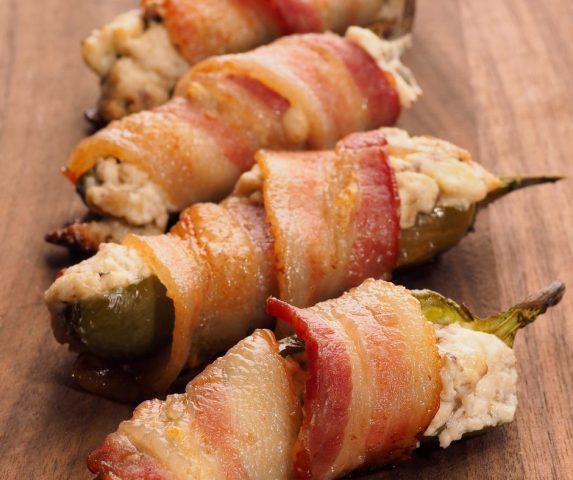 The cooking time of this dish is less. You can prepare this using an air fryer. Savor this dish as a keto appetizer or a side dish.
8. Instant Pot Chicken Noodle
This chicken dish is such a sweetheart among easy keto dinner recipes. You can add veggies like peppers or spinach to make the recipe more delicious. As a gluten-free alternative, you can use keto egg noodles.
9. Cauliflower hashbrowns
Potatoes contain high carbs, thus becoming unsuitable for keto. So, does it mean you can no longer have hashbrowns? You can substitute the potatoes with cauliflower and continue having this delicious breakfast food.
10. Chicken Cheese Kebabs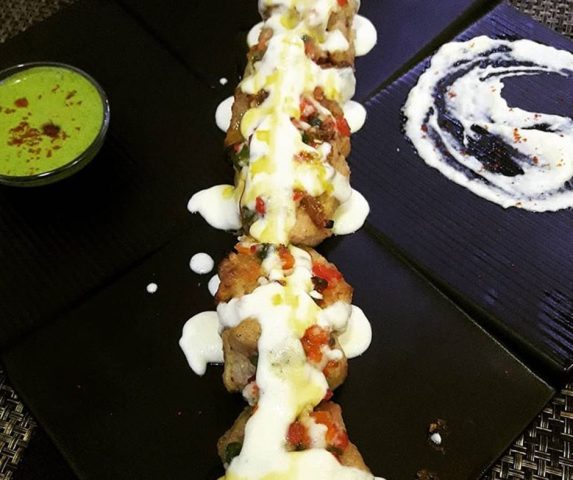 This chicken dish makes up for an easy keto dinner and can be made with an air fryer. All you need to do is fry up chicken pieces and assemble these with cheese cubes.
11. Slow Cooker Chicken Curry
This dish has all the flavor and the right consistency to make it everyone's favorite. The chicken pieces become tender and juicy due to a slow cooking process.
12. Almond Flour Pancakes
Pancake recipe ideas highlight the use of flours, which are not suitable for going keto. But, with carb alternatives like almond flour, you can continue having pancakes.
13. Mozzarella Cheese Sticks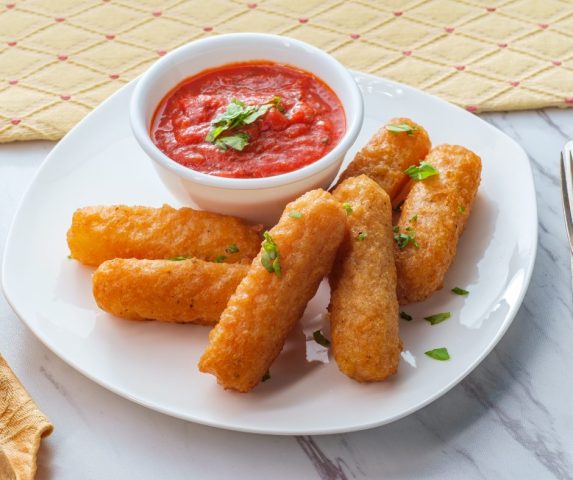 This makes up for a flavorful appetizer and can please both keto and non-keto followers. You need less time to cook cheese sticks.
14. Creamy Spinach Dip
Spinaches are a great low-carb option for keto recipes. Start by cooking the leafy veggies and mix these with cream cheese.
Add seasonings and condiments to impart flavor. These cheesy dips are great for keto nachos.
15. Keto Chicken Salad
This is one of the most delicious lunch and dinner ideas you will come across. You can even cook it in an instant pot, as shredded chicken is used in this salad.
16. Pork Chops with Creamy Sauce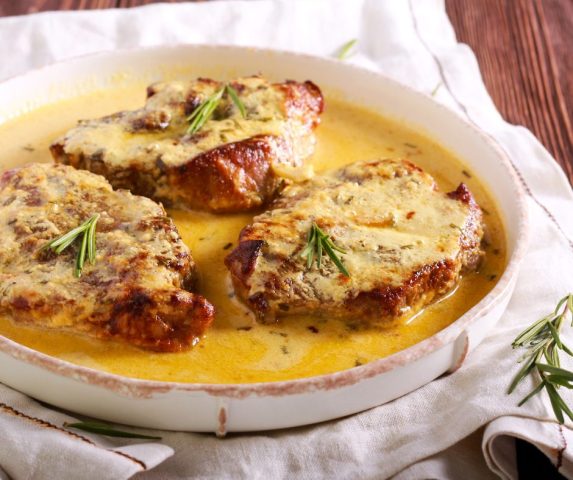 This is another grain-free recipe you will love eating. The generous presence of cheese and garlic make this recipe suitable for lunch and dinner ideas.
17. Parmesan Cheese Chips
This dish requires less cooking time and minimum ingredients. This is one of the most popular and delicious keto appetizer recipes you will come across.
18. Chicken with Blue Cheese Filling
If your family loves full-fat cheese, this delicious recipe will be a great pick for you. You can easily make this in an oven, and it takes less than one hour of cooking time.
19. Salmon with Fresh Veggies Salad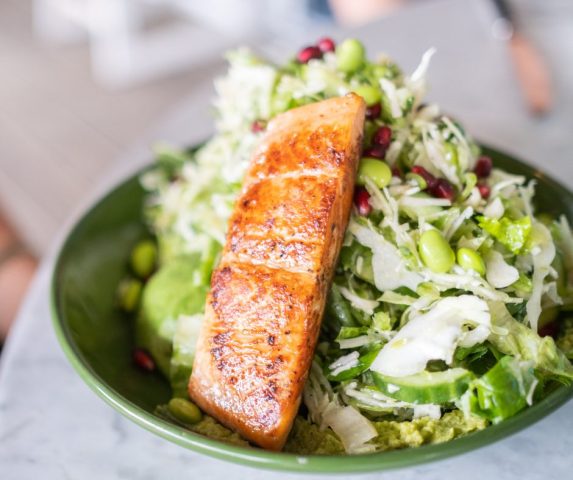 This low-carb keto dinner makes a very hearty meal. You will especially love the crunch of Sunflower seeds in this recipe.
20. Chicken Thighs with Coconut Sauce
This keto recipe is great for a whole family get-together. The coconut sauce adds richness and texture to this recipe.
21. Zucchini Noodles with Garlic Butter
Looking for delicious and healthy keto-friendly recipes? Zucchini Noodles with garlic butter will become your instant favorite if you want to eat keto. This can be a healthy and gluten-free alternative to regular pasta.
22. Garlicky Parmesan Spaghetti Squash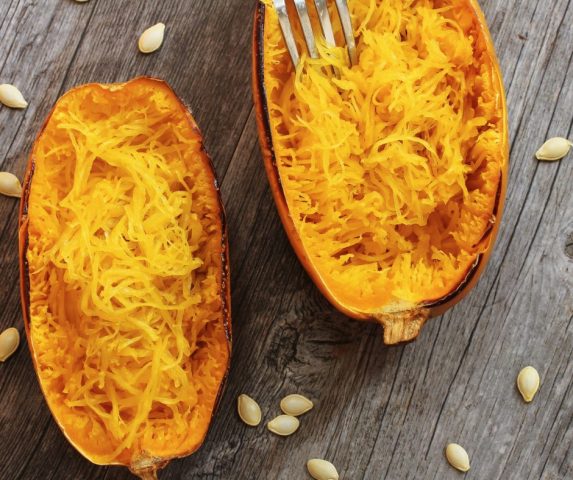 The use of copious cheese makes this recipe oh so delicious. It does not require much cooking time. You can add grilled chicken to make the recipe tastier.
23. Cheesy Asparagus Soup
This buttery and cheesy soup is one of the most delicious keto dinner ideas. Rich in fat and protein, this recipe is also packed with various macro-nutrients.
Where To Find Easy Keto Recipes
6 Best Keto Cookbooks for Easy Keto Recipes
| Product | Key Feature |
| --- | --- |
| | Best Overall |
| | Best All in One Meal Plans and Program |
| | Best with Practical Programs |
| | Best Selling Ketosis Cookbook 2018 |
| | Best For People Aging 50+ |
| | Best Practical Choice |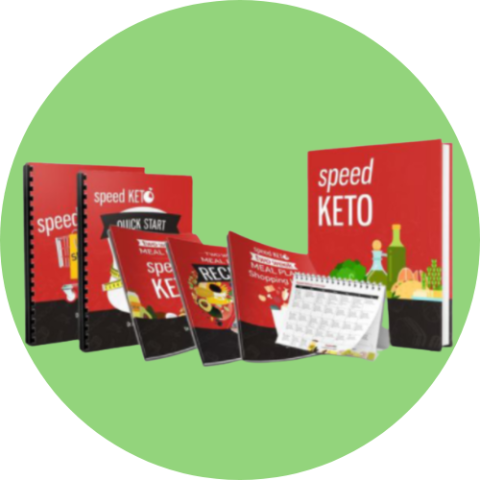 This digital program is much beyond a compilation of recipe ideas. It has a quick-start guide for beginners who want a fast body transformation. It also has a complete guidebook, shopping list, and calendar.
Additionally, the program comes with delicious recipe ideas for two weeks. You will even get a shopping list and meal plan for two weeks. Thus, you will be able to experiment with many keto-friendly ingredients like bacon, chicken, etc.
We recommend this program and compilation of recipe ideas because they will improve your overall health. These recipe ideas will also help you combat many health issues.
What makes this the best?
This program is the best as it works by improving the natural fat-burning mechanism of our bodies. It also shows how delicious cooked food can yield faster weight loss. In addition, this program is great for augmenting our mental clarity.
This digital program is the most preferred as it maintains the balance of cholesterol in our blood. It is even ideal for keeping the blood pressure and blood sugar levels in check.
Shop Speed Keto Digital Program at a Discounted Price.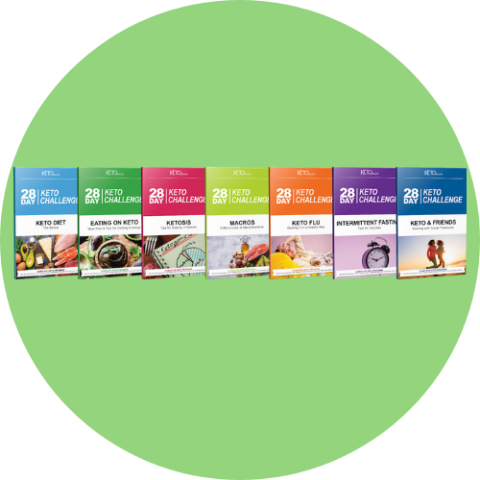 We love this program as it has recipe ideas and guides to help you throughout the weight-loss journey. The program also stands out because of its simplicity and clarity. From what to eat to measures to follow, this program will help you with everything.
The program features delicious recipe ideas for keto dinner, breakfast, lunch, and a meal plan calendar. The program teaches you to add little twists to your favorite soup or salad to balance out the macro-nutrients.
In addition, the program introduces you to different styles of intermittent fasting. It also helps you to manage social pressure throughout this process.
What makes this the best?
This program is the best as it comes with ten expert guidebooks. It is ideal for long-term weight loss and promotes your overall well-being.
By following this program, you will notice a remarkable change in your skin and hair. Moreover, it will improve your energy and stamina.
Shop 28 Day Keto Challenge Program at the Official Website.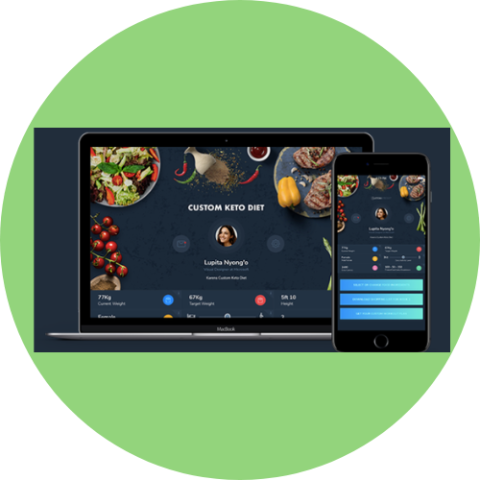 This diet plan with a cookbook can be customized based on your lifestyle and what you like to eat. So, vegans and non-vegans will both find this program beneficial.
This plan is customized by considering the right calorie intake based on weight and body type. Furthermore, it accurately calculates the fat content in your body.
This diet plan teaches how your favorite soup or salad can promote weight loss by decreasing the level of insulin. It helps the shedding of belly fat to help you combat metabolic and other health problems.
What makes this the best?
We love this program as it improves your satiety so that you don't indulge in unhealthy junk frequently. This diet plan is also ideal for people with diabetes and certain neurological problems.
The recipes mentioned in the cookbook are delicious and easy to make. Furthermore, the recipes and instructions ensure adequate consumption of essential macronutrients.
Full Article: Keto Custom Plan Reviews: Does this Diet Program Really Work?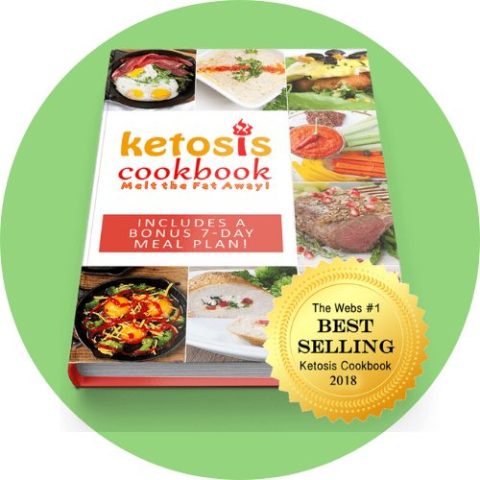 Eat delicious keto dinner, lunch, and breakfast with this cookbook compilation. The delicious recipes in the books cover sixteen categories.
The best thing is that the delicious recipes are approved by a certified nutritionist. Also, it optimizes the fat-burning mechanism of our bodies.
The recipes in the book will help you maintain a healthy blood sugar level. They are also good for your heart as they balance out cholesterol levels.
What makes this the best?
The recipes in these cookbooks will help your body achieve the state of ketosis naturally. They will also boost your metabolism, energy, and mental clarity.
It does not matter whether you are a beginner or a pro. The recipes are easy to make, and they take very less cooking time.
Shop Ketosis Cookbook at the Official Website.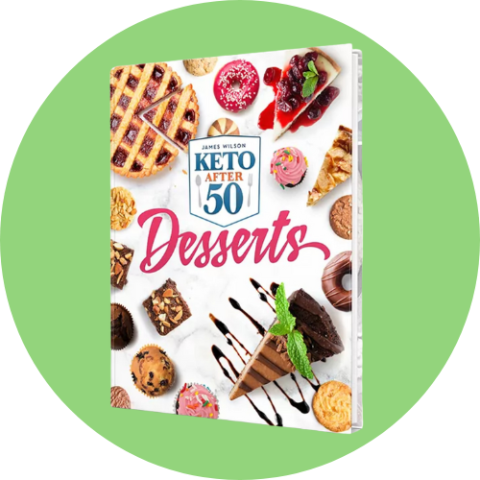 This book specifically addresses the lack of recipe ideas for satisfying the sweet cravings of older adults. Keto after 50 desserts represent unique ways of preparing delicious but healthy desserts.
This book contains step-wise instructions, an ingredient list, and a macro-nutrient profile for every recipe. What impresses us is the inclusion of every type of dessert recipe, including candies and frozen treats.
Plus, purchasing this book gives you two bonus books. One contains recipes for healthy yet flavorful milkshakes. Another contains keto-friendly recipes for bread and pasta.
What makes this the best?
With or without following keto, eating desserts gets limited if you are over 50. But, having this recipe book enables you to make desserts suited for both old age and the keto diet.
Also, the featured recipes include ingredients that boost your immunity and metabolism. All in all, keto after 50 aids in satisfying your sweet craving in a guilt-free way.
Shop Keto After 50 Desserts Cookbook at the Official Website.
Full Article: Keto After 50 By James Wilson Reviews 2022: Does it Really Work?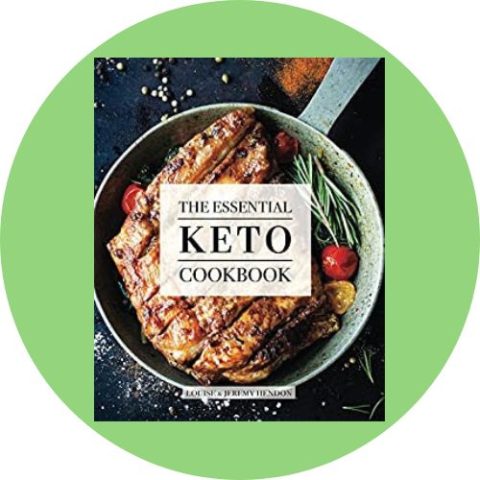 Are you looking for practical ways to continue eating healthy keto foods? Then, the book mentioned above can be your ultimate guide.
It contains more than 100 recipes, apt for your keto dinner. Plus, starting from keto bread to mouthwatering treats, this recipe book has got you covered. Each recipe comes with a total carb count and nutritional information.
What makes this the best?
Continuing with keto implies no longer having carb-rich tasty snacks. Lack of your comfort food may push you to occasionally discontinue the keto diet. This discontinuity reduces the effectiveness of following keto.
But, this cookbook gives easy finger-licking recipes, helping you to continue your journey with keto. This book contains recipes for food that people commonly miss while going keto. The variety of healthy recipes here is amazing.
Most importantly, this cookbook addresses the limited selection of keto recipe ideas. Reading this recipe book makes you capable of getting out of egg and bacon funk. Plus, there are recipes for gluten-free, sugar-free desserts that are surprisingly packed with flavors.
Shop Essential Keto Cookbook at the Official Website.
Full Article: The Essential Keto Cookbook Reviews 2022: Does it Really Work?
Bottom Line
Keto recipes are relatively easy to prepare for as long as you know how. These consist of low carb, moderate protein, and high-fat meals.
There are many recipe books available that can ease your way into having a keto diet. Apart from giving recipe ideas, they provide prep time, nutritional info, and ingredient lists.
Among the discussed books, our favorite is the digital program of the Official Speed Keto. It beautifully combines keto-friendly recipe ideas with guidance on intermittent fasting. Also, along with a cooking book, this program comes with strict guidelines for weight loss.
Furthermore, this program promises a blazing fast result. It makes the weight loss process faster by improving the natural fat-burning mechanism of your body.
Click here to get the Speed Keto Program at a Discounted Price.
Easy Keto Recipes FAQs
Can keto recipes compensate a complete meal?
Yes, keto recipes lack a major portion of carbs and proteins. So, it may appear as a restricted meal.
But, if you have a diverse source of proteins and low-carb veggies, you can compensate for important nutrients. If you are having a keto meal plan, monitor your nutrient intake effectively.
Can the Keto diet help you have greater health benefits?
Having keto foods helps with health issues like obesity. But, an unorganized or inconsistent keto plan may cause more harm than good.
So, don't hesitate to contact doctors or nutritionists. They can guide you better on the nutritional information of keto diets.
Are keto dinner ideas easy to prepare?
Hands down, we all can agree on how extremely easy keto recipes are. These low-carb recipes have great variety and can be prepared in many ways.
Furthermore, they take less cooking time. But, transitioning from normal to keto diets may take time to get acclimatized to ingredients.
Like this Article? Subscribe to Our Feed!
Vanessa is a mom of 3 lovely children and a software geek. Outside of her career as a health and wellness instructor. She enjoys writing and researching on topics such as finance, software, health and culinary.