13 Easy Halloween Inspired Recipes and Snacks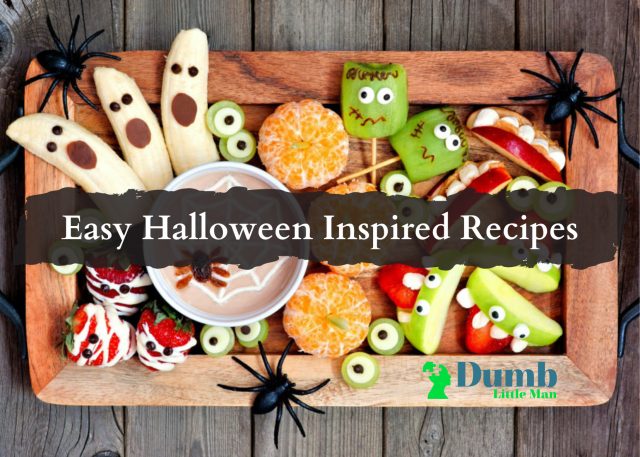 Halloween is right around the corner to get ready with our super easy Halloween appetizers and recipes for kids and adults alike. Make the most of your Halloween this year with our simple and fun Halloween Themed Foods. These spooky snacks are so much fun to make with your little ones and they taste delicious too!
Get your kids involved! This kid-friendly recipe is fun and simple to make. This experience will give your kids a sense of fun and pride knowing that they created something all by themselves. Prepare everything for them and place out the ingredients so they can easily start the making process.
① Spooky Sausage Roll Mummies
These are probably a better Halloween treat for bigger kids who really get what Egyptian Mummies are, but they taste delicious and are fun to eat no matter what. So if you are looking for a fun meal to serve at a party this holiday, or just a fun way to lighten up your hotdogs, this is a perfect recipe!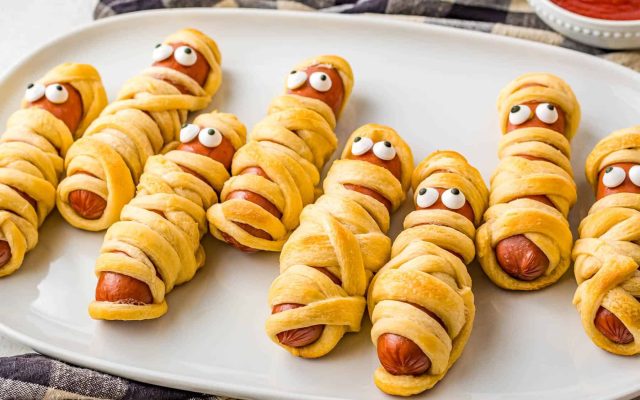 Ingredients:
5 sheets Puff Pastry
5 each sausage Feel Free to use beef, turkey, or veggie
1 each egg wash
Instructions:
Heat oven to 400°F.
Use a pizza cutter or a sharp knife and cut the pastry into strips.
Wrap 4 or 5 pieces of dough around each sausage.
Brush with egg wash the pastry, bake for 20 minutes until golden brown.
Remove from the oven, leave to cool, using mayonnaise and black seeds, draw eyes.
Get 80 Fun Halloween Recipes for ONLY 1.99$!!
② Halloween Cheesy Witches Pretzel Broomsticks
Love adding these to Halloween cheese and charcuterie boards. These are fun healthy Halloween snack recipes that are fun for kids to munch and can be made with only a few simple ingredients. You can keep the kiddos occupied and entertained by assembling these cute snacks. Not to mention, they'll love eating them up!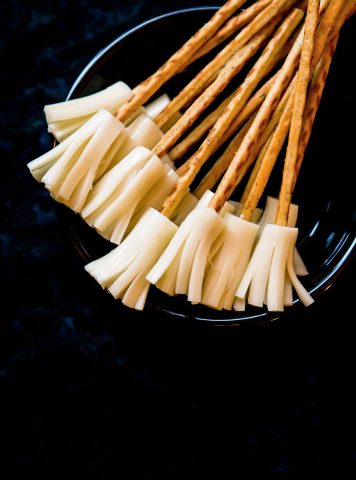 Ingredients:
Instructions:
Cut cheese sticks into 3 pieces, start making small slices in the cheese about halfway down creating the broom effect.
You don't want t to go too far up, since you'll need to cut a hole in the top and then press a pretzel stick into the cheese.
Popped a pretzel stick into a mandarin
Get 80 Fun Halloween Recipes for ONLY 1.99$!!
③ Ghostly Bananas
These bananas are one of the simplest yet scariest-looking recipes on the menu. Just make sure you don't get left alone with them…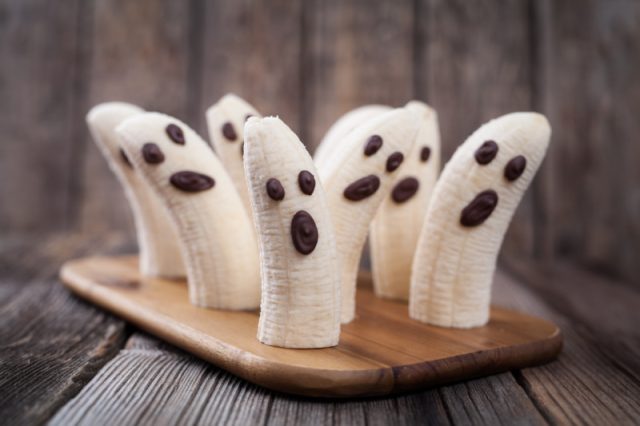 Ingredients:
Fresh ripe bananas
Chocolate chips
Instructions:
Peel, cut in half the bananas, and arrange vertically on a tray so that they look like ghosts.
Melt the chocolate chips, paint the bananas with a ghastly-looking figure.
Get 50 Amazing Snack Boards for Any Occasion for 11.99$!
④ Deviled Pumpkin Eggs
This simple egg Halloween recipe is terrifyingly delicious. These deviled eggs are creepy and so delicious. The perfect, healthy Halloween snack for the whole family to enjoy!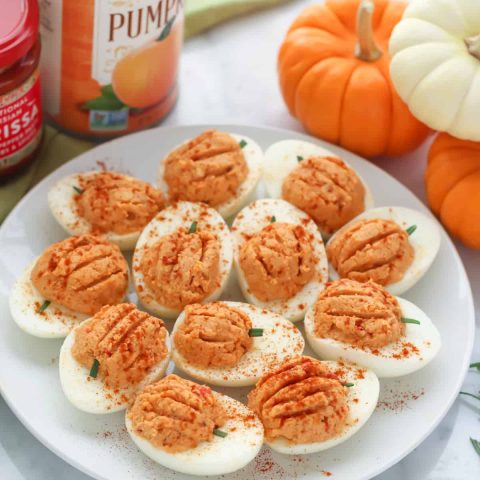 Ingredients:
12 large eggs
½ mayonnaise
½ lemon juice
1 ½ Dijon mustard
Kosher Salt
Freshly ground black pepper
2 tbsp. paprika
4 chives, cut into small pieces
Instructions:
Place eggs in a single layer in a saucepan and add enough water to cover eggs with water. Bring to a boiling point, then reduce heat and cook, about a minute. Remove from the heat and let sit. After 14 minutes rinse under cold water
Crack the shells and delicately peel them under cool running water.
Halve eggs lengthwise. Spoon out the yolks into a small bowl and place whites on a serving plate. Using a fork, mask the yolks, then stir in lemon juice, mayonnaise and season with salt and pepper.
Mix evenly among egg whites and smooth the top.
Carefully dust some paprika all over the yolk mixture, completely covering the yolk. Use a paring knife to make little ridges down the paprika-dusted yolk in order to look like a pumpkin.
Add some chive above the egg mixture to look like a stem.
Get 80 Fun Halloween Recipes for ONLY 1.99$!!
⑤ Cemetery Chicken Enchilada dip
Ready your tombstone tortilla chips to be dipped and buried!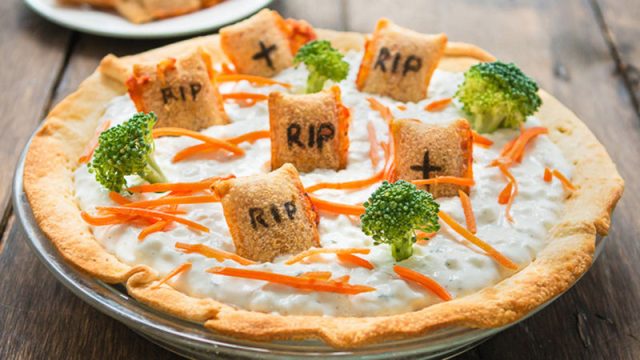 Ingredients:
Pepper Jack cheese
Enchilada sauce
Shredded rotisserie chicken
Cream cheese
Green Chilis
Taco seasoning
2 tbsp. paprika
Flour tortillas
Tortilla chips
Instructions:
Preheat oven to 350 degrees Fahrenheit. In a large bowl, combine pepper jack, enchilada sauce, cream cheese, rotisserie chicken, green chilis, and taco seasoning
Transfer dip to cast-iron and bake until warmed through and bubbly for about 20 to 25 minutes.
Meanwhile, make tortilla graves, cut tortillas into grave shapes, and place them on a baking sheet. Bake until sturdy, about 5 to 7 minutes.
Top dip with shredded lettuce and insert graves serve with tortilla chips.
Get 80 Fun Halloween Recipes for ONLY 1.99$!!
⑥ Egg Spiders
We just can't get enough with eggs! If you've got leftover hard-boiled eggs or simply just want a high-protein snack during the spooky holiday, make these instead.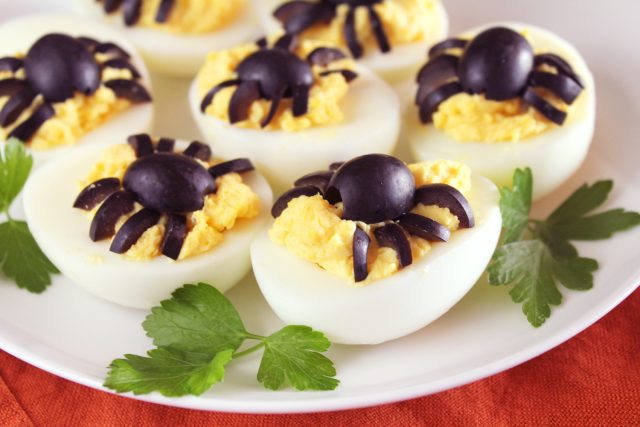 Ingredients:
6 hard-boiled eggs
1 teaspoon Dijon mustard
¼ cup mayonnaise (or vegan mayonnaise)
¼ teaspoon kosher salt
15-20 whole pitted olives
Instructions:
Slice the eggs in half lengthwise. Remove the yolks and place in a mixing bowl. Add the mustard, mayonnaise, and salt to the yolks and mash together with a fork.
Using a piping bag or sandwich bag with the bottom tip cut off, pipe the egg yolk mixture back into the center of the egg white. (You can also just spoon the egg yolk mixture back into the egg white)
Slice 12 olives in half lengthwise. Place one half, cut side down, on top of each deviled egg.
Slice the remaining olives in half again lengthwise and then into 4 slices to make the legs.
Place 3-4 legs on each side of the olive halves on top of the eggs.
⑦ Chocolate Tofu Pudding Pots
We love that Halloween is on a Monday night and hopefully sleep tight the next day. We'll see how that plan goes after everyone gets all sugared up!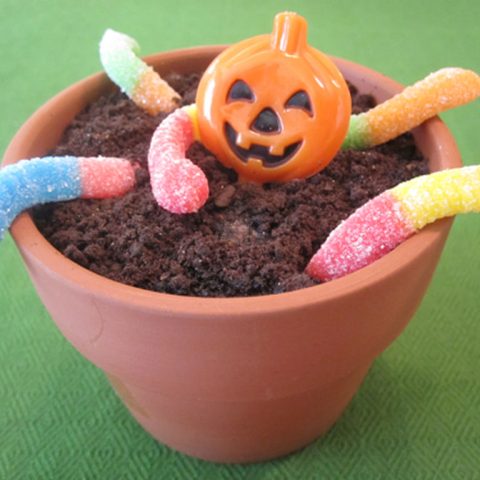 Ingredients:
1 14-ounce package soft silken tofu (House Foods soft silken or Mori-Nu firm silken)
1/3 cup pure cocoa powder
1/3 cup agave nectar (feel free to use a little more if you want it extra sweeter)
1 Tbsp vanilla extract
24 Chocolate Wafers
Gummy Worms
4 small clay unused flower pots
Instructions:
Place the first 4 ingredients in a food processor and blend to combine.
Scrape down the sides of the food processor and blend again to make sure everything is incorporated.
Place 4 whole chocolate wafers in the bottom of the clay pots so none of the pudding goes through the hole at the bottom of the pots.
Divide the chocolate tofu pudding between the 4 pots.
Place the remaining 20 wafers in a Ziploc bag and using a rolling pin, crush into small pieces resembling dirt.
Sprinkle the crushed wafers on top of the pots and place the gummy worms in the pots.
Get 80 Fun Halloween Recipes for ONLY 1.99$!!
⑧ Pizza Mummies
They say that life is not complete without a pizza. Halloween is no exemption.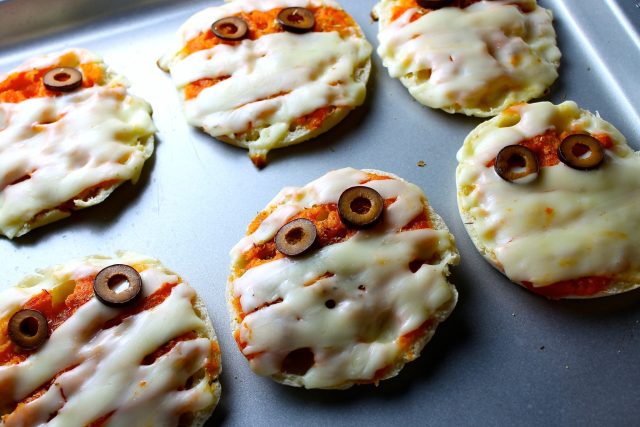 Ingredients:
2 English muffins, cut in half
8 teaspoons pizza sauce
2 mozzarella cheese sticks
3 green olives with pimentos
Instructions:
Preheat oven to 400℉.
Place the English muffin halves on a baking sheet and bake for 5 minutes.
Remove the muffins from the oven and spread 2 teaspoons of the pizza sauce onto each English muffin half.
Peel the mozzarella sticks into strings and decoratively arrange them on top of each English muffin. Slice the green olives into ¼ inch thick tings and place them on top of the cheese to create 'eyes".
Bake mummies for 3 more minutes, or until the cheese is melted.
Get 80 Fun Halloween Recipes for ONLY 1.99$!!
⑨ Puff Pastry Pumpkins
Filled with a light and fluffy pumpkin whipped cream, there's nothing spooky about these Puff Pastry Pumpkins but they are just plain delicious for you to be afraid to eat.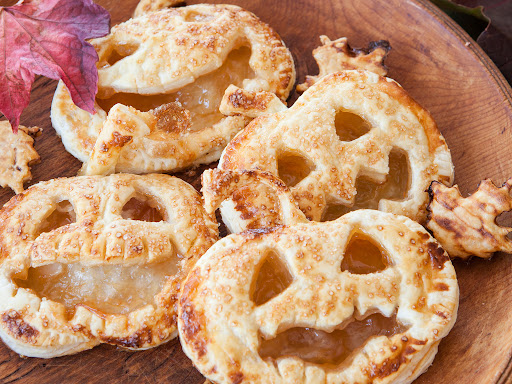 Ingredients:
2 sheets puff pastry
1/2 cup whipping cream
1/4 cup pumpkin puree
1/2 teaspoon vanilla extract
2 tablespoons powdered sugar
1/4 teaspoon pumpkin pie spice
Instructions:
Preheat oven to 400℉.
Unfold the puff pastry and cut it into pumpkins using a pumpkin cookie cutter.
Place the pumpkins on a baking sheet and bake for 10-12 minutes, until golden brown.
While the pumpkins are baking, place the remaining ingredients in a large bowl and beat with an electric mixer, or in the bowl of a stand mixer, until thoroughly combined and fluffy, about 5 minutes.
Remove the pumpkins from the oven, allow them to cool slightly, then slice them in half. Top one half with the pumpkin mixture, place the other pumpkin half on top and decorate with chocolate chips for eyes as desired.
Get 80 Fun Halloween Recipes for ONLY 1.99$!!
⑩ Halloween Buffalo Chicken Skillet Dip
This spooky Halloween dip is so adorable not only will your kids love them but will forever remember this at the next Halloween party. These are great for snacks or for a yummy spooky dinner.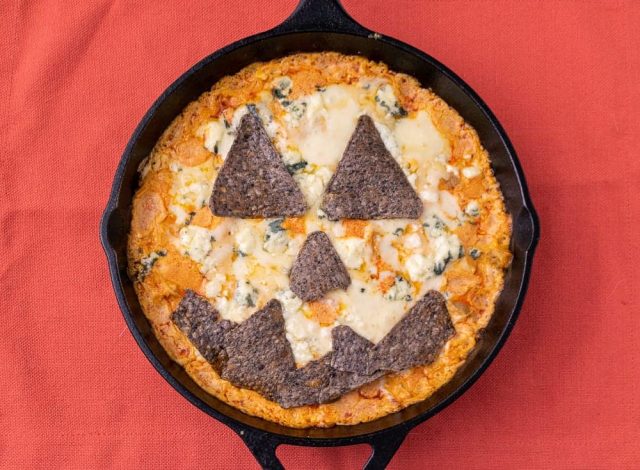 Ingredients:
2 cups chicken (250 g), cooked and shredded
8 oz cream cheese (225 g), softened
½ cup Monterey jack cheese (50 g)
⅔ cup cheddar cheese (65 g)
½ cup buffalo sauce (240 g)
½ cup ranch dressing (120 g)
2 tubes refrigerated pizza dough
4 oz cheddar cheese (125 g), block of cheese, cubed
2 tablespoons butter, melted
Instructions:
Preheat oven to 400°F (200°C).
In a bowl, combine chicken, cream cheese, Monterey jack, cheddar, buffalo sauce, and ranch.
On a lightly floured surface, roll out 1 tube of pizza dough. Cut out triangles for eyes, and a mouth.
Bake for 12 minutes, or until the pieces are golden brown, slightly risen and cooked through.
Cut the remaining dough into squares, place a cube of cheese on each one, and roll into balls. Repeat with the other tube of pizza dough. Place in a ring around the edges of a greased oven-safe skillet or dish.
Fill the middle of the dish with the dip filling.
Bake for 35 minutes.
Coat all of the dough with melted butter. Place the dough facepieces on the dip.
Enjoy!
Get 80 Fun Halloween Recipes for ONLY 1.99$!!
⑪ Halloween Finger Hotdogs
What's scarier than flipping hotdogs though? Think of spooky fingers being wrapped around some buns. This never disappoints and always been loved by kids.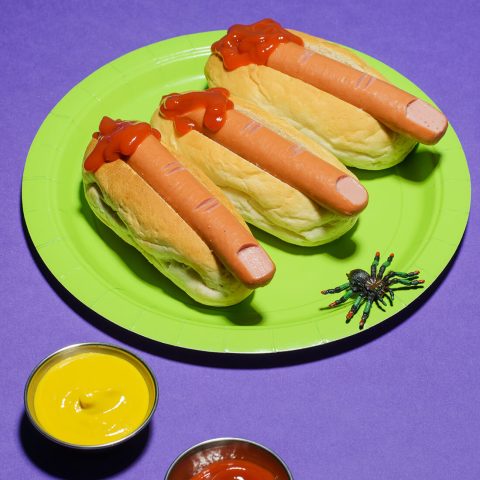 Ingredients:
8 hot dogs
8 hot dog buns
ketchup, to taste
Instructions:
In a skillet, cook hot dogs until golden brown.
With a knife, carefully make 3 slits in the middle of the hot dog, 3 towards the end of the hot dog, and cut the casing off of the tip of the hot dog to make it look like a finger.
Spread ketchup in the hot dog buns, and place the hot dogs.
Enjoy!
Get 80 Fun Halloween Recipes for ONLY 1.99$!!
⑫ Spooky Grilled Cheese
This Spooky Grilled Cheese is a Halloween twist on a classic. It's super easy to make and is sure to bring a smile to your visitors and your little one's face this holiday.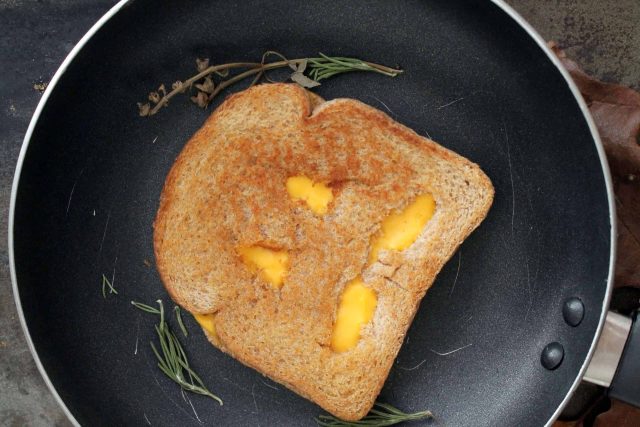 Ingredients:
butter
8 slices pumpernickel or dark rye bread
4 slices cheddar cheese
Instructions:
Using a Halloween-themed cookie cutter, take four slices of the bread and cut out the centers.
Heat butter in a griddle or skillet over medium heat.
3. Cook the cut side pieces of bread and the whole pieces of bread in the sauté pan for 3 minutes. Flip the whole piece of bread, cover with a slice of cheese, and top with the uncooked piece of cut-out bread cooking an additional 3 minutes or until the cheese is melted.
4. Serve.
Get 80 Fun Halloween Recipes for ONLY 1.99$!!
⑬ Halloween Ghost Pumpkin Pie
This year's Halloween wouldn't be a complete treat, the absence of this classic holiday treat would bring more fear to any holiday feast eaters. Make this Halloween Ghost Pumpkin Pie for your Halloween get-together! Just use pie cutters or small cookie cutters to decorate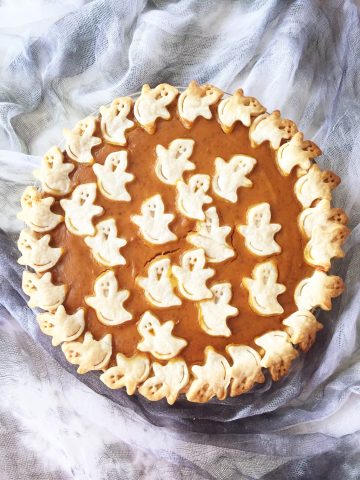 Ingredients:
For Pie Crust:
2 cups flour
½ tsp salt
2/3 cup shortening (lard)
¼ cup water
For Pumpkin Pie Filling:
2 cups pureed pumpkin
2 eggs
1 ½ cups light cream
½ cup sugar
1/3 cup brown sugar
1 tsp ground cinnamon
1 tsp ground ginger
1/4 tsp ground nutmeg
¼ tsp cloves
¼ tsp salt
Instructions:
Preheat your oven to 400 degrees
Making The Pie Crust:
Make your pie crust first
Sift the flour and salt into a bowl
With a pie cutter, cut in the shortening until the particles are pea sized
Sprinkle in the water, 1 tsp or so at a time, mixing lightly with a fork. Don't over mix or the crust will be tough
Press into a ball
Split the pie dough ball into 2 balls, one with 2/3 of the dough, and 1/3 the rest
On sheet of parchment paper, roll out the 2 balls of dough. The parchment paper makes it really easy to pick up the dough to press it into a pie plate
Press the larger crust into a 9" pie plate. Set aside the smaller section of dough (you will use this later for the decorative crust.)
First, we will bake the empty crust in the 400-degree oven for 20 minutes. To do that, lay a sheet of tin foil over the pie dough, making sure all the edges are covered. Fill the tin foil liner with rice to keep the crust flat during baking. Bake for 20 minutes.
When the crust is done, remove it from the oven, and turn your oven down to 375 degrees.
Making The Pie Crust Decorations:
Use the smaller pie crust dough ball to make the crust shapes
Using a pie crust cutter or even small cookie cutters, cut out little shapes for the top of the pie crust. Set aside until it's time to decorate.
Making The Pie Filling:
While the crust is baking, make the pie filling.
In a bowl whisk together the eggs.
Add the pumpkin puree, cream, sugars, and spices and mix until smooth.
Pour the pie filling into the hot pie crust.
Now it's time to decorate your pie! Lay the pie crust shapes out along the edge of the pie or anywhere that you like
Bake in a 375-degree oven for 35 to 45 minutes more. You will know the pie filling is set by when you move the dish, and the center of the filling moves like gelatin. Not watery but gelatinous by nature.
Let the pie cool completely before serving. It needs this time for the filling to be set completely.
Serve with ice cream or whipping cream!