Gobble Meal Kit Reviews 2023: Does it Really Work?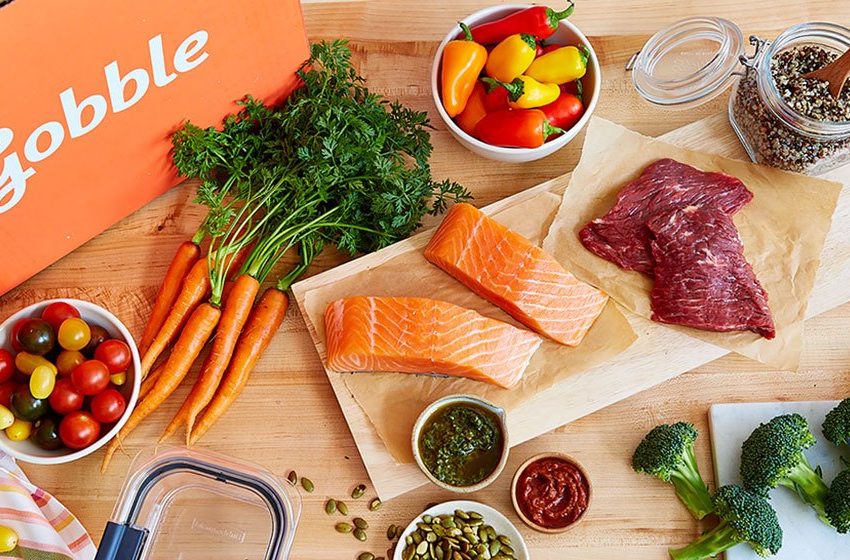 Gobble offers to deliver delicious meals and flavorful recipes that can be prepared in as fast as 15 minutes.
For some, eating meals together serves as a bonding time for family members that want to improve their emotional connection with one another. That is why making an effort to eat home-cooked meals together strengthens ties and builds better relationships.
Family meals are also an opportunity for parents to reach out to their kids emotionally and to build a sense of belongingness that leads to better self-esteem and consciousness. According to the study published by the Journal of Adolescent Health, family meals set healthy eating and polite table manners that also help prevent obesity and other health issues.
However, not all of us are born natural cooks. Some parents struggle in preparing meals and even following cooking instructions despite the many available resources on the internet, cooking books, and more.
For those who struggle in the kitchen, it does not mean we are no longer allowed to enjoy the cooking process or find joy in preparing meals for our family. Gobble is a meal delivery service that lets you enjoy simple yet delicious and flavorful recipes that save you time and cut down on plastic waste.
Continue reading this Gobble review to learn more about this meal delivery service and how Gobble meal plans can be beneficial for you and for your whole family.
Gobble Meal Kits Review: Product Overview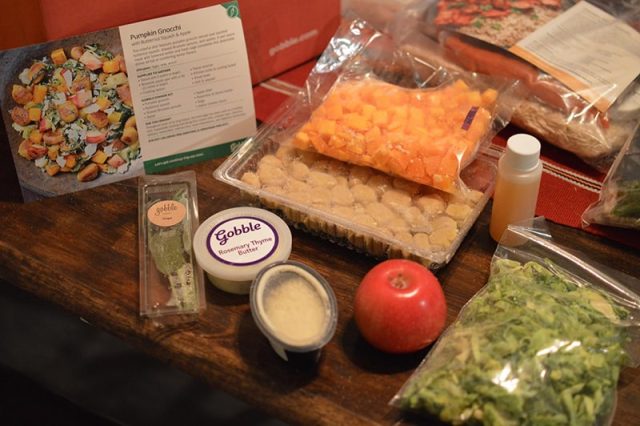 | Product Name | Form | Description | Price | Official Website |
| --- | --- | --- | --- | --- |
| Gobble | Meal Kit Services | Gobble is a meal delivery service that offers to help you get your meal ready in as fast as 15 minutes. | Starts at $11.99 per serving | |
Amazing reviews from Customers- Find out what they said!

We found many interesting reviews about Gobble meals and how strong the responses of many of its consumers were. It has become the talk of the town for its home-style and healthy meals offered that can be prepared in just a matter of time.
"The variety of the menu is great and the food is delivered fresh and on time. Easy to understand directions and fast prep. I look forward to my Gobble meals every night I have them! Haven't had a bad one yet."–-Katelyn Smith

"Delicious fun easy recipes – thank you! We have a 2-year-old, so not having to find good recipes and shop at the grocery store for dinner every night has been wonderful!!!!"–-Jennifer Chaves

"Gobble meal kits are delicious, easy, and fun. There is a wide range of meal options and the portions are generous. The delivery is consistently on time and the food is fresh. My husband and I could not be happier. The communication with Gobble is great too."–-Margaret Boot Jones

"Gobble meals are innovative, delicious, and easy to make & plate quickly. Because of Gobble, we have a better & improved understanding of portion sizes which is very helpful for us. And now we are getting our Gobble box early enough on Tuesday to be able to cook a Gobble meal on Tuesday which is our preference. We are very happy with Gobble."–-Kimberly Piper
Click Here For More of Gobble Dinner Kit Customers' Testimonies.
What is Gobble Meal Kit?

Gobble Meal Kits offer 15-minute, ready-to-prepare, and easy-to-cook meals. Unlike most meal kits, Gobble meals support a healthy and nutritious diet with their recipes rich in protein, vegan-friendly, and comfort foods low in calorie count.
Gobble claims to be the best meal kit service as it offers various meal plans to suit your needs and preferences. In general, it basically offers three meals including the Classic, Lean & Clean, and Vegetarian options with over 15 meals that you can mix and match depending on your preference.
In addition to meal kits, Gobble features add-on protein recipes you can enjoy like Thai shrimp and lemon pepper chicken, baked garlic bread for breakfast, chocolate chip cookies for dessert, and many more.
They also offer premium meals where you can add or substitute meats for other meal kit options but this also comes with an additional cost. Each Gobble box is filled with meals offering gluten-free, dairy-free, low-carb count, and vegetarian options to appeal to any of your needs and various taste preferences.
How does Gobble Meal Delivery Service work?

For those who will be trying a Gobble subscription for the very first time, the process is quite simple and easy. Gobble works much like other meal services as they offer categories of meal kit types depending on your preference. Here is a comprehensive explanation of how Gobble works:
Pick your meal kit service
Gobble allows you to choose your desired weekly meal subscription based on its wide selection of delicious recipes. All the food used in the Gobble meal kit contains high-quality ingredients with a wide variety of interesting recipes.
Most of the Gobble meals are inspired by some global cuisine with a lot of Thai-inspired recipes as well as Japanese, South or Central American, and Italian dishes. It comes in three meal plans namely:
Classic Dinner kits: This meal kit delivery offers classic recipes & freshly prepped seasonal ingredients.
Lean & Clean Dinner kits: This meal kit delivery service offers easy-to-prepare recipes with low carb and calorie count, and feature lean proteins and nutrient-packed grains.
Vegetarian Dinner kits: This option offers you vegetarian meals perfect for vegans and health-conscious individuals. Gobble offers flavorful plant-based recipes delivered to your door so that weeknights are always delicious and nutritious.
Gobble prepare your meals
After picking your desired meal options, Gobble prepares those meals for you to save time in preparing them. They use premium sauces, marinades, and seasonings in the right proportions for a flavorful and delicious meal ready to cook and serve!
You may also check the recipe card before ordering to see how much you may have to prep for the chosen dish. Some recipes require very little prep, and some a little more. On average, it takes only 15 minutes to prepare most meals available at Gobble.
Receive your box
Upon taking your order, you can receive your refrigerated box that keeps the ingredient and food cold and fresh. You can then start cooking right away or as you pleased. Gobble claims that its recipes are easy to make, nutritionally well-balanced, require minimal preparation, and have quick cooking time as fast as 15 minutes.
What are the Meal Plans in Gobble Meal Kit?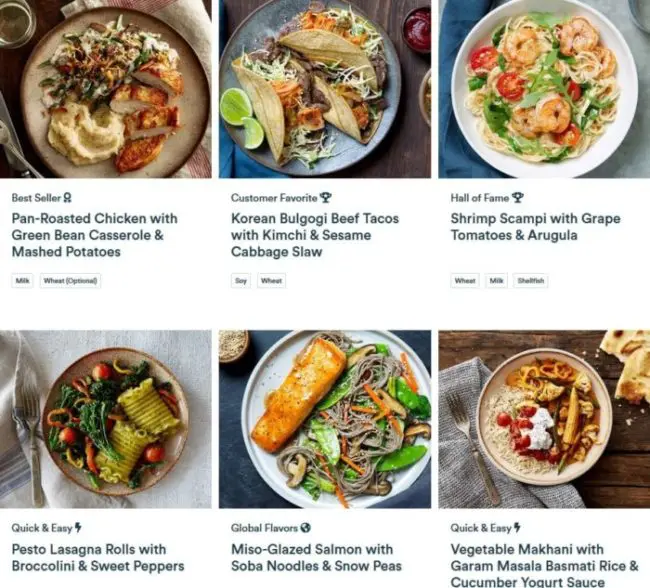 If you are curious about the meal plans in the Gobble meal kit, this part of the review will explain to you the different meal plans that you can personalize and mix and match to enjoy the desired dish.
The Classic Plan
The Classic plan serves a wide assortment of premium meals, a small sampling of which include pan-roasted chicken, leafy greens & sweet potato puree, pan-roasted pork tenderloin, three cheese ravioli, and Thai shrimp with peanut sauce. This Gobble meal plan also includes desserts, salads, and even specialty side dishes for holidays.
Lean & Clean Plan
The Lean & Clean Menu features a weekly selection of dinner dishes carefully designed to fit a wide variety of dietary preferences. This meal plan is packed with lean proteins, healthy fats, nutrient-rich grains, and delicious flavors with no more than 650 calories per serving, with none of the unnecessary starches or sugars.
You may personalize your protein per servings as well as mix and match dishes like the Cilantro Pesto Salmon, Korean Bulgogi Beef Lettuce Cups with Vegetable, Chicken Paillard with Asparagus & Lemon Butter Sauce, and other gourmet meals.
Premium Dinners Plan
Premium recipes where you can perfectly request add-ons or make substitute requests to achieve your dream meal package like Seared Alaskan Halibut with Mashed Potatoes & Herbed Brown Butter Parmesan Sauce or Grilled Filet Mignon Kebabs with Saffron Rice is just perfect for Friday dinner date with the whole family.
Specialty Meal Kits Plan
For a family of four, meal kits containing soy, wheat, tree nuts, milk, or eggs are also a perfect combination. With that, Gobble offers dishes like Sheet Pan Huli Huli Chicken with Pineapple Rings & Coconut Rice and Barbecue Beef Burgers with Smoked Gouda & Avocado that are perfect for a family of four.
Breakfast Meals Plan
For a lazy morning, comforting foods like Petite Ham & Cheese Quiche, Bacon, Egg, & Cheese Sandwich, or Avocado Toast with Fried Egg, Dukkah Spice, & Heirloom Cherry Tomatoes are perfect for energizing your lazy Sunday morning.
Salads and Desserts Plan
For other side dishes like salads and desserts, delicious delicacies like the Traditional Caesar Salad, Spinach Salad, or Cashew Ginger Spinach Salad are perfect to partner with side dishes like Baked Garlic Bread, Five Cheese Mac n' Cheese, or Yuca Fries with Aji Amarillo Sauce.
For desserts, they have Chocolate Chip Cookie Dough, Hazelnut Gianduja Cake, and Classic Cheesecake with Mixed Berry Compote which is the best comfort food with rich flavors suitable for various palates.
Click Here to Know More About Gobble Dinner Kit.
What are the Benefits of Gobble Meal Kit?
While other meal kit services can take some time to prepare approximately between 30 to 45 minutes, Gobble is fast, efficient, and a lot more convenient. Gobble meal kits are extremely easy to prepare as it only takes as fast as 15 minutes to prepare. Other than that, here are other benefits of opting for Gobble meal delivery service:
Hassle-free selection process
Choosing meals at Gobble is made easier, faster, and more convenient with its simple and hassle-free selection process. Gobble meal plans and recipes change every week to offer an exciting assortment and chef-inspired meals.
Info-filled recipe cards
Gobble also comes with a recipe card that comprehensively guides you with all the needed information about the dish, cooking instructions, an ingredient list with allergens listed for each item, and more.
Recyclable Cardboard box
Another good thing about Gobble is that its cardboard box and packaging as well as its insulation and freezer pack can be recycled. Unlike the other meal delivery services, Gobble is a more environment-conscious company that strives to use much fewer plastic bags than other meal service companies.
Gobble does not use packagings such as plastic bags, or bubble wrap, and excessive packaging is such a waste as it took up more garbage space. It is also one of the unfair advantages of the company against meal delivery service providers like Sun Basket, Green Chef, Blue Apron, and other meal delivery companies.
15-minute cooking process
As advertised, Gobble is true to its promise of offering easy-to-prepare recipes and dishes as fast as 15 minutes. Instructions provided are concise, clear, and easy to understand, making your cooking experience fun. It also comes with pictures to better illustrate the process and how it should be properly done.
Flavorful dishes
Gobble offers a mix of international delicacies that you can get in a single meal kit. Flavors came through well in the end result with little to no doctoring. Sauces were well-seasoned without tasting too salty and coming too strong on the palate.
Excellent nutritional value
Gobble offers two meals other than the Classic option—you may also opt for the Vegetarian or the Lean & Clean meal options. The latter option offers dishes described as being low in calories and carbohydrates, with lean proteins and omega-3-rich fats.
Why is Gobble Meal Kit Effective?

If you are wondering what makes Gobble meal delivery services different from other meal kits offered is that instead of sending you ingredients that will take a while to prepare, Gobble Meal Kits offer the best meal kit service by providing you recipe cards that require very little prep.
Gobble meals come with pre-chopped vegetarian meals or meat that are already sliced, measured, and chopped accordingly. Gobble recipes also come with dietary restrictions that guide you and others offered specific suggestions to suit a variety of diet-specific needs.
There is also an option for a Gobble box that delivers delicious meals per week or every other week. There is no pressure as it allows you to skip weeks, make changes to your weekly meal kits, or desired recipes, and pause your food subscriptions.
Click Here to Get Gobble Dinner Kit at Discounted Price.
Who is Gobble Meal Kit best for?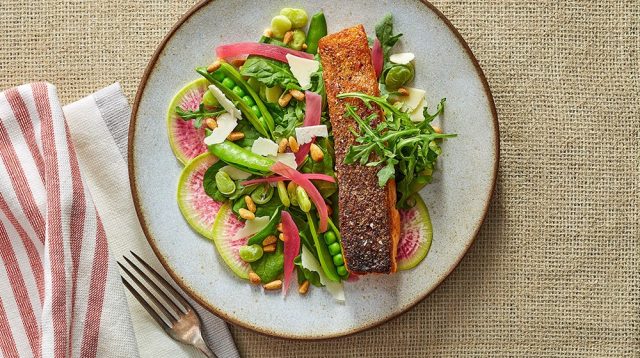 Meal services like Gobble are created primarily for those looking for ways to cut down their cooking time without compromising on having a tasty meal to share with family or friends.
Gobble meals let you choose as many as six meals per week that are perfect for someone who enjoys cooking but doesn't know what to prepare next. Choosing premium meals also allow you to mix and match recipes you truly enjoy, making this option perfect for picky eaters or family with kids.
However, since Gobble lets you choose at least three meals per week, it is not advisable for those kinds of people who can't commit to cooking most nights. Premium meals that also allow you to choose your desired recipes and make add-ons or changes as needed come with an additional cost which is not advisable for people with a tight budget.
Gobble Meal Kit Pros and Cons
| Pros | Cons |
| --- | --- |
| ✅ A wide selection of meal options to choose from. | ❌ Only serves US customers. |
| ✅ It is available to deliver in over 47 states in the US. | ❌ You may get scammed if you will not subscribe directly to their website. |
| ✅ Fresh and highly nutritious ingredients. | |
| ✅ Easy to prepare and delicious recipes. | |
| ✅ Speedy and helpful custom service. | |
Gobble Meal Kit Cost and Discounts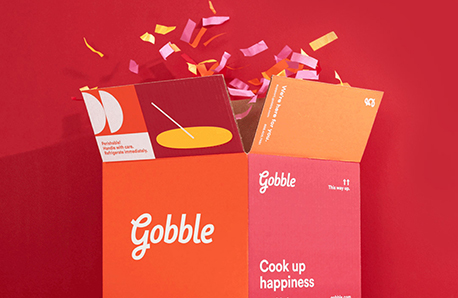 Gobble's dishes start at around $11.99 per serving for the classic. Depending on the meal plan you order, either breakfast, dessert, or premium plans, the price may change from $11.99 per serving to $13.99 per serving.
As discussed, Gobble offers 2-4 servings for a weekly subscription. Here is a detailed presentation of Gobble pricing promos and discounts:
2 servings: Get two meals of Gobble good for two people for only $55.96 per week
3 servings: Get three meals of Gobble good for three persons for only $71.94 per week
4 servings: Get three meals of GObble good for four persons for only $143.88 per week
According to their official website, they also offer other promos such as:
Sign-up promo: If you sign up to their mailing list, you will get 6 meals for a discounted price of $36 with FREE shipping.
The First 4-box purchase: As a new customer, you are entitled to a limited discounted price of $100 offer and get a $25 discount from your first 4 boxes.
New customer promo: Another offer is a FREE SHIPPING package on your first purchase. No minimum order is required for this package.
Gift Cards: Gobble's meal delivery service also offers gift cards that are perfect for family, friends, neighbors, and co-workers for special occasions and holidays. You can also download a printable card that comes along with the package. You can get it for as low as $75/gift card.
Click Here to Get Gobble Dinner Kit at Discounted Price.
Gobble Meal Kit Refund Policy
Customer support at Gobble is open to help in finding the solution before canceling your subscription. Their friendly and flexible customer service allows you to order every other week.
Unlike other meal kits, you are not pressured to get a meal per week as you may skip a delivery for several weeks instead of deactivating the account. In the end, if neither of these solutions works for you, contact customer support to cancel your Gobble subscription, and they will take care of your account.
>> Related Article: The 7 Best Keto Recipe Book of 2023 • According to Dietitian
Conclusion
There is quite a long list of meal delivery services circulating in the market today and all of them claim to be the best. However, finding the best meal kit delivery is way too impossible. Each service has its own fair share of unfair advantages as well as shortcomings.
To sum up, don't look for an ideal meal kit service instead, find the most relevant one that best matches your needs. If you are more likely to enjoy experimenting with new recipes, trying out gourmet meals, and exploring never before tried ingredients, Gobble is for you.
Some find Gobble pricey, while others find it a good fit with their budget considering the grocery cut advantage it offers for people who love to eat healthy and nutritious foods. All in all, it is a matter of preference and precise calculations.
>> Related Article: Keto Custom Plan Reviews: Does This Diet Program Really Work?
Gobble Meal Kit​​ Reviews FAQs
Does Gobble Meal Kit worth it?
Absolutely. You can choose your meal plans and cancel anytime you want without any penalty.
Does Gobble ship to my area?
Gobble delivers to the contiguous U.S. with the exception of Montana and with limited service in Nebraska, New Mexico, and Kansas.
What if I have food allergies?
All the ingredients used are dairy-free, nut-free, or wheat-free and are individually packed in a kit. A full list of ingredients can be found on our website and on recipe cards.
Click Here to Get Gobble Dinner Kit at Discounted Price.
Like this Article? Subscribe to Our Feed!
John is an avid researcher and is deeply passionate about health and finance. When he's not working, he writes research and review articles by doing a thorough analysis on the products based on personal experience, user reviews and feedbacks from forums, quora, reddit, trustpilot amongst others.