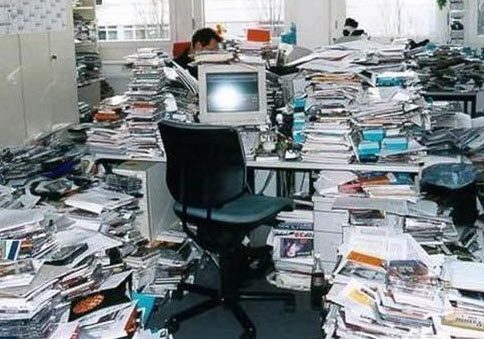 Is your home office a disaster? Are you so buried under piles of paper that you can't find the computer? Wading through all that mess is wasting your time, so maybe you should finally get serious about organizing your workspace.
Maybe you have the sort of job where you can do everything you need to do on a smartphone, but most of us require more than that. What you must have and what you can do without is personal, and you have to decide what is contributing to your productivity and what's just taking up space.
Location, location
The first thing to consider when you set up your home office is location. You need a place where you have access to everything you need, like Internet or Wi-Fi, phone and electrical outlets, but also a place where you will enjoy working long hours. If I have to be stuck behind a computer for hours, I'd rather be doing it next to a window with an attractive view than in an area that resembles a closet or a prison cell. At least if I have writer's block, I can have it while watching a bird splash in the fountain outside my window.
Time to trash
If you've inherited the hoarding gene and have the compulsion to keep everything because you might need it some day, get over it. The technology just keeps moving at a faster and faster pace, rendering items obsolete before you even finish paying them off. Take a deep breath, pull up the trash can and get ready to do some serious house/desk cleaning.
Is your desk the graveyard of computer history? If you're not sure about what the heck you have in there, you need to pull it all out, look at it and decide to keep it or toss it. One time several years ago, I did this with my office and found things so old that I couldn't remember what they ever did in the first place.
These included floppy discs (!) that I no longer had disc drives for. But what if something important is stored on them? Let's get real—if the info was all that important, you'd have stored it someplace else by now. Toss them—all of them.  But make sure you take the appropriate steps to delete any personal information before just throwing them out.
Then there are cords. If you can't remember what device the cords work with, toss 'em. If they were really worth keeping, they'd be hooked up to something on or under your desk already. This goes for the charging cords on cellphones you don't have anymore. Especially if you can't remember which of your old phones this one went with.
Other items you can toss include old versions of software. You're never going to need that box of Windows 98 with the floppy discs. Outdated manuals can go, too. And don't even think of keeping that 28.8 modem.
I once had a boss who couldn't stand to dump the outdated computers, printers and other junk we had accumulated, even if most of them didn't work. They all sat collecting dust in our storage closet, preventing us from getting in there to find anything until one day I got fed up. I waited for him to go out of town, called up a place that picks up electronic waste for recycling and had it all taken away. The boss never noticed, except to thank us for cleaning up the storage unit. You won't miss that Mac Performa carcass either.
Now that we've cleared out some clutter these next tips will help you really clear out some space so you have a great place to work.