Agile Health Insurance Reviews: Insurance Coverage, Features, Pros & Cons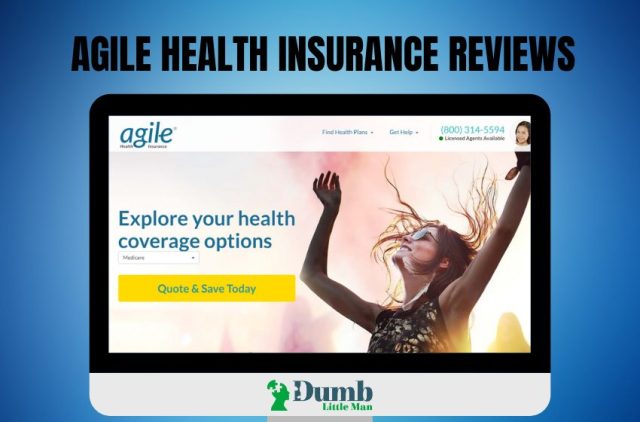 Buying health insurance is an entirely individual choice and which policy works well for one person is not necessarily the same for another. So, Agile Health Insurance guides individuals to access their desired health policies through various packages.
It is an online platform that provides hundreds of health insurance plans at half the price of Obamacare for nationwide customers. So if you are looking for affordable health insurance and health insurance innovations, keep up with the Agile Health Insurance review.
What is Agile Health Insurance?
Agile Health Insurance, an e-commerce division of HealthPocket, Inc., is a Silicon Valley-based technology company. It is also a part of Benefytt Technologies, Inc.'s family of companies that includes several health insurance companies, including Health Plan Intermediaries Holdings, LLC.
Agile Health Insurance is not a direct insurance provider but a licensed insurance agency with an experienced team. They are associated with A-rated health insurance carriers possessing a broad array of short-term health insurance and ancillary products.
The company offers instant quotes from multiple health insurance companies and allows customers to quote and find the insurance plan for their needs. In addition, they have a quick online application that takes less than 10 minutes, and policies can begin as soon as the next day.
What are the Types of Insurance Offered by Agile Health?
Agile Health offers a wide range of health insurance as an insurance marketplace.
ACA Health Insurance
Agile Health provides ACA (Affordable Care Act) health insurance on Individual and Family health plans. ACA compliant plans offer long-term policies with more robust coverages.
They have coverage like major medical insurance that provides a wide range of inpatient and outpatient healthcare services. In addition, it covers payouts such as routine doctor's visits, prescription drug coverage, and preventive care. However, this plan usually comes with costs, including a monthly premium, an annual deductible, copayments, and coinsurance.
Accident Insurance
For accident insurance, Agile Health has Aflac that offers supplemental accident insurance. They directly pay cash benefits, and you can use them any way you like.
Cancer Insurance
Agile Health fixes the Aflac Cancer Protection Assurance for cancer insurance that helps you with expenses for your treatment and raise your family. Instead of covering the doctor's visit, they pay direct cash to help customers with expenses, including bills, rent, car payments, groceries, childcare, and more.
Dental Insurance
Dental Insurance covers treatments from annual cleanings and minor oral health fixes to expensive dental claims. Under Delta Dental, National General, and United Concordia, Agile Health offers Preventive care, Basic care, Major care. If you need additional dental services, you can take USA+ Membership.
Short Term Health Insurance
If you have missed an Annual Open Enrollment period for Obamacare/ACA plans, Short Term Health Insurance from Agile Health can be beneficial. It is designed to cover your unusual health occurrences for a fixed period.
It is a less expensive COBRA alternative and can be great for people who are young for Medicare. Agile Health offers this Short Term Health Insurance through AdvantHealth, Aspen, National General, and Standard Life.
Medicare
Agile Health is affiliated with HealthInsurance that offers medicare insurance for people are 65 or above. They also provide insurance to people under 65 years old and receive Social Security disability benefits for at least 24 months.
The company has mainly two medicare plans; Original Medicare and Medicare Advantage. However, their medicare insurance coverages range from A to N.
Telemedicine
Telemedicine helps individuals or families consult real doctors online through Teladoc, a leading telehealth service. You can contact both voice calls and video calls whenever you feel the medical need.
Agile Health has organized this health insurance 24/7 at $12.95 for individuals and $16.95 for a family per month. They claim that customers can get 3100 real doctors' support for 38 types of health issues.
How does Agile Health Insurance work?

Agile Health is an online health insurance marketplace partnered or affiliated with several reputed insurance companies. It offers seven health insurance products that have multiple insurers to offer the service.
To get Insurance from Agile Health, you need to fill out quick and basic information about yourself. Then, a team from the agency passes your details to insurance companies and offers you health insurance quotes. Besides, they also redirect the customers to their sister insurance companies through a direct link.
If you feel uncertain about which plans suit you best, you can read the valuable posts or call the representatives. After receiving the insurance offer, you can e-sign the agreement. They will quickly activate your insurance plan as soon as the next day.
Click Here to Get Started With Agile Health Insurance.
What is the Coverage of Agile Health Insurance?

Agile Health provides a wide variety of health insurance plans, and each plan has different benefits and coverage levels. For example, ACA plans have ten minimum essential benefits ranging from maternity to mental health services. However, medical expenses, including mental health and prescription drugs, can not come under non-Affordable Care Act plans.
The subscribers can know their offered coverages under "Statement of Benefits," which is included in the policy. If they don't see this, they need to contact the insurance company.
If you buy an ACA health insurance plan during the annual Open Enrollment Period, your coverage will activate in January of the following year. But if you apply outside of the Open Enrollment Period, the coverage activation depends on when your application is processed. The coverages of Short Term Health Insurance activates more quickly than other insurance plans.
Agile Health Insurance Requirement?
To get a quote from Agile Health Insurance, you need the following requirements.
Zipcode
Date of birth
Gender
Spouse or dependents information
Coverage dates
Preferred payment (ongoing or upfront)
How to Apply for Agile Health Insurance?
Agile Health Insurance has a simple and easy application process that needs only a few minutes to complete.
Get a quote: You need to visit the official website of Agile Health Insurance and put the required information about you after selecting the plan. This will include your location, date of birth, gender, payment method, and more.
Once you submit your application, you receive the insurance quote from Agile Health. The quote will let you know the policy, coverage, cost, and other insurance terms.
Revise the agreement: You need to watch out for the coverages and costs according to your preference before ending the agreement. Then, if you feel comfortable with the offered insurance policy, you can sign the agreement and proceed with your application further.
Pay Premium: When everything is settled, you need to pay the first premium for the desired plan. After that, you will have a monthly or annual payment plan, and you can schedule your payment based on the agreed terms. Finally, you need to wait for plan activation.
Click Here to Get Started With Agile Health Insurance.
How much does Agile Health Insurance Cost?

Agile Health Insurance cost depends on the insurance plan you have selected, the number of members, and some state laws. As Agile Health is not a direct insurer, it has no control over the costs and fees of any insurance plan.
However, an online marketplace ensured that the Short Term Health Insurance from Agile Health is 50% cheaper than Obamacare. Besides, they offer Telemedicine from Teladoc at $12.95 for individuals and $16.95 for families.
Agile Health also mentions that if you make $48,560 and you can qualify for individual subsidy from the ACA plan. Besides, ACA plans require 65,840, $83,120, $100,400, and $117,680 income for a family of two, three, four, and five, respectively.
Who is Agile Health Insurance Best For?
Instead of jumping on a single insurer, Agile Health offers the place to compare the health insurance plans from multiple insurers. So, for customers who need an online health insurance marketplace, Agile Health Insurance is an ideal place.
US citizens who are residents, especially from Texas. Florida, Georgia, and North Carolina can benefit from a direct insurance quote. Besides, customers who seek Short Term Health Insurance, 50% cheaper than Obamacare, can go with Agile Health Insurance.
Agile Health Insurance Pros and Cons
👍 PROS
► Quick and Easy Application: You need not spend a long time filling out the health insurance form at Agile Health Insurance. You can apply for insurance at any time. Besides, the insurance application is not rejected based on medical status, contrary to short-term health insurance.


► A wide array of health insurance plans: You can find hundreds of health insurance plans at this online marketplace. So, you can find most of your needed health insurance in a single place. They also provide cash payments directly to customers.


► Affordable Premium: Agile Health is famous for offering short-term health insurance at 50% lesser than Obamacare.
👎 CONS
► Customers can not qualify for benefits in case of pre-existing medical conditions.


► There are no medical coverages for common ailments like diabetes or conditions like pregnancy.
Click Here to Get Started With Agile Health Insurance.
Agile Health Compare to other Insurance Company
Agile Health Insurance and eHealth Insurance are brokers partnering with multiple health insurance companies. However, eHealth provides insurance plans for businesses along with individuals and families.
Unlike eHealth, Agile Health is expert in finding multiple health insurances ranging from short-term health insurance to Telemedicine. Application of Agile Health is easy and quick, and you can get your coverages activated as soon as the next day of applying.
Unlike Agile Health, Blue Cross Blue Shield is a direct health insurance provider with nationwide coverage and 36 member companies. It has lots of Medicare insurance options and the Blue365 discount program.
However, Blue Cross Blue Shield has each BCBS insurance plan separate, so people have showered average quality ratings. On the other hand, Agile Health is a health insurance marketplace that offers seven different insurance products.
Agile Health Insurance vs. Aetna
Aetna can be beneficial in offering low-premium prescription drug plans. It has also added more $0-premium Medicare Advantage plans in 2021. Besides, it has received A+ from Better Business Bureau and allows customers to pay the premium at some CVS locations.
However, the insurance company does not have many short-term insurance options. On the other hand, Agile Health offers cheaper short-term health insurance from multiple insurance companies than Aetna.
Final Verdict
Agile Health Insurance is an American services insurance agency that offers multiple health insurance solutions. It includes government and private health plan options ranging from ACA plans to Telemedicine.
Agile Health Insurance is famous for offering cheap short-term health insurance and quick insurance quotes. So if you are about to buy some health insurance for yourself and your family, you can visit Agile Health for price comparison.
Agile Health Insurance FAQs
Is Agile Health Insurance legit?
Yes. Agile Health Insurance is a licensed health insurance agency located at 218 E. Bears Ave, Suite 325, Tampa, FL 33613.
Is Agile Health Insurance available 24/7 to apply?
Yes. Customers can apply and manage their insurance plan 24 hours online. However, the agents at Agile Health are only available to respond to queries in-office hours from Monday to Friday, from 8:30 a.m. to 7 p.m. EST.
Does Agile Health only offer Short Term Health Insurance?
It offers more. Agile Health has seven insurance products, including ACA Health Insurance, Accident Insurance, Cancer Insurance, Dental Insurance, Short Term Health Insurance, Medicare, Telemedicine.
Click Here to Get Started With Agile Health Insurance.
Like this Article? Subscribe to Our Feed!
John is an avid researcher and is deeply passionate about health and finance. When he's not working, he writes research and review articles by doing a thorough analysis on the products based on personal experience, user reviews and feedbacks from forums, quora, reddit, trustpilot amongst others.