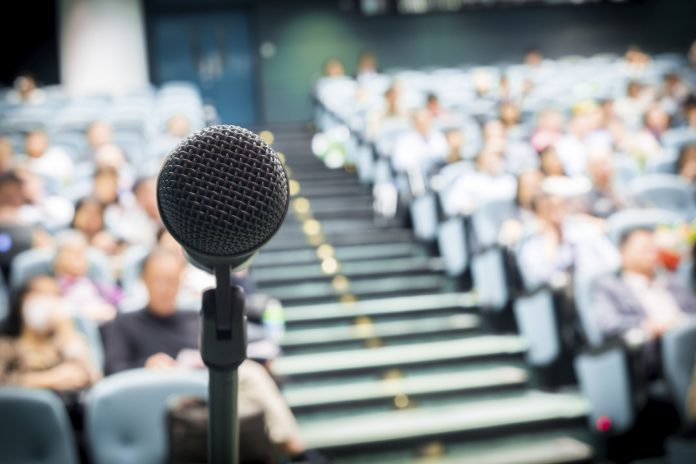 Why is it that so many people are scared witless of speaking in public?
Surveys show that some of us are more afraid of public speaking than we are of death!
Too many of us have the idea that public speaking is a talent that you're born with—or aren't.
In truth, great speakers are made, not born and anyone can learn to deliver a speech like a pro.
Whether it's speaking at a town hall meeting or making a presentation at work, most of us will have the need to step up to the podium at some time. Why not learn how to deliver an effective speech right now? Here are some hints for overcoming your fears and mastering the art of speaking in public.

Admit you're scared.
The main underlying reason for the phobia about public speaking is fear of the unknown. You don't know what's going to happen when you get up there on the podium and open your mouth. Will you forget your speech? Will you lose your voice? Will people laugh at you? When you look at these fears rationally, they don't make much sense. None of these are very likely, are they? Identifying your fear will help you to conquer it.
Face your fears.
When your fears are amorphous, free-floating things like ghosts, it's easy to be afraid of them. Look carefully at each of your fears and face them, one at a time. Pretty soon, you'll be so comfortable with those former fears that you'll see how unimportant they really are. Vow to take on those fears and triumph over them. Sometimes you have to be willing to take the plunge and just do it!
Stop sabotaging yourself.
If you keep telling yourself that you can't speak in public and will never be an effective speaker, then you won't be one. Not because there's any physical or organic reason you can't do it, but because you've convinced yourself that you can't. How do you even know if you're terrible at something you've never tried? Instead, tell yourself that with a bit of work, you can be a good public speaker. Repeat his mantra over and over. Then get to work!
Take a public speaking course.
Anything is scary when you have no idea what you're doing! Nothing can raise your confidence and allay your fears like taking a course in public speaking. Some companies make these a requirement for rising execs, but just about any of us can benefit from mastering the ins and outs of speaking before a crowd. You never know when you'll want to protest your city's trash collecting policies or help a friend run for local office.
We are making progress but now it's time to make a plan and overcome your fear so you can deliver a compelling speech to your audience.  Keep reading for some easy ways to put your fears to rest.