5 Best Commercial Pizza Ovens for 2023 Review – A Guide for Start-ups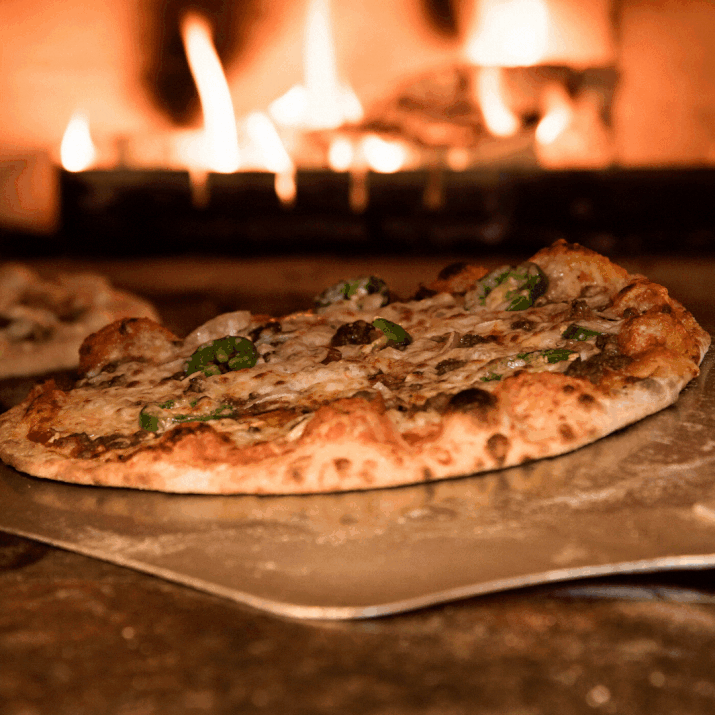 In order to make a delicious pizza, it is crucial to pick the right oven that brings out that intense mouthwatering flavor. Especially if you're starting a restaurant or a pizzeria.
What mainly distinguishes a regular oven from a commercial pizza oven is the maximum temperature that can be attained by each.
Whereas most regular home ovens max out at a temperature of 500 degrees, commercial pizza ovens can reach up to 800 degrees. Therefore cooking the pizza faster and with a far superior flavor and crispy texture.
The high temperatures also ensure that the cheese is melted evenly when baking the pizza.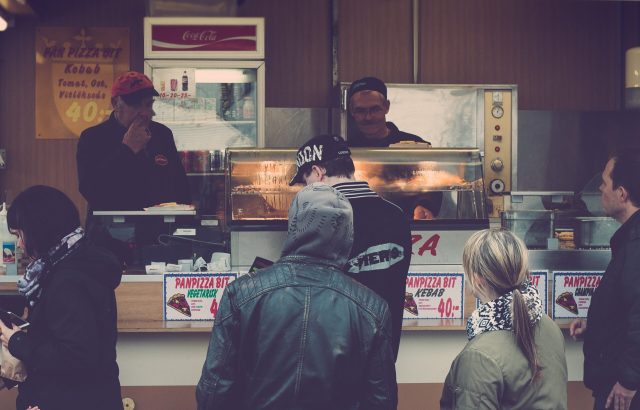 Here are 5 of the Best Commercial Pizza Ovens for 2022
Before you decide which type of oven is most suitable, you have to consider a few elements. The price of the oven, size of your establishment, source of fuel, space you have and the number of pizzas you need to make in a given time.
Let's narrow it down.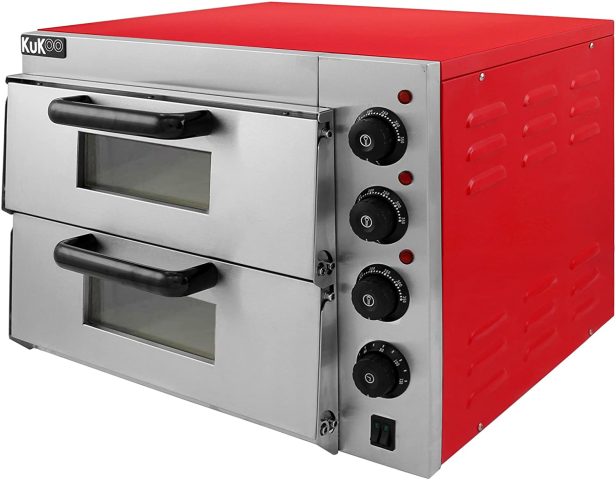 The Electric Pizza Oven Maker Commercial by Monstershop is a professionally designed kitchen appliance that serves as both a pizza oven and a grill. It has a sleek tomato red exterior made of stainless steel with a see through window to monitor your cooking.
The free standing electric countertop oven has twin decks. Each deck is easily accessible via reinforced steel doors which also keep heat inside the oven.
The oven also features 3 heating elements that are controlled independently by three thermostats, each having a separate light. The electric pizza oven has a heat capacity of between 50 degrees to 350 degrees.
The double firestones in the Electric Pizza Oven Maker Commercial by Monstershop make it perfectly suitable for thin crust, deep pan and frozen pizzas of up to 16 inches. It can also be used to prepare garlic bread, pies and pastries.
Pros
The stainless steel makes it easy to clean
Can be moved around easily in the kitchen
Cons
Has a relatively low temperature limit of only 350 degrees
Click here to view Electric Pizza Oven Maker by Monstershop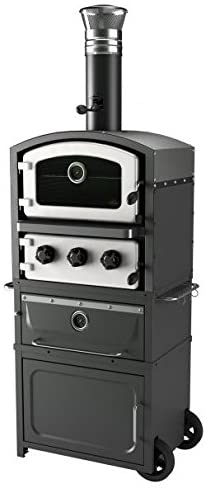 Fornetto is a brand that has been around since 2010 and specializes in wood fire ovens and high quality smokers. The Fornetto Alto Wood Fired Oven was designed for the home chef and serves as both an oven and a smoker. It gives you the best of both worlds.
The oven is made from high quality materials and packaged in a sleek eye catching design. The exterior is made of stainless steel with solid cast iron doors and a glossy finish.
The Fornetto Alto Wood Fired Oven is designed for outdoor use. Fitted with two sturdy wheels on the right for easy movement.
It also has a lift-up side shelf that can be used to conveniently prepare and serve meals.
The oven has a cabinet for storing wood and a drawer for warming food until it is ready to serve. The oven compartment is fitted with halogen lights to illuminate your meals as they cook, like in a microwave oven.
This allows you to watch the progress of the meal as it bakes or smokes without having to open the door and let heat escape.
It also comes equipped with a thermometer to monitor the heat levels in the oven. The Fornetto Alto Wood Fired Pizza Oven can be fueled by charcoal or wood and is available in red and black.
Pros
Can reach very a high temperature of 650 degrees which is essential for baking good pizza
It has a beautiful design and comes in two colors (red and black)
Wheels allow for easy movement of the oven
Multiple functionality as it can be used to smoke, bake or grill
Cons
Beginners could find the oven challenging to use as it's suited for advanced users
Click here to view Fornetto Alto Oven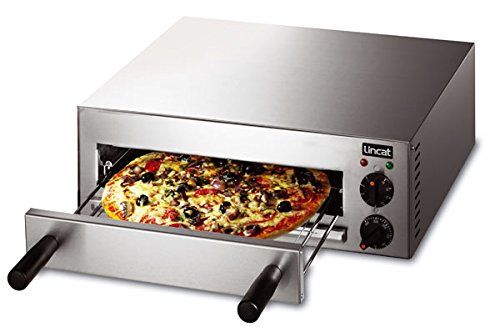 The Lincat brand has been around since the 70's. It's been that long! Specializing in pizza ovens, induction hobs and toasters. The Lincat Lynx 400 Pizza Oven is a compact countertop oven made of stainless steel. It has safety handles that are cool to touch and a temperature range of 50 degrees to 300 degrees for rapid cooking.
This oven is best suited for snack bars and small restaurants due to its limited capacity. The Lincat Lynx 400 Pizza can bake one 14 inch pizza or four 7 inch thin crust pizzas in less than five minutes. It also has a thermostat and a timer that rings for precision cooking.
The oven has lower and upper elements that evenly cook pizzas and double skinned doors for safety, energy conservation and efficiency. The unit requires no installation and can be used to prepare a variety of foods including pastries, garlic bread and pies.
Pros
Portable and can conveniently be placed on the counter
A large and easy to clean crumb tray
Cool to touch Safety handles
Cons
Limited capacity for cooking
Has a temperature limit of only 300 degrees
Click here to view Lincat Lynx 400 Pizza Oven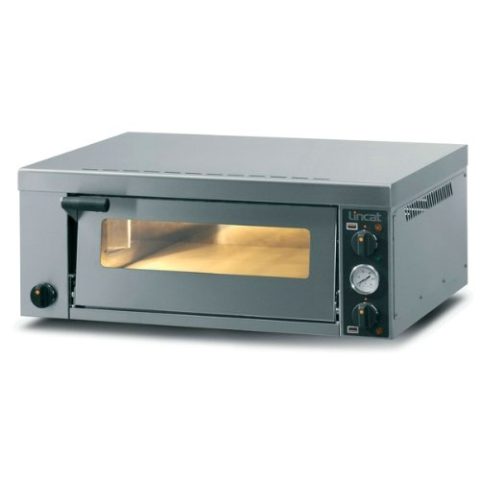 The Lincat PO425 is an electric counter-top pizza oven that promises to transport your taste buds to the Centro Storico District in Naples. This is due to the authentic taste of the pizza it produces.
The oven comes equipped with a firebrick base coupled with a temperature ceiling of 480 degrees that ensures your pizza is crisp and evenly cooked. It also has a 20 minute timer, a thermostat to control the temperature and a light to illuminate your pizza as it cooks.
This oven is recommended for thin crust, deep pan or frozen pizza as well as pastries, garlic bread and pies.
Pros
It is portable
High capacity of up to four 10 inch pizzas
Energy efficient
Can produce high temperatures of up to 480 degrees
Cons
It is not aesthetically pleasing
Click here to view Lincat Lynx P0425 Pizza Oven
⑤ Caterlite CR912 Single Deck Pizza Oven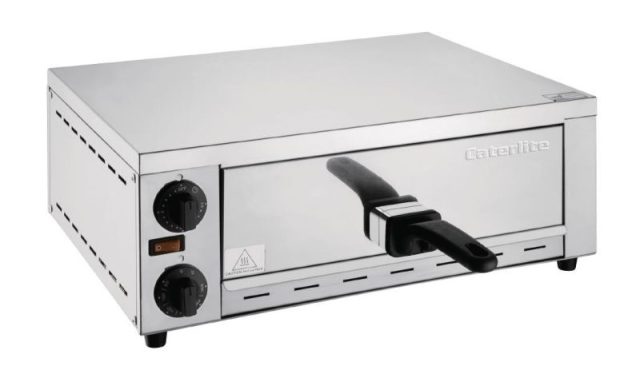 Caterlite CR912 Single Deck is a compactly designed pizza oven made of stainless steel with a body that is double insulated for rapid cooking and energy efficiency. It can quickly bake a pizza of up to 12 inches. This is because of its powerful heating elements and a temperature range of 60 degrees to 300 degrees.
The oven is user-friendly and highly suited for small restaurants, food vans and mobile catering.
The simple dials mounted at the front control the temperature and the alarm, the latter which can be set up to 15 minutes. The oven has a light that indicates when the oven is heating and also has heating elements mounted at the bottom and top.
Pros
The oven is portable and can be conveniently placed on a counter
The stainless steel is easy to clean
Cons
Has a bland look
Has a temperature limit of only 300 degrees
No see through window
What is Commercial Pizza Oven?
A commercial pizza oven is designed to attain cooking results that cannot be matched by a conventional oven in terms of the texture and flavor of the pizza they produce.
Commercial ovens are built with materials that sustain high temperatures therefore enabling you to cook you pizza very quickly.
The market is flooded with numerous classifications and types of commercial pizza ovens which are usually grouped into 5 main categories namely; countertop ovens, brick ovens, conveyor ovens, convention ovens and deck ovens. Each type of oven has its advantages and drawbacks.
Why Choose a Commercial Pizza Oven?
A commercial pizza oven is typically designed to produce and sustain high temperatures as well as have a higher cooking capacity.
These types of ovens have heating elements that ensure the pizza stone retains heat throughout the baking process therefore enabling you to cook more pizzas in a short period.
This is because you don't have to wait for the stone to reheat in between pizzas. This factor is tremendously time saving especially for a busy restaurant where turnaround time is crucial.
Things to Consider when Buying a Commercial Pizza Oven
The type of oven you choose will depend on several major factors, including:
Budget – Commercial pizza ovens can be quite pricey. Starting your search with a budget in mind ensures that you get value for your money by narrowing down the best pizza ovens available within your budget.
Source of Fuel – Pizza ovens can be fueled by wood, electricity, gas or charcoal. You need to select an oven with a fuel source that is readily available. Also, affordable and reliable according to you needs in order to minimize downtime.
Size of Establishment – You need to ask yourself if the pizza oven you choose will be able to fit in your premises because some pizza ovens can be quite large.
You also need to consider the customer traffic you have and whether the oven you choose will sustain the rate of service in your establishment during peak business hours.
This could mean the difference between selecting a single deck or twin deck pizza oven.
Ease of Use – You need to take into account that some commercial pizza ovens can be complex to operate hence requiring some training of your staff.
Addressing efficient staff training before starting a business will enable you to serve your customers quickly without with minimal hiccups.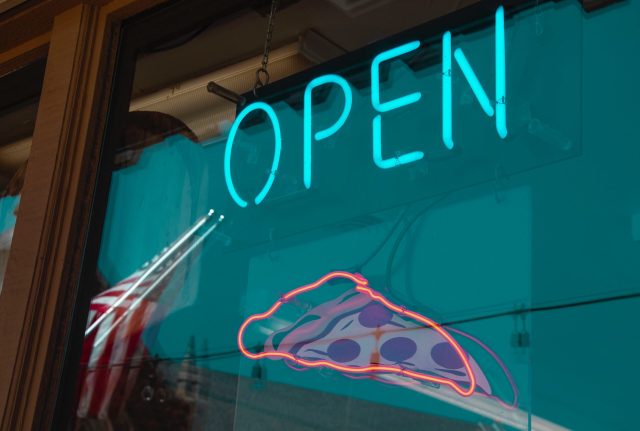 How a Commercial Pizza Oven is Used
Commercial pizza ovens are recommended in situations where the taste and quality of the pizza is essential. These commercial ovens produce traditional, authentic pizzas with unmatched mouthwatering flavors which cannot be achieved with a regular oven.
A commercial pizza oven can also cook a variety of other dishes including; lasagna, pies, garlic bread and grilled foods.
The Difference an Oven Can Make
There are numerous types of commercial ovens available in the market, each suited for specific functions, budget and capacity. The five main categories we shall consider are:
Brick Ovens – Brick pizza ovens are fueled by burning wood. These ovens take some time to reach optimal temperatures. But once they do, the pizza is cooked evenly with smoky flavors and a crispy base.
They can also cook multiple pizzas is a short period of time.
Conveyor Ovens – These ovens have a conveyor belt where pizza is placed and automatically gets pulled into the oven at a predetermined speed.
This type of oven is recommended in an establishment where efficiency is crucial and electricity and gas are readily available.
The conveyor ovens can produce about 100 pizzas in an hour with an average cooking time of five minutes.
Convention Ovens – A convention oven circulates hot air within its chamber thus cooking the pizza evenly.
They occupy little space and have a high production capacity of up to 40 pizzas per hour in some models, making them idea for restaurants.
Deck Ovens – These type of ovens are perfect for baking pies because they have a hot stone that heats the pizza crust directly while ensuring the topping are not charred.
They are also easy to clean and maintain and can last for years thus retaining their resale value
Countertop Ovens – Most of the pizza ovens mentioned above have countertop variations which can save you cash and space since they can be stacked.
Countertop pizza ovens are typically electric though they bake fewer pizzas per hour compared to the full sized commercial pizza ovens.
Which One Works Best?
When it comes to deciding on which industrial pizza oven to purchase, it all boils down to what will work best for you. What your needs are, how you work, the potential customer reach and so much more.
It needs careful deliberation on your part. But if we get to decide which one works best, it would definitely be the Electric Pizza Oven Maker Commercial by Monstershop. This double deck industrial oven works like a pro.
You can cook multiple pizzas at one time, allowing a faster and more efficient process for influx of orders. It's a good start for someone who wishes to go big in this line of business.
Click here to get Electric Pizza Oven Maker by Monstershop at a Discounted Price.