5 Best Pet Shop in Singapore 2023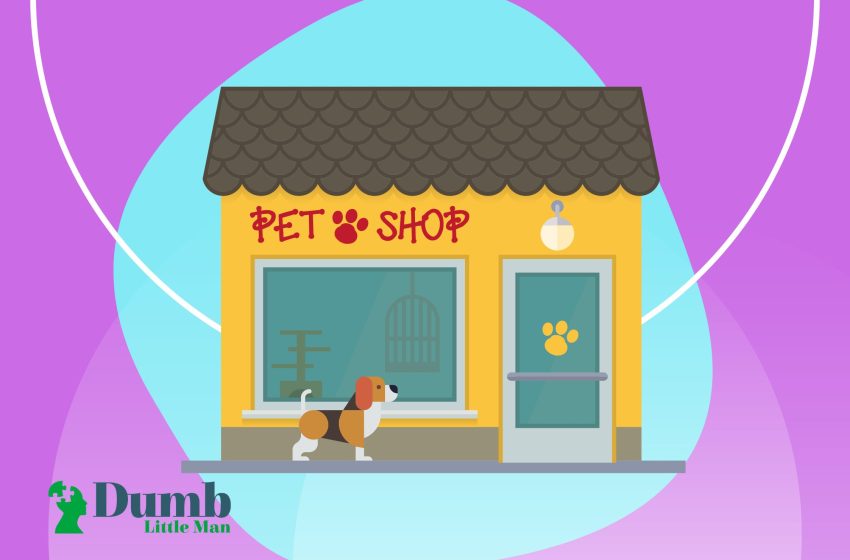 Pets have become a necessary part of people's lives. We all need pets to bring liveliness to our homes and keep us company. If you own a pet, then the health and well-being of that pet should be your top priority. Taking care of a pet can starts with finding the best pet store.
A good pet store offers products and services to keep your pet healthy while ensuring the planet is safe. There are so many pet shops in Singapore, but not all are good. So, we've helped your choice by reviewing the top 5 pet shops in Singapore.
Let's begin!
5 Best Pet Shop Singapore 2022
1. Superpets

Basic Info
Email Address: [email protected]
Phone Number: https://wa.me/93677774
Website: www.superpets.sg
Overview
Superpets is one of the best pet shops in Singapore. Here, pet owners can shop for a wide range of pet supplies for wholesale prices. This pet store makes it easier for pet owners as they strive to build a store in every estate across Singapore. Since its launch in 2013, they have opened 19 physical retail stores in different areas in Singapore. Out of the 19, 3 of these shops operate for 24 hours.
Superpets also run an online pet store. When pet lovers shop in this online store, they get fast checkout, hassle-free order tracking, and quick delivery. You'll also gain loyalty points for interacting with the online pet store. Points are distributed when new pet owners spend on shopping. They also get points on registration.
The interesting thing about Superpets is that they provide quality pet products at an affordable price. They do not comprise the value and quality of pet items for cheaper prices. It shows that they understand a pet's role in the lives and homes of the pet owner. As a result, they are focused on providing excellent customer service to pet parents.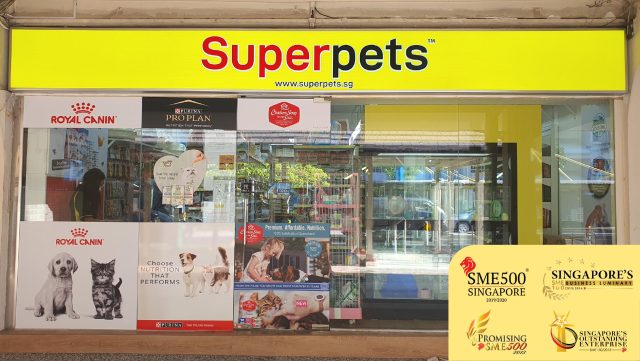 Their e-commerce store is well built to function like a walk-in pet store. Pet masters can get items for their animals in 24 hours or less. If a product is out of stock, customers are promptly updated; you'll also receive suggestions for similar products and are notified immediately when your preferred choice becomes available.
Superpets also offer returns and exchanges for their customers. Although there are terms and conditions, it remains a good option. Plus, the store also accepts different payment methods. Customers can pay with Paypal, credit/debit card, iBanking, and Paynow/Paylah on their online pet store.
It is important to know that Superpet does not sell pets. However, they have a wide variety of pet food, accessories, and pet treats. Most pet stores focus on offering items for a particular type of pet. But, Superpets differs. They provide a wide range of products for different kinds of pets. They have fresh and frozen food for hamsters, gerbils, guinea pigs, cats, rabbits, fishes, dogs, chinchillas, etc. They also have accessories like cat litter, collars, pet trays, muzzlers, and many more.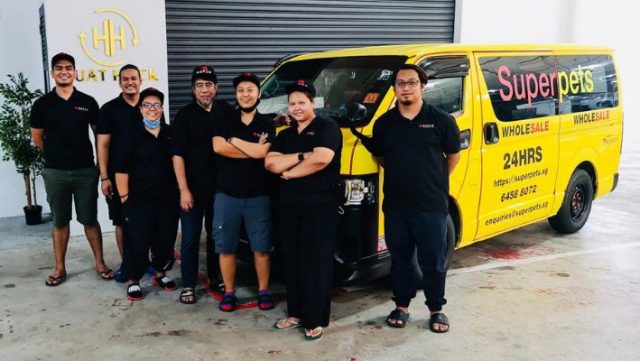 Pet masters can also jump on the Superpets in-store membership. The membership gives members access to exclusive offerings at the pet shop. Superpets divides its membership into two – Platinum Membership and Diamond Membership. The store gives a card similar to a debit card to members. Members can walk into any of their physical stores to enjoy its perks. These perks include express delivery, free repacking, discounts, wholesale prices, instant cash rebates, members-only offers, free delivery, and many more.
What Makes Superpets Unique?
Superpets station their stores in 19 neighborhoods across Singapore. Their physical store customers allow pet lovers access to pet grooming tools and supplies for your fur babies. It even gets better with three stores offering 24 hours services. Superpets accommodates remote and busy people with an online store that offers delivery. To top it off, the membership card presents a plethora of freebies for any pet master and their furry friend.
2. TheOnePet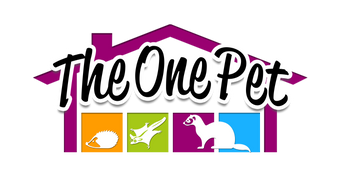 Basic Info
Overview
TheOnePet is one of the great pet stores in Singapore. It is an online pet store brought to life with the help of many pet masters. This store was created to provide dog food, accessories, and treatment for various types of pets. As a store built by professionally trained pet groomers, it understands that pet lovers want the best care and service for their little ones.
TheOnePet store understands that pets have become part and parcel of the lives of their owners and know it will be best to provide them with quality care. They not only sell pet supplies and food but also cater to the needs of animals needing help. Whether the pet is with a family or at a shelter, they will provide medical supplies, fresh food supplies, pet boarding tools, custom products, etc.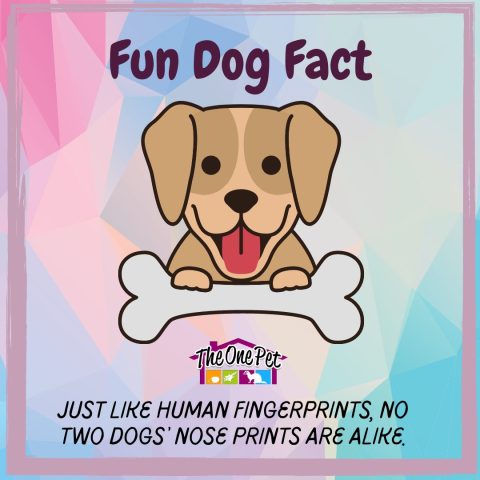 TheOnePet offers the best experience to its customers. And they can deliver on their promise because of their mission. They focus on providing fresh dog food and supplies at a retail price. At TheOnePet store, many clients struggle to pick an item for their pet. This is because they have a wide range of quality products. You'll struggle to make up your mind.
Aside from that, they also ensure that these items are affordable and safe for the environment. TheOnePet sets itself apart from other stores focused on profit only. It is giving back to the community with its program for needy animals.
What Makes TheOnePet Unique?
TheOnePet is bent on providing the best possible services for pet lovers across Singapore. Although this pet store is online, it still offers the best services. At the center, TheOnePet shop is customer-.0centric as they ensure all pet masters enjoy their shopping experience. They also
3. Happy Town Pets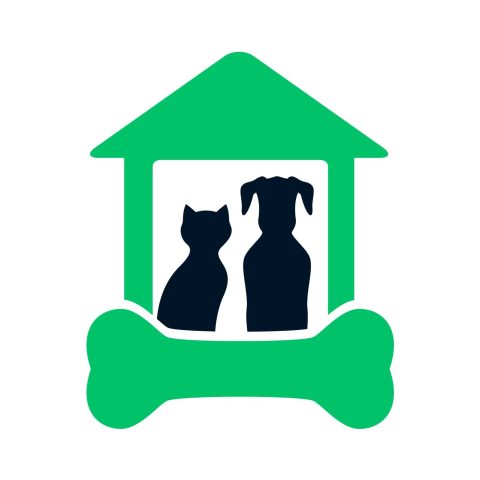 Basic Info
Email Address: [email protected]
Phone Number: +65 84887876
Website: https://happytownpets.com.sg/
Overview
Happy Town Pets was created as a sustainable product vendor for animal lovers. They sell quality and affordable pet care items, including dog food. Also, ensure that these products are safe for the environment.
It is an amazing local online pet store in Singapore determined to raise pet health standards. In doing this, they ensure that products remain sustainable and minimize wealth. So, they sell eco-friendly, healthy, affordable, quality foods, pet supplies, and treats that will better the pet planet.
Happy Town Pets is designed to help you take care of small pets These pet masters source quality products from America, Asia, and Europe. And these products are made available to Singaporean pet masters.
As an online pet store, Happy Town pets ensure a seamless online shopping experience for its shoppers. They offer timely delivery. For orders over $35, buyers get free and fast delivery. They also ensure that deliveries are also 100% carbon offset. That's not all. It is offering a flat fee of $4 for other order sizes. Amazing?
They also categorize their products based on chew times. Whether you know your pet's chew time or not, Happy Town Pet is ready to help. They have created three varieties – short, medium, and long chew time.
These chew times determine how long a pet will spend eating a treat. You can monitor your pet's average chew time. But before you do that, keep in mind that the size of your dog can be used to figure out their chew time. The bigger the dog, the longer the chew time.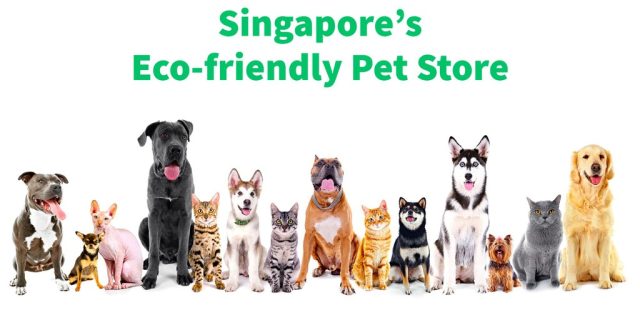 Happy Town Pets majorly sell dog and cat supplies. They also sell various kinds of pet essentials, pet accessories, pet foods, and pet treats and offer outstanding pet grooming services. As a plus, they also have a monthly pet subscription.
The dog pet subscription box contains eco-friendly toys, treats, and products. There are different packs, and all of them ship for $40. They have the puppy pack, basic subscription all-round pack, and I love to chew pack. Pet masters receive their first pack a day after subscription, which continues monthly.
Another intriguing aspect of shopping for your pet supplies from Happy Town Pet is the diverse payment methods that they accept. Most popular payment methods are accepted on their eCommerce platform. They accept:
American Express
Visa
Mastercard
PayPal
ApplePay
Google Pay
Furthermore, customers can pay in instalments. Payment products like Splitit, hoolah, and atome, can be used on the Home Town Pets checkout page. They also accept all types of credit cards and e-wallets.
Many other factors make Happy Town Pets one of the greatest pet stores in Singapore. They have ambassadorship, affiliate, and pet perks loyalty programs. The gift cards and the 30-day refund policy also make Happy Town Pets stand out.
What Makes Happy Town Pets Unique?
They have created the most seamless shopping experience for pet masters. They support multiple payment methods, allow refunds, give gift cards, loyalty rewards, and free deliveries. These are just extras compared to affordable, sustainable, high-quality pet foods and supplies. Although they focus on dog and cat supplies, they offer support for these household pets. All of these offerings make Happy Town Pets all the more unique.
4. Top Top Care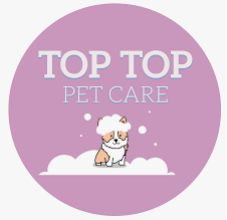 Basic Info
Email Address: [email protected]
Address:

111 North Bridge Road, #05-36, Peninsula Plaza, Singapore 179098

Website: https://toptopcare.com/
Overview
Top Top Care is different from other pet stores in Singapore. This pet shop focuses solely on body care products. They make shampoos and cleaning materials for pets in Singapore. Little wonder, their mission statement is changing lives, one bath at a time. This specialization makes Top T0p Care a unique pet store.
If many other pet stores in Singapore offer a broad range of services, why is Top Care specialized? You'll learn about that information in the brand story. And Top Top Care is one of those brands with an intriguing story.
It all started from Thazin's earnest desires. Thazin is the owner of a beautiful Chihuahua dog. She frequents nearby countries in Asia. Before the idea came for Top Top Care, she saw countries like India, Myanmar, and Nepal. In these countries, Thazin had a beautiful experience. But, one thing did not sit right with her—the street dogs.
These dogs were in desperate need of a bath, and she was not excited by how it was the norm. Their paws, furs, mange, and skin all showed the level of dirt the animal had absorbed. And it revealed that these pets had no one to care for them. Then, the inspiration hit her to craft a pet care solution.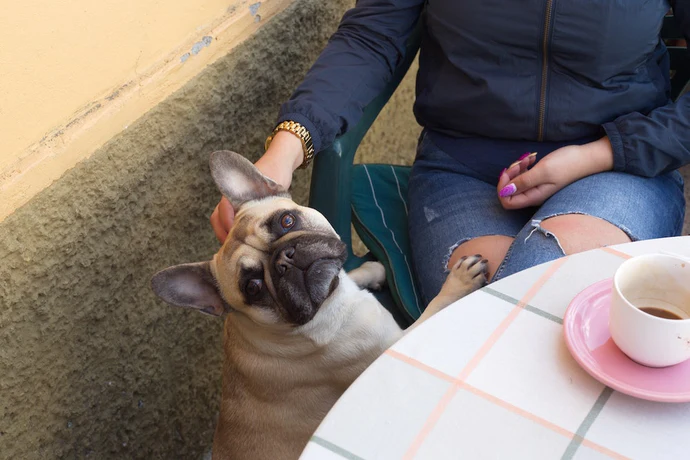 Thazin is currently working hand-to-hand with her dad, Aye Kywe. Aye Kywe has been in the chemical and pharmaceutical business for over two decades. He has led companies to meet GMP standards and get manufacturing production licenses, following the World Health Organization (WHO). With this collaboration, Thazin has produced a wide range of pet cleaning products. They have created natural anti-bacterial sanitizers and germ-killing shampoos to make the pet smell, look, and feel healthy.
As an online store, Top Top Care has put in the required facilities to make shopping seamless. They offer fast and free deliveries to all orders within Singapore except Jurong, Tuas, and Sentosa. Due to the nature of their products, they have no refund policy. There are exceptions, though.
What Makes Top Top Care Unique?
Top Top Care is a specialized pet store in Singapore. They sell only shampoos and sanitizers for dogs. They also boast an in-house pharmaceutical practical with over 20 years of experience. They top it off with free deliveries across Singapore. Although they offer international delivery, it is not free.
5. Paradise Pet Shop
Basic Info
Address: No. 18 Sin Ming Lane #04-07 Midview City
Singapore 573960
Email Address: [email protected]
Phone Number: +65 62565525
Website: http://www.paradisepet.com.sg/
Overview
Paradise Pet Shop is one of the best pet shops in Singapore. They list premium brands for pet food products and other pet food items. The brand runs both a physical and an online store. Their main focus is small animals and fur babies. So, they list products for pets like dogs, cats, and rabbits. Safe to say, they readily have dog supplies, cat food, and grooming supplies.
They sell dry and wet food, grain, treats, and supplements for cats and dogs. This store also sells hay, supplements, bedding, pellets, and toys for small animals. Another category of items they sell is accessories. A pet master can easily get accessories for their cats, dogs, or small animals here.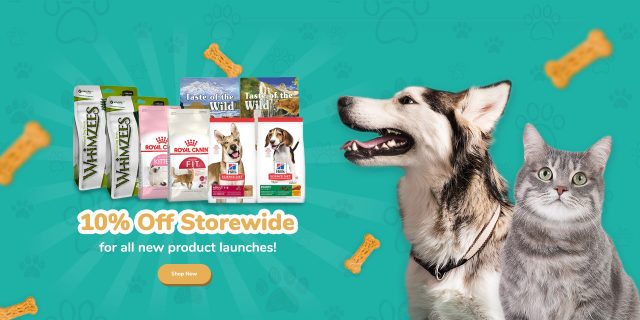 Pets deserve the best possible treatment. That is why Paradise pet shop is sourcing from scores of brands worldwide. They have listed over 18,000 quality pet foods that are sourced globally. They have listed brands like Greenies, NurturePRO, NUTRIPE, PAMDOGS, Stella & Chewy's, TORO TORO, CIAO, and many more.
As one of the biggest pet stores in Singapore, they offer a lot to satisfy their large audience. They have created a loyalty and rewards program. If you are a pet master, getting rewards points means saving a few bucks on your next purchase. Another fascinating offer is the free delivery on $80 orders and above. However, this is only applicable to Singapore orders.
Additionally, they also give pet parents monthly deals. You can shop for 10% less on the deals page – if you have a coupon code. There are also price slashes for many products. These slashes can go as high as 30% off.
What Makes Paradise Pet Shop Unique?
Paradise Pet Shop has a wide variety of pet products available for sale. Their online store lists over 18,000 pet products from globally renowned brands. Aside from that, they also boast of a physical shop.
Things To Consider When Choosing  a Pet Store
The role of pets in homes can not be underestimated. That's why we have to ensure to get the best possible product that will keep our pets healthy. We have highlighted five pet shops in Singapore that offer the right pet products.
But, we understand that picking one pet store from the alternatives can be mind-boggling. So, we thought of sharing tips to help you pick the right pet store. The following tips apply to a physical and an online shop;
1. Listed Reliable Brand
It is easy to say we offer quality cat food. However, this is just a claim and does not prove the claim. Cat owners can only know about the quality of a product when they try out those supplies. But, it just might be too late.
A great way to vet a product's quality is to shop mostly from reliable and renowned brands. When you visit a pet shop, scan the shopping hall or the website to know if the products are from popular brands. Alternatively, you can also check review websites to hear what people say about the store.
2. The Quality of Accessories Listed
A pet store shop does not just sell foods. They also sell other pet essentials like accessories. And we can also agree that the accessories can also keep your pet healthy. So, a great way to determine the best pet store is with the quality of the accessories they have for sale. The accessories should be safe for your pets and also for the kids. They should also be able to last a long time.
3. Offers and Discounts
The offers and discounts matter. A good way to know if pet shops care for pet parents is the discounts they give. The discounts matter whether you are shopping for a DIY dog wash, dog medicine, pet grooming, or cat food. These discounts would help pet masters save cash. Loyalty and reward points also play the same role. They are essential to maintain good customer relationships.
It will also be sweet if the pet shops list any ailments the food can treat on the pack.
4. Check the Pet Product's Package
There are various kinds of pet foods available on the counter. However, what distinguishes one product from the other is the ingredients that make up the food. So, it is essential to check the product packet before purchasing. You may wonder, can I see the packet on online shops? Yes, you can.
Reputable online stores display a clear picture of all sides of a product's packet. They also publish a product description on the product page. This description includes chemicals, preservatives, fillers, and every other ingredient. The quality of ingredients in a product can make your pet healthy or sick. So, pay thorough attention.
5. Refunds Policy
The best pet shops in Singapore, especially online shops, have a refund policy page. This page provides adequate detail on the shop's policy. A good pet store will create a refund policy that favors the customers. Their shipping terms should also favor the customer. If the store has a policy of no refunds, it explains how the customer will be treated if they receive an unsatisfactory supply. Ensure yead through their refund policy diligently before you shop.
In our list, there are a couple of pet shops in Singapore that have a good refund policy. It makes plenty of sense to shop from these stores.
Conclusion
We've reached the end of this piece that looks into the best pet shops in Singapore. We've compiled this list based on the quality of products, shopping experience, and extra offers these shops offer. If you still have questions, the FAQ section will help you answer them.
FAQs
What is the Best Pet Food?
As easy as this question may sound, there is no best pet meal. Different ingredients make up a good dish. Pets also require different ingredients in their meals. Aside from that, every dog is not the same. Some dogs may feed on raw foods, while other animals require a blend of dry and wet foods. If you are visiting a physical store, your shopping will be simpler.
A pet store clerk can quickly tell what is good for your pets by asking some questions. If you are shopping online, you can make informed decisions based on your health history, budget, and personal preferences.
What costs do pet owners incur in Singapore?
Pet parents should expect to spend $3000 to $3500 annually on their beloved pet. This amount will cover medical care, grooming services, pet supplies, treats, etc. Also, your small animal may get sick, so it is best to save funds. Pet lovers can spend anywhere from $400 to $600 on diagnostic packages. You would also pay $50 – $100 for a 9-in-1 vaccine.
Aside from that, some dogs and cats need grooming every three months, and a professional pet groomer can charge around $80 per session. So, that's roughly $320 per year. They also need things like dog toys, a dog leash and collar, food, and a bed. Owners should expect to spend roughly $400 – $500 on these.
What is The Best Treat or Toy?
Different animals require different treats and toys. Thanks to categories, pet stores in Singapore segment the type of treats they sell. Stores like Happy Town Pets segment their treats into short, medium, and long chew times. So, you select the chew time based on the size and age of your pet.
Like this Article? Subscribe to Our Feed!
At Dumb Little Man, we strive to provide quality content with accuracy for our readers. We bring you the most up-to-date news and our articles are fact-checked before publishing.