Best House Cleaning Services in Singapore 2023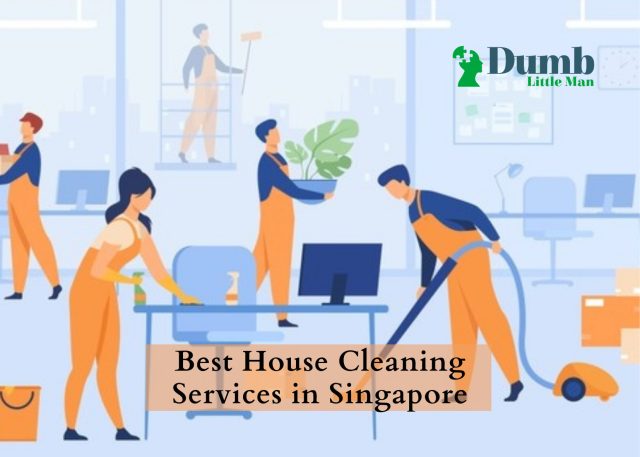 Mess Creates Stress
Seeing a mess around your house can bring you a lot of stress when you are caught up with work. However, there is no need to worry about it as house cleaning services are always available to help. Whatever cleaning services you are looking for, they got you covered. Every house cleaning services have different cleaning options and choices and can turn your messy, foul-smelling house into a scented and tidy one.
Cleaning sessions take time, and while you are a workaholic and sophisticated person, you can always go with different options that are eco-friendly and economical.
We are bringing you a list of the 5 Best and professional cleaning services in Singapore that you can hire for all sorts of cleaning that your house requires; regular house cleaning, one-time cleaning services, carpet shampooing, party cleaning, and what not! They even provide additional services with a cleaning process that you can avail.
Let's get into the details and see which cleaning service in Singapore works best for you.
Best House Cleaning Services Singapore 2023
Whissh
Comfy Homes
HomeCleanz
DomesticONE
EAD Cleanwerkz
1. Whissh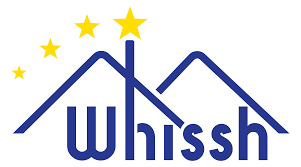 Started in 2016, Whissh is a one-step solution for urban living. They began with an aim to deliver top classes services to well-off people, and since then they have successfully done that and completed about 100,000 clients from tenants to offices in over 30 countries. They aim to transform a home and word space into a well-serviced urban living and provide them with a hassle-free living style.
They believe in professional, diligence, quality word, respect, and well-oriented cleaning services and are the best cleaning service in Singapore.
They have three categories in home cleaning and you can choose the one that suits you well.
Home General Cleaning
Home Weekly Cleaning
Home Deep Cleaning
General Cleaning
Whissh' general cleaning is a perfect 4-hour house cleaning session for expatriate, busy individuals, and home-makers to freshen up the vibe of their entire home and apartment. The service crew is government-approved and hardworking individuals that will do the cleaning of living halls and bedrooms, bathrooms, and kitchens. While going with this service, you have to provide cleaning equipment of your own to the crew.
House Weekly Cleaning
The most popular package of Whissh is a weekly cleaning sessions where you can get live-in helpers for your apartment and home cleaning. So, to make sure no corner to your home is forgotten during the cleaning session, hire a well-trained crew, that can even provide you with ironing and laundry services. You have to provide the essential cleaning solutions and equipment such as brooms, wipers, vacuum cleaner, and cleaner spray, and degreasing solutions.
Home Deep Cleaning
Home deep cleaning is a Singapore house cleaning service that provides perfect solutions to make all your festive cleaning needs that are tailored for post-renovation cleaning, spring cleaning, move in and move out cleaning. During the cleaning session, the crew is sure no area of your home is left. Apart from general cleaning, deep cleaning services include cleaning of window grills, the interior of wardrobes and cabinets, window cleaning, degreasing microwave, and stove. Not only ideal during the festive sessions, you can also get this service if you are moving into a brand new place and need fresh cleaning.
Usually, a session of 4-6 hours is required for thorough office cleaning and home cleaning.
Website : www.whissh.com.sg
Email: [email protected]
WhatsApp: +6562218626
IG: https://www.instagram.com/whisshsingapore/
FB: https://www.facebook.com/whissh.sg
2. Comfy Homes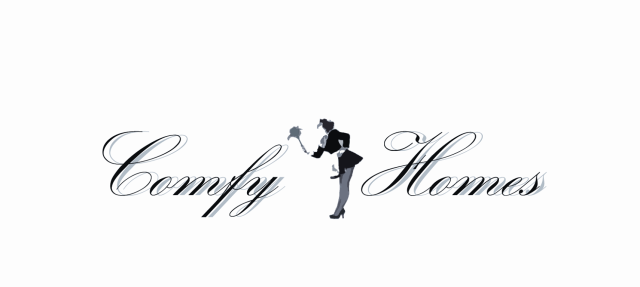 If you cannot compromise on service quality and looking for a trusted and assured professional housekeeping and cleaning service, Comfy Homes is the ultimate solution to all your regular house cleaning and office cleaning needs. Founded in 2002, Comfy Homes now provide plenty of services ranging from spring cleaning, bathroom maintenance, basic sanitization, post-renovation cleaning and even general housekeeping and that too, in affordable prices.
They believe in proving assurance, efficiency, trust, convenience, support, quality, safety, and even cleaning equipment.
They offer two services;
Weekly regular cleaning services
One-time spring cleaning services – cleaning solutions and equipment are provided.
Comfy Homes have many working women, MNCs, and property agencies as satisfied customers.
Website: www.comfyhomes.com.sg
Email:[email protected]
WhatsApp: 6844 4523
FB: https://www.facebook.com/comfyhomes.sg
3. HomeCleanz – A Reliable Cleaning Service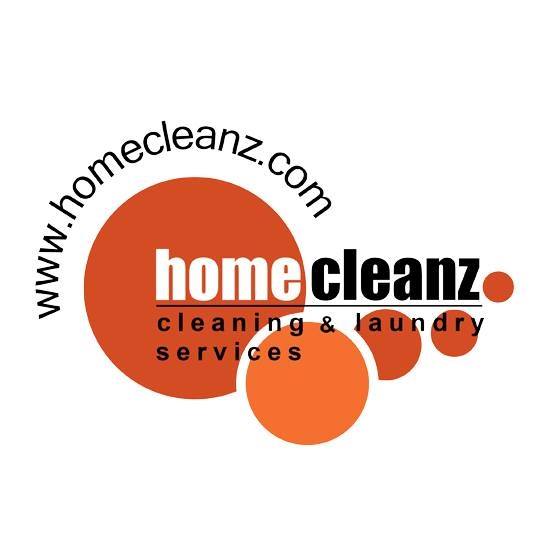 HomeCleanz is a reliable name in the home cleaning industry and is in operation since 2004. They aim to provide high-quality cleaning services to busy and workaholic professionals in Singapore.
They make use of HEPA filtrations and high-grade disinfectants for cleaning and make homes sparkling clean and free from germs.
Their crew is reliable, hardworking, and trustworthy.
They started with 2 members, and now proudly own a staff of 70 members with 12 transports that are providing house cleaning services at different localities.
The cleaning services are for domestic households, professionals, corporate offices, and real estate properties.
They offer a wide range of cleaning services; such as spring cleaning, regular residential and office cleaning, commercial cleaning, window, and upholstery cleaning, floor scrubbing and marble polishing, plumbing and handyman services, aircon servicing, carpet cleaning, curtain cleaning, steam cleaning and sanitization services and even painting.
You can check their different pricing plans, and choose the one that suits you the best.
Website : https://homecleanz.com/
Email:[email protected]
WhatsApp: +6564403342
Instagram : https://www.instagram.com/homecleanz/
FB: https://www.facebook.com/home.cleanz
4. DomesticONE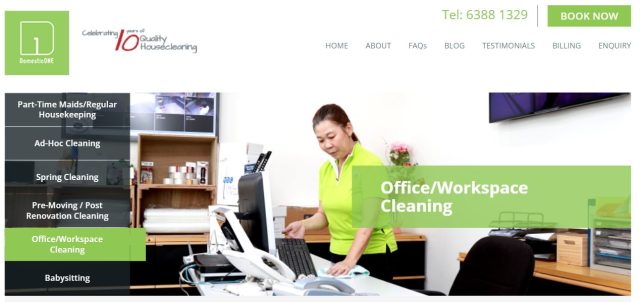 Established in 2006, DomesticONE is a licensed MOM agency and NEA licensed cleaning company and a recipient of the 2014 Top 100 Singapore Excellence Award. They are featured in various media such as CNA, The Straitstimes, The Asia Parents. The agency, which is celebrating 15 years of quality housekeeping, provides part-time maids and professional house cleaning services for private properties, condominiums, HDB flats, and offices. All of DomesticONE's staff are trained, experienced, trustworthy and reliable.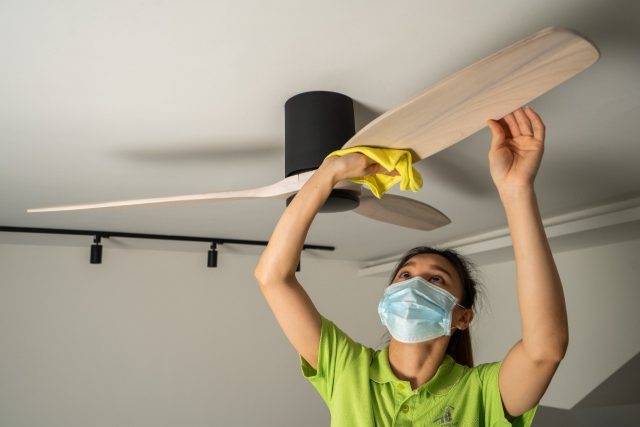 Their main services consist of Regular Housekeeping, Babysitting Service,  Professional Pre/Post Moving Cleaning, Post Renovation Cleaning, Housekeeping & Cooking Service.
They are able to customize the service scopes according to customer needs (most of our competitors are not able to do so).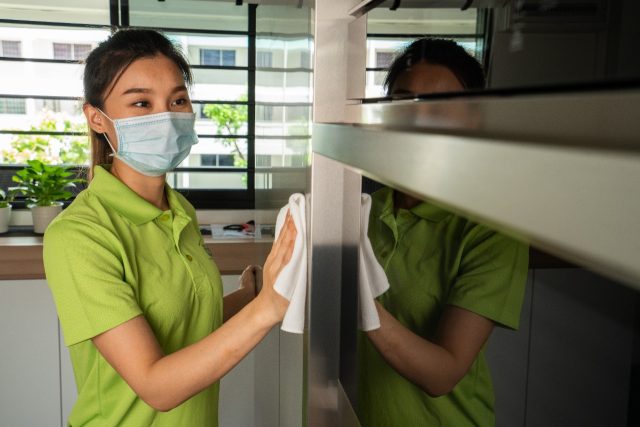 If you are looking for one of the best home cleaning services, this is the one.
Website: www.domestic1.com.sg
Email: [email protected]
Hotline: 63881329
WhatsApp: 90177242
IG: Instagram.com/domestic1.com.SG
FB: https://www.facebook.com/Domestic1.com.sg
5. EAD Cleanwerkz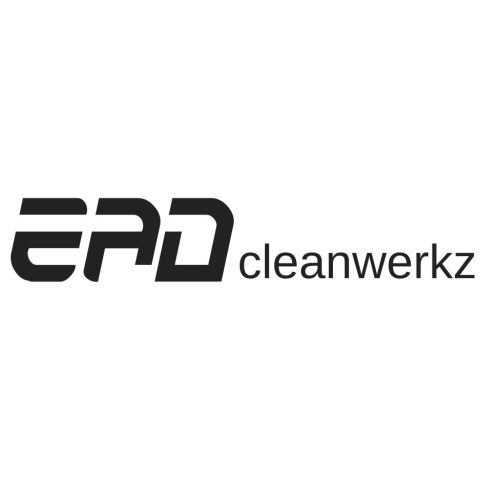 Do you love the feeling of a cleaned home and office? If yes, EAD Cleanwerkz is a cleaning service that aims to provide its customer with a comprehensive cleaning solution.
They take a professional approach and provide certified professional and 7-day assurance when the cleaning job is done.
Started in 2014, and now have over 60 employees in different regions of South East Asia. EA Detailers provide a one-stop solution to all the customers.
They provide office cleaning, sofa and upholstery cleaning, mattress cleaning, commercial and residential cleaning services, post-renovation cleaning and tenancy handover cleaning. They even offer disinfection and sanitation cleaning and maintenance and repair services to the customers.
You can book a consultation call, and avail what you deserve.
Website: www.eadcleanwerkz.com
Email: [email protected]
Tel: 6588227623
WhatsApp: 6580123498
IG: https://www.instagram.com/eadcleanwerkz/
FB: https://www.facebook.com/eadcleanwerkz
FAQs
Is Hiring a House Cleaning Services Worth Anything?
Hiring a cleaning service ensures the thorough cleaning of your home, and workplace. Their professional team keeps your place neat and tidy on a regular and weekly basis depending on the services you have chosen.
Different sg cleaning services provide a variety of services and your house essentials, appliance, and furniture are kept clean with eco-friendly products. If you could not find time to look after your home, you can always go with a reliable and affordable home cleaning service in your area, and enjoy doing the things that matter the most to you. Hiring a cleaning professional is a good investment of money for all the busy people.
How Much Does A Cleaning Service Company Charge?
Hiring cleaning services will cost you more than regular gig workers, and independent cleaners. Cleaning professional are more trustworthy, and efficient in doing their tasks and performing cleaning duties than gig workers as they we well-trained and equipped. The charges vary from service to service. Some cleaning services charge by the hourly rate, while other charges by the square footage. The charges also vary depending on the popularity and location of the cleaning service.
You can always ask for recommendations, and schedule consultation calls before deciding the final cleaning service.
Are Cleaning Services Expensive?
No, the cleaning services are not expensive. It entirely depends on your cleaning desires and the house size. The services are surprisingly affordable.
Do You Have To Provide Cleaning Supplies and Products?
This depends on the plan you are going with. Some cleaning services offer their own equipment and cleaning solutions while in some you have to provide them with the supplies for the cleaning purpose.
How Enough You Need Cleaning Service for Your Home?
This depends on your schedule. If you are caught up in work most of the time, then you can go with regular and weekly cleaning services to ensure that your place stays in a neat and tidy condition. If you can spare time to do house chores, then festive, deep cleaning, and post-renovation cleaning are what you should go with. It also depends on the number of family members, if you have a big family with kids you must go with a weekly cleaning service.
Conclusion
Many people dream of having a well-managed and organized house, while only a few works on achieving it. Cleaning services make your life easy when you are a working woman, CEO of a big company, and do not get enough time to keep your place tidy.
A lot of questions pop up in people's minds while looking for a cleaning service. Will the cleaning services in Singapore be trustworthy and reliable? Such kinds of questions is likely to give you stress and anxiety along with the piles and piles of mess in your house.
We have listed some of the best cleaning services for homes in Singapore that guarantee value, quality, and a staff of well-trained professionals.
We have even shared their details to make it easy for you to decide your next cleaning service.
Now, you do not have to make yourself anxious and stressed, seeing all the piles of mess around your house. You can hire home cleaning services. Even if you are setting up a new place or office, you can get help of cleaning services that offer affordable and professional cleaning service. They provide additional services such as electrical maintenance, weekly cleaning packages, dry cleaning services and what not.
You can hire a part-time maid for your home as well, that can help you with all the chores.