5 Best Home Security System in Singapore 2023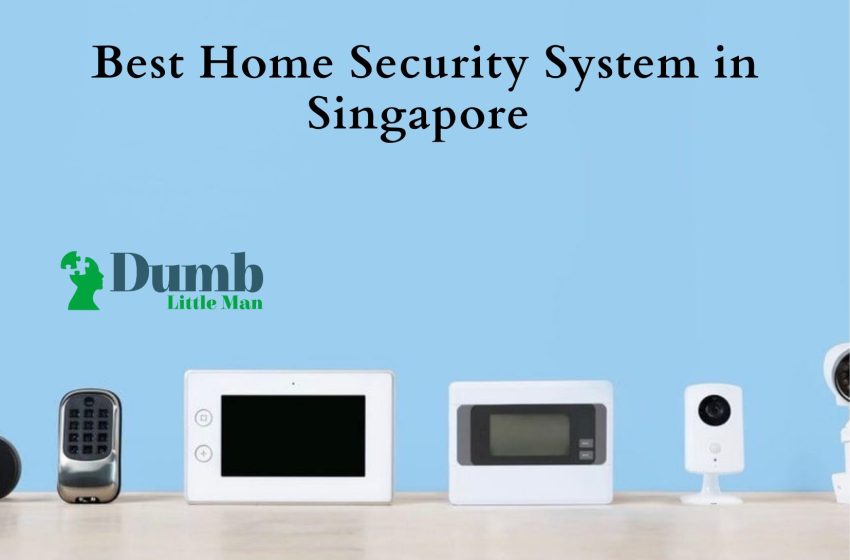 Without any doubt, our homes are one of the biggest investments or purchases that we'll ever make. Most homes cost more than a few hundred dollars. However, it's not the structure of the house that's important but the contents that have made our staying there more comfortable.
Today, our homes serve as a haven and a place of rest for ourselves and family members. We gladly fit different high-end electronic devices from leading brands and personal items into our homes. Well, these items may attract unscrupulous elements who intend to cart away with a portion of your riches.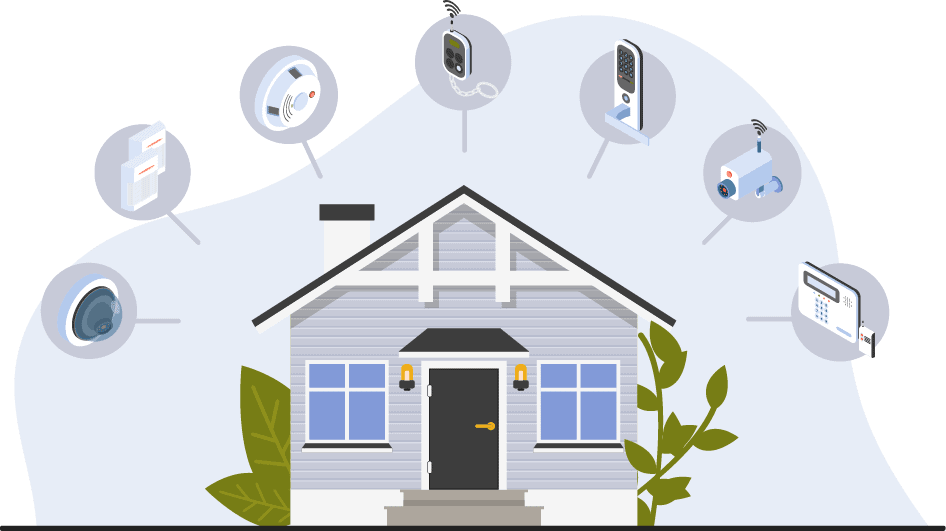 So, what could you do to protect yourself in the face of trouble? The answer is relatively simple – install a home security system.
A home without a security system is susceptible to break-ins, burglaries, or small thefts. As a result, many homeowners are interested in effective security solutions that detect intruders and even keep them from gaining access to personal property.
A home security system is an invaluable investment in your living space. These technologically advanced security solutions are designed to protect you, your family, and your possessions from burglaries and theft. Depending on the efficiency of the security systems installed, it may also safeguard your property from fires and other types of dangers.
For some years now, home security systems have been a hot topic in Singapore. As more homes have been broken into, it's clear that homeowners need to adopt innovative ways to protect themselves. The best time to act is now. Please don't wait till the burglars make it into your neighborhood before you begin to panic.
If you've been a victim of a break-in attempt or burglary, then you need to upgrade the security systems that you have in place. But to get access to the best security systems in Singapore, you'll need to hire a professional service to work on your property. A great home security system features a door access system, security alarm systems, CCTV camera security systems, and motion detectors. These devices will work in tandem to protect your living space.
When choosing a suitable security system, you need to understand that there are different service providers out there. Each of them will offer you something different in terms of your home security system. So, how do you settle on the best choice for yourself? Keep reading to find out
This piece will give you detailed information about the best home security systems in Singapore. You'll learn everything about each service provider, including how to settle on the best security system for your property.
5 Best Home Security Systems in Singapore 2023
1. Starlite Systems Technologies
2. Security System Singapore
3. i-Secure
4. Future Home Solutions
5. Surveillance Zone Singapore Pte Ltd.
1. Starlite Systems Technologies

Basic Information
Website: https://www.star-lite.com.sg/
Email Address: [email protected]
Physical Address: 19 Woodlands Industrial Park E1, # 03-08, Singapore 757719
Phone Number: +65 8233 7033
Operating hours: 9 am – 6 pm (Weekdays)
Overview
Founded in 2007, Starlite systems technologies had a fairly humble beginning. The home security system service provider started selling access cards to Singapore's student dormitories. However, they have moved on to become one of the biggest names when talking about home security systems.
Starlite systems technologies are famous for many things ranging from their teams of security experts and consultants to their impressive set of high-quality surveillance systems and home security solutions. The company commits to providing unbeatable security equipment and affordable adaptive solutions. They try to do this by offering value to all the work they handle for their clients and keeping things simple.
Their teams of security experts are trained to work with you in installing security systems. They handle every step of the way with expertise from site inspection to postsales services. When you hire Starlite systems technologies Pte ltd, they will work hand-in-hand with you to choose the ideal security systems for your living space. Care will also be taken not to blow your budget.
This service provider will do everything it takes to provide the ideal security system for you and boost your confidence. During their time in the industry, they have been the main security systems provider and worked with many reputable names such as Avery Lodge Dormitory, Sing Soon Huat Plastic Trading, Tuas Lodge One Dormitory, Hanzi Petshop, Woodlands Dormitory, Pacific International Lines Pte Ltd, Cochrane Lodge One Dormitory, M Mobile, Pondok AL-Ikhlas, Kim Chuan Dormitory, Lee Chee Seng Polythene Company, Friendz Mart, The Leo Apartment, and so on.
What do People like About Them?
There have been numerous reports and reviews that Starlite systems technologies Pte ltd keeps its word and delivers everything they promise. The quality of their security devices is truly impressive. They are also known to offer comprehensive aftersales services. This means they will attend to you even after they have provided installation services.
2. Security System Singapore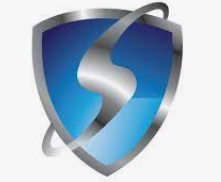 Basic Information
Website: https://web.securitysystem.com.sg/
Email Address: [email protected]
Physical Address: 50 Gambas Crescent, #10-42 [email protected], Singapore 757022
Phone Number: +65 6599 6805
Overview
Are you looking for a service provider with in-depth knowledge and access to the best security cameras that money can buy? Look no further than Security System Singapore. They are the leading manufacturer, supplier, and importer of CCTV cameras in Singapore.
If you're looking for high-quality, reliable CCTV cameras, you can contact them. However, they don't offer only CCTV cameras. Some of the other impressive products they provide to clients include; alarm systems, door access systems, panic buttons, etc. Security System Singapore has established itself as a one-stop shop for the best home security systems in Singapore. There's hardly a security device you wouldn't find with this service company
All of the technology they provide comes from reputable Korean manufacturers and is offered at an affordable price. They handle the assembly and casing of these security devices to reduce costs for their Singaporean clients. Security System Singapore is a customer-oriented service provider that offers reliable CCTV camera sales and CCTV installation services.
They are on a mission to be a one-stop supplier of high-quality CCTV cameras. They will also attend to other setup and installation of security systems in Singapore.
What People Like About Them
Many Singapore residents enjoy having a go-to security company that will fit their homes with PTZ HD cameras and other necessary equipment to protect their personal belongings and family members. They have an impressive catalog of security systems, including CCTV cameras, alarm systems, digital door locks, PA systems, panic buttons, and so on.
3. i-Secure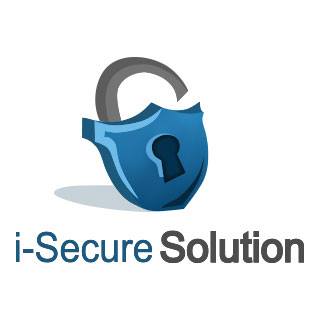 Basic Information
Website: https://www.isecure.com.sg/
Email Address: [email protected]
Physical Address: 50 Serangoon North Ave 4, #06-13 First Centre, Singapore 555856
Phone Number: +65 6527 1111
Operating hours: 9 am – 6 pm, (Weekdays)
Overview
i-Secure solution is one of the most reputable names in the security systems industry in Singapore. They provide their clients with one-of-a-kind security systems that protect their homes, even when they are away.
This service provider has a team of professional engineers that will work on your property and install CCTV systems, home security systems, door access systems and cards, biometric access control, intercom systems, alarm systems, and so on. i-Secure solution is a reputable name that has served multiple brands across the country. The quality of their work speaks for them every time.
They are renowned for a responsive customer service center that will promptly attend to your needs before or after your installation services. Every aspect of this company is designed for high-quality service delivery, from their hardworking security experts and service representatives to their delivery system. When you contact them to seek help with a new security system, they aim to provide a positive experience from beginning to end.
Our engineers will inspect your property and work with you to decide on a suitable solution for your property. They will inform you of all your available options and install the security system that suits your lifestyle and personal preferences. They have specially tailored services that can protect banks, education centers, hospitals, offices, public transport, retail offices, etc.
What do People like About Them?
Many of the customers of i-Secure solution enjoyed their fast and efficient service delivery. They adopt a reliable step-by-step approach to protect the homes of their clients. This service provider also has a long list of high-quality security equipment at its disposal. Homeowners get to settle for the security systems that consider most appropriate. This brand is also taking active steps to improve the quality of what it offers and provide endless innovation.
4. Future Home Solutions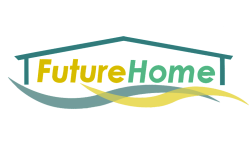 Basic Information
Website: https://www.futurehome.sg/
Email Address: [email protected]
Physical Address: 50 Gambas Crescent, #10-42, Proxima Gambas, Singapore 757022
Phone Number: +65 6526 7012
Overview
As its name suggests, Future Home Solutions will look to supply your home with state-of-the-art, reliable security systems. They are renowned for having an extensive library of CCTV security systems, PA systems and communication devices, door access control systems.
They offer a wide variety of CCTV systems and security system equipment, including products from the most reputable manufacturers worldwide. Their security camera is obtained from; Panasonic CCTV System, Avtech CCTV System, Dahua CCTV System, Samsung CCTV System, and Hikvision CCTV System. And if that was not enough, they offer experienced CCTV installation to build a strong relationship with their customers.
What People Like About Them
When you contact Future Home Solutions, it doesn't take long for them to thrill you. They offer an extensive list of home security systems. Their security cameras, intercom systems, and door access control devices are efficient and have protected homes from intrusion and invasion for many years.
5. Surveillance Zone Singapore Pte Ltd.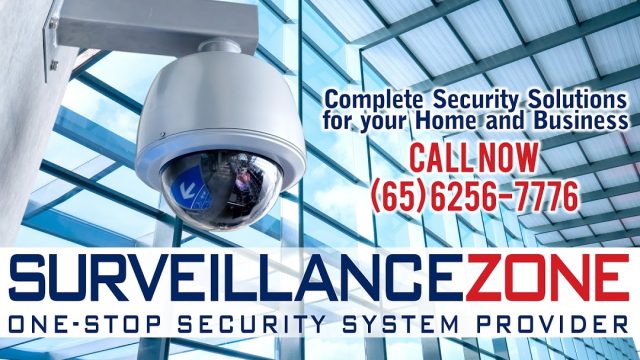 Basic Information
Website: https://www.surveillancezone.com.sg/
Email Address: [email protected]
Physical Address: 10, Ubi Crescent, Ubi Techpark, #03-40 Lobby C 408564
Phone Number: +65 6256 7776
Operating Hours: 10:30 am – 6:30 pm (Weekdays)
Overview
Founded in 2003, Surveillance Zone is one of the oldest providers of home security systems in the country. They have an unbeatable experience of being a security system provider for more than 20 years. If you are interested in a great security system deal, the Surveillance zone will provide CCTV packages, installation, and maintenance services.
Due to their experience, they have trained a group of in-house technicians with the best knowledge on setting up a security system – either residential or commercial. Since their inception, they have serviced numerous residential and commercial clients. These clients keep coming back for more services and referring to the Surveillance zone for new contacts.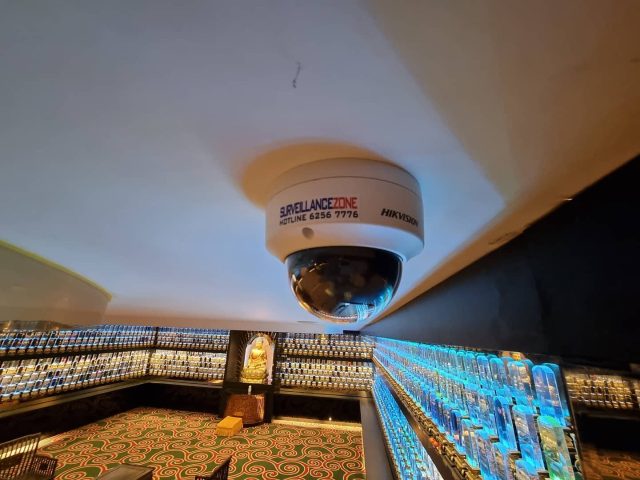 Surveillance zone will happily repair and upgrade the home security system we installed for you and give you the latest equipment money can buy. They started their business by offering affordable security devices for sales. Then, they moved on to gain more skills in their field.
It didn't take long before they could install a home security system effectively. Later on, they combined these new skills with their previous products. They developed an in-depth understanding of the home security system and developed different approaches to provide customers with efficient results.
This security company does more than stick a few wires into CCTV cameras. They carefully design the configuration of the CCTV security system and ensure that homeowners can get clear recordings and longer videos.
What People Like About Them
Many people are thrilled when they find out about the experience of the security experts at this security brand. As a result of working with numerous clients in different parts of the country, they have developed in-depth knowledge about the workings of a home security system. They will apply this knowledge to secure the living space of Singaporean residents. The company also trained all their in-house technicians. So, they are familiar with their operations system and how they like to treat customers. You can always trust the Surveillance zone to offer you the same quality of service from pre-sales to installation and post-sales service.
Why should you Install a Home Security System?
Now that we've spent a lot of time learning about the leading brands in Singapore's security system industry, it's time to review some of the reasons you should consider installing a home security system.
Protects Family Members and Personal Possessions
The most common reason anyone would want to get the best home security system would be to protect themselves and their family members from invaders. These systems keep you safe by preventing any potential hazards. An alarm system will notify you if someone breaks into your property, and smoke detectors will detect the presence of fire outbreaks before it destroys the entire house. When these home security systems are installed, you'll have more confidence in knowing your family members and personal possessions.
Offers Remote Access to your Living Space
With a reliable home security system, you can quickly switch to the live feeds of your CCTV systems to find out the situation of things at home. This feature can be quite useful when you keep an eye on your kids or aging parents. Depending on the security system's capabilities, you may also be able to control the alarm system, door access, lighting, and so on from a remote location.
What are the Types of Home Security Systems?
The type of security system you install will greatly influence how your living space is protected. There are two main types of home security systems, and each of them has a unique set of features. They include;
Wired Security Systems
The different parts of this type of security system, such as the control panel and sensors, are connected with physical wires. Often, the system will be connected directly to the building's power supply. Therefore, you won't have to worry about recharging your equipment or replacing batteries regularly.
However, these systems may leave too many wires lying on the wall. In some scenarios, these wired connections can make your home look rowdy and disorganized. Exposed cables are also prone to damage by people, wear and tear, or environmental conditions. Finally, the installation of these types of systems is usually costly.
Wireless Security Systems
Unlike wired systems, these security devices are connected, and the control panel uses radio transmitters. These security systems don't come with wires. Hence, their installation and disassembling process are easier. Some wireless systems are also designed to integrate smart home features and control them remotely.
Take note that you will have to recharge or replace the batteries of these security devices after some years of usage. Also, the radio frequency transmitters have a limited range and can get blocked by too many obstacles.
FAQs
What is the cost of a home security system?
The cost of your home security system will depend on the type of system you want to install, your preferred devices, and the charges of the installation company. On average, the installation and purchase of reliable home security systems range between $250 – $1,100.
Are our home security systems worth it?
Without any doubt, a home security system can deter crime and give you a better chance of catching any invaders that break into your property. Burglars are less likely to attempt a break-in if they can identify a security system in place.
Conclusion
And there you have it. These are your best bet to install reliable security systems on your property. While these systems are not compulsory, they offer you a lot of value for your money. They also give you a lot of confidence when you have to leave the house for some time. You don't have to be the victim of a break-in before you think of protecting your home. The best step is to be proactive. If you're looking for the best home security systems in Singapore, go through the article's contents above.
Like this Article? Subscribe to Our Feed!
At Dumb Little Man, we strive to provide quality content with accuracy for our readers. We bring you the most up-to-date news and our articles are fact-checked before publishing.