5 BEST Home Cleaning Services in Singapore 2023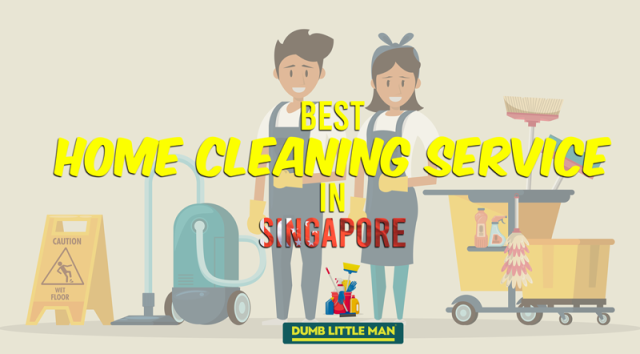 Everyone wants to live in a clean home. However, finding the time to actually clean that space as thoroughly as possible is not always that simple. Whether you are busy at work, spending time with family, or doing anything else, you don't want to spend your precious time deep cleaning or spring cleaning.
Well, this is where the idea of getting a home cleaning service comes in. These are basically professional cleaning services in Singapore that will provide high-quality house cleaning so that you don't have to go through the stress.
But how do you know which spring cleaning services in Singapore to trust? Well, no need to worry because this review will break down some of the best home cleaning services in Singapore, what they offer, and some of the pros and cons you should expect from them.
5 Best Home Cleaning Services in Singapore
5 Best Home Cleaning Services in Singapore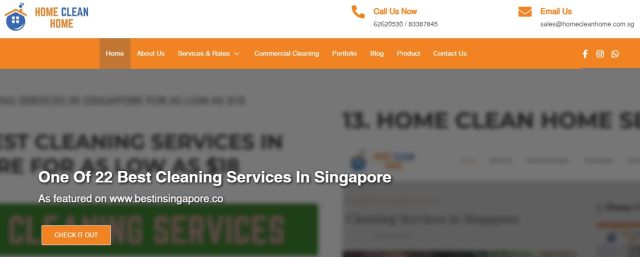 Home Clean Home is a leading commercial and residential cleaning service that works all across Singapore. The firm has a team of highly experienced experts and a proven track record in the market of offering the best house cleaning service.
Whether you are looking for deep cleaning services, a weekly cleaning service, or even some specialized cleaning service for your home or place of business, Home Clean Home will be there for you. The firm is also available for work on short notice and would be a good option for people who need emergency cleaning services within the shortest time possible.
Services Offered
As a top-rated deep cleaning service provider, Home Clean Home offers an array of unique cleaning solutions for its customers. Here is a breakdown of some of these services:
Deep Cleaning Services for home, office, or place of business
High-quality curtain cleaning services are also offered here.
You will also be able to get comprehensive grout cleaning service for your kitchen
Mattress cleaning service is also available as part of the package
Professional disinfection and sanitization solutions
Pros and Cons
In case you are thinking of trying out the service offered by Home Clean Home, there are some pros and cons to note. Here they are, starting with the pros.
Pros
Offers a superb variety of cleaning services
Can cater to both commercial and residential clients
Incredible pedigree in the cleaning sector in Singapore
Available for work on very short notice
Cons
No info on the website regarding insurance coverage for cleaners
A bit pricey compared to other cleaning services on this list
Pricing
The amount of money you will pay to have Home Clean Home help you depends on the service. If you are looking for basic cleaning or some general cleaning, rates start from $280. As for post-renovation cleaning service, the rates start from $350. On the other hand, spring cleaning will cost you around $380, while end of tenancy cleaning will require $340. You can also get a direct quote from the firm for other specialized cleaning services.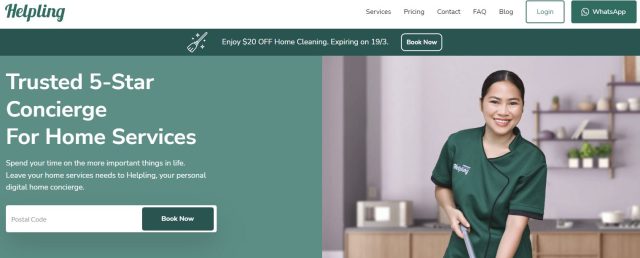 Helpling Singapore is a concierge cleaning service that brings together a database of some of the best cleaners around. So, here is how it works. If you need any cleaning help, you just head over to their site and key in your postal code. The service will then match you with someone who is nearby, and if you are happy with their profile, you can book a visit.
The firm says that all these cleaners in the database are pre-vetted so that you don't have to do this on your own. If you are looking for low cost one time house cleaning or marble polishing, the service will be quite ideal for you.
Services Offered
Helpling Singapore offers an incredible variety of cleaning solutions. Here are some of the most popular services here:
Post renovation cleaning solutions
General cleaning and spring cleaning service
You will also get sofa-cleaning services
Car cleaning is included in the package
Carpet cleaning is also available for customers
Pros and Cons
Like any other one-time cleaning service provider, Helpling Singapore has its fair share of pros and cons. Here they are:
Pros
Allows you access to a huge pool of concierge cleaning solutions
You can negotiate directly with cleaners for the best possible date
One of the most affordable cleaning services out there
Cons
The pre-vetting process of cleaners is not clear
No info about liability protection for the homeowner on the website
Pricing
The rates at Helpling will typically depend on the service. For regular house cleaning on a weekly basis, the rate starts from $25 an hour, while onetime cleaning will cost you $$28 an hour. Please also note that the final price will also depend on the size of your house and whether indeed you need any additional specialized services.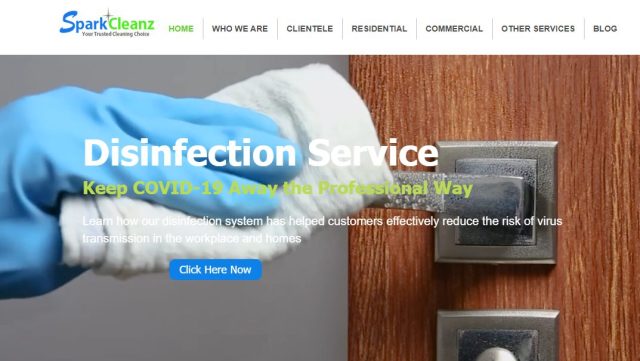 Sparkz is a home and office cleaning service that ranks as one of the most experienced entities in the market. In fact, since its inception, the firm has offered cleaning solutions to nearly 20,000 premises, with nearly 10,000 happy customers.
Sparkz also maintains the highest cleaning standards and offers a broad set of services that will ultimately make your house cleaning chores much easier. Sparkz has also managed to amass so many decent customer reviews as well and offers some of the best rates in the market. You will also get safe cleaning products and supplies from this provider.
Services Offered
Industrial cleaning services for heavy-duty commercial premises
Specialized condo cleaning service
Move-in and end-of-tenancy cleaning solutions
Upholstery cleaning services are also offered, including mattress cleaning
Pros and Cons
The pros and cons associated with Sparkz cut across many areas. Here is a breakdown of each of them:
Pros
One of the most experienced cleaning companies in Singapore
Proven track record in the market with over 20,000 premises cleaned
The cleaning company offers very decent rates compared to its peers
Easy to use site with quick service booking and dedicated customer support
Cons
The variety of services available is not that huge
We did not see any info about customer reviews and testimonials on the website
Pricing
Sadly, SparkZ does not provide any detailed information on its website about pricing. In case you would love to know how much they charge before getting a service, you will need to ask for a quote based on the service that you are looking for. Nonetheless, we don't think the pricing is out of touch with other firms on this list.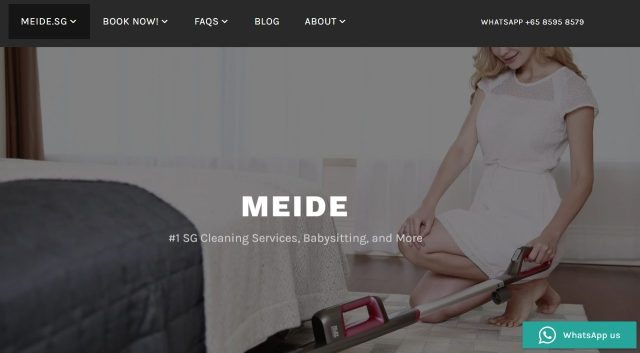 MEIDE is a comprehensive home care service that offers some incredible services. In addition to cleaning, the firm also has specialized babysitting services as well. But if you want a full-time maid instead, you will also be able to work with MEIDE to get this done.
The service also boasts some positive customer testimonials on its website and has maintained that it is the number 1 cleaning company in Singapore. You will also be able to get very affordable rates too, dedicated customer support, and a secure booking system that is so easy to use.
Services Offered
Baby-sitting services are included here
You can also hire a full-time or a part-time maid
General cleaning services and spring cleaning
Specialized cleaning sessions, including air con cleaning, mattress cleaning, and other additional services
Pros and Cons
Despite its decent reputation, MEIDE has pros and cons. Here is the main list of these:
Pros
You get a baby sitting service as part of the package
The company also includes a maid if you want to
The rates for general cleaning services are quite affordable
The booking system is secure and highly private
Cons
No info on the website with regard to pricing
Not a fully dedicated cleaning service
Pricing
Information about cleaning costs is not available on the MEIDE website. In fact, to be able to know how much money you need for a given service, you must use the secure booking system to get a quote. The good news is that you will often get these quotes in less than 24 hours so that you can plan accordingly.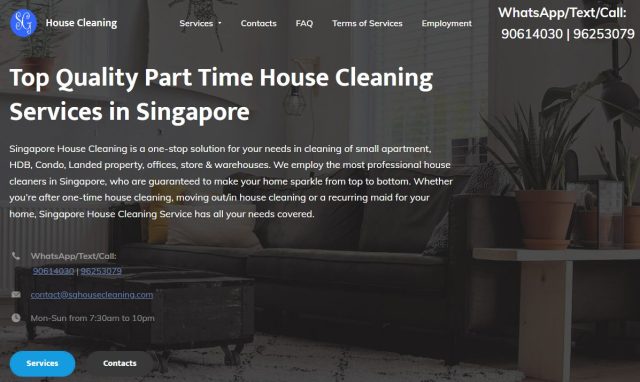 SG house cleaning is a one-stop shop for folks looking for an array of high-quality cleaning services. The company operates 24/7 and is often ready for quick and emergency cleaning services if need be.
In addition, you will get specialized cleaning, a state-of-the-art customer support team, and a simple, easy-to-use website. There is also a weekly house cleaning service for folks who may want these solutions on a more regular basis. SG House cleaning is designed for people who are looking for a stress-free services and affordable options as well.
Services Offered
General and spring cleaning sessions

Ironing services are also included in the package

Weekly cleaning for both residential and commercial establishments

Post tenancy and post renovation cleaning solutions

Moving in cleaning & moving out cleaning

H I P (Home Improvement Programme) upgrading cleaning
Pros and Cons
Like all the firms we have discussed above, SG Cleaning Singapore also has its fair share of pros and cons. Here are some of them:
Pros
Offers a quick booking system to get you up and running quickly

The firm offers a huge diversity of services for both homeowners and business owners

The company has a superb customer support team
Cons
It's hard to get the appointment to schedule your house cleaning as it's always fully booked unless you do not book 2 to 3 weeks in advance. Company needs to increase more manpower.
Pricing
The cost of service at SG house cleaning entirely depends on what you want. For those of you who want to get a one-time cleaning service, the rates start from as low as $130 for the entire service.
However, in case you need weekly house cleaning, you will pay $400 per month (4 hrs of 4 cleaning sessions) for the service. Please keep in mind that this involves deep cleaning as well. SG house cleaning also offers an ironing service that will take you back $30. They are a bit on the higher side compared to other house cleaning services but prices are reasonable if you are looking for good quality cleaning service.
How We Choose the Best Home Cleaning Services in Singapore?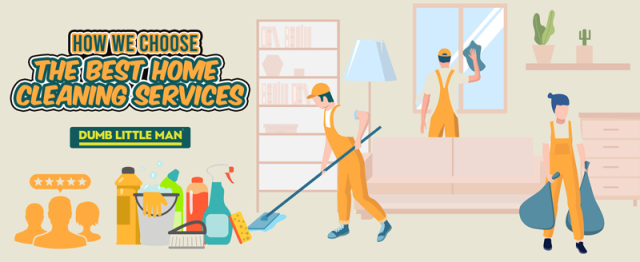 When we started working on this review, we analyzed home cleaning service providers based on several key metrics. First, the team looked at the kind of services offered. Cleaning companies that offer a broad package of services that include things like marble cleaning, a one-time cleaning service. Carpet shampooing, marble polishing, and other specialized cleaning tools were ranked much higher on the list.
The team also sort to look at the overall pricing of the general cleaning services offered by these firms. While cost is not always a big deal, firms that strived to offer a comprehensive cleaning session at good prices were ranked higher.
The team also looked at the availability of these firms. In fact, a company's ability to offer regular house cleaning and ad hoc services was a crucial consideration in making this list. The team also looked at how timely these regular cleaning services are offered, the type of tools and cleaning supplies used, and the professional nature of the folks involved.
Important Things to Know before Hiring a Home Cleaning Service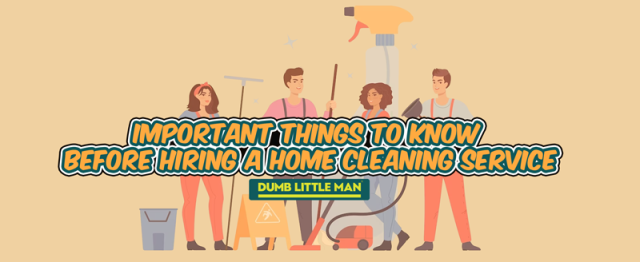 There are several factors that you need to consider before hiring a cleaner. This will help you get very high-quality service. First, make sure the firm has a proven track record of offering top quality cleaning solutions and other services.
You may also want to know that the cleaning company you have chosen uses the best and safest cleaning agents. The type of cleaning products matters a lot and will determine how effective the cleaning process will be. Also, try and choose a company that has ad hoc services. This allows you to call them anytime in case you need emergency cleaning sessions.
Additionally, check out the pricing, turnaround time, and reviews of former users. The last thing you need is a party cleaning and aircon servicing firm that charges you too much money for the work. You don't need to break the bank to get high-quality cleaning. There are many companies that can offer grout cleaning and one-time house cleaning services in Singapore at very affordable rates.
Advantages of Using a Home Cleaning Service
Using a professional house cleaning service with a trained service crew has so many benefits. First, it saves you a lot of time. Remember your preferred cleaner has all the equipment needed to get the job done. Whether you are looking for steam cleaning, steam mopping floors, ad hoc cleaning services, or even normal household chores, you will have a team standing by to get this job done as fast as possible.
In addition to this, using a professional cleaning service is stress-free. Imagine having to spend your day mattress cleaning or dealing with stubborn stains. This is just too much stress. However, with pro services, you will save yourself a lot of trouble.
Finally, you get more from professionally trained cleaners than just the cleaning service. In fact, most of these firms offer additional services, including disinfection service, stain removal, floor scrubbing, residential cleaning, and so much more. In the end, you will save a lot of money on cleaning chores.
Conclusion: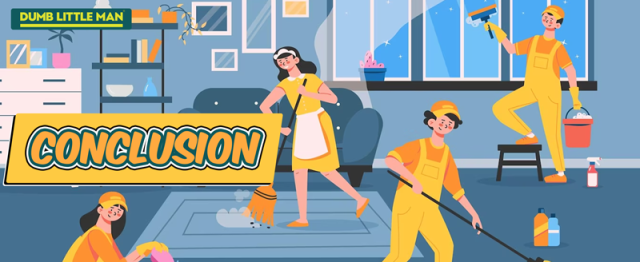 Getting a cleaner that you can trust is not always easy. Remember, these are people who you will be letting into your home, and as such, it is important to take all the measures needed to get the best service. The key, however, is to always focus on solutions that work for you.
Whether you are tight on budget or perhaps you have special cleaning needs, always go for a service that can meet your needs and your budget. Now, from the list above, we would recommend Home Clean Home, but the other four are still decent high quality options that will deliver the best cleaning for you. And besides, if you are unhappy with your service, you can always change it.
Best Home Cleaning Services in Singapore FAQs
Do cleaning services offer a trial period?
This will depend on the type of cleaning and the company itself. For folks looking for commercial cleaning services like office cleaning and others, you may get a trial run. However, for residential cleaning services, including things like window cleaning, upholstery cleaning, and others, a trial run is not needed.
Do I pay for a cleaning service in advance or after the cleaning is done?
This will often depend on the cleaning service you are using. Some firms may require that you pay in full before the cleaning equipment arrives, while others don't mind getting paid after the job. There are also some Singapore house cleaning services that will ask for partial payment before starting.
Should I tip a house cleaner?
Well, it's actually not mandatory to tip a house cleaner. However, it is considered common practice to tip someone, especially after post-renovation cleaning and other deep cleaning jobs.