7 Best Eye Cream for Dark Circles • Top Under Eye Products of 2023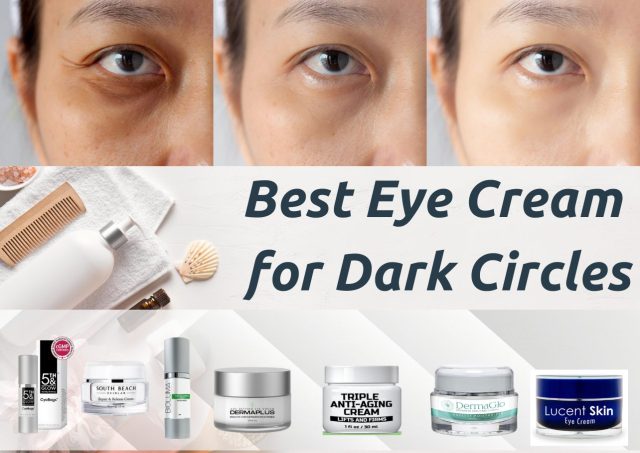 As time progresses, our skin loses its charm, and blood vessels become more visible. Our under-eye area has sensitive skin and is forty percent thinner. It develops dark tear and hollowed regions that appear as baggy/puffy eyes and dark circles.
In this case, under-eye creams could be a game changer.
Lifestyle, genetics, sleeping pattern, UV, allergies, dehydration, and skin-prone disease can be reasons for dark circles, but a more specific and common cause would be aging. Eye creams can counterbalance these factors, so you must pick and choose the correct formula-boosting products.
Best Eye Cream for Dark Circles 2022
The market is flooded with products that balance under-eye oil glands, muscles, bones, and veins and limit bagginess, wrinkles, bags, and discoloration, with Vitamin-C, retinol, or related formulation. But what can give you skin therapy for a younger, fresher look? Let's have a look at the best eye creams on the market.
7 Best Eye Cream for Dark Circles: Detailed Insights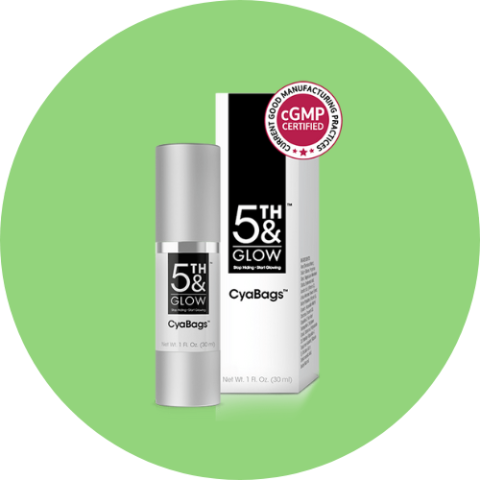 A speedy line and wrinkle smoother inclusive of anti-age ingredients. 5th and Glow CyaBags instantly smoothes away the appearance of fine lines and wrinkles, bags under the eyes, mouth area forehead lip décolleté. It can be used to reduce mature skin appearance. You can look younger within minutes with increasing firmness in just seconds.
Eye bags are caused by a slow-working lymphatic system or blood flow disruptions. They are mainly due to toxins in body tissues, which accumulate due to disrupted blood flow, sleeping cycle, or stress, causing puffy eyes and dark under eye circles.
The super combination of Vitamins A, C, and E with Hyaluronic acid in this product helps the skin barrier and improve its texture for a more youthful look. It reduces lymph eye bags through increasing collagen and tissue repair, lubrication, firmness, elasticity, and anti-oxidant effect.
Best Features
It is all organic, and its use is not limited to the eyes but anywhere you want a younger, flawless look while reducing pores.
cGMP certified and devoid of fillers, it includes a special Arnica Montana Flower ingredient that helps skin restoration by maximizing the anti-inflammatory effect
Who is it Best For?
For all skin types, dehydrated to sensitive skin.
People who require fast skin repair and wrinkles removed within seven minutes, and don't want to waste time preparing an anti-aging smoothie in the kitchen.
People hunting for a 365- money back guarantee and fast home delivery.
Pros
Time saver, works within minutes
Useful for both genders
Money-back is guaranteed and budget-friendly as compared to related products in the market.
Vital ingredients, not only for dark circles and puffiness, but also for removing skin bacteria
Grapefruit extract hesperidin is loaded with Vitamin C, which gives an instant youthful glow.
GMP Certified
Cons
Availability only through online ordering
Product delivery is prolonged
Don't give a permanent solution
Allergic reaction to sensitive skin is possible
Price
Starter's Pack: $49.95: 1 bottle
Value Pack: $119.95: 3 bottles
Bundle Pack: $199.95 6 bottles (Recommended)
Shop at 5th and Glow Cyabags Official Website
Full Article : Cyabags 5th and Glow Reviews 2022: Does it Really Work?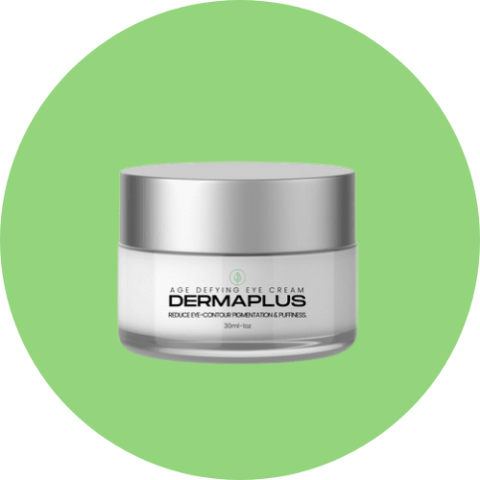 The product is designed to reduce puffiness and prepare the skin for eye makeup, smooth out rough patches and increase its staying period, as makeup on dry skin can give a cakey appearance.
DermaPlus contains Calendula Officinalis flower extract and works in the following ways:
Helps thirsty skin
The optimal hydrating formula reduces the visible stress on the eyes and skin by increasing hydration and collagen production.
Provides sun protection
The SPF-formalized product helps reduce cell degeneration properties of cells and increases protection against UV rays from the sun.
Helps fight anti-aging
Boost-up water retention property that reduces crow's feet, fine lines, and dark circles
Best Features
Reduces wrinkles, fine lines, puffy eyes, and dark circles
Who is it Best For?
For women in their late 20s: when skin proteins start degenerating, and skin is inclined towards developing wrinkles
For women aged 30 and above: when the skin starts to lose its elasticity, primarily due to hormonal changes
Pros
Sun protection rich cream through SPF
Extremely gentle on sensitive skin
Affordable price range
Refund policy available
Long-lasting effect
Cons
Can only be purchased online
Visible results may appear after three weeks for skin elasticity
Price
Basic Offer: 1 Jar

: $109, $20 available for one-time purchase

Most Popular Offer: 3 Jars: $327, $90 discount available for one-time purchase
Best Value Offer: 5 Jars: $545, $200 discount available for one-time purchase
Shop at Dermaplus Official Website
Full Article : Age-Defying Eyecream DermaPlus Reviews 2022: Does it Really Work?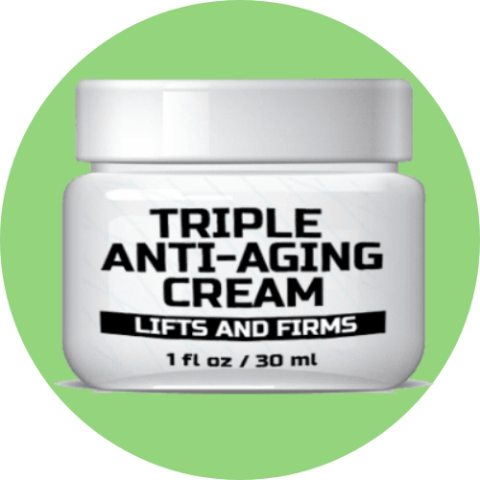 Triple Anti-aging cream encapsulates a breakthrough formula that delivers collagen molecules directly to the skin, while other products have conventional formulas for providing only large fragments of hydrolyzed collagen. The product's serum revitalizes and refreshes the skin through its peptide-rich formulation.
The following ingredients are used in the product:
Shea Butter
Extracted from shea tree nuts, shea butter has anti-inflammatory, healing, and emollient properties. These act as age defiant by providing a moisture barrier and reducing collagen breakdown in the skin.
Glycerin
Glycerin is known to be a humectant, meaning it magnetizes water molecules from air into the skin and is made from natural fats. As a result, it helps repels the early development of wrinkles and fine lines.
Water
Water is the principal constituent of our skin. Therefore, as a significant ingredient of the formula, it helps to keep the skin cells hydrated and glowing.
Safflower Seed Oil
It contains linoleic acid that works as an antioxidant, restoring collagen agents and minimizing aging.
Best Features
The formulation helps to neutralize:
The appearance of wrinkles; through reducing fine lines and maintaining the elastin
Stress; prevents free radicals that can discolor the skin
Hydration; trapping moisture within the skin layer that prevents cracking
Who is it Best For?
The company claims that the product is best for people reluctant to undergo invasive surgeries, laser treatment, or painful IVs or injections.
People looking for instant yet responsive anti-aging treatment with sixty days of a money-back guarantee.
Pros
All products are natural
Long-term results
A smooth and even skin-tone with complete hydration
Discount coupons available on website
Cons
Results after three month period
Only available on website
Price
Free shipping only in US
1 Bottle: $49
3 Bottles: $129
6 Bottles: $222
#4. Finest Cream for Reducing Puffiness and Dark circles Instantly: Revitol Lucent Skin Eye Cream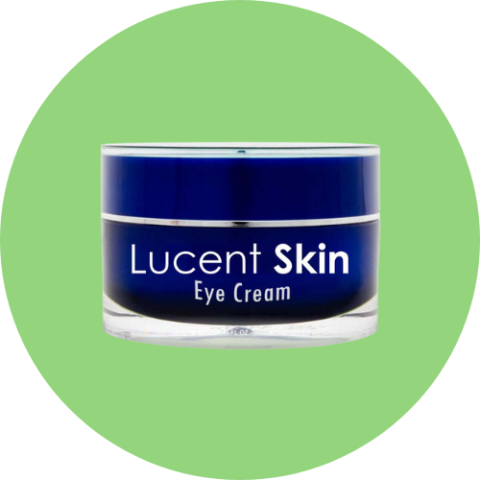 Revitol Lucent Skin Eye cream reduces bluish discoloration, thinning and tired bags under eye skin within three days of its application and target dark circles
The ingredients in the product contains:
Captex 8000
It is also known as Caprylic acid and manufactured through esterification of caprylic acid and glycerin present in vegetable sources including palm kernel. It reduces skin puffiness.
Wheat protein
Provides skin with glutamine which sustain skin moisture levels
Hyaluronic Acid
Helps to reduce wrinkles, scarring, lines and inflammation around eye area
Best Features
The best formula for a well-suited budget, approximately $40, with all natural ingredients, suitable for vegans/non-vegans.
Skin rejuvenation is all natural with peptide and collagen and has dermatological approval for daily usage.
Who is it Best For?
Suitable for all skin types; dry or aged, and can be applied twice daily for dark eye circles.
People who are in search for smoothing dermal texture with wrinkle-free under eye area.
If you are in the "no sleep" group due to any reason, it will provide you elasticity for your tired eyes and helps reduce puffiness.
The cream combines peptide-rich wheat proteins to stimulate collagen production and maintaining moisture level.Captex 8000 promotes elasticity and smooth skin. Plus, it has an eye-brighening blend that illuminates under-ear skin and helps reduce dark circles and puffiness.
Pros
Perfect for saggy eyes for every skin type
Gives a light touch to the skin and a well rounded eye cream
Abundantly available for purchase
Visible results after 3 weeks
Cons
May not contain directions for using the product
Not suitable for 18 years and younger
Adverse effect for excessive usage
Some consumers reveal blemishes after first use, so a patch test is necessary
Price
1 Bottle: $59
2 Bottles: $119 (Get 1 free)
3 Bottles: $179 (Get 3 free)
Shop at Revitol Official Website
#5. Best Cream for Reviving Skin at the Cellular Level: Bioluma Anti Aging Cream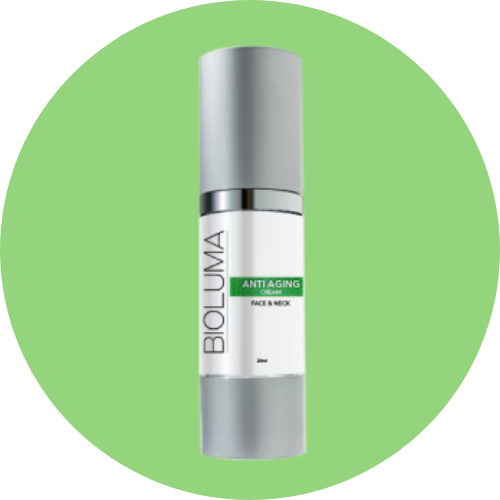 It is an oil-free anti-aging formula that cuts the aging cycle by maximizing skin hydration. In addition, it augments the moisture retention strength of the skin for controlling the signs of dullness and wrinkles.
Acmella Flower Extract in this product helps diminish wrinkles within two weeks and mimics a Botox treatment.
Following are the ingredients used in the product:
Green Tea extract
It fights DNA damage caused by UV light. Tannins and caffeine help to decrease puffy eyes and shrink blood vessels. Vitamins E and B2 regulate collagen levels in the skin.
Jojoba Seed Oil
It helps moisturize the skin by regulating sebum production and decreasing signs of aging and wrinkles.
Acmella Flower Extract
It helps in reducing facial muscle tension and imitates Botox treatment. In addition, it softens the skin and increases fibroblast activity for supporting collagen.
Best Features
Cream tones give an instant glow effect and quickly absorb into the skin without any "oily feeling" or heaviness.
It gives evident results in skin brightness while balancing skin tone and firmness.
Who is it Best For?
People with sensitive skin and pore-control issues, and are looking for a natural facelift.
Pros
Best eye cream for dark circle while controling sebum production
Helps constrict blood vessels and works at cellular level
Constructively act as an anti-age rich formula
Cons
Only available on website
Pricey as compared to similar products
Results vary due to skin texture
Dermatologists referral for hyper pigmented skin
Price
1 bottle: $139 per bottle, $89 after subscription
3 bottles: $119 per bottle (Free shipping)
Discount available on monthly subscription
Shop at Bioluma Official Website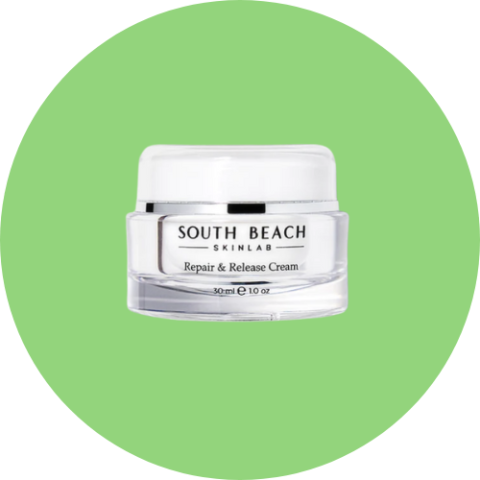 A day/night moisturizing anti-aging cream that innovatively diminishes wrinkles through peptide-combination for boosting elastin instead of reducing fine lines.
Made from sustainable ingredients that work beyond beauty
The powerful peptide ingredients include:
Matrixyl Synthe'6
The most potent lipopeptide that helps in stimulating cell-building components and replacing collagen-void areas
ReProage
It helps recover the cell's self-renewal capability for improving blemishes and mature skin and removes skin toxins for skin regeneration.
Snap-8
Decreases wrinkle formation due to muscle contraction around the eyes and forehead. It has a similar effect to the botox procedure.
Cocoa butter
Creates a moisture barrier in a non-greasy way and helps improve skin tone and elasticity
Argan Oil
Decreases skin inflammation and increases the skin healing process
Best Features
Unlike most anti-aging beauty creams, South Beach Skin Lab Repair & Release Cream utilize peptide strength to eliminate wrinkles, rehabilitate the skin, and remove dark spots.
In addition, the formula is entirely natural and made from sustainable ingredients, suitable for vegan people.
People have reported a noticeable decrease in wrinkles and crow's feet within the first four weeks of its usage.
Who is it Best For?
For all skin types and is completely non-irritating, especially for people above 40 years and consumers hunting for 30-day money-back guarantee
Pros
Protection against UV
Repair damaged collagen
24 hours wear, can be used as night cream
Refunding policy
Brighten dark circles through high moisturizing effect
Cons
Only exclusive online
May face supply-chain issues and delayed delivery for customers
Price
Single: $47 for one time purchase
Most Popular: $ 47/bottle on 3 months subscription
Best Value: $39/bottle on 5 months subscription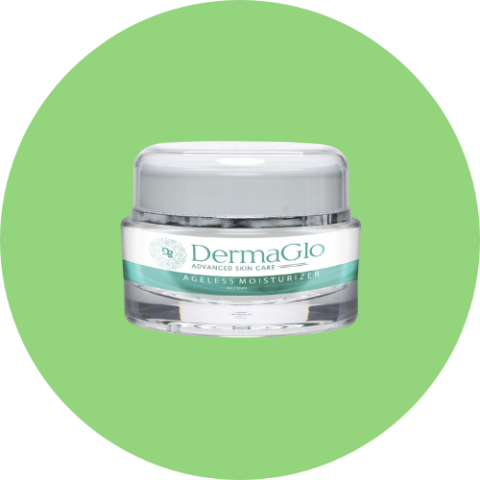 The Derma Glo product has exceptional absorbing capability compared to its competitors in ageless skin moisturizers.
The main ingredients include:
Purified water
It is the baseline for the product
It helps in removing all impurities and stabilizing mineral content on the skin. Hard water is used in typical households for washing faces that cause dry, scaly and thin skin. Purified water helps to retain the natural oils of the skin.
Acetyl hexapeptide-38
It helps in the retreating aging process through supporting delicate skin cells and tissues that can improve the overall skin appearance.
Caprylic/capric triglyceride
It is extracted from coconut oil and glycerin
It functions as an antioxidant and is an active replenishing ingredient that prevents moisture loss from the skin and keeps the skin hydrated.
Corn oil
Vitamin E in corn oil makes the skin moisturized, bright, and smooth
Best Features
Its extended and lasting moisturizing capability for keeping hydration level, brightening skin and complexion
Removes dullness for younger-looking skin and can be easily integrated into a daily skin routine
Who is it Best For?
For all skin types
It has zero side effects for sensitive skin-type with no fragrance.
Pros
Best hydro-powered formula for anti aging creams for dark circles
Free risk sample is provided
Deep penetration at skin cells
Works well as a concealer
Cons
Only online availability
No return policy
Price
$32 for one-time purchase
>> Related Article: 5 Best Anti-Aging Supplements • Top Face and Body Skin Enhancer Products of 2022
How We Rank the Best Eye Cream for Dark Circles ?
Contrary to popular belief, eye creams have different formulations from moisturizers. What's the reason? The skin around and underneath eye areas and around them is much thicker and it is so fragile it may lose collagen. These proteins help in keeping skin smooth and elasticity. Dermatologists recommend using eye creams from your teens for preventing eye problems and under eye bags.
When it comes to ranking eye creams, there are a lot of factors to consider. But if you're specifically looking for an eye cream that can help with dark circles, a few things need to be considered:
1. Active natural ingredients
Skin wellness dermatology suggests you will want to look for an eye cream with natural brightening ingredients, such as vitamin C, retinol or cucumber extract, which helps reduce the appearance of dark circles over time through antioxidant protection.
Skin peptides are also effectual ingredients that include amino acids essential for retaining elastin and boost collagen production.
Hyaluronic acid: a natural greasy component that provides resilience
All natural ingredients have almost no side effects and are suitable for all skin-type.
2. Texture
The texture of eye creams matters, as they should be refreshing and have a lightweight formula. Light textured eye creams would be beneficial when applying makeup, depending on your skin condition.
Whereas thick consistency would benefit when applying a night eye cream that could have a prolonged effect for your puffy skin.
3. Budget and size
Every eye cream has a cost per ounce and a specific price for its size. Hence for a daily skincare routine, it should be budget-friendly.
Conclusion
Eye cream is necessary for anyone looking to reduce the appearance of aging skin around their eyes. Dark circles, puffiness, and fine lines are all common problems that can be treated with a suitable eye cream.
We've reviewed 5th and Glow Cyabags as the top recommended eye cream to treat dark circles for its perfect combination of Vitamin C, E, and Hyaluronic acid that helps in skin restoration and collagen repair for increasing under-eye skin firmness.
But some of the factors you should consider are: First, consider your budget – some eye creams are more expensive than others. Second, decide what ingredients you want in your product – not all eye creams contain caffeine or peptides that help to reduce the appearance of dark circles or thinning skin. Finally, take into account any allergies or sensitivities you may have.
Once you've considered these factors, it's time to start shopping!
Click here to get 5th & Glow Cyabags at a Discounted Price
Eye Cream for Dark Circles FAQs
What is the best eye cream for sensitive skin ?
Age-Defying Eye cream Derma Plus. It is top-notch hydrating eye cream for sensitive skin due to the presence of Calendula Officinalis flower extract.
Not only it hydrate skin and reduces visible stress on the skin but it also acts as a brightening eye cream through UV protection
Which eye cream has the fastest turnover?
Revitol Lucent Skin eye cream. Visible results are seen among within three days of its first use, as reviewed by its consumers. It helps to perk up the moisture level of the skin while reducing fine lines and adjust the uneven darker skin tones and pesky dark circles.
Which repair cream has the most sustainable ingredients?
South Beach Skin Lab Repair & Release Cream. All ingredients are extracted from natural products and their ultimate peptide combination stimulates cell renewal and avoid skin degeneration.
It is most suitable for delicate eye skin.