Age-Defying Eyecream DermaPlus Reviews 2023: Does it Really Work?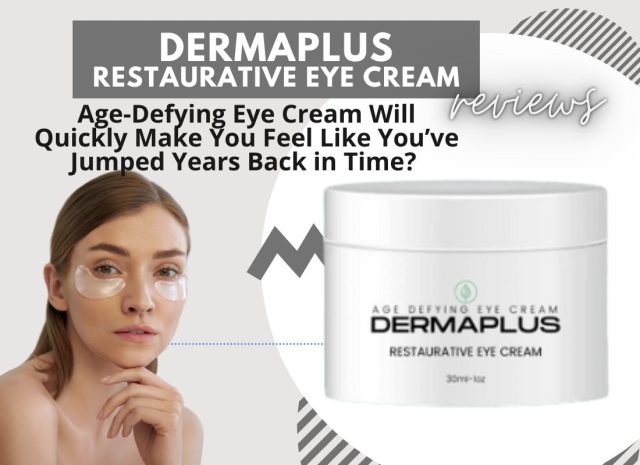 "Derma plus gently supports the delicate eye area with its all-natural and time-tested formulation."
Our eyes are said to be the windows of our soul. But then, some of us have been neglecting the frames. Others may argue the importance of eye creams when they already got a dedicated moisturizer.
Eye cream is different from face lotion or moisturizer. As the skin around our eyes is way thinner, it is one of the first parts that show signs of aging. As soon as you hit your 20s, your skin proteins start declining by 1% each year.
Eye bags, dark circles, and fine lines on your eye area can also be triggered by free radical damage, stress, fatigue, or allergies. If you want to prevent the early appearance of eye wrinkles, start using an eye cream.
DermaPlus Age-defying Eye Cream is said to be one of the best hydrating eye cosmetics available in the market today. If you haven't heard about this product before, this review will scrutinize the product details and the anti-aging benefits it offers.
DermaPlus Reviews: Product Overview


| Product Name | Form | Description | Price | Official Website |
| --- | --- | --- | --- | --- |
| Age-Defying Eyecream DermaPlus | Anti-Aging Eye Cream | DermaPlus Age-Defying Eye Cream is formulated with all-natural ingredients that keep the eyes moist to fight visual signs of aging. | Depends on the package | |
Amazing reviews from Customers- Find out what they said!
"Although nothing short of a time pod will get rid of the crinkles at the corners of my eyes (acquired through a lifetime of smiling and laughing, so I don't mind them that much), this very reasonably-priced product is emollient and soothing. When I tap gently on my undereye area halfway through the day, the cream still feels "on," forming a gentle barrier between my skin and the harsh sunlight and equally brutal air-conditioning of my South Florida climate. Furthermore, although it's "all-natural" it doesn't have the sometimes slightly rancid smell of so many scent-free products."—Ms. Colibrina
"As a typical single mom, I rarely get enough sleep, and sometimes it shows under my eyes. Dark circles, fine lines, and puffiness. Well, I have found a secret weapon in this affordable eye cream. You can see the immediate difference even after one use, your eyes just come alive! I just love the way I feel when I use this cream as though I'm aging backward. :)" —Nubian
"It is a very nice eye cream; I bought this three times for my mother, my sister, and me. We all applied it continuously and got the results within 2-3 months. All black kinds of stuff just behind my eyes smoothly disappeared. Another good thing is it is made of all naturally available substances which are healthier than artificially prepared cream that can damage your skin and eye after a prolonged period of use."—Chamilia
"I am not a fan of creams but I've been using this cream for about two weeks. I love the feel of it and how it goes on. It moisturizes really well and I've started to notice a small impact on the dark circles under my eyes. I'm confident over a longer period of use, I'll continue to see more improvement."—Jaura
"I have been a repeat customer for years and DermaPlus is the best! There is room for improving the product like scents and more BUT THIS PRODUCT WORKS! I stopped using this product for a few months and I noticed the deepness of the undereye circles and the amount of bags that came back. I remembered why I started using this in the first place! Within a week or so, using daily and sometimes twice daily (when I remember) has reduced the darkness and taken care of the bags – I can't go without this stuff!"—Judith N.
Click Here For More Age-Defying Eyecream DermaPlus Customers' Testimony.
What is DermaPlus Eye cream?

Derma e products are known to use only all-natural ingredients in their formulation. This anti-aging eye cream is no different. It is specifically designed to rejuvenate the delicate skin under the eyes leaving skin feeling soft and hydrated.
It comes with powerful anti-aging peptides technology that revolutionizes the skin to achieve radiant-looking eyes. It does not contain any artificial components or synthetic additives making it fragrance-free and toxic-free.
It is a non-GMO and vegan certified product. It is also GMP certified facility. Each Derma e-product is processed in high-standard quality control to prevent easy container breaks. Together with other Derma e products, the packaging is well-sealed to prevent the product exposed to contamination.
Derma e products including this DermaPlus anti-aging eye cream are never tested on animals, making it a cruelty-free formula. It is hypoallergenic and protects sensitive and dry skin from itching, inflammation, or irritation.
How does DermaPlus work?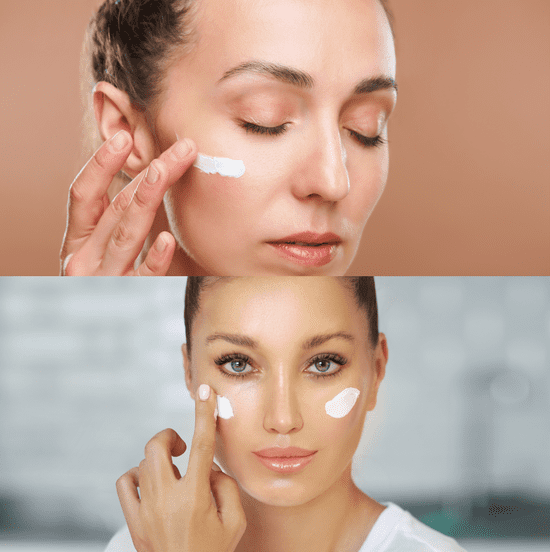 Even if you think you don't need it yet, anti-aging eye cosmetic is a preventive measure in keeping your skin soft and firm. Learning how DermaPlus hydrating eye cream works might change your view about this anti-wrinkle cream.
Anti-wrinkle properties
DermaPlus anti-aging cream is curated with antioxidants green tea, vitamin e, and anti-wrinkle properties that lessens the appearance of fine lines and wrinkles. This peptide-infused eye cream support collagen production to make skin firmer and diminish under-eye wrinkles and lines.
Hydrating ingredients
Dehydration and environmental stress are one of the many reasons for having dull, tired, and dry-looking skin. DermaPlus works differently from other anti-aging eye cosmetics with its moist-giving ingredients. The amounts of botanical ingredients are strictly calculated to provide the right concentration for optimum effect.
Prepares the skin
Makeup contains elements and irritants that can cause sagginess to the skin around the eyes. DermaPlus works wonder with eye makeup. It does a great job of smoothing the skin and lessening the appearance of dark spots and puffiness to achieve a healthy-looking tone.
How to apply DermaPlus Anti-Wrinkle Cream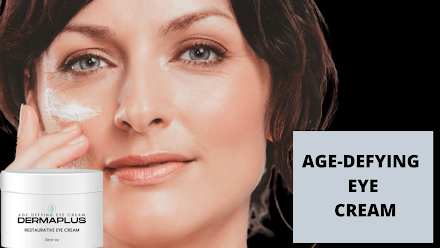 DermaPlus is easy to use and apply. All you need to do is to follow these simple steps to make it more enjoyable:
Apply a pea-sized amount of DermaPlus into the area below and around your eyes using your ring or middle finger. Focus especially on areas with visual signs of eye bags, wrinkles, and dark circles.
Gently massage this double-action eye cream into the delicate skin that surrounds your eyes. Start in the innermost corner and move outward. Avoid your bottom eyelashes when applying the cream.
Incorporate DermaPlus in your evening skincare routine or in your morning skincare regimen. You may re-apply as you wanted.
Enjoy the amazing results!
Click Here to Know More About Age-Defying Eyecream DermaPlus.
What are the Benefits of DermaPlus?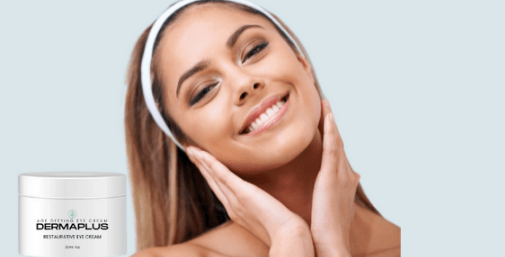 DermaPlus has an advanced youth-preserving formula combining antioxidants and vitamins that are best in reducing even the deepest wrinkles and laughter lines. It also keeps the skin hydrated with its hydrating components mainly hyaluronic acid which also improves skin texture.
There are plenty of reasons why you should try DermaPlus. To name a few, here are some of them:
Fights the signs of aging
Calendula Officinalis flower extract is the key ingredient of this anti-aging eye cosmetic. It promotes skin firmness through boosted collagen production. It also helps the skin's ability to retain water. This means fewer lines or crow's feet issues.
Boosts sun protection factor
DermaPlus works not just as a typical eye cosmetic but also as a sun protector, too. With its skin cell regenerating properties, it can work alongside your SPF for optimum protection.
Reduces puffiness
DermaPlus tempers the fluid buildup that mainly causes puffiness. The younger an individual starts to exhibit puffiness, the earlier the indication that there might be a hereditary component.
Strengthens the skin
DermaPlus contains vitamin C and peptides that are both established ingredients for their age-defying benefits. Vitamin C decreases cell damage and accelerates the healing process of bodily wounds. It plays a vital role in the age-defying process as it boosts the body's natural collagen synthesis.
Removes dark circles
Dark circles begin as a result of smoking, sleep deprivation, stress, and are triggered by UV exposure. Derma e anti-aging eye cosmetic contains powerful peptides and vitamins that deeply nourish the eye skin. It also provides instant whitening effects upon applying under the eye area.
Why is DermaPlus Effective?
There is a reason why just like other Derma e products, DermaPlus Age-Defying Eyecream is of the top-selling eye cosmetics in the market. The only reason is that it works.
DermaPlus has undergone various research and tests to ensure effectiveness. It is formulated with a collection of botanical extracts that are powerful and effective.
The formula has a tightening effect and firming benefits that enhances skin elasticity to smoothen even the deepest wrinkles and fine lines.
Compared with other famous brands in the market, DermaPlus contains a rich collection of organic ingredients whose benefits are backed up with science. It is also free of parabens, sulfates, and other toxins that cause harmful side effects.
Click Here to Get Age-Defying Eyecream DermaPlus at Discounted Price.
What are the ingredients in DermaPlus?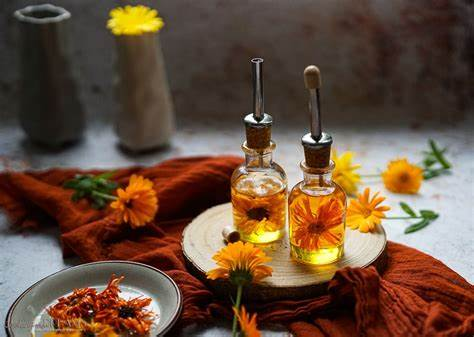 Though there is no magic extract that can completely stop the aging process, there are high-value botanical ingredients that can help slow down the process.
DermaPlus is packed with powerful components that offer both short-term and long-term benefits. Learn more about its amazing formulation:
Calendula Officinalis Flower Extract
As the main component of DermaPlus Age-Defying Eyecream, Calendula Officinalis offers various benefits that we did not know our skin needs. It helps prevents the appearance of fine lines and crow's feet, stimulates collagen production, and maximizes your cream's sun-protective qualities.
Sunflower Seed Oil
One of the good sources of Vitamin E that provides magnitudes of benefits is seed oil extracts from sunflowers. It also contains beta-carotene which is essential in fighting free radicals that can cause skin destruction.
Peptides
DermaPlus also contains powerful anti-aging peptides that constitute proteins to our skin. An application of the right amount of this peptide-infused eye cream can lead to youthful-looking skin. It will absolutely feel amazing to your skin.
Vitamins
DermaPlus contains various vitamins including vitamin B3, A, and E creams that provide crucial support in moisture retention that results in an even and healthy-looking tone.
Green Tea
This high-value ingredient contains potent antioxidant power that soothes and protects under eye area and keeps the eye skin looking fresh.
Who is DermaPlus best for?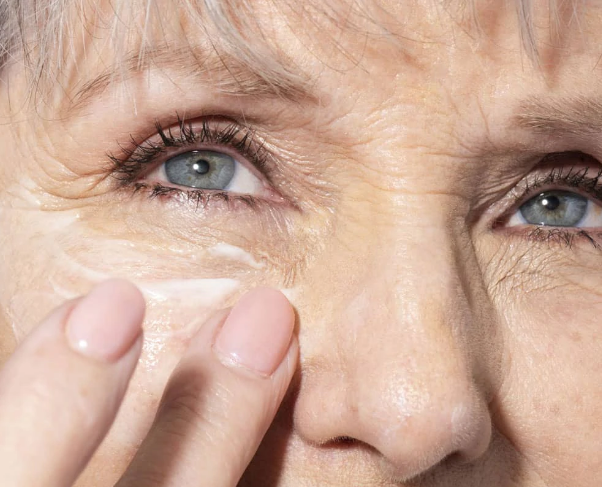 DermaPlus Age-Defying Eyecream is designed for those in their 20s and above. It is especially great for individuals who are looking for ways to lessen wrinkles and prevent the appearance of dark circles, fine lines, and puffiness.
Normal usage will be nighttime after bed bath or morning time after showering. You may also use it both in the day and night time for quicker results.
DermaPlus is safe to use even for pregnant women and lactating moms. However, it is always wiser to consult your doctor to address specific questions and health inquiries.
DermaPlus Pros and Cons
| Pros | Cons |
| --- | --- |
| ✅ Gentle support to your vulnerable and delicate under-eye skin. | ❌ Derma e-products can only be purchased directly on their official website. |
| ✅ Boosts collagen production and reverse aging. | ❌ Results vary between individuals. |
| ✅ Protects skin from harmful UV rays. | |
| ✅ Affordable choice. | |
| ✅ Keep skin hydrated. | |
DermaPlus Cost and Discounts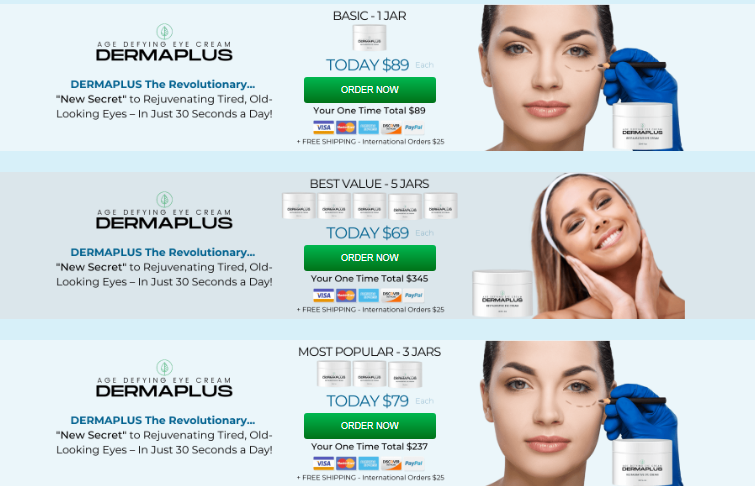 Click Here to Get Age-Defying Eyecream DermaPlus at Discounted Price.
DermaPlus offers various deals and discounts. You do not need to spend too much money to take care of your under-eye skin. Here are the packages they offer:
Basic Offer. For the introductory price, one jar of DermaPlus Age-Defying Eyecream costs $89. It offers a free shipping fee within the US.
Most Popular Offer. If you wish to purchase at least three jars of DermaPlus, you can get it for only $237. You will get a discounted price of $79 for each jar. It also offers a free shipping fee within the US.
Best Value Offer. If you are more enthusiastic and wanted to purchase at least five jars of DermaPlus, more discounts await you. You can get five jars for a one-time total payment of $345. You will get a discounted price of $69 for each jar if you purchase at least five jars. It also offers a free shipping fee within the US.
DermaPlus Refund Policy
If you are unhappy with the product, no need to worry. You can return it anytime within 60 days of its purchase.
The manufacturer offers a full-money refund even if you used up the entire jar of DermaPlus or not. This means you got two full months to see whether or not DermaPlus is the right product for you.
>> Related Article: BeautySkin Age-Defying Cream Reviews 2023: Does it Really Work?
Conclusion
The eye cosmetic market is saturated with products that promise to provide radiant-looking eyes. Make sure to be vigilant. Read reviews online or ask someone you trust for recommendations. But the wisest choice is to read the ingredient list and see for yourself what the product offers.
You do not need to spend too much money to take care of your skin. DermaPlus is one of the most affordable alternatives when it comes to age-defying eye cosmetics. Its fine-tuning formula has been proven effective by thousands of its users.
>> Related Article: 5 Best Anti-Aging Supplements • Top Face and Body Skin Enhancer Products of 2023
DermaPlus​​ Reviews FAQ
Are there any risks in using DermaPlus Age-Defying Eyecream?
DermaPlus is formulated with all-natural components thus it is generally safe for all. However, if you have allergies to some botanical extracts or other medical conditions, it is better to consult your doctor.
Do you need a prescription to get DermaPlus Age-Defying Eyecream?
No. DermaPlus is made available without a prescription from a dermatologist.
When will I see visible results?
With consistent use, you can see visible results in as early as 2-3 weeks of use. As skin conditions differ, others may take a longer time to see results.
Click Here to Get Age-Defying Eyecream DermaPlus at Discounted Price.