8 Top Productivity Apps for Your Smartphone Can Help Make Your Life Easier, More Productive and More Organized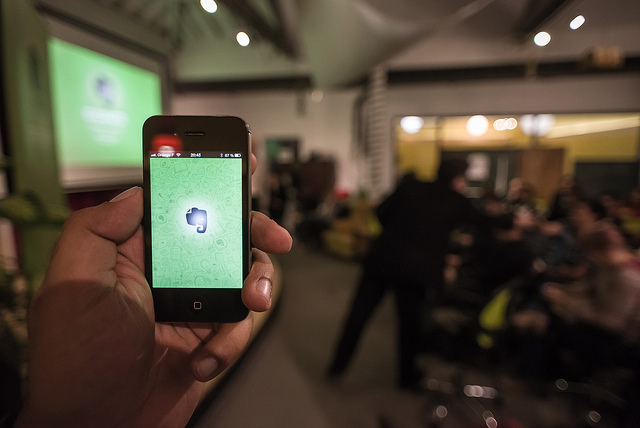 Are you so busy that you fear you could lose your head if it wasn't attached to your neck?  This list of eight top productivity apps for your smartphone can help make your life not only easier, but a lot more organized.
It's rather simple.  The more organized you are, the easier life is.
Just think about it.  It's a typical work day, and your schedule is particularly loaded with tons of tasks.  Not only are you overburdened, but you are also unorganized, making your day that much tougher.  So what happens?  You start to forget things.  Tasks that were absolute musts.  Forgetting them makes your problems grow exponentially.  Then the avalanche comes.
You thought your day was busy before?  Now it's even worse!  It's cleanup time.  The hour to correct all your mistakes.  Why did they happen?  Once again, a lack of organization.

You could just write everything down on a piece of paper and check things off as you finish them.  That definitely can help somewhat.  What happens if you lose that paper though?  Misplace it?  The day goes down the tubes, does it not?
There's no need to be so old fashioned when it comes to organization nowadays.  There are simply too many products out there that can take your organization to a whole other level.  Best of all, you can have them right on your nifty little companion that you call your smartphone.  These products that I'm talking about are apps aka applications.  Apps have been around for a bit, but they're becoming progressively more complex.  That's in a good way, of course.  Their functionality has become so impressive that the possibilities seem endless.  Nowhere is this truer than with productivity apps.
There are a slew of productivity apps on the market for all the major smartphone platforms.  Whether you have an Android phone or a shiny new iPhone, you can use these apps to help boost your productivity in a major way.  Think of them as mini personal assistants that don't require a major salary.  With that being said, here is a list of eight of the top productivity apps that you should seriously consider putting on your smartphone.
Yast
If there's one thing that most of us are guilty of, it's bad time management.  This is a total productivity killer, as you really aren't aware of just how much time you waste in a day by getting sidetracked.  A time tracker can add some much-needed discipline to your daily routine, and Yast is one of the top apps in this category.
Let's say you have various projects that have upcoming deadlines at work, and you need to allocate your time wisely.  You can do it with just a push of a button thanks to Yast.  What about projects where you have to work with others?  Yast can help with that too, as it also has a specific version that can be used for teams of people.  Beyond simple time tracking, you can also leverage the power of Yast to help with such tasks as report generation and the sharing of project details to keep others up to speed on your progress.  Until you actually measure your time spent on specific tasks, you won't know where you are lacking.  With Yast on your Android or iPhone, you can finally pinpoint areas where you need improvement to enhance your overall productivity.
Evernote
Evernote is probably one of the more popular productivity apps out there.  It works for both Android and iOS, and it really does live up to its catchphrase of "Remember Everything."  If you see something you like online or in the real world, Evernote lets you use your smartphone to take a picture of it, record audio, and any other notes and save them.
It's great for research, as you can collect information with ease and organize it into the app, no matter the format.  Travelers will enjoy Evernote's planning capabilities that will hold scanned travel documents, plans, itineraries, and more in a consolidated manner.  Lastly, if you want to share information with classmates or colleagues, you can do so with ease thanks to Evernote.
Skitch
The Skitch smartphone app for iOS and Android is all about collaboration.  In short, if you need to share feedback or important ideas, Skitch allows you to do it with the quickness.  Since it allows you to insert arrows, shapes, stamps, text, or highlights to PDFs and other formats, Skitch really is a solid tool for group projects.  Need to take a screenshot of something important and mark it up for a colleague?  Use Skitch.  What about highlighting crucial parts of a PDF for an upcoming presentation?  Use Skitch.  Whatever the case may be, if you need to share feedback but are crunched for time, use Skitch.
Have you ever been on the go and needed a document that you have saved on your home computer?  What do you do when you need to access that document but aren't near your computer?
Keep reading because there is an app that could be a life safer for you.
Dropbox
Have you ever saved important data to your computer at home, only to find out that you need it badly once you're out on the road?  I'm sure you have, and that's where the Dropbox app comes in to save the day.  Available for both Android and iOS, Dropbox is like a virtual storage bin where you can keep all of your documents, photos, videos, and other data.Instead of your saves being limited to just one device like a laptop, your Dropbox and all of its content can be accessed across several devices.  So, if you save some important work files to Dropbox on your laptop, you can access those files when you open up Dropbox on your smartphone.  Needless to say, this is a lifesaver for busy people who are constantly on the go.  Besides the convenience it offers, Dropbox is also safe.  All of your files are secured with advanced encryption as well as two-step verification.
Remember the Milk
Has someone ever sent you on an impromptu trip to the grocery store, demanding that you buy some milk?  Then guess what happens, you forget it!  That's how the Remember the Milk app got its clever name.  This app is all about task management and helping you remember all the important things you must complete.  Think of it as a to-do list on steroids.  Whether you are an Android or iOS user, Remember the Milk will help to keep you on track with its extreme flexibility and highly customizable nature.
EmptyInbox for Gmail
It's no secret that email inboxes can turn from organized to chaotic in just a matter of minutes.  This is especially true if you hold a busy position and everybody wants your input or help.  Rather than getting overwhelmed with cleaning up your inbox, why not solicit the help of an app?  More specifically, EmptyInbox for Gmail?  It offers an extremely fast way for iPhone users to clean up their Gmail inboxes.
Rather than viewing emails in standard Gmail form, EmptyInbox serves them up as index cards.  You'll see all the relevant info you need in a condensed format, and then you can decide whether you want to archive it, star it, or trash it according to its importance.  This index card format is extremely easy on the eyes and the way in which the app presents the emails really does make it easy to stay organized.  This frees up time for you to complete more important tasks.
Lastpass
A case could be made that Lastpass is the most valuable productivity app of all on this list.  No, it may not be useful for taking notes or gathering data, but it does one thing that almost everyone needs: it manages passwords.
Password security is huge nowadays, and it's highly recommended that you have different passwords for every site that you are a member of.  If you bank online, have email, Facebook, Twitter, and so on, the list of passwords you'll have to remember can get extremely long.  That's where Lastpass comes in.  Not only will the app store and recall passwords for all the internet sites you log into, but it will also help to generate strong passwords that should keep you safe from hackers that could attempt to guess them.  If you value your information and privacy, a password manager is an absolute must, and that is why Lastpass makes this list.  After all, the more time you need to guess your forgotten passwords, the lower your productivity, right?
Dunno
Don't let this iOS app's name fool you.  It's certainly no dummy.  In fact, Dunno is one of the smartest apps for note-taking that you will find.  The way it works is simple.  You type a note into your iPhone.  Then, instead of it just sitting there in a static state, Dunno actually does research on the topic for you.  It's like having your own personal research assistant built right into your smartphone.
Dunno can work in a variety of settings for a wide range of users.  It's great for students looking to take notes in class and get some background information at the same time.  If you're at a conference or meeting at work and want additional information on a topic, Dunno will get it for you.  This app is particularly good for freelance writers too.  Simply enter your note on a topic you wish to write on, and Dunno will dish out a slew of reference material for you to look at.
That just about does it for this list of the eight top productivity apps for your smartphone.  Make sure to install them and watch as your productivity skyrockets to an entirely new level!
Are there any productivity apps that you use that I left off the list?  Let us know in the comments section.
| | | | | | | | | | |
| --- | --- | --- | --- | --- | --- | --- | --- | --- | --- |
| | | | | Written on 7/29/2013 by Enrique Stone. | | | | | |
Like this Article? Subscribe to Our Feed!