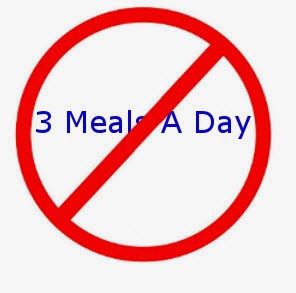 We've all been raised on the ideal of three square meals a day, but is this really the healthiest way to eat?
There are good reasons to eat smaller, but more frequent meals, including losing weight!
If you find yourself sneaking snacks because you get hungry a few hours after a meal, you may be better able to resist temptation by spreading your daily intake of calories over five or six smaller meals spaced out through the day.
Here are a few benefits from eating smaller, more frequent meals.
Improved digestion
As we're all reminded every Thanksgiving, eating an enormous meal makes you feel bloated and sleepy. That's because your stomach needs time to digest the food, meaning when you eat a large meal, it will take longer to digest. When you eat smaller meals, your body can digest them more quickly, which will make you feel more energetic and less lazy.
Weight loss
While you might think that eating more meals each day would cause you to gain weight, actually the opposite is true. When you eat small amounts of food regularly during the day, your blood sugar level is more likely to maintain an even balance. This means you don't get hungry as often, since low blood sugar can cause those hunger pains that send you running for the candy machine at work.
Nothing sabotages a diet like being hungry. You may start out on that low-cal regimen with the best of intentions, but when your stomach starts growling and you get ravenous, that's when those good intentions go right out the window. Eating less at each meal but eating more frequently can keep those hunger pangs at bay, because you don't get totally empty.
More energy
Another benefit of eating small but frequent meals is better regulation of your body's insulin, one of the hormones that helps the body convert food into energy. Insulin also aids the body in storing that energy, and for the best use of it, you should eat something every three or four hours.
Faster metabolism
Increasing your metabolism is crucial to losing weight as well as having more energy. Eating several small meals spaced out over an entire day can keep your metabolism level high so that you're constantly burning calories.
Muscle strength
Eating frequent small meals can provide a steady flow of amino acids to the muscle cells. Since these amino acids are an important building block of protein, this can help to build and maintain muscle tissue.
Better use of vitamins and minerals
Eating more frequently makes your body work more efficiently at processing the vitamins and minerals in your food. Proper use of those vitamins and minerals can make a big difference in the way you feel.
Better management of illnesses
Since eating smaller but more frequent meals can stabilize your blood glucose level, this is a good way to help manage diabetes or hypoglycemia. Consuming mini-meals throughout the day can also aid in managing high cholesterol.
Now you know some of the benefits of adding more small meals into your daily plan so the next step is to keep reading to see how you can make these mini-meals work for you.