What Is Your Body Capable Of?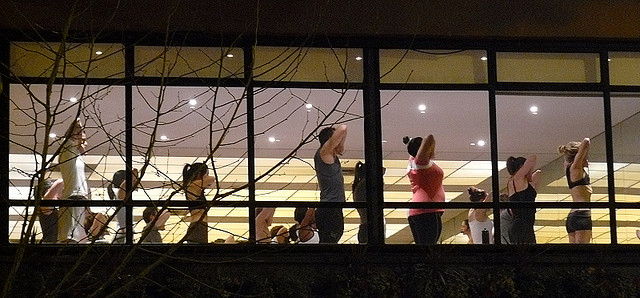 Is your body out of shape? Do you want to become fit? No matter how unfit you are right now, it's not too late to get your body back into shape. All you need to do is to establish and maintain an exercise routine.
In this post, I'll share with you what has worked for me.
At the beginning of last year, I resolved to get back into regular exercise after a six-year break due to problems with Rheumatoid Arthritis. Now, twelve months later, I'm training in the martial arts again. I've turned into a runner, and I'm more fit than I was seven years ago. But I couldn't have done it all on my own.
In order to find support, I started an 8-week Fitness Challenge on my blog
Goodlife ZEN
in October of last year. Over one hundred people joined (including Leo Babauta). It was so successful that I've now kicked off the Great Fitness Challenge 2011 with over 300 participants. Anyone is welcome – no matter how fit or unfit. What unites us all is the aspiration to improve fitness and lift overall well-being.
I've found exercise to be a miracle medicine. It improves your mood, combats chronic disease, helps you manage your weight, boosts your energy level, and promotes better sleep.

Can you get fit at any age?
The story of Bob Hayes, a farmer from Montana, is inspiring. Bob took up running at age 60 when his son encouraged him to take part in a 5km charity run. Bob struggled to complete the race. Afterward he said, "I wasn't feeling as fit as I would have liked to. Perhaps age is catching up on me?" Yeah, well – Bob was about to find out.
After his first run, Bob decided to join a local running club. Some months later, Bob took part in a half-marathon. Then he found that running long distances was what he enjoyed the most. Fast forward 20 years: Bob has turned into a celebrated ultra-marathon runner.
Last year Bob, now 83, completed his 12th LeGrizz 50-mile ultra-marathon (his first was at age 70). His time of 10 hours 47 minutes was 17 minutes faster than three years earlier when he was 80.
At age 83, Bob's body is in a state many people in their twenties would envy. He says: "I'm in the best shape of my life!"
Can anyone get super fit?
Yes, you can build up your fitness and strength at any age. You might not become a star athlete, but good fitness is achievable for everyone. The key is to start with a routine that's 'too easy'. Being fit makes you feel great. It also makes you feel younger.
Bob Hayes says:
"When I'm out there in a race I never think how old I am, I think I'm the same age as the people running around me, so if they're 25 I think I'm 25 and if they're 55 I think I'm 55 so it keeps you young."

How to build up your fitness
Here are four tips on how to develop an exercise routine:
Tip #1: Do what you enjoy


If exercise isn't pleasurable, it turns into a grind. If you enjoy dancing, try something like Zumba classes. If you enjoy a challenge, try martial arts. Or try tennis, rowing, running, hiking, swimming or one of the many other forms of physical exercise.
Tip #2 Use 'micro exercise'
Maybe your life is very busy and adding a fitness routine seems just too much. In that case, try 'micro exercises'. These are exercises you can do at odd moments. Let me give you a few examples:

While you wait for dinner to cook: do some incline pushups on the kitchen counter (place your feet 2 feet away from the edge, place your hands shoulder-width on the counter, keep a straight back and do push-ups. If it's too hard, step closer. If it's too easy, step back.

While you wait at the check-out in a store: strengthen your ankles and legs by rocking up onto your toes and down again.
While you sit at your desk: lift your feet off the ground and hold them there for 10 seconds or longer. This will strengthen your abs.
While you take a break at the office: do some squats (stand close to your chair, arch your back, and do squats, just touching your backside to the chair each time.
While you're watching TV, do some stretches.
These simple exercises don't take up extra time. It's a simple way to utilize stray moments for fitness.
Tip #3: Use functional exercise
One of the secrets of getting fit is to change ordinary tasks into exercise routines. Here are some examples:

Stop using your car for short errands. Instead, walk, run, or cycle.
Play with your kids.
Hang out the washing with squats. Leave the basket with washing on the ground and squat down each time you pick up a piece of clothing to peg it to the line. (Make sure your back is straight or hollowed when you do this.)
Use a staircase instead of the elevator. Get out one or two floors below the floor you need to go to and walk the rest.
Run up escalators. Make a habit of running up each time you're on an escalator (if there's enough room).

Tip #4: Start running. Here's how:
I started running about four months ago after some previous attempts that came to nothing. This time I was determined to establish a habit of running in order to see how my body would cope with it. Now I love it and have started going on trail runs in the mountains.This is what helped me to start running:

Run slowly. It's important is that your body gets used to the action of running.
Run uphill. It's a great way to strengthen your cardio-vascular fitness. And it's easy on the joints because the ground rises up to meet you.
Alternate walking and running. If you are unfit but would like to take up running, start with very short runs. Maybe run just for 30 seconds, and then walk for 5 minutes or so. Repeat the pattern. As you get more confident, run for a little longer until you are able to run at a stretch without walking.
Unfit? Use easy everyday exercises
No matter how unfit you are, you can improve your fitness. A participant of the Goodlife ZEN Fitness Challenge 2011 wrote:
"I'm in horrible shape – I have actually gotten winded walking around my office. How to get your body back into shape if you are really unfit."
Whatever condition you are in, you can improve your fitness. If you are way out of shape, you need to take your journey of fitness very slowly. At the same time, it's important to go to your edge regularly – wherever that may be. The edge of your fitness shows up when you get out of breath and you can feel your heart beating strongly.
There are some simple exercises you can do in order to start on your journey of fitness:
Set a chair back about a foot from a table or desk. Now lean on the top and stand up. Repeat this until you are out of breath.
Use one-gallon or half-gallon bottles with a handle (2 to 5 litres) as improvised weights. Sit on a chair with a weight in each hand, arms hanging down. Lift the weights chest-high and touch them together. Then bring them apart and return your arms to a hanging position. Repeat.
If you are very overweight or have joint problems, try swimming or aquarobics. This will improve your cardio-vascular fitness without stressing your joints.
Start walking. Even a short 5-minute walk will get your heart-rate up and speed up your metabolism.
Exercise with others
The best way to establish a long-term habit of exercise is to join others. It's fun, and it makes you more accountable. Find others who practice the exercise you enjoy. Join a yoga class, train in martial arts, try Yumba, walk or run with friends – there are many ways to exercise with others.
You can also join the Great Fitness Challenge on Goodlife ZEN (it's free). We've set up a forum for the Challenge and participants can check in each day and report how they're doing. It's inspiring to read how other people are going. Some of the participants (like Leo Babauta) are very experienced and offer great tips for exercising. It's great to have a community with which to connect.
Make today the start of your journey to fitness.
Like this Article? Subscribe to Our Feed!