8 Healthy Smoothie Recipes to Energize your Mornings: Complete Guide 2023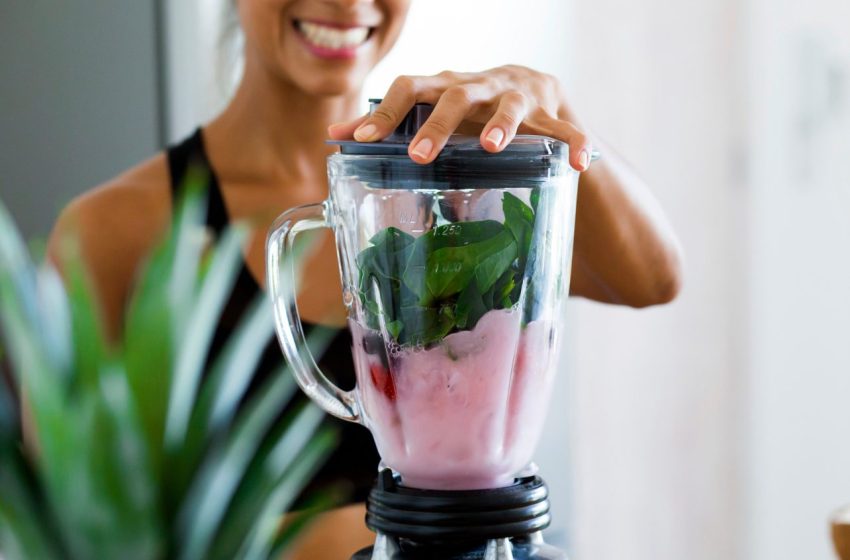 Everyone wants us to lead a healthy and happy life, yet nobody seems to have the perfect idea on how to do that. People seem to have personalized ideas for leading healthy and balanced life.
For the majority of people, healthy life means a healthy diet. Where part of this is genuine, the actual problem comes in when the idea behind consuming a 'balanced' diet gets haphazard. This is where people tend to make the most basic of all mistakes, unknowingly and unintentionally!
Therefore, to make things convenient and simpler for everyone, here is a comprehensive guide on leading your life healthily using healthy smoothie recipes as your escape resort!
Yes, you read it right – smoothies can help you live a healthy and active lifestyle by nourishing your body and ensuring that you have all the essential nutrients added in this glass of goodness that claims to give you so many health benefits in return for a little hard work!
So, let us get right into the essence of the text and learn how a perfect smoothie can help us live a perfectly balanced life in no time! And while we are at it, we also have some cool and healthy smoothie recipes to ensure that you are covered and have everything at hand to start this healthy breakfast regime right away!
Healthy Smoothie Recipes: What is it?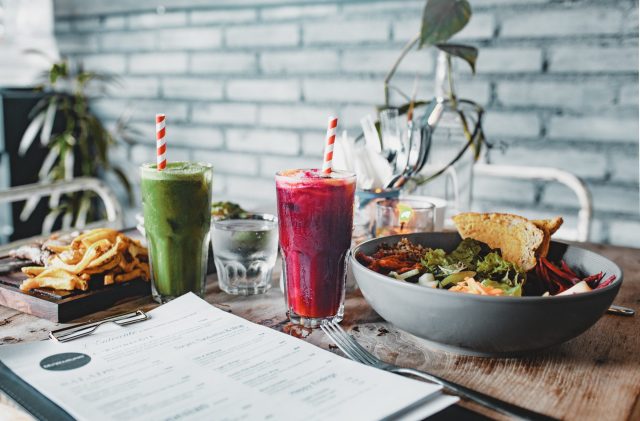 A smoothie is a popular healthy breakfast beverage that is famous because of all the love it receives from its lovers!
A fruit smoothie is popularly prepared using pureed frozen or fresh fruit, mixed berries, vanilla extract, protein powder, and several other healthy concoctions that make sure that your drink is perfectly complemented with the healthiest of all ingredients!
A breakfast smoothie or a smoothie bowl is popularly consumed by several people worldwide who are already aware of the health benefits that this drink has for them in the long run.
As far as the link between these healthy smoothies and healthy and balanced life is concerned, it is obvious that the goodness of the fresh or frozen fruit, combined with the richness of the other ingredients added in the smoothie, helps make it a perfectly healthy drink for anyone who drinks it.
Health Benefits Of Smoothies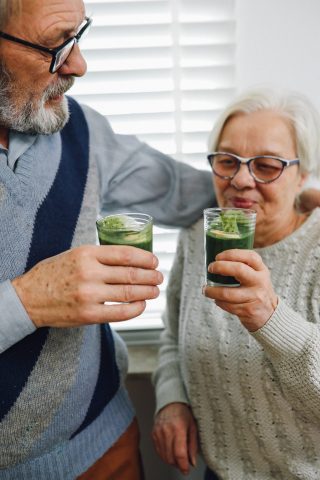 Several factors add up to the health benefits of smoothies. For your convenience, the most helpful ones are listed below:
They Are Rich In Fiber
Fruit smoothies and smoothie bowls are loaded with fruits if that is not already obvious. Almost all fruits contain fiber. The more fruit in a smoothie, the more fiber-rich it automatically becomes.
This fiber is crucial in keeping your gut health optimal and preventing it from overreacting or causing problems such as bloating or gas.
They Help People Lose Weight
Smoothies have also been found to play an important role in weight loss. Although they are not exactly recommended as the ideal drink for anyone who wants to lose more than just a few calories, it is obvious that when you drink a wholesome glass of smoothie or eat a smoothie bowl, you will feel full for a long, long time.
This helps suppress your unwanted hunger pangs and ensures you do not eat extra or more than your required daily calorie intake.
They Are Healthy Meal Replacements
For people who either have really busy schedules to follow or do not have all the time in the world to fix quick meals, a delicious smoothie bowl or a tall, good smoothie glass can serve as the perfect replacement for meals at any time of the day.
All that you will need to do is to research a perfectly balanced recipe and refrigerate it for later usage.
The deliciousness of their ingredients – all full of heart-healthy fats such as creamy greek yogurt, coconut milk, coconut water, and fresh and frozen fruits combined with the richness of the nutrients it contains, will only help enrich your bodies with the best of them.
They Increase Your Fruit And Vegetable Intake
For those who dislike eating raw fruits and vegetables, a tall, cool glass of smoothie might be the solution to all your problems!
You might not realize it, but unlike juices and other processed drinks, a smoothie retains the goodness of the fresh fruit and vegetables added to it.
This makes it easier to 'drink' the goodness of these fruits and vegetables, and although unwillingly, you will be adding them to your diet indirectly.
It Helps Prevent Dehydration
Smoothies are the perfect drink to stay hydrated and fresh for a long time. They contain the best parts of everything that is added to them – be it fruits, vegetables, greek yogurt, protein powder, chia seeds, hemp seeds, or anything – the goodness of everything makes sure that you are hydrated and in a healthy state right after consuming this healthy drink!
It Helps Fight Off Free Radicals
Green smoothies, the majority of which are based on matcha, green tea, or other green fruits or vegetables, are one of the best anti-oxidizing agents you could encounter.
These smoothies help fight off the free radicals present inside your body, which might indirectly cause harm to your body and even cause diseases.
How To Prepare A Very Healthy Smoothie
Keeping all the health benefits of smoothies in mind, there is no doubt about the fact that any person could get excited to get their hands on the next glass of smoothie. Turns out your breakfast orange juice finally got some competition, eh?
The reason is the most obvious – who wouldn't want their bodies to be supplemented with the best of all drinks that not only promise to make you feel fuller and less hungry but also make sure to enrich your body with the perfect blend of all essential nutrients and ingredients?
Therefore, to make things a little bit less complicated for you, here is a collection of some of the best and easy-to-prepare healthy smoothie recipes best suited to a beginner to prepare and enjoy at any time of the day!
So, let us learn right away how these smoothies are prepared – be it a watermelon smoothie or a healthy strawberry banana smoothie, you can learn to make it all in no time! To add a little bit of modern touch, you can always call smoothies your personalized 'blender cuisine'.
1. The Easy-Peasy Creamy Berry Smoothie
This thick, creamy, healthy smoothie recipe will get ready in two minutes. It is a quick fix that will save you time and energy while providing the best benefits you need.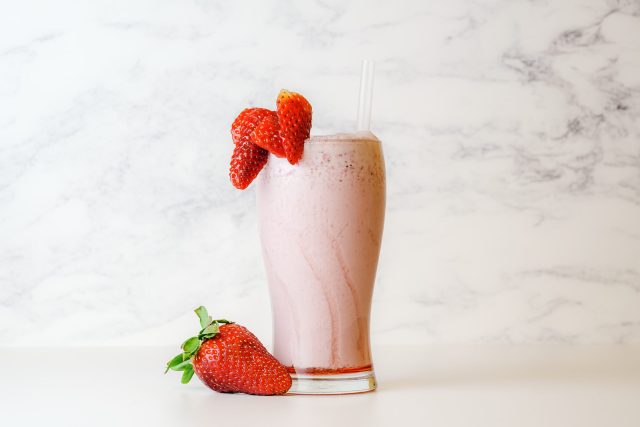 Ingredients
1 cup milk
1 cup frozen unsweetened strawberries
1/2 cup frozen unsweetened raspberries
3 tablespoons sugar
1 cup ice cubes (Optional – Add only if you like it chilled!)
Directions
Place the milk, berries, and sugar in a blender; cover and process until smooth. Add ice cubes, then process again until your desired consistency is reached.
2. The Fruity Breakfast Smoothie
Here is another delicious smoothie recipe you can easily prepare for breakfast and replace with your usual breakfast time milk, coffee, or fruit juice.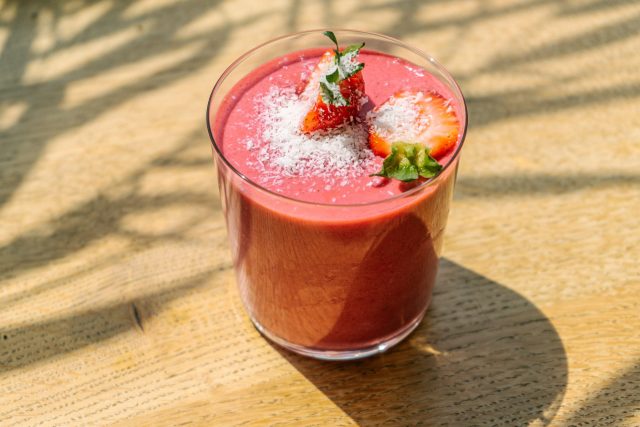 Trust us on this; it will undoubtedly be one of the best and healthiest alternatives you have tried until now!
Ingredients
2 cups milk
1 cup frozen unsweetened sliced peaches
1 cup frozen unsweetened strawberries
1/4 cup orange juice
2 tablespoons honey
Directions
In a blender, combine all ingredients. Cover and process until smooth. Pour into chilled glasses; serve immediately.
3. The Ultimately Healthy Berry Smoothie Bowl
Time for a change! If you think you are not a smoothie person, why not try something new and opt for a smoothie bowl instead?
In a literal sense, it is a healthy smoothie but creamy, thicker, and richer in taste. It also adds several healthy fats to your diet.
You can always try making this bowl if you feel a smoothie alone would not suffice for your hanger pangs, and therefore, go creative with making a smoothie bowl for yourself.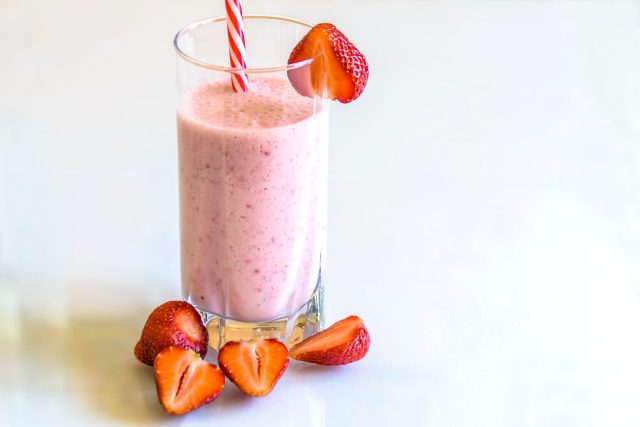 Ingredients
1 cup fat-free milk
1 cup frozen fruit (unsweetened strawberries, unsweetened raspberries)
3 tablespoons sugar
1 cup ice cubes
You can also add sliced fresh strawberries, frozen bananas, fresh raspberries, chia seeds, hemp seeds, lemon juice, rolled oats, unsweetened coconut flakes, and sliced almonds. Moreover, maple syrup always proves to be a nice and rich addition to the top of your smoothies.
Directions
Place the milk, frozen fruit, and sugar in a blender; cover and process until smooth. Add ice cubes; cover and process until smooth.
4. Fresh And Healthy Green Smoothie
Presenting to you now is a healthy smoothie recipe that will appear somewhat unique to you.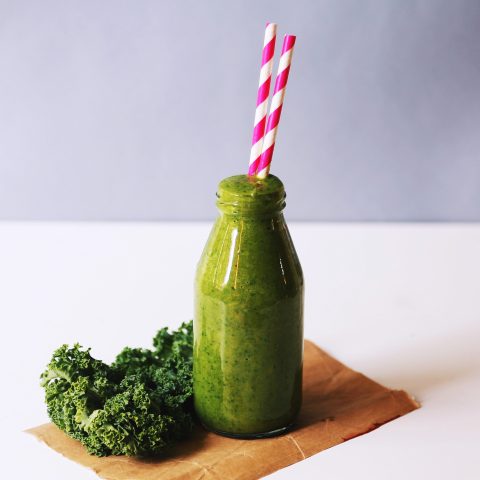 Ingredients
Fresh baby spinach
Frozen pineapple
Frozen mango
Fresh banana slices
Water or coconut water
Directions
Add all the ingredients to a blender and blitz away! You are always welcome to add protein powder, chia seeds, fresh ginger, and other toppings as per your liking to enhance the taste.
5. Chocolate Protein Smoothie
A children's favorite, for sure! This creamy smoothie recipe will indeed prove to be a healthy and fulfilling choice for your kids. Without them realizing it, it would add many beneficial nutrients to their diets!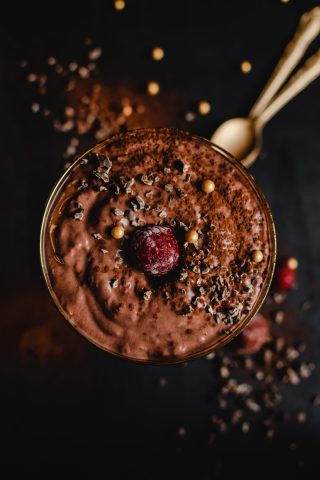 Ingredients
1 cup kefir/almond milk/oat milk
¼ to ⅓ cup unsalted cashews
⅓ to ½ cup packed spinach
1 heaping tablespoon cocoa powder (natural unsweetened or Dutch-process)
1 scoop (or more) protein powder
10 to 15 frozen cherries
½ to 1 frozen banana
Directions
Add the ingredients to a high-powered blender and process until smooth. Serve chilled. If needed, you may add chocolate protein powder or almond butter on the top as well.
6. The Yummy Scrummy Peanut Butter Banana Smoothie
Bananas have been a must-have for any healthy smoothie recipe. A banana smoothie adds a certain richness or frothiness that automatically makes anyone crave the next glass. Add in peanut butter, and you have the perfect fulfilling combination in one place!
For people who do not like peanut butter, almond butter could work as a good substitute.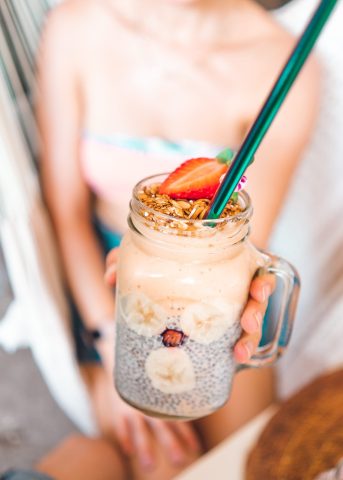 Ingredients
Bananas – as needed
Peanut Butter (can also use almond nut butter) – as needed
Almond Milk – as needed
Greek Yogurt – as needed
Cinnamon – as needed
Directions
Simply blitz all the ingredients away and enjoy your smoothie chilled!
How Can I Add Healthy Smoothies To My Diet?
If you enjoyed going through the list of healthy smoothie recipes stated above, you would now want to add them to your diet. But 'how' is the real question. You would need some sort of motivation to start adding loads of these yummy berry smoothies to your diet.
But, the real question is 'how'? Although the smoothies might sound like a no big deal and anyone can easily add them to their diet, being aware of the pros and cons, the ideal times to consume them, along with drinking the right kind of smoothies, holds great importance for anyone.
Some motivational programs help people adopt healthy lifestyles or routines that improve their quality of life and overall health.
In the context of drinking smoothies, there are a few programs that people can easily follow and ensure that they are getting all the healthy nutrients and minerals added as the major ingredients in smoothies.
The best programs include the following: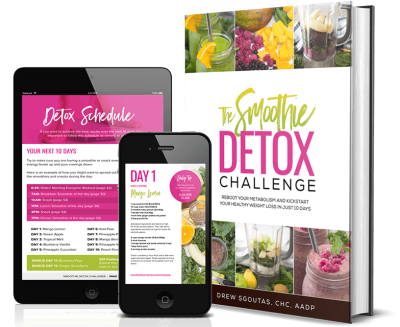 | Product Name | Form | Description | Price | Official Website |
| --- | --- | --- | --- | --- |
| The Smoothie Detox Challenge | Physical & Digital Program | Smoothie Detox Challenge is an online program that features natural techniques to lose weight and provides detox tips to achieve your ideal weight. | $24.95 (One-time payment) | |
Depending on your time constraints, the Smoothie Detox Challenge is a fun and stress-free challenge that people can easily follow despite their busy routines.
It is based on an e-book that people can purchase online. The whole idea is to follow the recipes given in the e-book. They are all easy smoothie bowls and delicious smoothie recipes anyone can make without issues.
The Smoothie Detox Challenge is based on a 7-day or 10-day program, and the smoothie recipes can also be personalized according to the liking of the person following the diet plan. Usually, a person is expected to make a large batch of smoothies at the beginning of the day and consume them thrice a day, usually in place of the usual meal times.
Shop The Smoothie Detox Challenge Program at the Official Website.
Full Article: The Smoothie Detox Challenge Reviews 2022: Does it Really Work?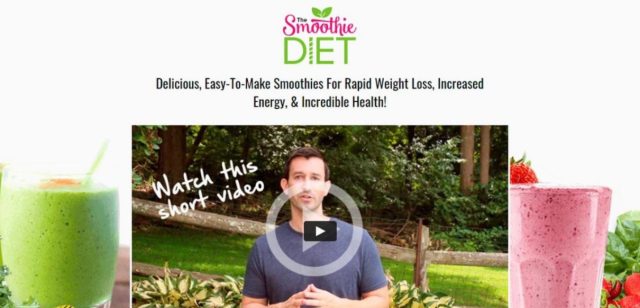 | Product Name | Form | Description | Price | Official Website |
| --- | --- | --- | --- | --- |
| The Smoothie Diet | Physical & Digital Program | The Smoothie Diet is a weight loss program that guarantees a slimmer body in 3-weeks by incorporating easy smoothie recipes into your diet. | $37 (Special Discount) | |
Drinking smoothies just because they give you a much-needed boost at the start of the day is one thing, but drinking them because it has become a usual part of your diet plan is a whole new thing.
The Smoothie Diet is part of a healthy and enriching lifestyle that will bless your body with all the required nutrients and essential ingredients to help you live a healthy and happy life.
The Smoothie Diet is also an internet-based diet that could help you incorporate healthy smoothies into your diet and ensure you get all that is needed to live a wholesome and enriching lifestyle.
Shop The Smoothie Diet Program at the Official Website.
Full Article: The Smoothie Diet Reviews: Does it Really Work?
Conclusion
Well, if all the pros and cons and advantages and disadvantages of both the above-mentioned smoothie-based diets are combined, then without any doubt, it is the Smoothie Detox Challenge that stands out as the clear winner.
The reason for this is the super healthy and wholesome side of the diet that could help anyone adapt to a healthy lifestyle. It also claims to help you detoxify and cleanse your body and help it in leading a clean and radical-free life for a long, long time.
So, if there is anything that is holding you back, you may easily look forward to starting with the Smoothie Detox Challenge and see for real if it brings any visible differences to your lifestyle or not.
Click Here to Get The Smoothie Detox Challenge Program at Discounted Price.
>>Related Article: The Complete Guide to Gut Cleanse 2022
Healthy Smoothie Recipes FAQs
Are smoothies really beneficial for you?
As it turns out, smoothies are a very healthy and nutritious food source for people looking forward to adopting a healthy and nutritious lifestyle. You may follow several healthy smoothie recipes to keep yourself healthy.
Is green smoothie a healthy option for people?
A green smoothie is based on some of the best and most healthy ingredients. A green smoothie recipe is technically easier to follow as well. It is a wholesome food option for people who are okay with quick fixes that are enough to keep them full throughout the day.
Is a chocolate protein shake a healthy smoothie option?
Everyone loves chocolate and wants to jump at the first opportunity to consume it. For children who are picky eaters, drinking a wholesome chocolate smoothie would be a healthy choice to cover up for their nutritional and dietary deficiencies.
Like this Article? Subscribe to Our Feed!
Vanessa is a mom of 3 lovely children and a software geek. Outside of her career as a health and wellness instructor. She enjoys writing and researching on topics such as finance, software, health and culinary.