6 Vitamin-Packed Smoothie Recipes for Glowing Skin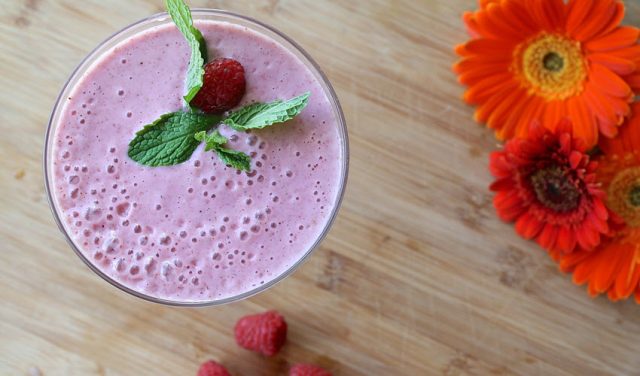 Whether you are a veggie lover or not, it can be tough to pack in the daily recommended amount of vitamins and nutrients into your diet. This becomes even more difficult if you are busy and have a million other things to do through the day.
The good news is that there are smoothies.
Smoothies are a great way to get your daily dose of fruits and vegetables.  They are jam-packed with fiber, vitamins and nutrients which can do wonders for your skin and health in general.
If you are looking for smoothie recipes for glowing skin, here are 6 inspirations you can check out.
1. Vitamin A Spinach and Mango Smoothie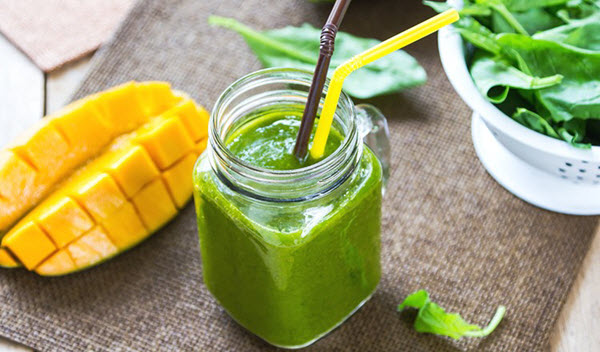 This nutrient-rich smoothie is gluten and dairy-free. It is packed with Vitamin A, which can reduce your wrinkles and brown spots.
The vitamin can also slow down the breakdown of collagen and elastin, thereby delaying the aging process. It can improve your skin texture and stimulate blood flow, too.
Ingredients
½ a cucumber
1 small avocado
½ cup mango
2 cups spinach
1 orange-peeled
1 tbsp. chia seeds
1 tbsp. ground flax seeds
2 cups coconut water
Juice of 1 lime
Method
Blend the Spinach first, followed by all the other ingredients. You can try adding some orange or lime zest to add a hint of citrus flavor. Continue blending until the mixture becomes smooth in consistency.
The seeds are optional, but they can make a huge difference in the nutritional value of this smoothie.
2. Vitamin C Ginger Cranberry Smoothie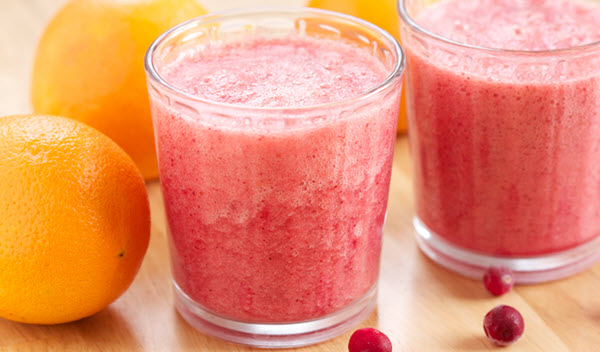 Cranberries are the star of this refreshing smoothie. Apart from being delicious, they are rich in Vitamins C and E. They are also packed with a lot of antioxidants and fiber.
Ginger, on the other hand, is excellent in boosting the immune system. It's rich in antioxidants that can protect your body against free radical damage. It also improves elasticity and evens out skin tone. Chia seeds add protein and healthy fats to the mix.
Ingredients
1/4 cup cranberries
2 oranges – peeled
1/2 inch ginger – peeled
1 cup baby kale
1 cucumber
1 tbsp. chia seeds
1/2 cup water
Method
Blend the baby kale, cranberries, oranges, cucumber, and ginger. Once blended well, you can add the chia seeds and water. You can also try adding coconut water for an additional boost in vitamins and minerals.
See Also: 5 Tasty Alternatives to your Calorie-Dense Staples
3. Vitamin C Grapefruit Smoothie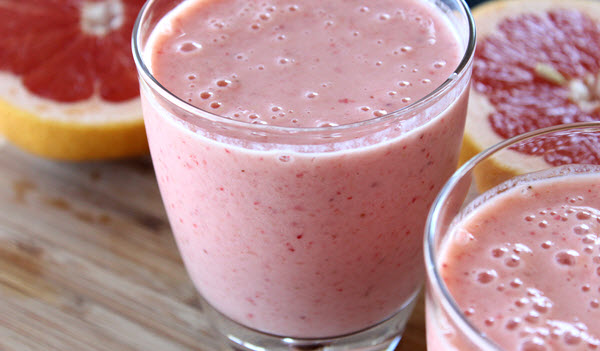 This smoothie packs a huge flavor punch. Grapefruits are rich in Vitamin A, lycopene, and carotene, which have healing properties.
Oranges and grapefruits, meanwhile, contain Vitamin C which stimulates the production of collagen and brings elasticity to the skin. Bell Peppers contain a lot of Vitamin C, too. In fact, half a cup of it already has 300% of the daily recommended value of the vitamin.
With these benefits, you can consider it as one of the best smoothie recipes for glowing skin you can try.
Ingredients
1/2 large red bell pepper
1 large red grapefruit- peeled
2 oranges- peeled
1/2 cup water
Ice (optional)
Method
Puree the bell pepper, grapefruit and oranges using your blender. Add the water and ice to make it cold (optional). This recipe makes about 4 cups of the smoothie.
4. Broccoli and Blueberry Antioxidant Smoothie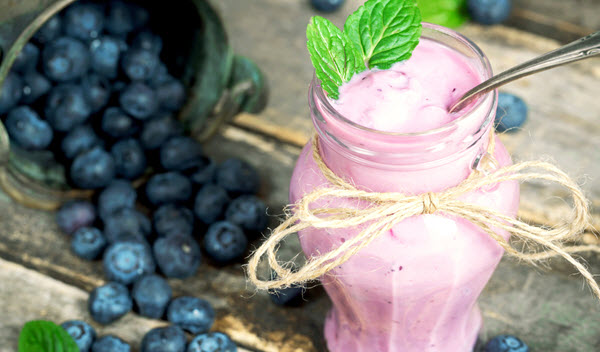 The idea of using broccoli in your smoothie can make you cringe. However, in this recipe, there are oranges and blueberries to mask its strong flavor.
Broccoli is full of fiber, calcium and Vitamins C and A. Its nutritional value makes it a great addition to any smoothie recipe you're thinking of.
Ingredients
1 cup broccoli
2 cups fresh or frozen blueberries
2 large oranges- peeled)
1 cup water
Method
Blend the broccoli, blueberries and oranges until smooth. Add water until you get the right consistency. This recipe creates a thick smoothie, so make sure to add enough water to thin it out. You can also blend it with ice, as it is best-served cold.
5. Coconut Water Glowing Skin Smoothie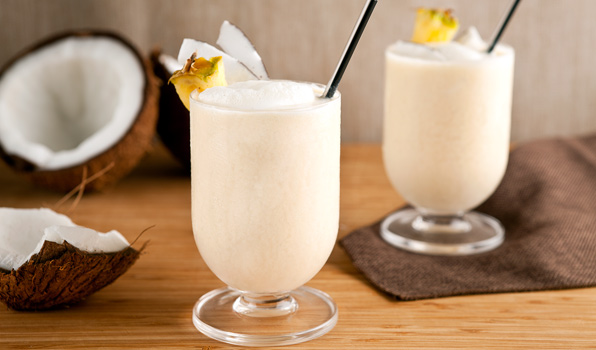 One of the well-known benefits of coconut water is fluid and mineral replacement. It contains lauric acid and cytokines which play vital roles in cell growth and regulation.
Oranges and mangoes contain Vitamins A, B, C, E and K. Aside from giving the smoothie its nutritional value, these fruits also add a great flavor and natural sweetness to the mix.
Strawberries can help boost your natural collagen production while the carrots can give you intense protection against free radical damage.
Ingredients
1 cup coconut water, chilled
1 cup frozen or fresh strawberries
1 cup carrots-peeled
1 orange- peeled
1 cup frozen or fresh mango chunks
Method
Puree the strawberries, orange, carrots, and mango chunks in a blender. Add the chilled coconut water and continue  blending until the mixture becomes smooth. Serve chilled.
6. Berry Detox Smoothie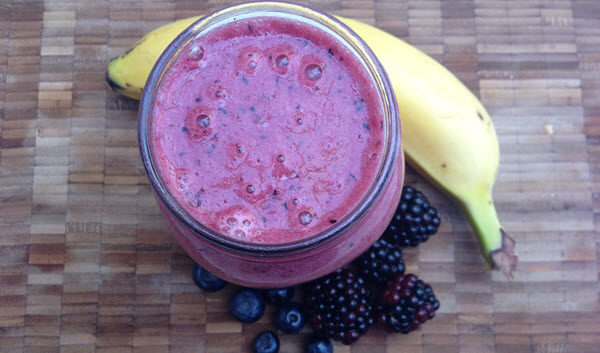 Berries are rich in vitamin C. They also contain healthy nutrients like zinc, Omega 3 and selenium. These properties help reduce inflammation, prevent clogged pores and heal skin rashes.
The berry flavor of the smoothie masks the kale, so you won't need to worry about the vegetable ruining the taste of your drink.
See Also: 10 Amazing Foods You Should Include in Your Detox Diet
Ingredients
1/4 cup fresh or frozen raspberries
1/4 cup fresh or frozen blueberries
1/4 cup fresh or frozen strawberries
1/4 cup chopped kale
1/4 cup frozen banana
1 cup water
Method
First, puree the kale and banana until smooth. Add the berries and water and blend until you get the desired consistency. This smoothie is best served chilled, so make sure to add some ice.
Conclusion
If you are new to including smoothies in your diet, don't go overboard with the vegetables at first. Start off with fruit smoothies and gradually work your way into including greens.
Some vegetables tend to have a lot of fiber which may impact the texture of your smoothie. Because of this, it's a good idea to invest in a high-powered blender from brands like Blendtec or Vitamix. But, you can certainly start off with your regular blender.
Nutrition plays a major role in the health of our skin and countless other biological functions. Luckily, getting the nutrients we need for our health is now easier with smoothies.
What smoothie recipes for glowing skin and optimum health have you tried? How do you make them taste better?
Like this Article? Subscribe to Our Feed!
Hello, Hannah, here from FixYourSkin.com! I have a lot of experience with skin health and have written several articles related to health advice and tips that have been published on various websites.