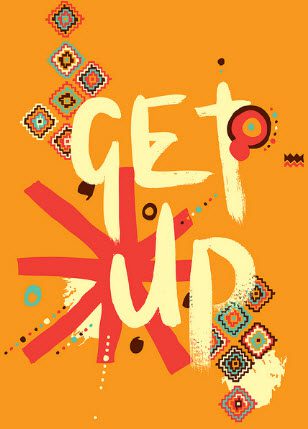 The repetitive buzzing rattled my brain and startled my body.
No – I don't want to get out of bed! It's too early, too cold and it's too much effort to get up…
I can't be arsed to go to boot-camp!
This is the conversation I had with myself this morning as my alarm went off at 6.15 a.m. Every Monday and Friday I have signed up to go to an exercise boot-camp on my local beach. I've been going for a few weeks and now it's getting harder to get up on boot-camp mornings, simply because I know what is coming and it's going to hurt!
I have been wrestling with my resistance and apathy, and for a moment I got stuck.
This stuckness can happen just as easily with my writing. My inspiration and creativity just dry up, when I focus on worrying about delivering to other people and trying to be perfect. Also if I spend too much time on it and get too physically sedate, because there is not enough variety or physical action to balance out having my head in my laptop.

Getting stuck can happen when we try to change any habit in our lives, but it's especially hard when we are trying to change something about our current emotional situation.
Regarding my boot-camp, I want to get fitter and stronger, and my instructor and my group spur me on to do that more than I could on my own.
I did actually get up to go to boot-camp this morning, as I have done every time, even though it was really hard. I found the strength to fight through, get up and go, because deep down I don't want to let myself down!
Once I was up, my destination was set. I just had to get started…
Afterwards, I am always proud of myself for going, I feel great and I am seeing small but noticeable results. My instructor has informed me that repetition is the key.
I am also rewarded by starting my day on a beautiful sunny beach with my dog and a nice group of women, and I enjoy our banter. I feel that I belong; that I am part of something.
Resistance is apathy.
Apathy is fear, with one basic excuse: the great 'why bother?'
Why bother? Because I won't change, my life won't change, I won't get thinner, fitter or stronger, I won't get happy, I won't learn that new skill, I won't get the relationship I want. I won't succeed, so why bother!
When I work with my clients in therapy, I always set them homework. For a few weeks, it doesn't get done, because the shift has to happen; the shift from relying on someone else to take action to taking action for themselves; they CHOOSE to overcome their resistance.
We all want change; sometimes we are desperate for change, but deep down we fear that we will put in lots of effort and nothing will change!
We can get stuck in this battle between our desire for change, to have new and difference in our lives, and our fear that we won't change and, even if change does happen, it won't live up to our expectations.