Morso Forno: An Honest Review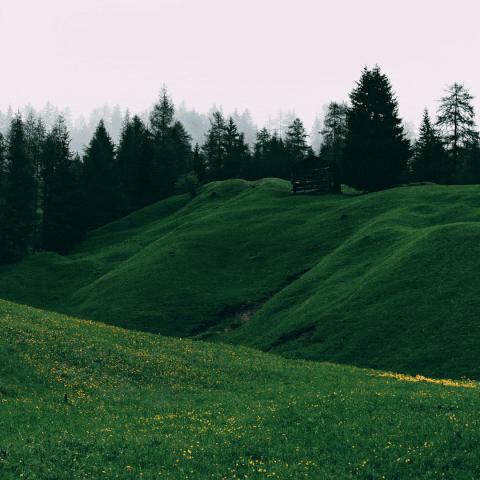 In the presence of built in gas stove with oven, isn't it nice to know that you've got all sort of cooking done? So why bother to buy a pizza oven?
Well, a straight from the fact answer is that no one wants their pizza to be flop. Especially when it is homemade.
A pizza oven, make it wood or gas-fueled, can help you to achieve the right temperature of 400-500 degrees in cooking pizza with the best texture, flavor and aroma in just a minute. Not only that it can cook out an authentic Neapolitan-style, but can also done splendid grills and roasts in your table.
Imagine how delicious your pizzas could get if it is made and cook in the sight of your verdant and floral garden. To breathe in the cold breeze and sprinkle the fresh garnish you could get around. In that sense, portable ovens will step up the game in giving you the Italian dine out vibe in your family bonding.
Morsø Forno Outdoor Oven: A Must Have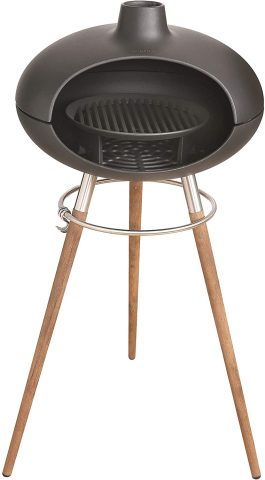 Start your gathering plan and put the best outdoor oven in the list. Don't skip on the Morso Forno outdoor oven because you can guarantee the best pizza oven you could ever have!
It is a cozy, hot wood-burning stove that has regal history behind sold outs and outstanding review. This magnificent creation came out to the market in 2012. It is developed by the Morsø Company
founded in 1823 who provides wood-burners, tiled stoves and heaters all over the United Kingdom. The year 1915 marks their first road to stardom as they earned the title for purveyor of the Royal court.
This award-wining Danish modern cast iron oven, not only made to give out the best cooking function, but also as practical heater to warm the atmosphere in a pretty cold outdoor dining.
Try to search on Morso Forno reviews and you can grasp their best experience of tuscan grill (included in the deluxe package), smoked salmon, casserole, and cast iron cooked marinated meat and crispy fritters. Close the oven door for 24 hours, and you can also get remarkable braised dishes.
Rating
Looks / Appearance: 4.5 / 5.0
Ease of use: 4.5 / 5.0
Functionality: 4.7 / 5.0
Click here to view Morso Forno
👍 Pros
◉ Easy to light and easy to heat
You just need wood and lighters to get it work. Assemble pieces of chunk woods at the bottom of the baking stone and top it with smaller pieces for easier burning. Light it and allow it to burn through for 20 minutes. Do not burn pine wood as it contain resin that creates poison in steam. Let it burn for 15 minutes more and it is ready for use. Push back the ember at the back of the oven on the rounding the stone and place over the pizza to cook for one minute.
◉ Easy to clean
High temperature inside a wood fired pizza oven would allow it to self-clean and easier to scrape. Discoloration of the oven floor is unavoidable in frequent use. Do not use detergent to clean the baking stone because they are porous and absorb the cleaning materials. It might gift an off taste to your food.
◉ Easy to assemble
A unit comes with attachable parts that you can simply put together and remove easily.
◉ Maintainable Elegance
Morsø Forno oven is covered with protective paint. Over the time, it might also got slightly rusty spots. However, the forno outdoor oven has a maintenance kit to repair such damage.
It compost of an abrasive sponge to remove the light surface oxidization and with a spray paint that matches the color of the oven to recoat the damaged areas. It is recommended to use the customized cover to protect it from various weather conditions.
◉ Can be placed outdoors
You can placed the oven outside and move it with no trouble anywhere and can still be functional over the years.
👎 Cons
Since it can bake, grill, smoke and roast delicious, there is not much of complains regarding its cooking abilities unless it is not well heat or you forgot to attach some accessories in cooking.
Let me give you an advice, put the Morsø smoke keeper on the top of the flue to maximize the amount of smoke. You can keep enough heat for 24 hours if you closed the Forno door. It is great for smoking fish, shellfish and beef. Because it can cook in different style, it might cost higher than you expected. The accessories are also expensive.
Who is This Pizza Oven For?
This leading cooking oven can give a superior cooking experience outside. Enjoy a classy autumn evening on the patio dining the ideal pizza with wine on the side. As soon as it is set-up and well heated, that is all you needed to start cooking your food while having some chit chat.
A standalone appliance that can also give aesthetic appearance that bring out extra flair to light and warm the patio area.
This oven is great for professional cooks or those who are passionate in perfecting the impressing hot homemade pizza to enjoy in lake side picnic, forest camping or backyard party. It is also friendly for beginners who want to up skill in homemade pizza making and has a plan to make it as a small business.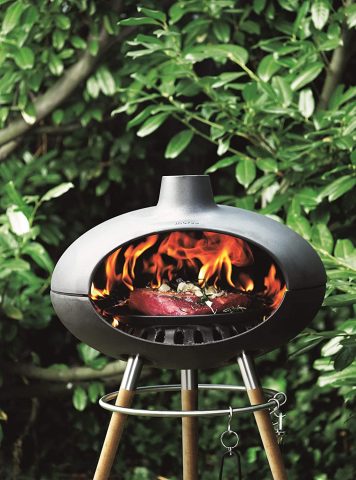 Award Winning Danish Traditional Pizza Oven
Specifications
Brand: Morso
Design: Klaus Rath
Color: black
Dimension: 76x60cm
Raw material: double coated cast iron and ceramic stone
Cleaning system: self-cleaning due to high temperatures, it also comes with a cover when Morso is not in use.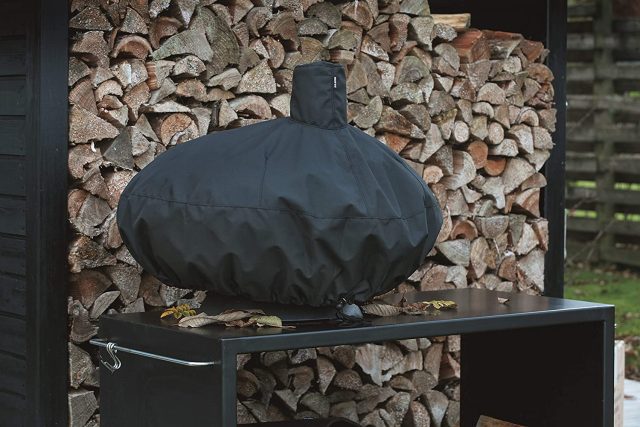 Curious how the Morso Forno oven is made of? Continue on this section as we highlight its good features. One of the coolest component of this oven is that it is wood fueled. So convenient if you have available logs at home.
Wood creates a moisture baking environment that will justify the signature flavors and texture of a traditionally made pizza. It is a good addition to household equipment as it can cook versatile recipes for especial occasions.
Praised for its finest interior design, this oven has 70 cm x 60 cm base which is not an overwhelming accent to the outdoor patio. Has a good size and is also not heavy for it to be easily transported.
It enables low firebox and wide space for firewood. Aside from the round tuscan grill, The barbecue oven cover is a good addition to protect it outside and to lessen the time to put it in and out before and after use.
Click here to view Morso Forno Cover
Where Can I Use This Oven?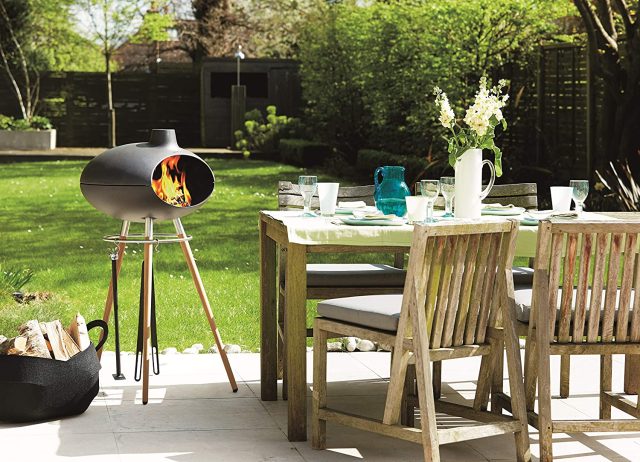 While it is designed as a stationary oven, it can be move easily and can be used to bake pizza for field trips in highland areas or food bazaar down the street.
What Makes This Oven Awesome?
There is no need to spend money and risk your family's health during the pandemic to catch an Italian treat. With this Morso product, you can live up your Italian experience on your own comfort spaces away from the crowd and health threats.
Witness the sunset with a bite of magical pizza made in Morso Forno oven. Your Forno is also available in deluxe garden or deluxe terra sets that come with range of accessories that you will definitely need in the cooking process. These are detachable door, pizza peel, flue pipe, ash scraper, coal tongs and weather resistant cover. Morso leather gloves is also available and a fire trumpet that you could use to revive the glow and heat of the embers.
Why Buy This Oven?
Carved from iron, the Forno has quality design that is absolutely head turner. It cannot easily break, chip or crack as it is built to last. A strong candidate among other brand of pizza oven being more than a piece of art to be an epitome of form and flexible function.
Look over the kit that come with it and you'll feel how it is made for people who has great love for pizza. The surface of the grill grate is surrounded by small pores that absorbs the fat and flavorings of the meat or fish assuring that it is grilled in its own juices.
With Morso Forno, you aren't simply attracting a flock to sit in the backyard but to form golden memories while enjoying plate by plate of gourmet.
How Can I Buy This Oven?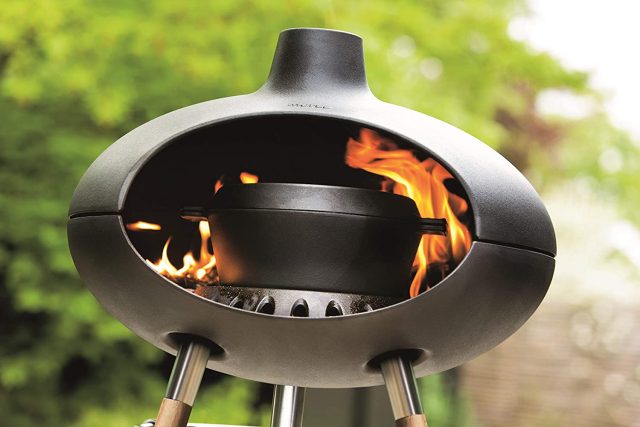 Fill your life with some autumn outdoor dates like no other with Morso Forno. Bake genuinely and cook sophisticated in this outdoor oven. Double the fun with top design and top functions.
Prices varies among three choices of purchase; single unit, garden set and terra set. These sets will provide you plenty of extras and attachments that enhance its capabilities in cooking different dishes of your choice.
This majestic product is available in several stores in their online website. Amazon sells the Morso Forno at £659.00. Individual oven attachments together with their prices are also displayed in the online store. There would be no problem if you are having short budget. You might buy one attachment upon purchase and save the others for later.
Final Thoughts
In this time of COVID-19 pandemic, work from home set-up was one of the adjustment made to prevent the danger in the offices especially when the cases surge. This situation give us a lot of time to be with our family and love ones. Count in on safe outdoor dates on the comfort of your backyard with Morso Forno outdoor pizza oven. What more can you ask if this oven thick off the boxes with a design and versatility on point?
Imagine how good it feels to turn off your computer and agree with your family members to have a sophisticated dinner outside. It is possible if you have the morso forno outdoor oven placed in your somewhere outside your house. You can enjoy a heartfelt bonding as you help each other in making the authentic Neapolitan style pizza using a wood fire outdoor oven like the Forno.
You can enjoy a relaxing lay on the garden ham rock, breathing in the fresh air while having a bite of the luscious Morso Forno-made pizza. If you're having a cold night in your area, this oven can also serve as a heater while it is actively grilling beef and lamb inside. Who isn't getting happier being warmed while smelling your aromatic dinner later on?
An oven which can offer a different cooking and heating experience is also a grill and smoker. According to a user comment, it does use more wood than a brick oven. However, using briquettes is advisable for it is easier to light and heated and also denser and stable. Another user comment suggested to prepare all that you wanted to cook in the Forno oven to keep up with the good heat required in cooking different dishes.
Pros
Transportable
Can cook delicious bake and grill foods
Exceptional modern design
Cons
High-end but also high-priced
High Attachment are also costly
Click here to get Morso Forno at a Discounted Price
Like this Article? Subscribe to Our Feed!
Vanessa is a mom of 3 lovely children and a software geek. Outside of her career as a health and wellness instructor. She enjoys writing and researching on topics such as finance, software, health and culinary.