What Makes Igneus Bambino Pizza Oven Great?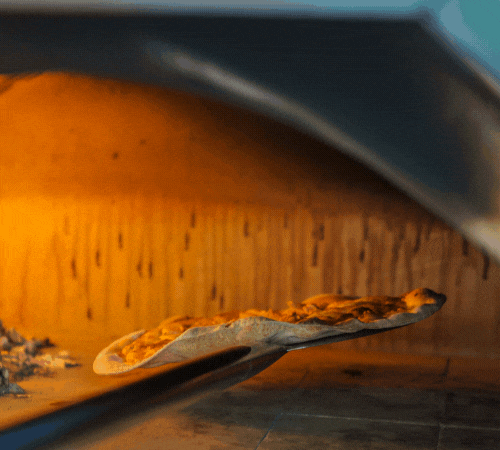 Igneus Bambino Pizza Oven is manufactured by Igneus Company who continues to innovate pizza ovens, pizza-making accessories, and pizza dough. Igneus is known to create high-quality products with innovative features that will benefit the consumers.
Every Igneus pizza oven has been carefully handcrafted in Portugal to be able to bring the wood-fired technology closer to everybody. Let's put this very attractive Bambino Pizza Oven under the microscope and see why more and more people are loving it so far.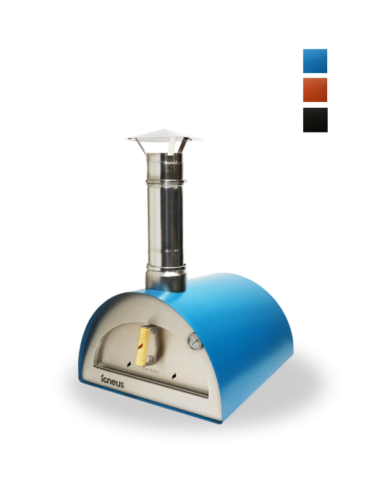 Looks / Appearance
Unlike other boxed styles portable pizza oven, Bambino has a dome-shaped outer surface that has a very classic look. Matt color coated finish with 3 variants of colors to choose from; Matt Black, the antique copper that is similar to orange in color, and the verdigris blue.
The chimney is detachable for convenience in storage. It has a wooden door that is heat resistant and it has a tiny built-in thermometer in it to control the fire build-up inside.
Functionality
Bambino Pizza Oven can hold up to 500 degrees Celcius within only 15 minutes. With the maximum heat attained it can cook your pizza in only 60 seconds having a crispy crust and evenly cooked toppings.
This oven can accommodate a large pizza size of 14 inches round. The dome shape chamber allows you to cook roasts potatoes, lasagnes, and even chicken casserole. It comes with a roasting tin allowing you to calculate the size and amount of food it can hold inside the oven.
Ease of Use
Igneus Bambino Pizza Oven boasts its well-designed portability given its heavy-duty features. The oven only weighs 17 kg with the fire bricks removed.
The chimney that is about 45 cm high is detachable for easy storage purposes. Fuel used here is silver birch dried logs or if silver birch is unavailable, any seasoned dried logs will do. Log consumption is incredibly low which only consumes 2-3 logs every 30 minutes of use.
Igneus brand also offers add-on products that can help this pizza oven function easily such as pizza peel, Ember's rake, Bambino pizza oven cover, and the Bambino stand. The bambino stand is designed especially for this Bambino edition pizza oven.
The materials used are purely stainless steel, the stand can be customizable with shelves that can easily be attached to both sides of the stand. The shelves however are another add-on to the cost.
Click here to view Igneus Bambino Pizza Oven
Pros
Dome Shaped Design – The dome-shaped design provides the oven an extra room to be able to accommodate other recipes than pizza allowing you to cook much more exciting dishes. It comes with a baking tray or roasting tin upon your purchase.
Built-in Thermometer – This function allows the user to control the heat build-up inside. Know when to remove what you're cooking inside or know when to add logs if needed.
Fully Insulated – Bambino Pizza Oven's outer surface is fully insulated making it ideal to place on any firm and sturdy table or countertop outdoor. The oven's transfer of heat has been kept at a minimum while the oven is in use.
Color Variation – Not every oven gives you the opportunity to have color choices. Most of the portable pizza oven in the market only comes with one standard color.
Detachable Chimney – Bambino Pizza Oven's chimney is detachable and can sit inside the oven chamber when not in use for proper storage.
Bundle Package – Igneus brand offers a bundle package with the necessary accessories that come with the oven. You can choose between the essential bundle, ultimate bundle, and the ultimate bundle with oven stand.
The ultimate package with stand comes with complete accessories including the oven stand, oven cover, glove, pizza peel, rake, brush, dough cutter, pan set, pizza spinner, and more for £1,365.00
Cons
Oven Stand – This oven could have achieved a higher reviews rating if the oven stand is included in every purchase, although you can separately purchase a stand from their website but for an additional cost. Shelves can be added to the stand but it would be an add-on to the cost.
Availability – Igneus Bambino Pizza Oven is selling like pancakes since its launch. Availability from distributors is getting thinner and thinner making a hard to find one in the market even in quality shops online.
Who Is The Igneus Bambino Pizza Oven For?
This fully portable outdoor oven is for a pizza-loving family who enjoys having pizza parties outside or in their garden. This pizza oven is also perfect for aspiring chefs who wanted to test the most of their abilities in cooking as this pizza oven can also be used in cooking a lot of different menus.
Specifications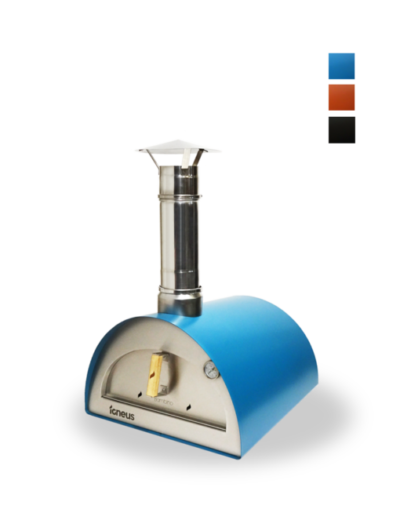 Product Specifications
Materials - Stainless steel (Marine quality grade), aluminum coated outside
Dimension - Height: 83 cm, Width: 57 cm, Height: 60 cm
Cooking Surface - 50 x 50 cm
Weight - 17 kg without the brick, 35 kg with the bricks inside
Fuel: Silver Birch Log or dried wood logs
Where Can I Use This Oven?
Igneus Bambino Pizza Oven is a piece of outdoor equipment so as long as it's outdoor and you have a firm table or countertop for it then that should be perfect. It is also very portable that you can bring it with you and your family and friends on your holiday. You can just put it in your car and off you're ready for an adventure.
This pizza oven is not advisable to be used indoors as it emits a lot of smoke that can surround your kitchen in no time. In placing it outdoor though, find a place where it's safe from the harsh weather outside.
What Makes This Oven Special?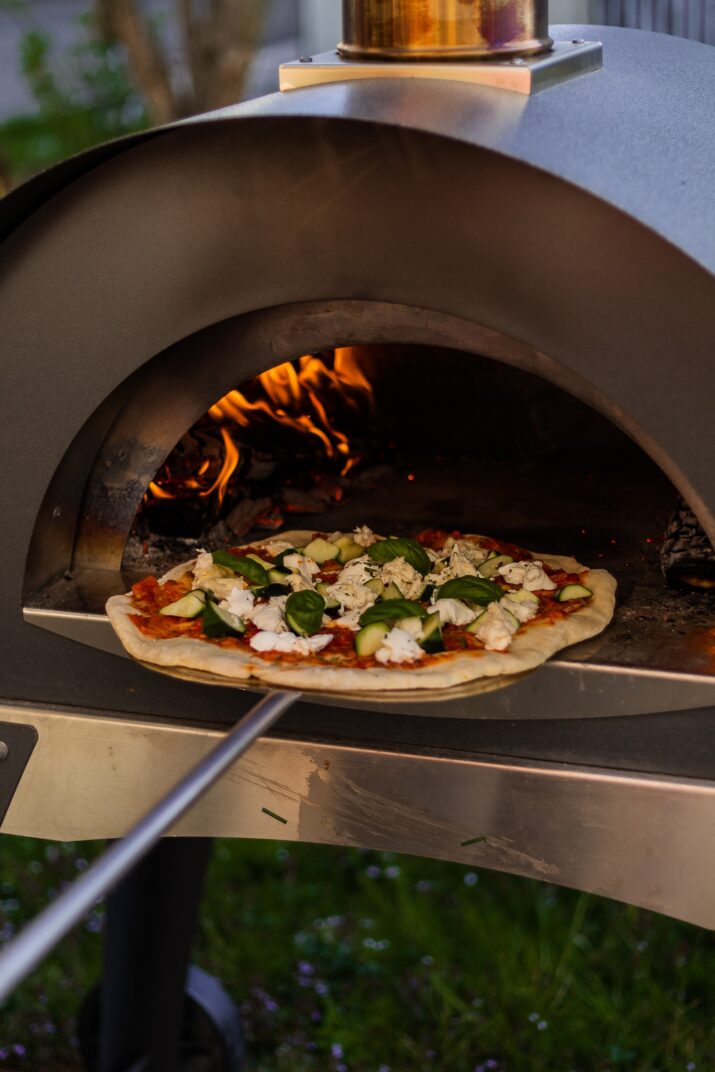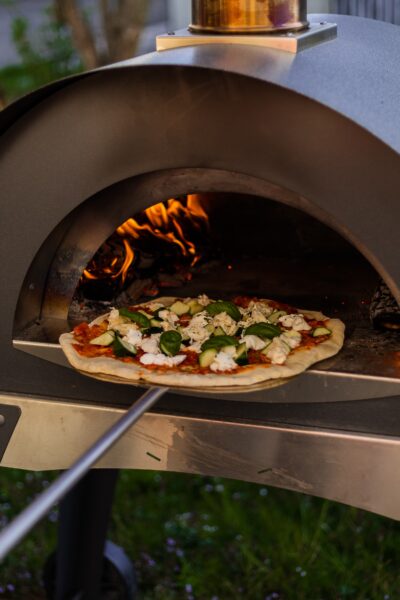 Bambino edition of Igneus' collection of pizza ovens has a lot of exciting features than the others. Bambino Pizza Oven can function almost like a regular oven where you can bake bread, vegetables, lasagna pasta roast chicken, and a whole lot more.
The marine grade stainless steel was made to last for a long time and you can expect lesser maintenance problems with it as it resists rust that you can get by exposing the equipment to the harsh outdoor weather.
The cooking surface is wide enough to hold a large pizza and let you flip your pizza using your pizza peel. A roasting pan is included in the purchase, this can serve as your guide of how big or small the food can fit in inside the chamber.
Why Should I Buy This Oven?
The Igneus Bambino pizza oven doesn't come cheap, however with all the features it can give, you'll know it has given you great value for your money. This pizza oven could be a great addition to your outdoor activity as a family, with your kids who surely love pizza. This could also be a good investment that could last for generations and generations to come.
Verdict
One of the qualities that I like most about this pizza oven is its versatility. Features allow you to cook/bake not just pizza but other exciting dishes too. The durability is unquestionable because of the materials used. The overall design looked classy and modern, i love the matte finished surface and I love the detachable chimneys too.
Click here to get Igneus Bambino Pizza Oven at a Discounted Price.
Like this Article? Subscribe to Our Feed!
Vanessa is a mom of 3 lovely children and a software geek. Outside of her career as a health and wellness instructor. She enjoys writing and researching on topics such as finance, software, health and culinary.