The Best Chocolate Pizza Recipe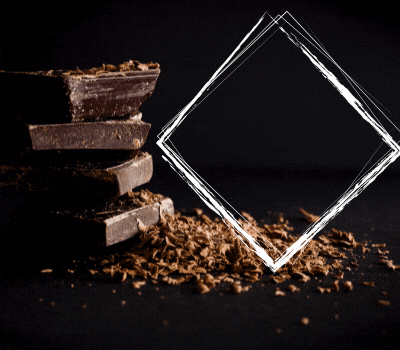 A dessert like this is the perfect and most unique thing to serve at any dinner party. It may actually change the way you see pizza forever!
Pizzas come in all shapes, sizes, and tastes and are a staple purchase for many families every year, whether they prefer to order takeout or bake their creations. A report by Infographic Journal found that pizza is now the 2nd most likely food to be purchased in a restaurant and the 4th most common food item at fast-food outlets as per the customers' ratings.
During the last few decades, this delectable item has also become increasingly popular in the UK, with several companies now offering their versions of this dessert item. School-aged children love this item because it combines two of their favourite ingredients.
Nowadays, pizza and chocolate have developed parallel developments in Western countries, becoming a popular dessert offered by franchises and chains. Chocolate pizza has become one of the popular dishes, whether you're at a Christmas party, a birthday celebration, or a retirement party.
You can make this delicious item with the customization of your own preferences. This chocolate spread pizza is a unique, customized chocolate gift any recipient will appreciate.
You can design it by just selecting the size, flavour, and border, and then finishing it with a message that represents the sentiment or occasion. Continue reading to learn how to make a tasty chocolate pizza at home.
Using common pantry ingredients, you can make it from scratch at home with no difficulty.
🍫 Chocolate Pizza Recipe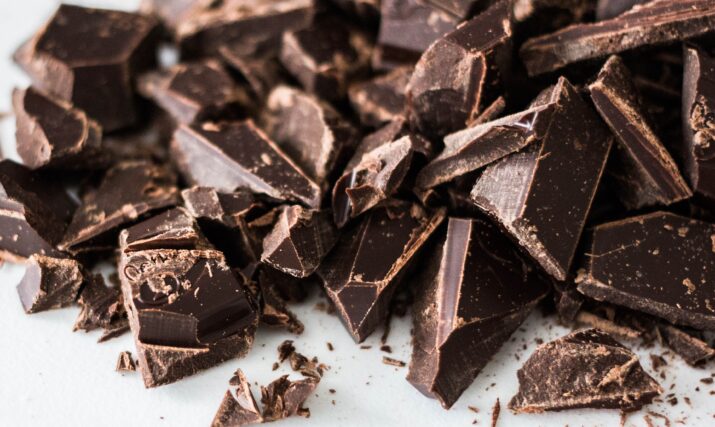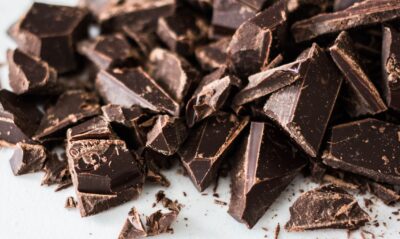 This easy chocolate pizza recipe UK is for those of you with a sweet tooth. The topping on this vegetarian item is fresh, chopped toasted hazelnuts topped with chocolate.
A dessert like this is the perfect and most unique thing to serve at any dinner party. Even more interesting, we can make this item using a microwave and a minimum of ingredients.
Just put nuts and chocolate mix in the pizza base, and you've got a delightful treat on your hands. Is it possible to get any better? You will only need to prepare this item for 10 minutes, which involves gathering your ingredients and preheating your oven.
Then you will need to cook the dessert item for 30 minutes in an oven, which means you can eat it within 40 minutes. Please note that this time does not include making the mixture.
When it's time to use the mixture, some people like to freeze it, while others like to make it on the same day. Stay tuned for more on dough-making later. Now let's talk about how to make this.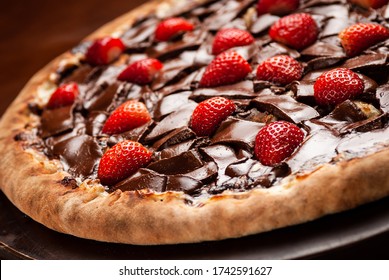 Ingredients
• Dough
• 30ml melted butter
• 76gm Nutella or any other chocolate hazelnut spread
• 64 gm semisweet chocolate chips
• 20gm white chocolate chips
• 20gm chopped toasted hazelnuts
Directions
1. Prepare your preheat oven by preheating it to 232°C.
2. Make your dough 12 inches in diameter by lightly flouring a surface.
3. Place the dough on the baking sheet
4. Put your fingertips on the dough and make indentations on it.
5. Using the melted butter, brush the surface with the mixture on the baking sheet, and bake for approximately 20 minutes or until it turns golden.
6. Top with your favourite toppings on the pizza base.
Adding the Toppings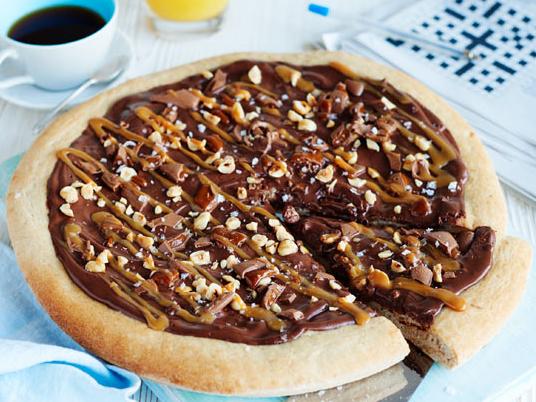 It's time for the fun part: topping off! You can top the hot base with your ingredients right after it comes out of the oven.
1. Pour in the chocolate hazelnut spread.
2. Sprinkle the white and semisweet chocolate chips over it.
3. The chocolaty elements should begin to melt after about 2 minutes of baking.
4. Sprinkle the hazelnuts on top when you remove the dish from the oven.
5. Cut into wedges and serve.
In terms of toppings, you can add whatever you like. There are so many things people can add to these staple ingredients. Strawberry slices, an assortment of berries, peanut butter, mini marshmallows, etc. You can also keep it simple by adding Nutella or any other chocolate hazelnut spread.
Different pizza books you can use to gain more pizza-making skills can be found here.
🍕 Making the Dough
For a moment, let's focus on the dough. As mentioned earlier, the cooking time for this delicious item takes about 40 mins. Making pizza dough, however, is not included in this cooking method. You need to know these things if you plan on making your own dough.
Ingredients for Pizza Dough
• 365ml warm water
• 2 tbsp yeast
• 600g all-purpose flour
• Salt (1 tsp)
• Sugar (2 tbsp)
Directions in Making Pizza Dough
In order to create the perfect dough, you need the right ingredients and the right rolling technique. Following are the steps you need to follow to get started:
• In a small mixing bowl or jug, combine the warm water and yeast. After five minutes, the mixture will start to foam
• The flour should be combined with the salt and sugar if using in a large baking tray, and a well should be formed in the centre.
• Put oil and yeast mixture in a bowl. To combine, first mix with a fork, then bring the mixture together with your hands.
• Put the dough on a lightly floured surface and lightly oil the bowl where it was previously
• During the next 10-15 minutes, knead the dough until it is soft and stretchy, and then place it back in the bowl
• Place a tea towel or cling film on top of the dough and let it rise for at least 30 minutes until it has doubled in size
• When the dough has risen, bring it out and knead it again on a lightly dusted surface
🍕 Can Store-bought Dough be used?
The answer is yes. In case you've chosen to use your local grocery store's dough, be sure to allow it to rise for enough time. It is extremely difficult to stretch store-bought pizza dough at home, and that is why many people struggle with it.
Pulling cold dough will result in it bouncing back into its original shape. Because of this, you must bring it to room temperature. The best place to set your mixture is near a window or rolled up in a kitchen towel and left on the counter.
It can take anything between 30 minutes and a couple of hours for the dough to rise. After it stretches to its proper shape, you'll know it's ready.
Click here to know the 6 proven ways of defrosting a pizza dough
🍕 5 Tips to Make Perfect Dough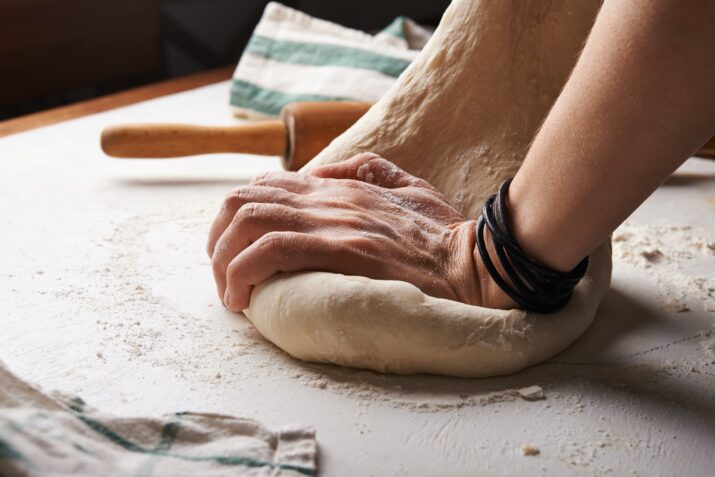 Whenever you follow a homemade recipe, you should first make the dough. Every cooking process differs in some way. If you are following a particular one, you might want to actually follow it. You should always give the mixture the full amount of rest time said in a recipe, even if it seems to be doing nothing. As a matter of fact, during this resting time, all of the mixture's characteristics are being defined, from the dough's elasticity to its crunch to its chewiness to its yeasty flavour.
1. Understand your flours
If you're going to follow the recipe exactly as it is written, you might not think it is necessary for you to know what bread flour is. If you are going to follow these recipes, you will just use what it calls for, right? Right. However, it's also important to know the difference so you can select a recipe that will make the kind of crust you want.
2. Understand the difference between lean and rich doughs
A lean dough differs from a rich one based on how much fat there is in the dough mixture. In essence, classic Neapolitan pizza mixtures consist of no oil, butter, or fat, so it is extremely lean. However, there are some recipes that call for some butter, vegetable or olive oil. Although these oils add flavour and moisture, they also alter how gluten molecules form when mixing and resting.
3. Bring the dough to room temperature
It is common to mix the ingredients in most dough recipes, form it into a ball, and then refrigerate it for a certain amount of time. Before you work with the base, you may also be instructed to let it come to room temperature.
4. Stretch rather than roll
Hopefully, there is no mention of using a rolling pin in your cooking method. In order to create a flat crust from a ball of dough, you must stretch it rather than flattening it with the help of a rolling pin.
5. Mind the shape
There is no rule that the pizza crust must be perfectly round. In fact, it shouldn't. Craftsmanship is evident in an artisanal pizza because it looks like it was handcrafted, not stamped out by a machine.
💡 Conclusion
My experience as a pizza baker includes making authentic Neapolitan, Sicilian, New York-style, and everything in between. Despite my love for chocolate, I never had the courage to attempt chocolaty pie.
In the end, chocolate on pizza does sound a little strange, doesn't it? It also seemed so to me until I finally tried the recipes myself. In spite of how quick it is to make, this item is well worth the time spent on it.
Make this delicious dessert for a special occasion or just because you're craving something sweet. You now have all the ingredients for making a savoury dessert item from this recipe.
Click here to view Pizza Recipe Books
Like this Article? Subscribe to Our Feed!
Vanessa is a mom of 3 lovely children and a software geek. Outside of her career as a health and wellness instructor. She enjoys writing and researching on topics such as finance, software, health and culinary.