How to Give Up Coffee and Caffeine Altogether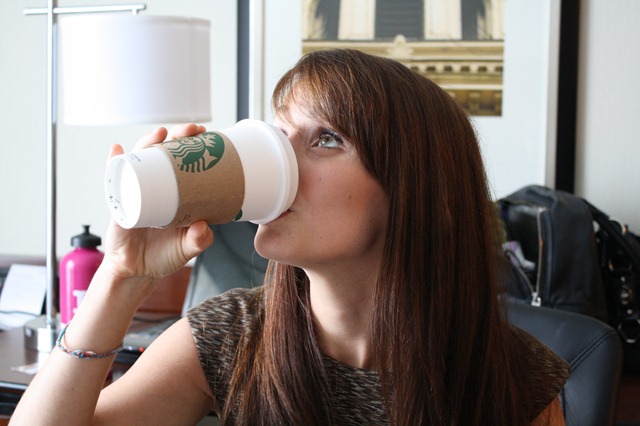 A few of the original readers of DLM may remember my article about quitting smoking. Well, after hearing that my father-in-law gave up coffee and caffeine 8 months ago and how it's impacted him, I decided to do the same.
Exactly 60 days ago I began the quest and for the last 30 days I have been caffeine-free. To put this into context a little, you should know that I drank at least a full pot (12 cups) of coffee per day. I never drank soda; for me it was coffee and I have been slurping it down for over 15 years. Oh yeah, the bean hooked me…bad.
Many may think that this addiction was a side effect from my abnormal but productive sleep schedule. I thought the same, however I was proven wrong. If anything, I am WAY more productive without the highs and lows that caffeine brings.
So here is how I did it, step-by-step.
HOW TO QUIT CAFFEINE
Before you really make the choice to quit an addiction, you must first understand the reasoning. If you are simply doing it because DLM said it works, you are going to fail.
In humans, caffeine is a central nervous system (CNS) stimulant, having the effect of temporarily warding off drowsiness and restoring alertness. Beverages containing caffeine, such as coffee, tea, soft drinks and energy drinks enjoy great popularity; caffeine is the world's most widely consumed psychoactive substance, but unlike most other psychoactive substances, it is legal and unregulated in nearly all jurisdictions. In North America, 90% of adults consume caffeine daily. – Wikipedia
So we already get a glimpse into the fact that caffeine messes with you. Are there any naysayers? My personal choice to quit was because I hated the constant need for a pick-me-up. I wasn't twitching each time I passed a Starbucks or anything crazy like that, however, I honestly felt a major energy drain as the hours passed by each day. Grabbing some coffee was always the quick fix. In my opinion, any time you need to consume something as a quick fix, you have a problem.
So, let's wean ourselves off. These steps will get you off coffee, Mountain Dew, or any caffeine-laden drink that you are hooked on.
Reasons:

What are the reasons? I explained mine but really what are the reasons you want to quit? Are your teeth brown as bark, do you have coffee breath? Your reasons are personal so don't rely on me to tell you what to do and why.

 
The count: As a baseline, you have to identify how much caffeine you are drinking today. Is it 9 Mountain Dews, a pot of coffee, or 16 Cokes? This baseline count will be your indicator of improvement.

 
The Wean: If you are drinking 5 cups of coffee per day, start by replacing 1 cup with a

caffeinated

tea. Yes, you read that right. I am all for slow transitions and the taste alone is enough of a change in the beginning. I did this for 3 days and then each day after, I replaced another cup of coffee for a cup of caffeinated tea. It took a while, but soon I was drinking all tea.

 
There are 90 different teas on the market so experiment a little and find something you really like. The key is to find a brand or flavor that comes in decaffeinated and caffeinated varieties. This process will be SO much easier if you actually like the taste of the replacement. You should also be aware of the varying health benefits of tea as you choose a replacement beverage.
The De-Caffeinization: Yes, I made up that word but this is where we really start making some chemical changes. Using the process I mentioned above, start replacing the caffeinated tea with decaf tea. This is why I told you to pick a brand with both varieties. The taste will remain the same, but the caffeine is obviously going to decrease.

 
DON'T Change your sleep: During this entire process, it is critical that you don't make changes to your sleep schedule. If you currently take power naps at 1:00, keep doing it. You don't want to replace caffeine with sleep, you want to get rid of the need for a supplement altogether.

 
As mentioned, this approach can be used with any caffeine drink you are hooked on and it doesn't have to be replaced with tea. Drink water, flavored water, or anything with a 0% caffeine content.
So that is how I did it. Now I will mention the effects:
I am never groggy. I have the same energy at 1:00PM as I do at 6AM or 4PM. This is THE largest benefit by far.

 
I don't have coffee breath and I can actually still taste my toothpaste at 11AM when I brushed at 6.

 
Stress and anxiety have plummeted although I took on more assignments at work. I am simply not as edgy.

 
I am asleep within 5 minutes each night

 
My blood pressure is perfect now. It had previously been a little high.

 
I don't seem to get as many headaches. In the past, I would get 2-3 headaches per week and take some Advil. Now, it's down to 2 times per month.
So that's my story. I am caffeine-free and yes it was difficult. I think the toughest thing was making the tea and finding a flavor that I liked. However, once I got over those hurdles it was simple and I am glad that I did it. The key is planning.
– Jay
| | | |
| --- | --- | --- |
| | Originally written in 2007 by me, Jay White, the founder of Dumb Little Man and an all around average guy. | Photo Credit: emdot |
Like this Article? Subscribe to Our Feed!