How to Get Rid of Cellulite for Good: Complete Guide 2023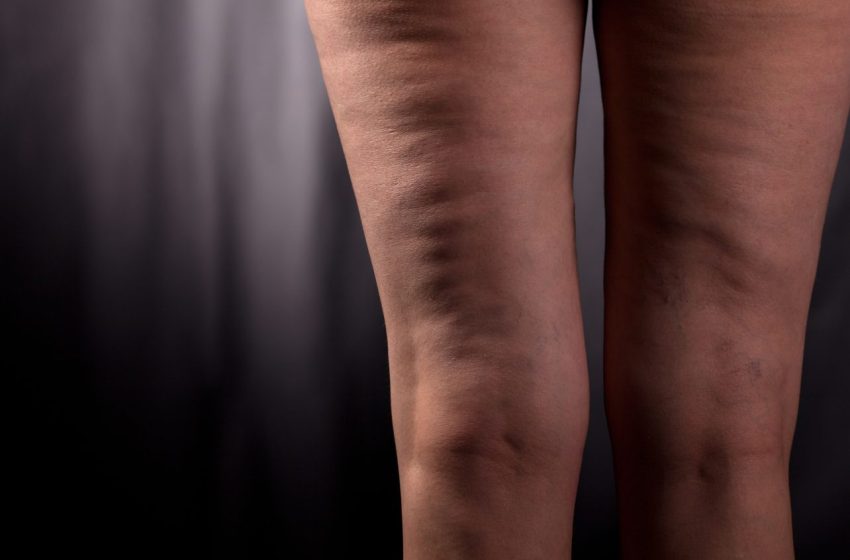 Cellulite is a common condition. It is characterized by skin appearing bumpy and dimpled.
Often, it's on the abdomen, hips, and thighs, and is more prevalent in women.
In fact, about 80-90% of women who go through puberty can develop cellulite. While less than 10% of men are exposed to it.
Such a high prevalence is a concerning cosmetic dilemma for women. Therefore, various treatments are developed for it, with some showing good results.
How to Get Rid of Cellulite: What is a Cellulite?
Commonly, it's defined by cottage cheese or orange peel texture with dimpling across it. Technically, it's the collection of fat cells under the skin.
These cells pull the connective down from the overlying skin. As a result, we see puckered and lumpy skin.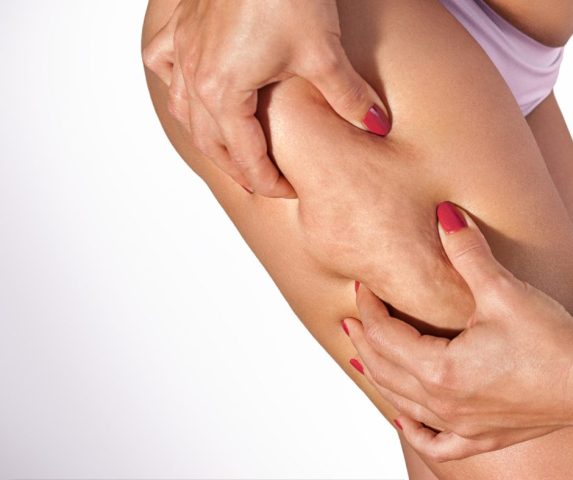 Causes of Cellulite
Since it is a cosmetic condition, it's, therefore, painless. However, multiple factors contribute to developing cellulite.
The most important is the presence of fat. Generally, women have more body fat percentage and therefore, they are more prone to developing this condition.
Similarly, body areas with more fat cells or adipose tissue, like hips, buttocks, and thighs usually develop cellulite more easily. This surplus connective tissue act as a nidus to develop bumpy skin.
In addition, there are myriad other factors that contribute to developing cellulite. These include:
Age- Older age leads to decreased elasticity in tissues, therefore more easily gets dimpled.
Metabolic changes- Either due to some pathological process, changing eating habits, or an unhygienic lifestyle.
Estrogen level- Either due to impaired microcirculation or decreased collagen peptide formation. It's the primary cause of the development of cellulite in post-menopausal women.
Other Hormonal imbalances- Prolactin, insulin, and thyroid problem can often lead to developing cellulite.
Poor circulation including poor lymphatic drainage.
Uncontrolled weight gain and sedentary lifestyle.
Family History and Genetics.
Cellulite Grades
There are three grades of cellulite. These grades help categorize the condition and thus, assess the severity and ultimately the treatment.
The grades are:
Zero: No visible cellulite anywhere in the body.
1 (mild): Smooth Skin elasticity while standing, but dimpled appearance while sitting.
2 (moderate): Moderate dimpling both while sitting and standing.
3 (severe): Severe dimples on the skin featuring peaks and valleys.
How to Spot Cellulite
The diagnosis is mainly clinical and you don't need any special test for that. You can identify it by merely looking at it.
Depending on the cellulite grade, the skin texture could vary from orange peel, cottage cheese, or mattress-like appearance.
The thigh cellulite is often only a little visible. So, you have to pinch the skin sometimes to have a better view.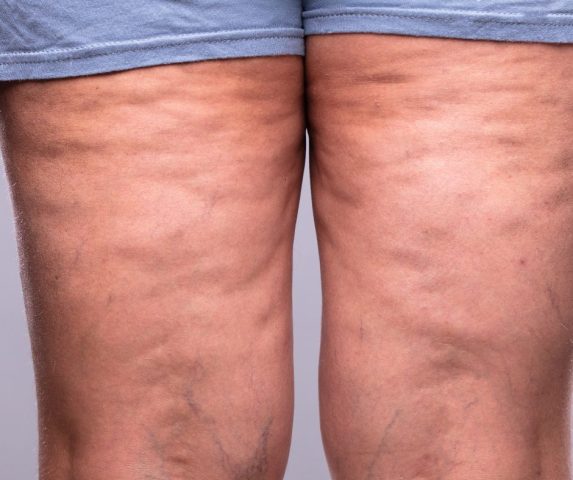 Cellulite vs Cellulitis vs Lipedema
Due to their resemblance, Cellulite and Cellulitis are often mixed. The former is a cosmetic condition with the appearance of dimples on the skin.
Comparatively, Cellulitis is a pathological condition characterized by a serious bacterial infection of the skin. The skin appears swollen, painful, and warm on the touch.
Lipedema, on the other hand, is the accumulation of excess fat cells in the lower limbs. Although the skin is somewhat the same as cellulite, Lipedema affects the ability to walk. Plus, it's painful.
How to Get Rid of Cellulite
There are multiple cellulite treatments. Each with different efficacy and variable mode of working to reduce cellulite.
Here are some of the popular options, as backed up by research.
Natural Remedies
Any natural process that reduces body fat, or helps tighten the skin is an effective cellulite treatment. These include:
Massage
Massage therapy has shown excellent results to reduce cellulite. It primarily works by improving lymphatic drainage.
Massage also helps stretch the dimpled skin, which ultimately helps to reduce the skin dimples.
Professional massage therapists recommend getting multiple massages to see any visible effects. Plus, the treatment is burgeoned by using cellulite creams.
However, only the creams are not enough. You continuously have to stretch the skin to improve its elasticity.
Weight loss
Any extra weight means increased fat, and ultimately more pronounced cellulite. Plus, the more fatty tissue there is, the more dimpling will be visible.
So, if you're overweight, it's best to shed a few pounds.
However, don't go for a rapid attempt to lose weight. Instead, consult your doctor to have a proper weight loss plan. This will avoid developing any loose skin.
Healthy diet
A healthy and controlled diet improve cellulite. The goal here is to decrease the underlying fatty tissue.
You can do it by either having a caloric deficit or by eating more fiber. Whole grains, fruits, and vegetables are good options.
Additionally, a protein-rich diet is a good choice. However, avoid going in caloric surplus calories or eating processed foods 'refined carbs' as in candies, soft drinks, and bread.
These excess calories will nourish the fat layer. Hence, exposing a person to an increased risk of developing cellulite.
Hydration
Drinking more doesn't directly impact reducing cellulite. However, in the long run, it helps improve the blood and lymphatic system of the body.
Plus, keeping a good hydration status decreases your risk of developing cellulite.
Bottle Tan
For light skin, a self-tan may work to cosmetically limit the cellulite, as these are less visible on dark skin.
Don't go with a real tan, as it might damage the skin leading to worse cellulite.
Support Stocking and Body Wrap
A Cosmetic dermatologist might recommend you a support stocking as a remedy for cellulite. These prevent fluid building in the cellulite areas but require to take quite a time.
In comparison, body wraps are a quick alternative. You can either visit a spa or use the elastic bandage yourself. But the effect only lasts for a few days.
Digital Programs
Getting a vigorous massage, maintaining a healthy weight and dietary supplementation can often feel too much. Therefore, we recommend joining something practical such as digital programs you can conveniently do at home.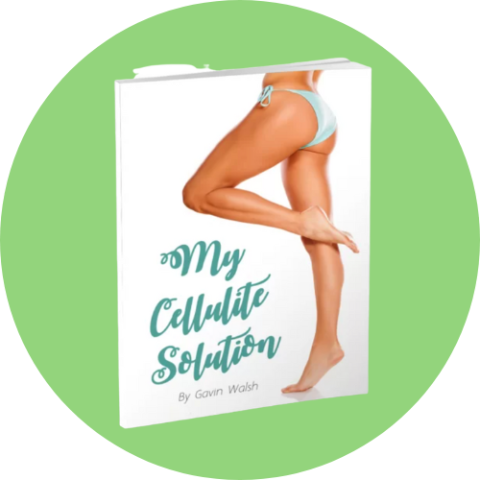 A three-step approach called My Cellulite Solution guarantees consumers will effectively eliminate their cellulite issue without having to spend a lot of money. It is a 28-day program with tried-and-tested methods to not only get rid of but also prevent cellulite. It helped thousands of people in cellulite reduction through its step-by-step approach.
We consider it the best program to prevent cellulite development. We recommend reading more about it or connecting with thousands of other readers.
Shop My Cellulite Solution at Official Website.
2. A Sustainable Method Of Reversing Cellulite: Naked Beauty / Symulast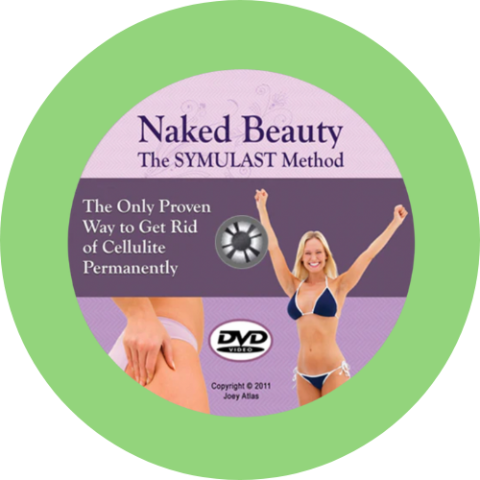 Symulast is another excellent program to join. Its mantra is to reverse the underlying cause of cellulite naturally.
This fitness program is made just for ladies looking for a safe, efficient, and all-natural solution to get rid of cellulites permanently.
Under this method, the exercise is focused on the affected area and in addition to reducing fat deposits, it also builds muscle.
Shop Symulast at Official Website.
3. A 2 in 1 Program: Strengthening The Buttocks & Reducing Cellulite: 14 Day Perfect Booty Program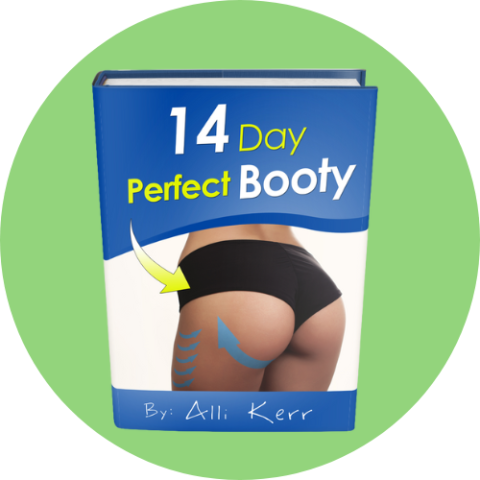 Perfect Booty is a book plus a collection of 56 videos to strengthen your muscles and reduce cellulite. Your butt muscles will be targeted by this approach to help them become firm, toned, and cellulite-free.
You don't need any additional equipment for the exercises in this program since they only require your body weight.
We recommend this for women who want to understand cellulite morphology with quick and reliable results.
Shop 14-day Perfect Booty Digital Program at Official Website.
Exercises
Exercise improves muscle tone and strength of the connective tissue beneath. Therefore, it could be an effective method to remove cellulite.
The goal here is to choose exercises that target more prone areas for developing loose skin.
However, exercise never guarantees to completely eliminate cellulite. Plus, a healthy diet is necessary with exercise to see promising results.
Some exercises that you can try are:
Squats
Jump-squats
Step-ups
Leg kickbacks
Side Lunges
All these primarily affect the lower limb muscles as thigh cellulite is more common than others.
While abdominal exercises will be appropriate for the stomach cellulite. But, abdominal exercise will not be as effective as that of legs because of increased connective tissue.
Cellulite Treatment and Medication
Various dermatological studies are trying to find the effectiveness of different treatment options. The results are promising, with some treatments offering totally normal skin.
Some good options are:
Bioactive Collagen peptides
Bioactive collagen peptides have shown good results in the past. In a 2015 study, patients took these peptides for around 6 months and got good results.
A lot of other people are seeing good results. But still, scientific studies are in the process to make a conclusion.
Therefore, it's best to consult your doctor before using it.
Cellulite creams
Various creams are available for treatment. American Academy of Dermatological Association calls these among the effective and accessible treatment options.
The retinol body cream is among the most suitable options. These contain 0.3% retinol which helps thicken the skin and provides an anti-aging effect.
These also have caffeine as their constituent. The Caffeine dehydrates fat cells, thus decreasing fat tissue.
However, these cellulite creams offer some drawbacks too. The biggest is that they are temporary in treating cellulite dimples.
Plus, these creams are less effective on their own. Therefore, dermatologists recommend it combined with lifestyle factors.
Laser therapy
Cellulaze is an FDA-cleared, minimally invasive cellulite treatment. A tiny laser probe is inserted through the small incision on the respective body part.
The laser then heats the subcutaneous fat and reduces its thickness. It also makes the skin thick, stimulates collagen production, and separates fibrous septae.
It is among the in-office treatments done under local anesthesia with 1-2 days of downtime. American Board of Cosmetic Surgery calls it a viable option for one-year.
Non-Laser Treatment
Radio frequencies, Ultrasound, and infrared light work the same way as laser therapy. In addition to fat removal, these stimulate blood circulation and jumpstart lymphatic drainage.
Plus, the skin-tightening effect helps in good body shaping. Currently, VelaShape, Venus Freeze, and Zimmer Z Wave are FDA-cleared Non-laser energy treatments.
Other Cellulite Treatments
Mechanical Treatment via Cellfina
Injectable treatment via QWO
Vacuum-assisted precise tissue release
Carboxytherapy
Acoustic wave therapy
Endermologie
Supplements
A continuous debate is going on around the usage of supplements for the treatment of cellulite. While their use might be controversial, their efficacy is often not challenged.
Most cellulite supplements contain grape seed extract and antioxidant-rich formula. This help built specific collagen peptides and eliminate toxins respectively.
Plus, these improve blood flow to the area and prevent dry skin. But still, we need proper evidence and research to fully proclaim these astonishing benefits.
Here are some good supplement options:
Cellulite Secret
It's a made in U.S cellulite supplement, tested by many third parties. It works by decreasing tension in collagen bands and thus, limiting the appearance of cellulite.
Plus, it acts as a collagen-building ingredient to provide elasticity to the body.
It's also economical, made of 100% natural products, and has good bioavailability.
Apple Cider and Multivitamins
Multivitamins are an essential part of the supplement regime. Therefore, it's best to use multivitamins along with the above-mentioned supplements for good effects.
Vitamin A is especially important, it's the same retinol as in topical treatments and helps thicken the skin.
Apple cider is also an important part of cosmetic dermatology. It improves body metabolism, maintains appetite, and contains vitamin ingredients. So, it's good to have it in your supplement regime.
Conclusion
Thigh Cellulite is common, and mostly affects women. Although, these are painless and apparently do no harm, it is cosmetically unpleasing.
There are plenty of ways to get rid of cellulite. Everything from topical creams to lasers is available. My Cellulite Solution will be an effortless choice to have.
We bestow our vote on My Cellulite Solution. It's an easy and practical way to limit the appearance of cellulite.
Plus, you need not spend hundreds of dollars on expensive cosmetic treatments. Instead, choose this affordable 28-day program.
Even, if someone is going for laser or infrared treatment, it's worth the shot. Maybe it will save you a lot of money.
You'll also get a 14-money-back guarantee. So, if you don't see the results in the first two weeks, you can get your money back.
A win-win situation from every side!
Click here to get My Cellulite Solution at a Discounted Price.
How to Get Rid of Cellulite FAQs
Can you get rid of cellulite once you have it?
With the right treatment option and appropriate lifestyle changes, it's completely possible to get rid of it.
However, this will require consistency as little scientific evidence is present about all these resources.
What food causes cellulite dimples?
Excessive carbs are the primary cause, especially in food with a lot of sugars. These include pastries, cereals, pasta, etc.
Processed food is the other culprit. These include chips, baked goods, and soda. Excessive salty food can also cause cellulite, as it may cause fluid retention.
Does sitting all day increase cellulite?
Sitting all day decreases blood flow to the lower limb. As a result, thighs, hips, and butts are prone to developing cellulite.
Like this Article? Subscribe to Our Feed!
Vanessa is a mom of 3 lovely children and a software geek. Outside of her career as a health and wellness instructor. She enjoys writing and researching on topics such as finance, software, health and culinary.