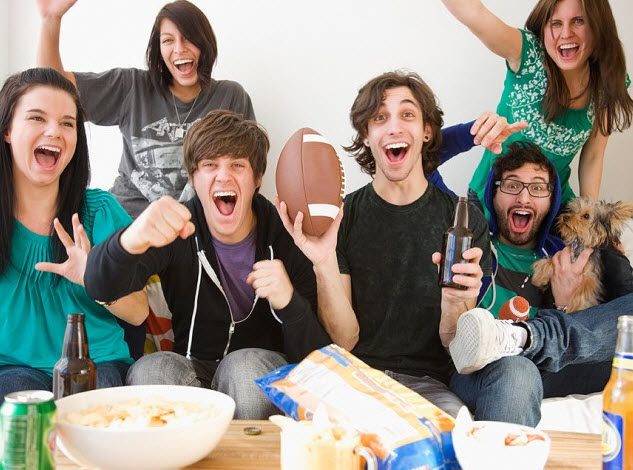 Football season is here, and that means camping out in front of the TV all weekend long, drinking beer, eating pizza and watching game after game in your underwear.
If you start feeling like an alcoholic recluse, maybe it's time to invite a few friends over for a football party.
There are several elements every great party must have, so here's how to handle each of them for the most winning results.
I can't guarantee that you team will win the game but if you follow these tips you are sure to have the winning party of the weekend.
The guests
Obviously, you invite your best buddies, the ones who love football as much as you do. Also consider inviting pals who are most likely to bring beer. Lots of it. Avoid cheapskates who'll drink all your beer but refuse to kick in for a delivery from the liquor store. Also think twice before inviting overly enthusiastic fans of a certain team who will go ballistic if their fave team is losing. You want a party, not a brawl.
Should your football party be all guys or co-ed? Hey, if you have gal pals who love football, invite them. Besides, they may actually bring edible food, unlike some of your bros who can't even be counted on to pick up chips and dip from the 7/11 on the way over.
The crib
While your space may look fine to you, there are things to consider before inviting a crowd over—like how many seats do you have, and can you see the TV screen from all of them? You may need to do a little redecorating to accommodate the whole crew, like hauling in a few extra chairs from the kitchen. Of course, you could just let anyone who shows up late sit on the floor, but you want to look like a good host, don't you?
You should do at least a little cleaning, like vacuuming the rug and scrubbing the sinks and toilet. If the thought of housework makes you break out in hives, hire a maid to clean the day before. Have her go through the fridge and dump anything inedible so you'll have lots of space for the beer.
The food
So what if you can't cook and there's nothing in your fridge except bottled water and some mystery leftover that a hazmat crew couldn't identify? The best grub for watching sports is an assortment of snacks that can be grabbed and scarfed down during the commercials. Lay in a supply of chips, salsa and dips, plus a big bowl of nuts to start with.
At halftime (or earlier if the crowd gets ravenous), order a few pizzas. Take up a collection so you don't get stuck with the whole bill. Use the best pizza joint in your neighborhood, not that chain place where the divorced dads take their kids. If the good pizza place also has hot wings, get some of those, too.
If you're lucky enough to have friends who can actually cook without setting the kitchen on fire, hit them up for more upscale fare like that cool multi-layer Mexican dip and deluxe nachos, or a big pot of homemade chili. Just keep it simple.
Now that we've covered the basics of organizing the party and planning some food it's time to pull it all together so you have the best party on the block.  Keep reading for some good advice on how to keep you guests feeling good and also keep your place clean.