Finding a Healthier Lifestyle – Making the First Cuts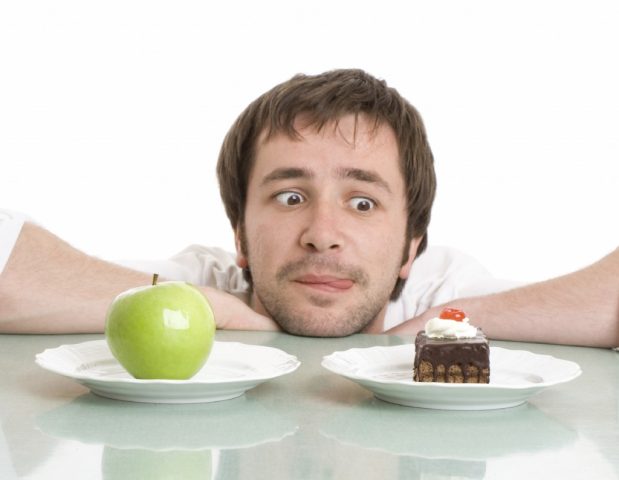 In my previous article on Dumb Little Man, Finding a Healthier Lifestyle – Committing to Change, I discussed how to find the problem factors in your current lifestyle and how to become self-motivated during your lifestyle changes.
In the second part of Dumb Little Man's Finding a Healthier Lifestyle series I'm going to introduce some simple habit changes that will result in significant improvements in your overall health and physical condition in the long run.
Lifestyles do not change over night. Lifestyle change is a continuous process of trial and error.
The first reaction many people have when they discover the need to change lifestyles is to drop all of their normal habits in favor of radical diet and routine modifications. Your body and your morale will not adjust well to such radical changes and you will likely lose interest after a month. Instead of radically changing your bad habits you should slowly improve them into good habits.
The basic rule of thumb for weight loss is:
"calories burned must be greater than calories consumed."
In order to adhere to this principle you are going to need to determine your average daily calorie intake and determine your average daily calorie output.
I was burning about 2800 calories a day; and 

Determine Your Current Calorie Consumption and Expenditure:

If you're overweight then you are certainly on the wrong side of the intake must be less than expenditure rule, so you need to assess the damage. Just how much greater is your intake than your expenditure? The best way to find out is to record your calorie intake for three days, using a service like calorie-count or FitDay. These services will also help you determine a ball park range for your average calorie expenditure based upon the activity level of your occupation and any additional activities that you log with the service. When I completed my three days of logging I found that:

I was consuming about 3500 calories a day;
my diet was too high in fat and too high in sodium.

In the rest of the Finding a Healthier Lifestyle series I am going to refer back to food logging, so I strongly recommend using either one of the two services I mentioned. A logging service like calorie-count or FitDay provides a metric you can use to gauge if you're heading in the right direction. It's not 100% accurate but it's certainly an improvement over not knowing at all.
Making the First Diet Cuts – My diet overhaul began with cutting a few bad foods and drinks from my daily intake; it was not until much later that I adopted a much stricter diet. A few trends I noticed were:
lots of liquid calories from beer, liquor, and low-fat milk;
lots of starchy carbohydrates such as potatoes, bananas, and wheat bread;
lots of simple carbohydrates such as fruit juice, cookies, and breakfast cereal;
lots of red meat, particularly beef;
lots of fast (and fatty) food;
not a lot of fiber sources, such as whole fruits and vegetables; and
not a lot of white meat, like chicken, turkey, and fish.
The items I listed are common diet deficiencies amongst college students like myself and overweight people in general. Here are the first steps I took to correct some of my basic diet deficiencies:
I cut all beer and liquor from my diet entirely for the first two months (eliminated all calories from alcohol);
I switched permanently to non-fat milk (reduced calories from fat);
I eliminated all fried vegetables from my diet such as onion rings, french fries, and fried zucchini (reduced calories from fat significantly);
I eliminated mayonnaise (reduced calories from fat);
I switched from sugary breakfast cereals to healthier ones such as granola with yogurt (reduce calories from simple sugars; increased protein and fiber); and
I stopped going to fast food chains like Wendy's and started going to healthier chains like Subway and Panera when I needed a quick bite (improved everything).
My decision to give up alcohol completely for a couple of months was difficult given the American College Culture, but it was the only tough change out of those listed. Eventually I dropped red meat entirely and adopted a rather rigid body-building diet structure. Take a look at your own diet and find places where you can apply some easy fixes; giving up whole or low-fat milk for non-fat milk is an example of a really easy change to apply.
Improve Your Every Day Activities

– The first change I made to increase my calorie expenditure was to increase the amount of calories I spent doing my everyday activities. I started getting up earlier and taking the long route to class; I took the stairs instead of the elevator; I started taking the long way to the bathroom; and I started going over to the local Starbucks half a mile from my dorm whenever I needed to work on my laptop. These simple expenditures increased my total expenditure by 100 calories or more every day. Small increases in calorie expenditure will provide a large cumulative effect over time.

Begin Exercising –

The first exercise I began to do was simply jogging a mile every day. At the end of each week I'd increment my total running distance by a quarter of a mile and start over the next week. Starting off with a very simple and very short exercise routines will help you get acquainted with athletic activities. I recommend trying a variety of activities until you find one that you enjoy and would do regardless of its health benefits. I eventually joined a boxing class, which I enjoy immensely.
Next week I'm going to share with you how to find a great exercise routine that works for you.
Like this Article? Subscribe to Our Feed!