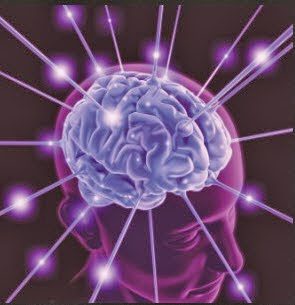 Do you ever feel like your mental processes slow down as you get older? Do you have times when you feel "fuzzy" and have trouble concentrating? Maybe your brain needs a little exercise!
If you have doubts that exercising your brain does any good, a study in The New England Journal of Medicine reported that seniors who practiced brain-stimulating activities more than once a week over a 20-year period reduced their risk of dementia by an amazing 63%!
You know that exercising your body helps you stay in shape and feel good, but maybe your brain isn't getting the workouts it needs to stay sharp. Here are a few proven brain boosters to keep your mind in tip-top shape.
Stay active.
Regular aerobic exercise gets blood flowing to all parts of your body, including your brain. A daily cardiovascular workout can improve the way you feel and think as well as reducing stress and anxiety. Studies have shown that aerobic exercise can increase brain volume and the white matter that aids connectivity between brain cells more than those that involve stretching and toning. Thirty minutes of strenuous physical activity three or four times a week should be enough to keep both your body and your mind in shape.
Eat small, frequent meals.
You already know how consuming a huge meal in one sitting makes you feel tired and sleepy, but did you know it may also affect your brain function? Your brain needs a regular flow of energy, and for that you should eat several small meals per day that are high in fiber and have moderate amounts of fat and protein. This low-glycemic diet is broken down more slowly by the body than one that's high in processed sugars and starches.
Also, you should eat lots of foods that are high in the antioxidants that keep your brain in top working order by preventing cholesterol from clogging up your arteries and blocking blood flow to the brain. Good bets are carrots, beets, tomatoes, dark leafy greens, grapes and berries.
Be good to your heart.
Age-related damage to the brain can be caused by circulatory problems, so watch your weight while avoiding smoking and too much saturated fat. Hypertension and Type II diabetes are preventable diseases that can negatively affect your brain. Healthy habits are good for your brain as well as your body.
Get a good night's sleep.
A recent study found that a lack of sleep may cause protein to build up on the synapses of your brain, making it harder to think and learn new tasks. Plus, years of poor sleep have been linked to cognitive decline in old age. Nothing can make you feel more alert and ready to take on the world than a good night's sleep!
Do you feel your brain getting stronger already?  I hope you didn't forget what we are discussing here.  But if you did that's exactly why you should keep reading because there are more ways to keep your brain functioning at peak performance that are easy to work into your daily routine.